Pickled onions are a tart and slightly sweet accompaniment to a wide variety of dishes (a perfect match with Mexican cuisine). The cool, pungent crunch adds a crisp fresh taste to carnitas or fish tacos in particular. They take 5 minutes to prep, 30 minutes to marinate, and will keep in the refrigerator for many weeks.
Jump to:
RECIPE
Pickled Onions & Mexican Food
Health Benefits
Serving Suggestions
Other Things to Pickle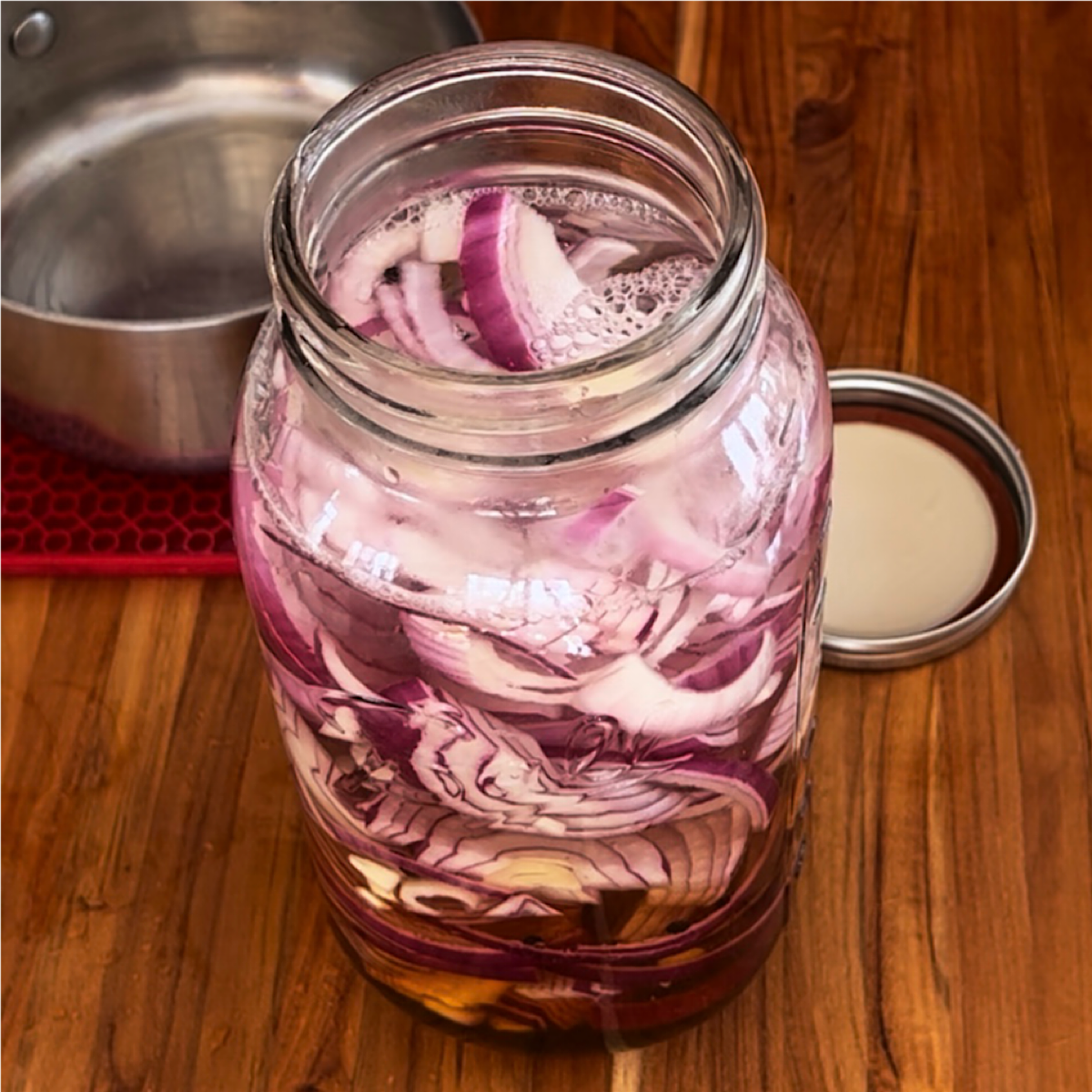 This post may contain affiliate links, and you can read our disclosure information here–
Pickled Onions as a Side to Mexican Food
A few years ago, freshly out of college, my then-roommate was from Belize. She shared a wonderful dish with me called cochinita pibil, which is a pulled pork dish with an achiote marinade.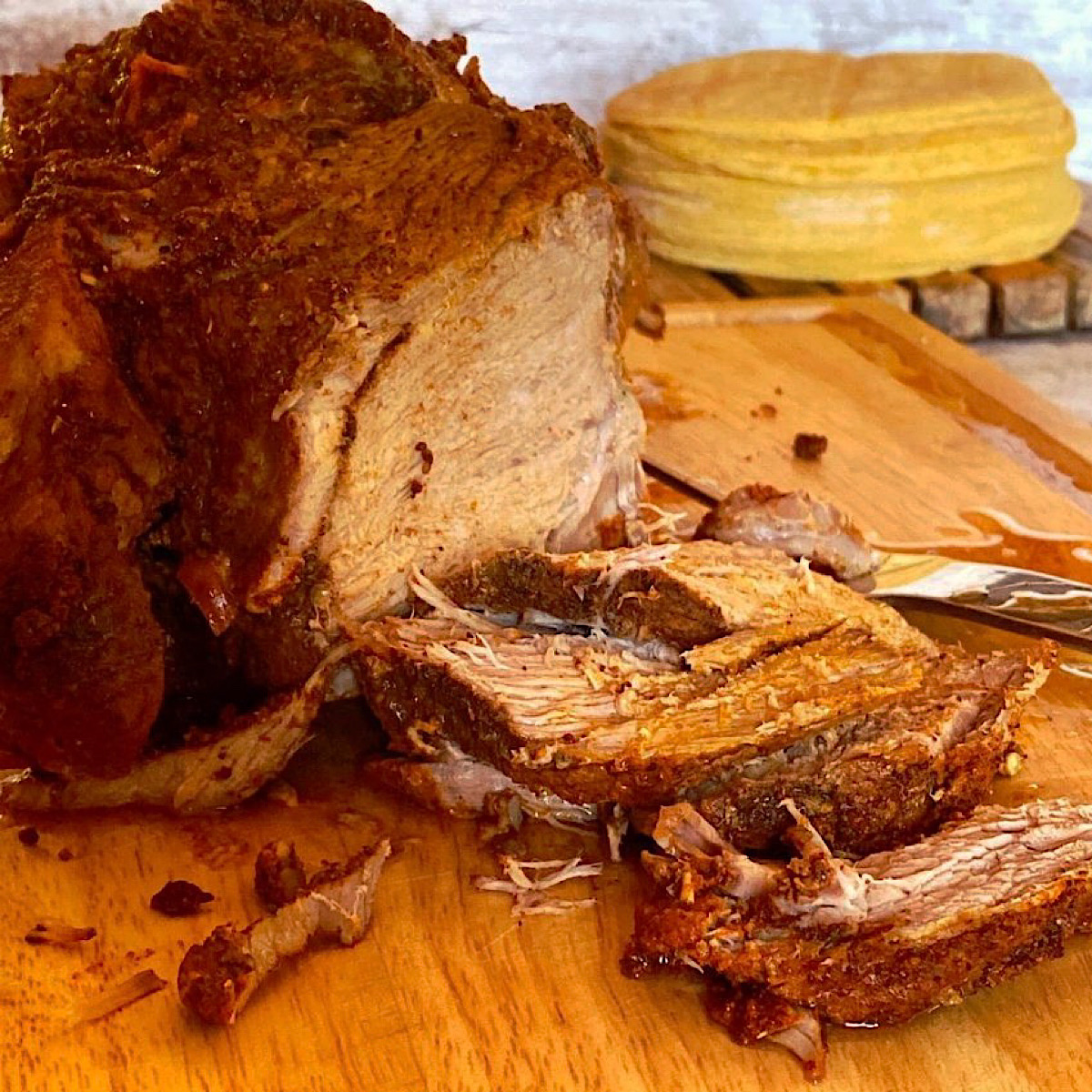 After the roommate moved out and took all her Belizean recipes with her, I stumbled upon arecipe for cochinita pibil served with pickled onions.
The recipe for the pickled onions looked easy and sounded like something I would like to eat. I was just starting to learn about cooking my own food and the pickled onions seemed like a perfect entry into a flavorful (but still easy) world of food.
Although that cold winter day was the first time I had pickled something, it was certainly not the last time! See the video below (you tube video) for a detailed "how-to" and the short video in the recipe card for a brief summary.
What to Serve with Pickled Onions?
My family is somewhat notorious for eating the same item for days on end in various ways (aka creative leftover dishes). Pickled onions are the perfect versatile condiment that allow us to change up a dish to become a "new" meal.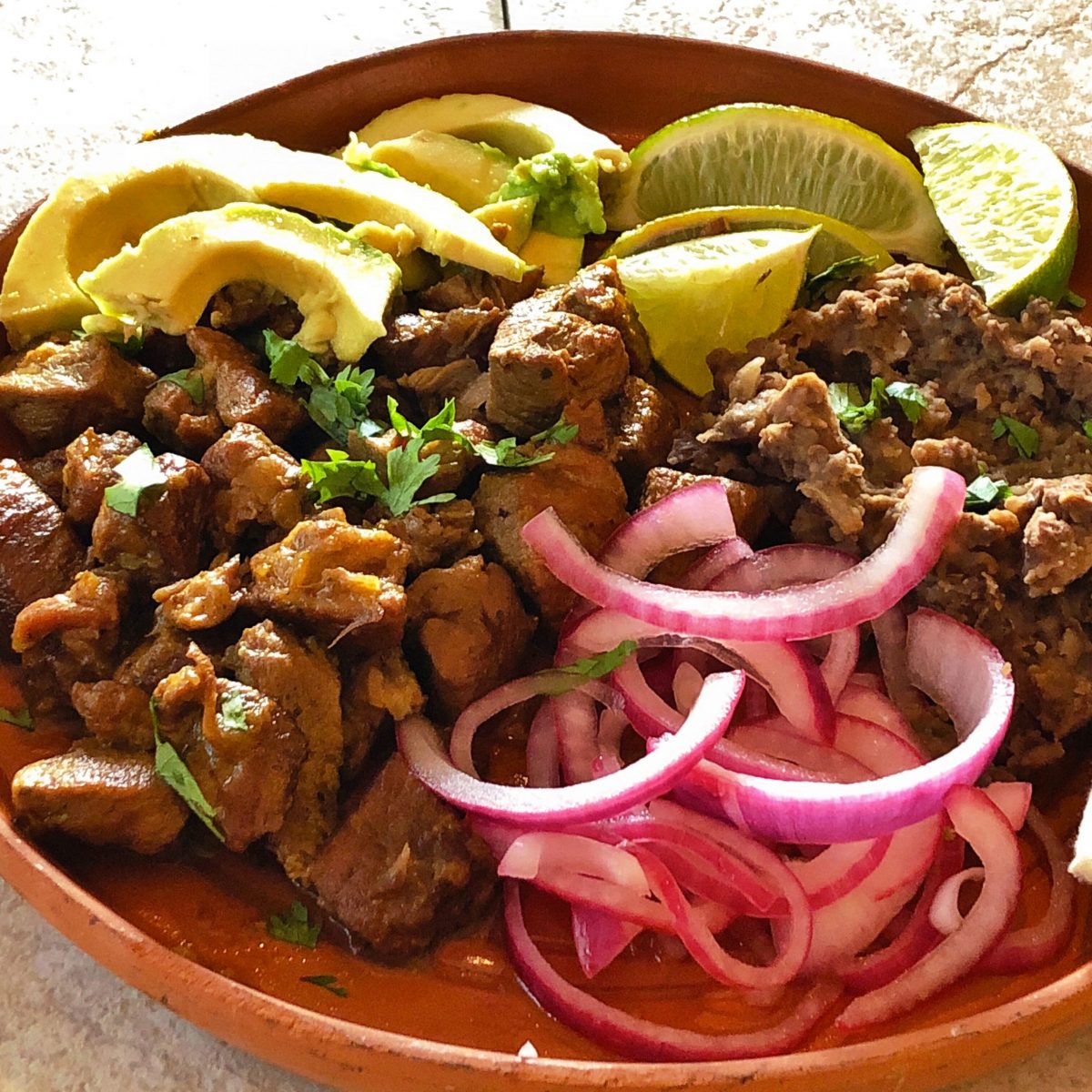 Egg salad, beans, salads or any type of sandwich are just a few of the dishes subject to pickled onion additions.
My dad's favorite "dish" using pickled onions is a sandwich with Miracle Whip, braunschweiger and pickled onions on rye bread. My mom prefers pickled onions on burgers or in a burrito bowl.
For me, it's a rare day when I have any type of Mexican food without pickled onions. I really love the sweet, cool crunch of the onions in the soft and hot black beans.
I also love the tangy onions in salads (especially a version of this nicoise salad) or in my DIY poke bowls. And of course one of my favorite Mexican dishes that uses pickled onions is Mexican fish tacos.
However you use them, pickled onions are a slightly sweet, slightly tangy, and definitely delicious addition to any recipe.
What Else is Good Pickled?
After pickling onions, I discovered you can pickle pretty much anything! Our family's newest favorite pickled item is these pickled beet eggs, but we've also made our own kimchi (pickled and fermented cabbage), and even pickled chicken gizzards!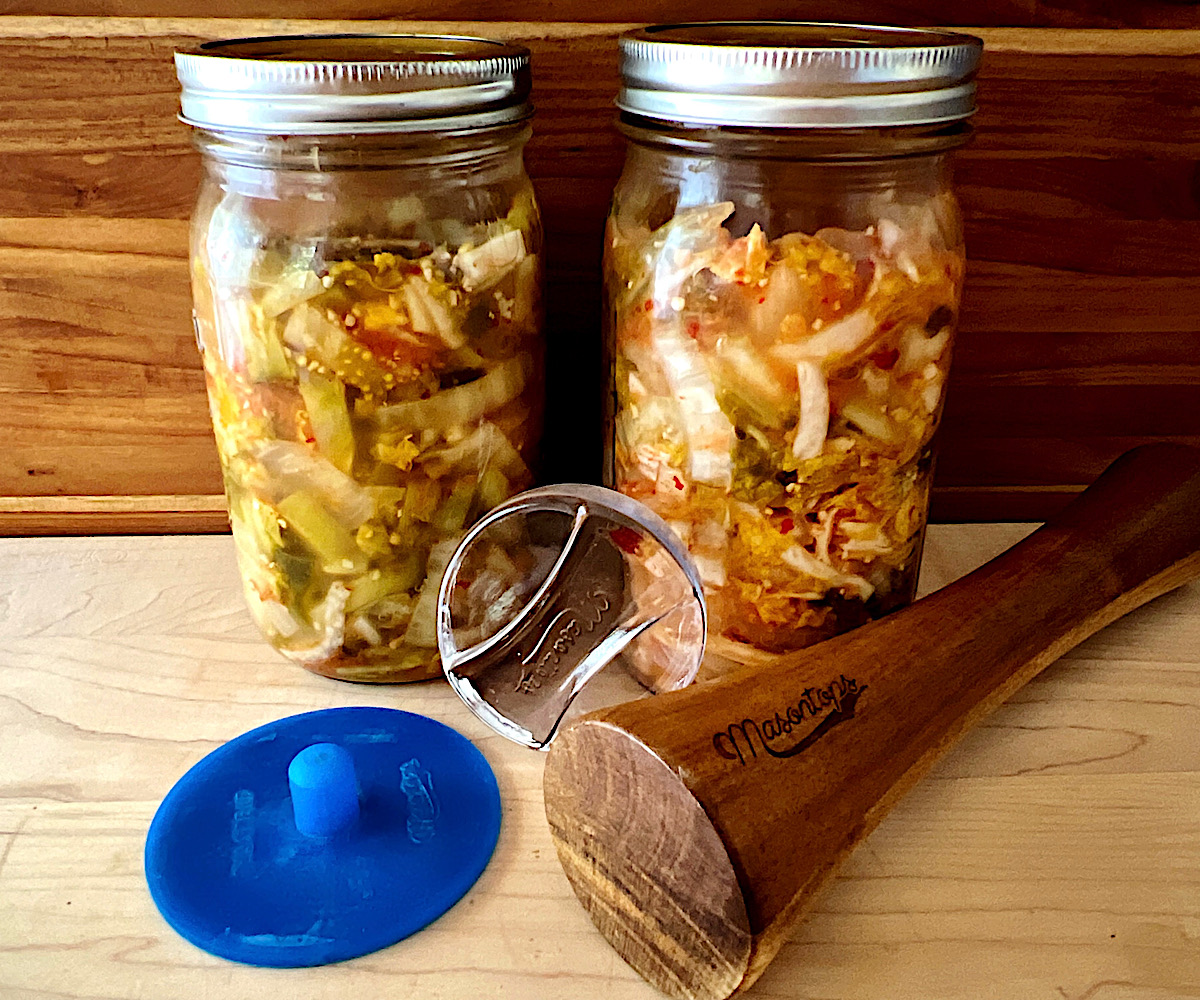 Pickled watermelon rind has recently become very trendy, and I think I'll try that one next on my pickling journey. I'd also eventually like to try pickling jalapenos.
You don't have to be too adventurous or an experienced chef to pickle foods, which is the beauty of pickling!
Another benefit of pickling is that pickling is so simple- most of the magic happens after you walk away. Pickling can sometimes take a few days to marinate, so patience and planning are key here.
Are there health benefits to pickling?
There have been many studies on the benefits of pickled or fermented foods to the gut flora suggesting that pickled foods can boost digestion and energy levels.
However, most recipes for pickled foods contain a fair amount of sugar and salt. I've read that the process of fermentation and pickling lowers the carbs and impacts of sugar, but I'm not sure how reliable those sources were.
More Methods for Preserving Summer's Produce:
Recipe for 30-Minute Pickled Onions
30-minute Pickled Onions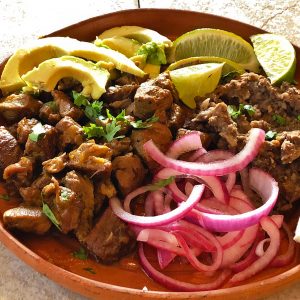 30-minute pickled onions are a perfect condiment for Mexican food, especially carnitas, cochinita pibil or fish tacos.
Ingredients
2-3

red onions

large onions

1.5

Teaspoons

whole black peppercorns

2

Cups

vinegar

white wine vinegar or apple cider vinegar

2 – 3

Tablespoons

sugar

3

Teaspoons

table salt

water

enough to fill jar
Instructions
Peel the onions and cut them in half. Using a sharp knife or a mandolin, thinly slice the onions and place in a large glass jar (or heat proof bowl) with an airtight cover

Add the peppercorns to the jar and lightly shake the jar to disperse the peppercorns

1.5 Teaspoons whole black peppercorns

In a small pot, combine the vinegar, sugar, and salt and heat until sugar and salt are dissolved (couple of minutes). Pour into the jar (or a heat proof bowl) with the onions

2 Cups vinegar,

2 – 3 Tablespoons sugar,

3 Teaspoons table salt

Fill the jar with water until the water level reaches the top of the onions

Let sit in room temperature for 30 minutes to an hour and place the extra in the refrigerator for later. Serve immediately, or refrigerate in a sealed container for up to 2 weeks.
Notes
** You can use vinegars other than apple cider vinegar, but they should be around 5% acidity.
Nutrition
Calories:
43
kcal
Carbohydrates:
8
g
Protein:
1
g
Fat:
1
g
Saturated Fat:
1
g
Sodium:
700
mg
Potassium:
42
mg
Fiber:
1
g
Sugar:
7
g
Vitamin A:
4
IU
Vitamin C:
2
mg
Calcium:
12
mg
Iron:
1
mg
Did you make this recipe?
If you tried this recipe, please give it a star rating! To do this, just click on the stars above. Comments are always helpful also and I respond to all of them (except rude ones)
Online Diet/Health Coaching:
Although I am not currently taking clients for diet & health coaching, I have been a coach for many years with the online service called coach.me. It is a great platform for all kinds of coaching – anything from specific diets, writing a blog, getting up early, or getting rid of that pesky procrastination.
There are some wonderful coaches and the testimonials will tell you what you need to know. Contact me at [email protected] to get a referral to some of the tested, experienced online coaches on Coach.me
If you'd like to start with a plan for a low carb or keto lifestyle, check out this detailed guide in ebook form. It may be all you need to lose weight on this lifestyle. Or it may be used as a supplement to one-to-one coaching.