So quick and easy: just coat the salmon in sesame seeds and bake for 10 minutes. Mix up an Asian sauce full of umami to pour over some quickly sautéed bok choy and you have a low carb dinner that is chock full of flavor, as well as full of vitamins and minerals.
Jump to Recipe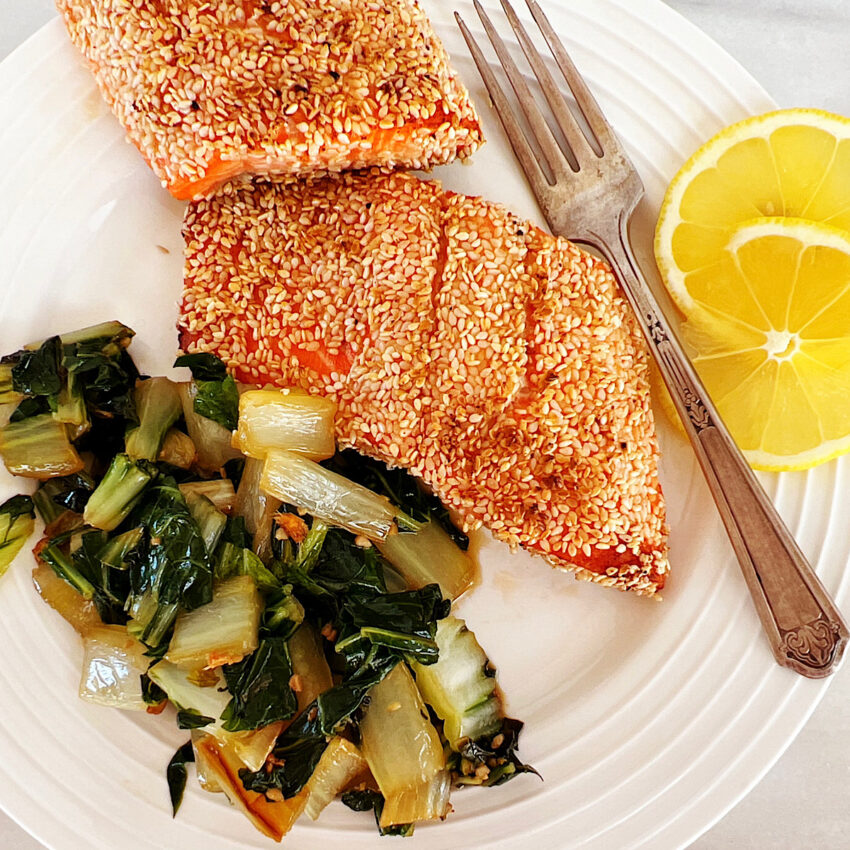 The Sesame "Breading"
I've tried a number of different low carb breadings or coatings, some of which were excellent and some not so great. Parmesan mixed with either almond flour or crushed chicharonnes made a good coating for these fried green tomatoes or these fish filets. Crushed nuts were wonderful as a breading on this almond crusted cod.
This recipe for sesame crusted salmon however, was by far the easiest and crispiest breading that I've done to date. Just stir your favorite spice blend into a bowl of sesame seeds, roll the salmon around in the bowl, drizzle with oil and bake!
Some slightly bitter and slightly spicy bok choy is the perfect foil for the fat (good fat) and crunch of the salmon. Quick enough for weeknight, elegant enough for a party.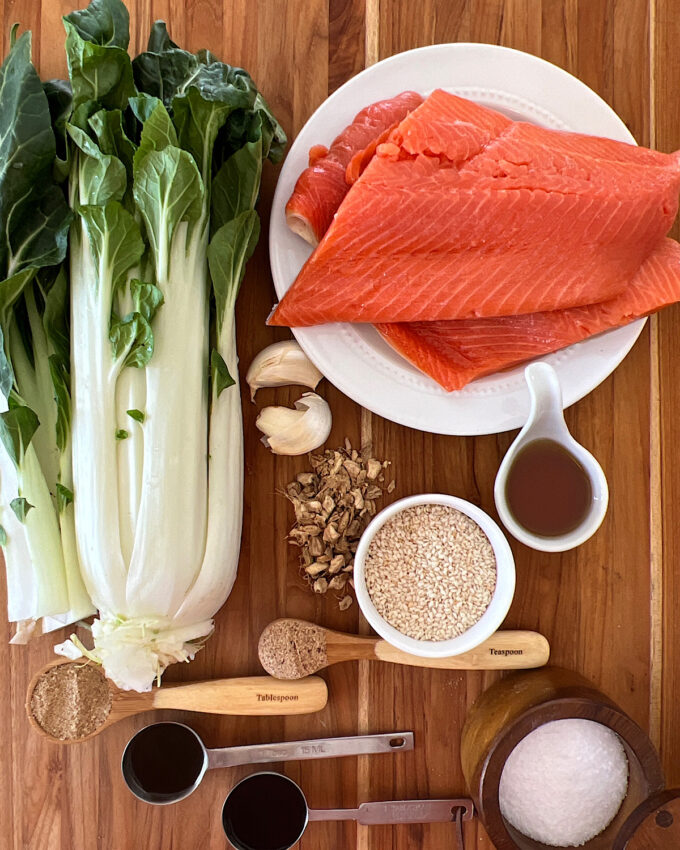 Baking the Salmon vs Pan-frying
Sesame crusted salmon is a very popular recipe, probably because it is so easy to make and so good to eat. Most cooks/chefs however will panfry the dish. I'm always looking for ways to cut a few calories or carbs, so I baked it in the oven instead.
Pan-frying gives you the deep brown crust on the sesame seeds, but if you bake it until almost done and then place it under the broiler for a minute or two you will also get the deep color. I find it is crunchier this way than pan-frying in oil.
Substitutions or Additions
There are always variations or substitutions you can do to a recipe to make it your own or exclude an ingredient you don't care for. Here are some suggestions:
For the salmon: good substitutes would include Arctic char, trout, steelhead or bluefish
For the sesame crust: you can toast the sesame seeds for more flavor, and you can use any spice blend you like to flavor the breading. I used one that had a bit of spicy heat to it because I enjoy that but it certainly is not necessary.
For the bok choy: any of the Asian greens would be great, as would the Southern type of greens like collard greens or mustard greens. Creamed spinach is also a great alternative.
For the Asian dressing: there are many variations on Asian dressings but most of them will include an oil (often sesame oil), some umami like fish sauce, oyster sauce, soy sauce or Worcestershire sauce, and often some spice like red pepper flakes. Here are some typical ingredients for Asian-style dressings
soy sauce
Worcestershire sauce
oyster sauce
rice vinegar
sesame oil
chili flakes
garlic
ginger
brown sugar
honey
sesame seeds (toasted for the most flavor)
More Salmon & Seafood Recipes:
Salmon Kebabs on an Indoor Grill
Mexican Spiced Salmon on Indoor Grill
Sesame crusted salmon with bok choy side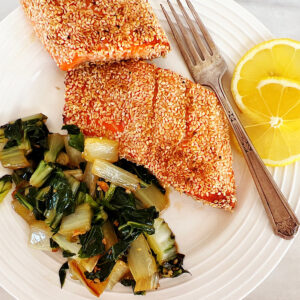 A low carb dinner that is truly quick and easy to make. The salmon is coated with sesame seeds and baked, while the bok choy is sauted in a skillet and dressed with a robust Asian sauce. It all comes together in 10 minutes after the prep is done.
Ingredients
4-6

Salmon filets

at room temperature

½

Cup

sesame seeds

toasting them 1-2 minutes adds flavor

1

Teaspoon

salt

1

Tablespoon

spicy fish blend

1

Tablespoons

olive oil

divided

1

bunch large bok choy

chopped, keeping white parts separate from greens

¼

cup

water

2

cloves

minced garlic

1

Tablespoon

brown sugar

1

Tablespoon

soy sauce

1

Tablespoon

worcestershire sauce

1

Tablespoon

ginger

grated

1-2

Tablespoons

sesame oil
Instructions
Preheat oven to 220C/430F. Bring the salmon to room temp.

In a large bowl stir together sesame seeds, salt and the spice blend (I used a spicy blend for fish).

Press the salmon filets into the bowl of the sesame mix, coating all sides of the salmon. Place sesame-coated filets on a baking sheet (cover with foil for easy clean up). Drizzle with oil.

Clean and chop the bok choy, keeping the white parts separate from the green leaves.

In a bowl mix together all the ingredients for the dressing (water, garlic, sugar, soy sauce, worcestershire sauce and ginger)

Place salmon on middle rack in oven and bake for 10 minutes (turn timer on because you will be making bok choy at same time and it goes fast)

While salmon is baking, heat sesame oil in a large skillet and sauté the white parts of the bok choy (the stems) for about 3-4 minutes, until they become a pale green.

Add the green parts of bok choy and cook another 2-3 minutes until wilted.

Transfer the bok choy to a bowl and pour the sauce into the skillet. Cook sauce about 3 minutes until slightly thickened. Pour over the bok choy and toss lightly to coat.

When the timer goes off for the salmon, (after 10 minutes), remove the salmon from oven and turn broiler to high. Place salmon on top rack and broil for 2-3 minutes or until top sesame seed coating is deep golden.

Remove from oven and serve with the warm bok choy.
Nutrition
Calories:
459
kcal
Carbohydrates:
14
g
Protein:
41
g
Fat:
28
g
Saturated Fat:
4
g
Polyunsaturated Fat:
10
g
Monounsaturated Fat:
11
g
Cholesterol:
94
mg
Sodium:
1103
mg
Potassium:
1511
mg
Fiber:
4
g
Sugar:
6
g
Vitamin A:
9456
IU
Vitamin C:
96
mg
Calcium:
435
mg
Iron:
6
mg
Did you make this recipe?
If you tried this recipe, please give it a 5-star rating! To do this, just click on the stars above.