Hey! I'm Marijke, resident content writer at Farm to Jar. Today, we're preparing a traditional dish from my home country of The Netherlands called poffertjes. Poffertjes is a typical Dutch fair food, similar to pancakes but smaller and fluffier. They are a huge crowd-pleaser and every Dutch person's childhood favorite. We'll serve them in this recipe with an easy blueberry compôte!
Jump to:
RECIPE
What are Poffertjes?
Ingredients & Equipment
Illustrated Step by Step
Blueberry Sauce Recipe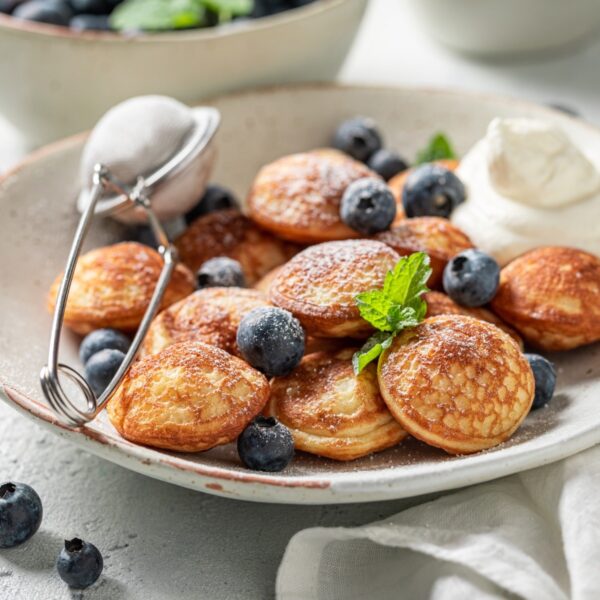 This post may contain affiliate links, and you can read our disclosure information here–
What Are Poffertjes?
If you're familiar with the Northern European country of The Netherlands (also known, incorrectly I might add, as Holland), you'll probably know that it's not exactly a culinary hotspot.
Traditional meals consist mostly of carefully sectioned boiled potatoes, bland boiled veggies and a serving of meat. Most widely appreciated dishes are actually international in origin.
However, if there's one thing the Dutch have mastered, it's snack food. Those who like savory foods will appreciate the wide range of fried croquettes, sausages and cheese pockets.
If you're more of a sweet snacker, you'll adore stroopwafels (syrup pressed between two thin, pliable waffles) and, of course, today's star: poffertjes.
Poffertjes truly are as Dutch as tulips and windmills. Related to pancakes but much smaller, and airier due to the use of yeast, they're a typical fair food. You'll find food trucks preparing them at any fair or event, serving their poffertjes (covered in melted butter and powdered sugar) on paper plates. Divine!
Many casual restaurants also serve poffertjes. Heck, the Dutch love their pancakes and pancake-derivatives so much you can even visit dedicated "pancake houses", which serve a mind-boggling variety of savory and sweet poffertjes and Dutch-style pancakes.
Ingredients and Equipment
There's a reason poffertjes have been a staple in The Netherlands for hundreds of years (I'm not kidding either, they're described in a 1746 cookbook). They're delicious! Aside from that, they're also easy to make and a real crowd-pleaser.
Below, I'll describe the equipment and ingredients needed to prepare poffertjes, as well as the basic method. After that, we'll have a look at how to make a simple blueberry compôte to serve them with.
Equipment
As mentioned, poffertjes are easy enough to prepare. There is one caveat, however: for the best results, you should really use a poffertjes pan. Luckily these are getting easier and easier to find here in the US!
Traditionally made of cast iron, the most important characteristic of a poffertjes pan are the holes. These are meant to pour the batter in, preventing it from running everywhere and giving the poffertjes their typical fluffy round shape.
Nowadays, there are also electric poffertjes pans, which some folks prefer due to the easier temperature control they offer. In the photos in this recipe, though, I'm using classic cast iron.
Ingredients
The ingredient list for poffertjes is pretty similar to that of pancakes, but there are some differences.
Here's what you'll need:
Flour. But not just white flour! The typical 'poffertjes flavor' every Dutch resident grew up with comes from a mixture of 50% white flour and 50% buckwheat flour for deeper flavor.
Yeast. Not found in normal pancakes, the use of yeast is what sets poffertjes apart. Yes, you can go for baking powder, but the result is always slightly off in my opinion.
Melted butter. It's missing in a lot of modern recipes, but traditionally a bit of melted butter or oil is added to the batter.
Milk. Yes, we've reached the typical pancake ingredients here.
Egg. Just to bind it all together!
Illustrated Step by Step:
If you're going to be cooking up batches of poffertjes for a crowd (which I wholly recommend), it may be a good idea to practice with a smaller batch first. The poffertjes pan will be quite hot, things can start cooking overwhelmingly quickly, and flipping them is something you need to get the hang of.
Step #1: Make and Fill the Batter
What you'll do is place the poffertjes batter in a recipient that makes it easy to dose, like a squeeze bottle or piping bag with a small nozzle. After you've pre-heated and greased the poffertjes pan, just fill each hole up to 3/4th of the way.
Step #2: Flip the Cakes
After a minute or two, you'll see bubbles start to appear on the tops of your poffertjes. The edges will solidify slightly, making it possible to poke a fork in them and flip the pancakes in one smooth movement. They should come loose with no effort at all; if they stick, your pan may not be hot enough or it could need more grease.
Step #3: Cook until Golden Brown
Once you've flipped the poffertjes (use a wooden skewer rather than a fork if your pan is non-stick), just wait until they're golden brown. Flip 'em all onto a plate and serve with melted butter and powdered sugar (traditional) or blueberry compôte (not traditional, but delicious!).
How To Make Blueberry Compôte (Sauce)
The blueberry compôte (berries in sugar syrup) we're making to accompany our poffertjes is easy to put together, but looks and tastes totally luxurious.
Here's what you'll need:
Blueberries: you can use fresh or frozen, since we're cooking them down anyway.
Sugar: to sweeten and help thicken the compôte. Any sugar works, with brown being the most flavorful. Standard white sugar is best if you don't want to affect the color.
Lemon juice: to cut through the sweetness and add an extra layer of flavor.
Lemon zest: lemon and blueberries go together like peas and carrots, and adding some zest gives a much better lemon aroma than the juice alone.
Salt: yep, even in sweet recipes, a pinch of salt helps enhance the flavors.
The method for this compôte couldn't be simpler. You just add all the ingredients to a saucepan and cook them down, mashing some of the blueberries to release their juices. It's done in under 10 minutes!
Like your compôtes nice and thick? You can remove the blueberries at the end and cook the sugary liquid that remains down until reduced to half, possibly with some cornstarch, then add the berries back when it's time to serve. That's up to you, though; even without this step, the end result will have a wonderful syrupy consistency.
Recipe for Dutch Poffertjes with Blueberry Compôte
Poffertjes with Blueberry Compôte
A sweet and simple blueberry compôte makes the perfect accompaniment to these classic Dutch mini pancakes, known as poffertjes.
Equipment
1 small saucepan

1 lemon zester

1 poffertjes pan

cast iron or electric

1 large bowl

1 squeeze bottle

see notes

1 heat-proof brush

1 fork
Ingredients
For the blueberry compôte (alternatively, just serve with fresh blueberries)
1

lb

blueberries

fresh is ideal, but frozen is okay

4

tbsp

sugar

1

lemon

½

tsp

salt
For the poffertjes batter
1

cup

white flour

1

cup

buckwheat flour

1

tbsp

white sugar

1

tbsp

dry yeast;

see notes

½

tsp

salt

1

egg

1.5

cups

milk

1.5

tbsp

melted butter
Instructions
For the blueberry compôte
Place all of the ingredients in the saucepan. Cook over medium heat (lightly bubbling) for up to 10 minutes. Reduce the heat a bit if the berries begin to foam, so they don't boil over.

1 lb blueberries,

4 tbsp sugar,

1 lemon,

1/2 tsp salt

OPTIONAL: remove the berries from the mixture using a slotted spoon at the 5-6 minute mark. Cook until the liquid has reduced by about half, then add the berries back in and mix well.
For the poffertjes
Mix the white flour, buckwheat flour, sugar, yeast and salt in a large mixing bowl.

1 cup white flour,

1 cup buckwheat flour,

1 tbsp white sugar,

1 tbsp dry yeast;,

1/2 tsp salt

Slowly mix in the milk, stirring continuously.

Add the egg and melted butter. Stir until you get a thick, well-mixed batter without lumps.

1 egg,

1.5 tbsp melted butter

Cover the bowl and leave the batter to rest for 45 minutes in a warm location, so the yeast can do its work.

Once time is up, preheat your poffertjes pan on medium-high heat. Use the brush to grease it with some butter or your preferred type of oil.

Give the batter a last stir and pour it into the squeeze bottle.

Squeeze batter in each of the holes in the poffertjes pan, filling them to no more than 3/4th of their capacity.

Once bubbles have formed and the sides of the poffertjes have slightly solidified, the moment of truth has come: use the fork to quickly turn them. It can take some practice!

The poffertjes are done when they're golden brown on both sides. Douse in blueberry compôte and serve!
Notes
1. This recipe makes 20 poffertjes, which is considered to be about 2 servings.
2. You'll find poffertjes recipes without sugar, but since it acts as food for the yeast, I like to add at least a little.
3. If you don't have a squeezing bottle or piping bags on hand, you can go for the good old trick of scooping the batter into a freezer baggie and cutting a tiny bit off the corner for easy dosing.
4. You can use baking powder for poffertjes, which eliminates the 45-minute waiting time. However, the result will be missing a bit of that typical poffertjes flavor.
5. You'll likely have some blueberry compôte left over. You can halve the recipe if you don't want extra.
6. For an extra thick blueberry compôte, you can always mix 1/2 tbsp cornstarch with 1 tbsp water, then add the slurry into the mixture and cook for an extra minute or so.
Nutrition
Calories:
83
kcal
Carbohydrates:
17
g
Protein:
3
g
Fat:
1
g
Saturated Fat:
0.5
g
Polyunsaturated Fat:
0.2
g
Monounsaturated Fat:
0.3
g
Trans Fat:
0.001
g
Cholesterol:
10
mg
Sodium:
128
mg
Potassium:
97
mg
Fiber:
1
g
Sugar:
6
g
Vitamin A:
55
IU
Vitamin C:
5
mg
Calcium:
30
mg
Iron:
1
mg
Did you make this recipe?
If you tried this recipe, please give it a star rating! To do this, just click on the stars above. Comments are always helpful also and I respond to all of them (except rude ones)