Hoppin John is a classic southern/cajun dish traditionally served on New Years Day to encourage good fortune and wealth throughout the upcoming year. Well, good fortune is certainly yours during dinner as you savor this delicious stew! Bonus points that it is compliant with slow carb diets if you just exclude the rice.
Jump to: RECIPE | Key Ingredients of Hoppin John | History of Hoppin John | Associated Superstitutions | What to Serve with Hoppin John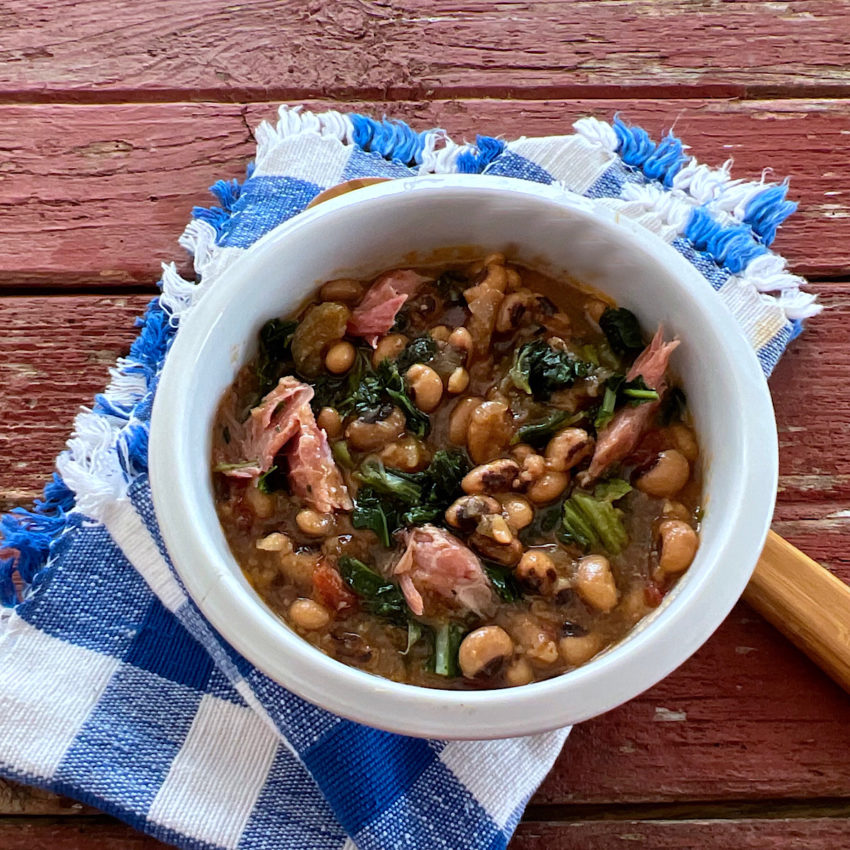 This post may contain affiliate links, and you can read our disclosure information here–
Key Ingredients of Hoppin John
Thought to have originated in the Carolinas, most historians agree that Hoppin John is an American dish with African/French/Caribbean roots.
Southern cooks have come up with many variations of this traditional dish, but the traditional dish contains three main ingredients: black-eyed peas, smokey pork (often bacon), and some kind of heat.
Rice is often added to Hoppin John, but I have excluded it in my recipe for two reasons:
Most of the recipes I post (since 2014 anyway) are low carb or slow carb. Rice is not part of a low carb diet (and you won't miss it in this dish).
From a flavor/texture standpoint, the addition of rice to Hoppin John often makes for a mushy mound of rice and black-eyed peas that is not at all appealing.
Where did the Crazy Name Come From?
Theories abound regarding how this dish got its quirky name. The most popular theories include:
It was the custom for children to gather in the dining room as the dish was brought forth and hop around the table before sitting down to eat.
A man named John came "a-hoppin" when his wife took the dish from the stove.
An obscure South Carolina custom was inviting a guest to eat by saying, "Hop in, John"
It was hawked in the streets of Charleston, South Carolina by a crippled black man who was known as Hoppin' John,
And the most boring theory is that Hoppin' John is a corruption of the French phrase pois à pigeon, meaning "pigeon peas."
I'm going with the greeting of a guest saying "Hop in, John".
"Good Luck" Superstitions
Some of the ingredients in Hoppin John are said to bring about good luck in the New Year. The three ingredients most associated with good luck are summarized as follows:
Financial good luck is represented by the collard greens, as they are the "greenbacks".
The black-eyed peas are supposed to represent coins for more financial good luck, and
Tomatoes bring about the additional good luck of health in the New Year.
Beyond the ingredients, there are a range of traditions that enhance your luck (and are fun to do).
One custom is to bury a shiny dime among the black-eyed peas before serving. Whoever gets the coin in his or her portion is assured good luck throughout the whole year.
Another tradition in some parts of the South is to count the number of peas in your serving to predict the amount of wealth you will have for the coming year.
And finally, if you leave three (3) peas on your plate when you are finished eating, then your New Year will be filled with luck, wealth, AND romance.
I love trying these old classic dishes with a background of tradition, especially if they taste good. And this one does. No mushy mound of rice and peas here!
What to Serve with Hoppin John
Collard greens (and corn bread) are usually part of this traditional New Years meal.
Some cooks serve the collard greens as a side and some add them right to the pot. For ease and quickness, my version adds the collard greens to the pot. I'm a big fan of one-pot meals, both for the blending of flavors and for the easy clean up.
I also used both ham hocks and bacon in my recipe, a recipe which was inspired by Emeril, the king of southern cooking in my mind. The ham hocks were simmered in the stew to add flavor and fat, and the bacon was added at the end for some crispness on top of the stew.
In my version, the smoked chipotle spice mix brought the heat, but your favorite chile pepper spice mix will work.
The best dessert to go with any Southern dish (in my opinion) is old fashioned banana pudding. Such a sweet way to bring in the New Year!
Other Great Cold Weather Stews:
Recipe for Slow Carb Cajun Hoppin John
Hoppin John – a slow carb cajun stew
Hoppin John is a traditional Southern stew enjoyed on New Year's Day for good luck in the upcoming year. This version is made in an instant-pot and does not include rice because it is a slow carb version. You won't miss the rice at all! Serve with collard greens.
Ingredients
1-2

ham hocks

or ham "shank"

1

large onion

chopped

2

stalks celery

chopped

1-2

garlic cloves

minced

4

Cups

Stock or broth

ham base if possible

1

tsp

Smoked paprika

can add cumin and cayenne if desired

2

Cups

Black-eyed peas

Dried (can use canned but cut down heating time)

14

oz

diced tomatoes

can use canned

salt and pepper to taste

1

bunch

collard greens

rinsed and coarsely chopped

3-4

strips

bacon

optional
Instructions
To the instant pot, add all ingredients: ham hock(s), chopped onion, celery, garlic, ham base, smoked paprika, black-eyed peas, tomatoes and salt. Stir all together.

1-2 ham hocks,

1 large onion,

2 stalks celery,

1-2 garlic cloves,

4 Cups Stock or broth,

1 tsp Smoked paprika,

2 Cups Black-eyed peas,

14 oz diced tomatoes,

salt and pepper to taste

Cover the instant pot, lock in and turn to the "soup" option. If your pot does not have the soup option, turn manually to 40 minutes.

Let the pot go down in pressure without forcing the steam to release.

Serve with collard greens and/or cornbread for a real Southern meal.

We always have some left and usually add bacon to the pot the next day to extend the comforting stew.

1 bunch collard greens,

3-4 strips bacon
Notes
NOTE: In my version, the smoked chipotle spice mix brought the heat, but your favorite chile pepper spice mix will work.
Nutrition
Calories:
354
kcal
Carbohydrates:
28
g
Protein:
23
g
Fat:
17
g
Saturated Fat:
6
g
Polyunsaturated Fat:
2
g
Monounsaturated Fat:
7
g
Trans Fat:
1
g
Cholesterol:
57
mg
Sodium:
240
mg
Potassium:
775
mg
Fiber:
9
g
Sugar:
7
g
Vitamin A:
2775
IU
Vitamin C:
29
mg
Calcium:
181
mg
Iron:
4
mg
Did you make this recipe?
If you tried this recipe, please give it a 5-star rating! To do this, just click on the stars above.
Online Diet/Health Coaching:
Although I am not currently taking clients for diet & health coaching, I have been a coach for many years with the online service called coach.me. It is a great platform for all kinds of coaching – anything from specific diets, writing a blog, getting up early, or getting rid of that pesky procrastination.
There are some wonderful coaches and the testimonials will tell you what you need to know. Contact me at [email protected] to get a referral to some of the tested, experienced online coaches on Coach.me
If you'd like to start with a plan for a low carb or keto lifestyle, check out this detailed guide in ebook form. It may be all you need to lose weight on this lifestyle. Or it may be used as a supplement to one-to-one coaching.