This traditional version of pozole rojo is a luscious slow-cooked stew made with pork, hominy, Mexican spices, and a blend of mild to moderate chile peppers. It is simple to make without a lot of hands-on time, but to develop the full flavors it should be simmered for a couple of hours. Make a big batch as it gets better every day!
Jump to:
RECIPE
What is Pozole?
Low Carb?
When is Pozole Most Often Served?
Substitutions
Common Questions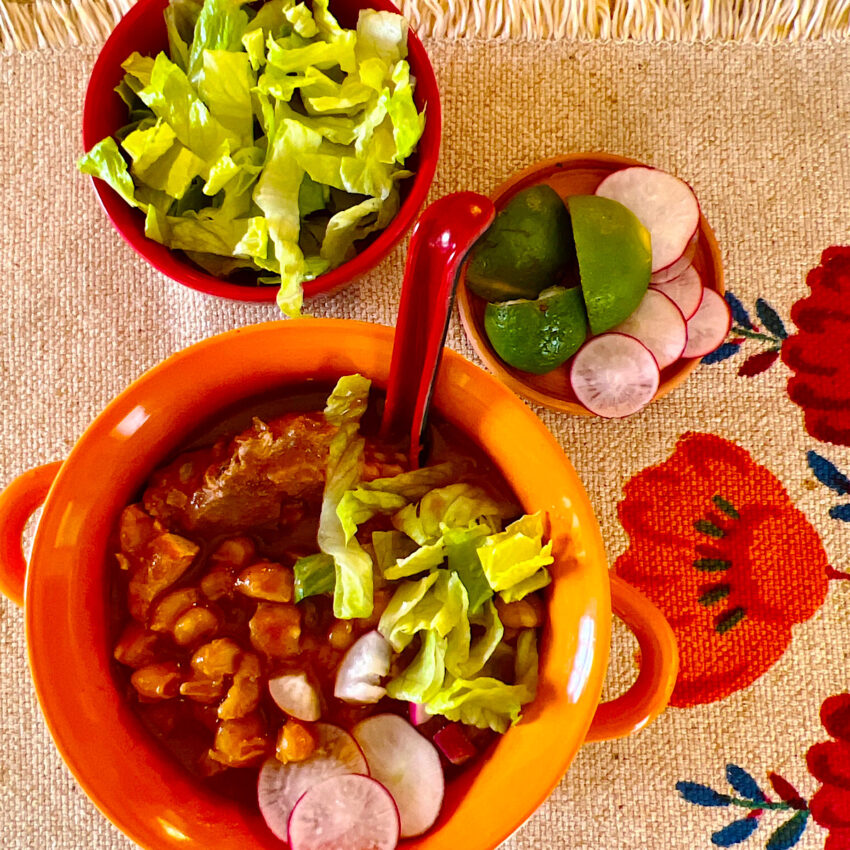 This post may contain affiliate links, and you can read our disclosure information here–
What is Pozole (Posole)?
Pozole is one of Mexico's oldest soups or stews, said to date back to Aztec times. There are now a ton of different versions but old-school pozole rojo has a smoky red stock spiced with pureed chile peppers, slow cooked with pork and hominy (whole white corn kernels that have been acidified to soften and plump up the kernels).
It is essentially an earthy, aromatic pork and hominy stew that is slow cooked in very large batches. It's simple, so the ingredients are quite important.
The hominy provides a soft chewy texture, the broth is complex and should include pork with bones in addition to some pork with fat. For example the pork might include pigs' feet, pork shanks and or pork shoulder.
Is Pozole Low Carb?
The hominy part of pozole is quite starchy and definitely not low carb.
If you want a slow carb version, try this pozole with garbanzo beans. It substitutes garbanzo beans for the hominy. For a quick and easy slow carb pozole, try this version with powdered ancho. It uses ancho powder instead of dried chiles and substitutes navy beans for hominy.
Is Pozole a Celebration Food?
Pozole is often thought of as a rural celebration food, often seen at fiestas, but a more casual celebration dish than mole or tamales. One friend from Mexico told me it was sometimes referred to as "drunken food", as it was often enjoyed at fiestas that had plenty of drink and merriment.
While in the U.S. we think of stews as cold weather fare, in Mexico pozole is served whenever you need to feed a crowd or when there is something special going on.
Sometimes pozole is even considered the dish to celebrate the week's end (which is Thursday).
Pozole garnishes are key ingredients
While the broth and hominy are the base of the soup, it is the garnishes that really bring pozole to life. Typically the soup is served in bowls at the table and additional plates are heaped with garnishes. Some say pozole is "all about the garnishes".
The garnishes vary but typical garnishes found on a Mexican table might include:
thinly sliced radishes
chopped avodacos,,
cilantro
chopped onions (purple or yellow)
wedges of lime
shredded cabbage or lettuce
a range of hot sauces
crisp tostados
pepitas
sour cream for those who want to tone down the heat level
Most pozole ingredients are readily available at larger grocery stores or at the Mexican grocer. Specialty masa is sometimes used in pozole and Masienda is my favorite place to find high end, organic specialty ingredients.
Pozole Rojo vs Verde vs Blanco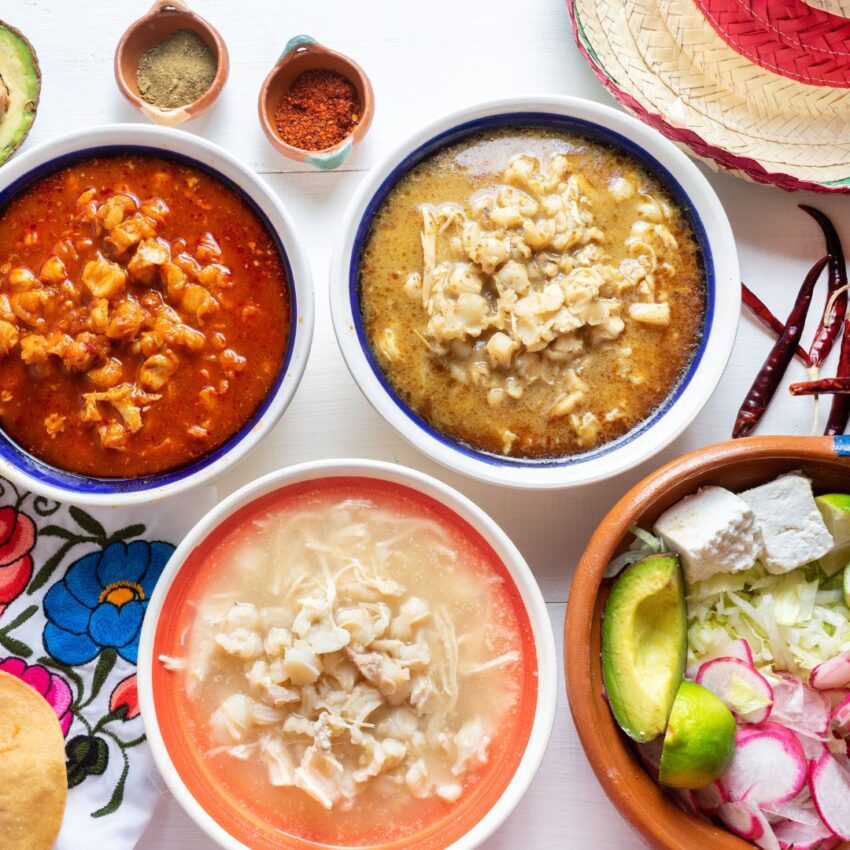 Red pork and hominy stew (rojo) is the classic pozole, and it is made with a mix of chile peppers. The pepper varieties can vary but it should include smoky anchos or pasillas in the mix.
Pozole verde is usually made with chicken instead of pork and includes poblanos (poblano chile peppers are the fresh peppers that become anchos once they are smoked) and tomatillos.
Pozole blanco does not have red or green chiles to give it the color that the other ones do. It is sometimes considered the most "pure" of the three, with the broth becoming the most important part. It is often served with a spicy salsa on the side for those that want to spice it up a bit.
Is Pozole Rojo Spicy?
Most recipes for pozole rojo use the mildly spiced ancho and guajillo peppers. The verde and the blanco is even less spicy, with the verde using mild poblanos and the blanco foregoing the chile peppers all together.
Some cooks will add chile de arbol to the broth, if they want to increase the heat level. Others will just keep it mildly flavored with chiles and provide hot sauces on the table for individual preferences.
In our recipe we used a mix of anchos, pasillas, and guajillo peppers and then served it with a range of hot sauces on the table. It is also common to include arból chiles instead of hot sauce to increase the heat level.
Frequently Asked Questions:
Can this be made in an instant pot?
I have not made it in an instant pot, mostly because the traditional way is to permeate the house with the smells of something special. I don't see any reason why it couldn't be made in an instant pot however. Just rehydrate the chiles and make the rojo sauce first and then add that with the rest of the ingredients to the instant pot and set it for "stew".
How long will it keep?
It will easily keep in the refrigerator for a week, and in fact gets better with each reheating. Just reheat the whole stew until hot and serve the garnishes fresh.
Recipe for Traditional Pork Pozole Rojo
Pork Pozole Rojo: Pork & Hominy Stew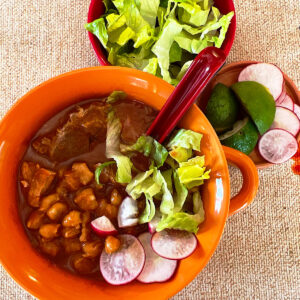 This lush Mexican stew is a brothy pork and hominy (white corn kernels) stew flavored with mild chile peppers and Mexican spices and served with tostadas and a ton of garnishes.
Equipment
very large pot

large bowl

large mesh strainer
Ingredients
12

Cups

canned hominy

Drained; We used a 6 lb can from the mercado; you could use 2-3 25 oz cans

3-4

lbs

mixed pork

something with bones; we used pork necks and pork shoulder; could use pigs' feet or shanks

2

bay leaves

2

Cloves

garlic

2

onions

divided

16

Oz

can of diced tomatoes

12-15

dried chile peppers

We used 4 anchos, 5 passilas, and 5 quajillos

1

Tablespoon

cilantro

chopped

1

Tablespoon

Mexican oregano (dried)

3

Teaspoons

salt

½

Cup

masa dough

optional
Instructions
Fill a large pot with water and add hominy, pork, bay leaves, garlic cloves and one onion (cut in half). Add more water if needed to cover.

Bring to a boil. Reduce heat and let it simmer while you make the rojo sauce.

While the pork is cooking, make the rojo sauce. First rehydrate chiles in hot water for about 30 minutes or until soft.

Once the chiles are soft, add them to a blender, along with the onion and a little of the liquid used to rehydrate the chiles. Puree until farily smooth. Place the puree in a strainer to separate the pulp from the liquid. You may have to do this in batches if your blender is smaller.

Return the chile puree pulp to the blender, along with a little chile liquid if needed and add the tomatoes, cilantro, oregano and salt.

Puree this mixture until it is a smooth sauce.

Add the rojo sauce to the pot with the pork and broth and simmer for 1-2 hours, or until you think all flavors have melded together enough. If you are using the masa dough, add it to the pot also, breaking it into small pieces.

Cover the pot to help the masa dissolve.

Serve soup in bowls and have a lot of garnishes and hot sauces available for people to add to their soup according to their preferences.

Garnishes might include radish, lettuce, onions, avocados, limes and a variety of hot sauces (see notes for amounts)
Notes
POZOLE GARNISHES
½ head of cabbage shredded
1 large white onion diced
6 radishes sliced into half moons
6 limes quartered
4 tablespoon Mexican oregano
6 arból chiles finely chopped (or hot sauces)
Salt as needed
Nutrition
Calories:
365
kcal
Carbohydrates:
43
g
Protein:
25
g
Fat:
10
g
Saturated Fat:
3
g
Polyunsaturated Fat:
2
g
Monounsaturated Fat:
4
g
Cholesterol:
70
mg
Sodium:
1882
mg
Potassium:
600
mg
Fiber:
8
g
Sugar:
8
g
Vitamin A:
335
IU
Vitamin C:
9
mg
Calcium:
67
mg
Iron:
4
mg
Did you make this recipe?
If you tried this recipe, please give it a 5-star rating! To do this, just click on the stars above.