Pozole (aka Posole) is such a flavor-filled, rib-sticking, satiating meal that it is difficult to be convinced that it has a place on any kind of diet. All of the ingredients in this Pozolillo de Garbanzo however are compliant with the slow carb diet (aka 4-hour body) and can work for low carb lifestyles.
Jump to:
RECIPE
Traditional Version
Beans and Diet
Substitutions
This post may contain affiliate links, and you can read our disclosure information here–
Traditional Pork Pozole Rojo (with hominy)
Traditional pork pozole is a slow cooked pork stew with hominy, chile peppers and aromatics. While the traditional version is not high in calories, the hominy is essentially white corn kernels and is fairly high in starch/carbs.
This version of the Mexican pork and hominy stew is a classic red pozole, which I learned from a wonderful hispanic woman from the Bajío region of Mexico. While it is fairly simple, it does take some time to come together.
It is usually made in large batches for crowds and celebrations.
Why are Beans Compliant with a Slow Carb Diet?
Beans and legumes are allowed on Tim Feriss's slow carb diet, but after working with many clients on this diet I have found that it is fairly easy for people to stall out their weight loss by overdoing it on bean/legume consumption.
Based on various podcasts or interviews of Ferriss, I have come to the conclusion that he included beans for two reasons:
1) they are indeed a carb but they don't spike blood sugar like the refined carbs do, and
2) when you eat mainly protein and vegetables, it is common to get fatigued at first. Beans and legumes offer a slow carb way to offset fatigue.
If you are doing a vegetarian form of slow carb, beans and legumes are going to be very important. The garbanzo beans in the Pozole offer a lot more protein and slow carbs than hominy will and that's why they were substituted in.
Beans as a Global Staple for Protein
So are beans necessary to a slow carb lifestyle? They can certainly be a benefit if other sources of protein are unavailable or too expensive.
I like to approach the health aspect of beans and legumes using one of the key findings of a world-wide study on longevity funded by National Geographic, called the Blue Zones Project.
Dan Buettner, team leader of the Blue Zones project, and his team came up with 5 geographic areas of the world that had the longest-lived (and healthiest) people. The five geographic regions included:
Sardinia, Italy,
Okinawa, Japan
Loma Linda, California
Nicoya Peninsula, Costa Rica
Icaria, Greece.
After identifying these areas, the Buettner team went on to analyze what characteristics the five areas shared to try and tease out why the people lived so long and why they were relatively free of disease.
I will list the characteristics below, but the interesting thing to me with respect to diet was that the overall diets of these areas were very different from each other. The only dietary ingredient that each region shared was a cup of beans a day.
The rest of the characteristics the long-lived people shared were more along social and cultural lines. Here is a list of the shared characteristics that contributed to their longevity:
Family – put ahead of other concerns
Less smoking
Semi-vegetarianism
Constant moderate physical activity (as a part of daily life rather than exercise routines)
Rich social and community networks.
A cup of legumes/beans a day was a cornerstone characteristic of diet
So, if you want to know more about this fascinating project, Dan Buettner has written a series of books about the specific findings on Blue Zones. One of the books is a Blue Zones meal plan/cookbook.
Replacing Hominy in Pozole with Garbanzo Beans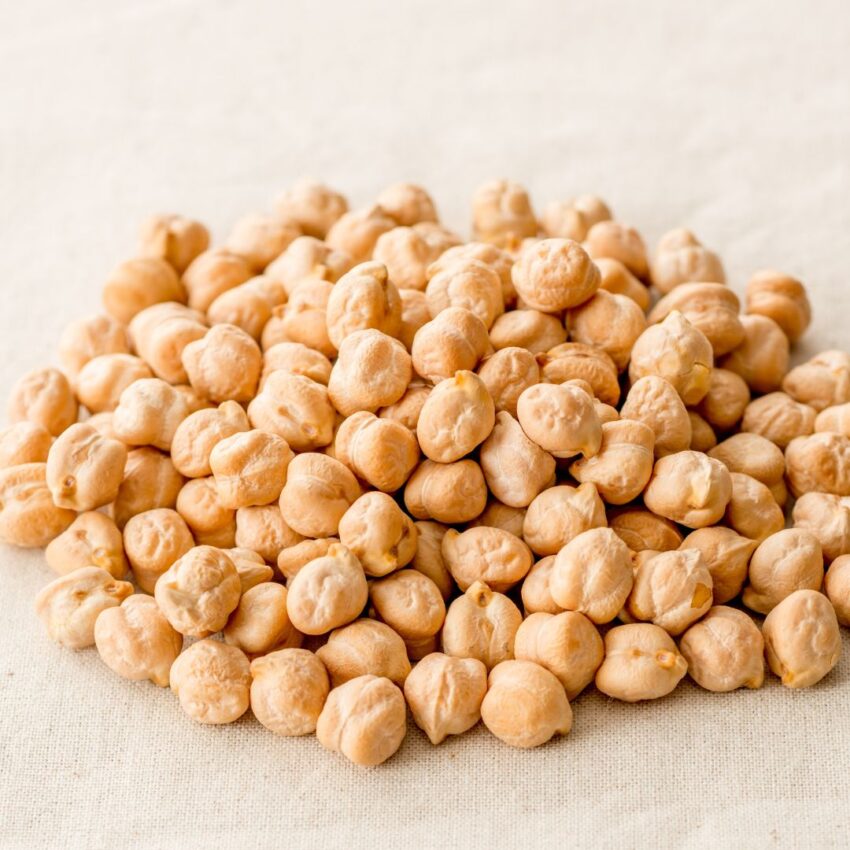 Pozole is a very popular soup dish, traditionally made with hominy. Hominy is dried field corn (not sweet corn) that has gone through a process of removing the hulls and then plumping up the inner kernels.
The texture of hominy is a slightly chewy kernel with a mild savory flavor likened to grits or tortillas. It does not taste like fresh corn.
Although hominy is a low-fat food it is not low carb. A one-cup serving has about 119 calories and about 24 grams of carbs. While there is quite a bit of fiber in hominy that can offset the carbs, it is low in protein (2.4 grams per cup).
Slow carb diets stress getting an abundance of protein to be successful. Substituting garbanzo beans for hominy in posole will not make it a low carb dish but it will increase the amount of protein from 2.4 grams per cup to 15 grams per cup.
That is a significant increase in protein if you are making a vegetarian posole on a slow carb diet. If you are using pork or chicken either hominy or garbanzo beans would work well.
Another alternative for an easy slow carb pork pozole would be this ancho-spiced pork posole with navy beans
Recipe for Slow Carb Pork Pozole: Garbanzo
Slow Carb Pozole with Garbanzo Beans
This is a version of Pozole Rojo that substitutes garbanzo beans for hominy to keep it compliant with a slow carb diet.
Ingredients
2

cups

garbanzo beans

2

Tbsp

olive oil

2

lbs

pork shoulder

cut into 1-inch (bite size) cubes

1

tsp

salt

1

large`

onion

chopped

2-3

cloves

garlic

minced

1

tsp

dried oregano

2

tsp

smoky ancho blend

1

tsp

chipotle spice

1 ½

tsp

unsweetened cocoa

10

cups

chicken stock

garnishes

options include avocados, chopped red onion, chopped cilantro, sliced radishes, or lime wedges
Instructions
If using dried beans, soak them in 8-9 cups of water overnight or for about 8 hours and then rinse before using (measure the 2 cups after soaking). If using canned garbanzo beans, pour them in a strainer and rinse the gel off.

Preheat oven to 325 degrees F

In a large Dutch oven (or oven-proof pot), heat 1 Tbsp oil over medium high heat. Season the pork with salt and pepper and brown the pork on all sides. You will need to work in batches to get a good sear. Do not overcrowd the pan. It took me 3 batches and I added the second Tbsp oil in the second batch. It takes about 5-8 min. per batch.

2 Tbsp olive oil,

2 lbs pork shoulder,

1 tsp salt

When all of the pork is seared, return all the meat to the pot and add the onions and garlic. Saute the onion and garlic with the pork over medium heat, stirring occasionally for around 5 minutes.

1 large` onion,

2-3 cloves garlic

Add garbanzo beans, oregano, ancho spice, chipotle spice, cocoa, chicken stock to pot and stir to combine. Salt and pepper to taste at this point.

1 tsp dried oregano,

2 tsp smoky ancho blend,

1 tsp chipotle spice,

1 1/2 tsp unsweetened cocoa,

10 cups chicken stock,

2 cups garbanzo beans

Bring the mixture to a boil, stirring occasionally, and then cover the pot and place it in the oven for about 2 hours, or until pork is tender

Ladle the pozole into bowls and garnish and serve.
Nutrition
Calories:
203
kcal
Carbohydrates:
24.1
g
Protein:
30.7
g
Fat:
8.3
g
Did you make this recipe?
If you tried this recipe, please give it a 5-star rating! To do this, just click on the stars above.
Online Diet/Health Coaching:
Although I am not currently taking clients for diet & health coaching, I have been a coach for many years with the online service called coach.me. It is a great platform for all kinds of coaching – anything from specific diets, writing a blog, getting up early, or getting rid of that pesky procrastination.
There are some wonderful coaches and the testimonials will tell you what you need to know. Contact me at [email protected] to get a referral to some of the tested, experienced online coaches on Coach.me
If you'd like to start with a plan for a low carb or keto lifestyle, check out this detailed guide in ebook form. It may be all you need to lose weight on this lifestyle. Or it may be used as a supplement to one-to-one coaching.