Roasting vegetables to the point of caramelization is one popular way of eking out more sweetness and flavor from the raw vegetable. Adding a few splashes of a fruit-flavored vinegar while roasting enhances flavor even more and can be a great way to customize vegetable dishes and add creativity to what is often seen as bland vegetables.
Jump to Recipe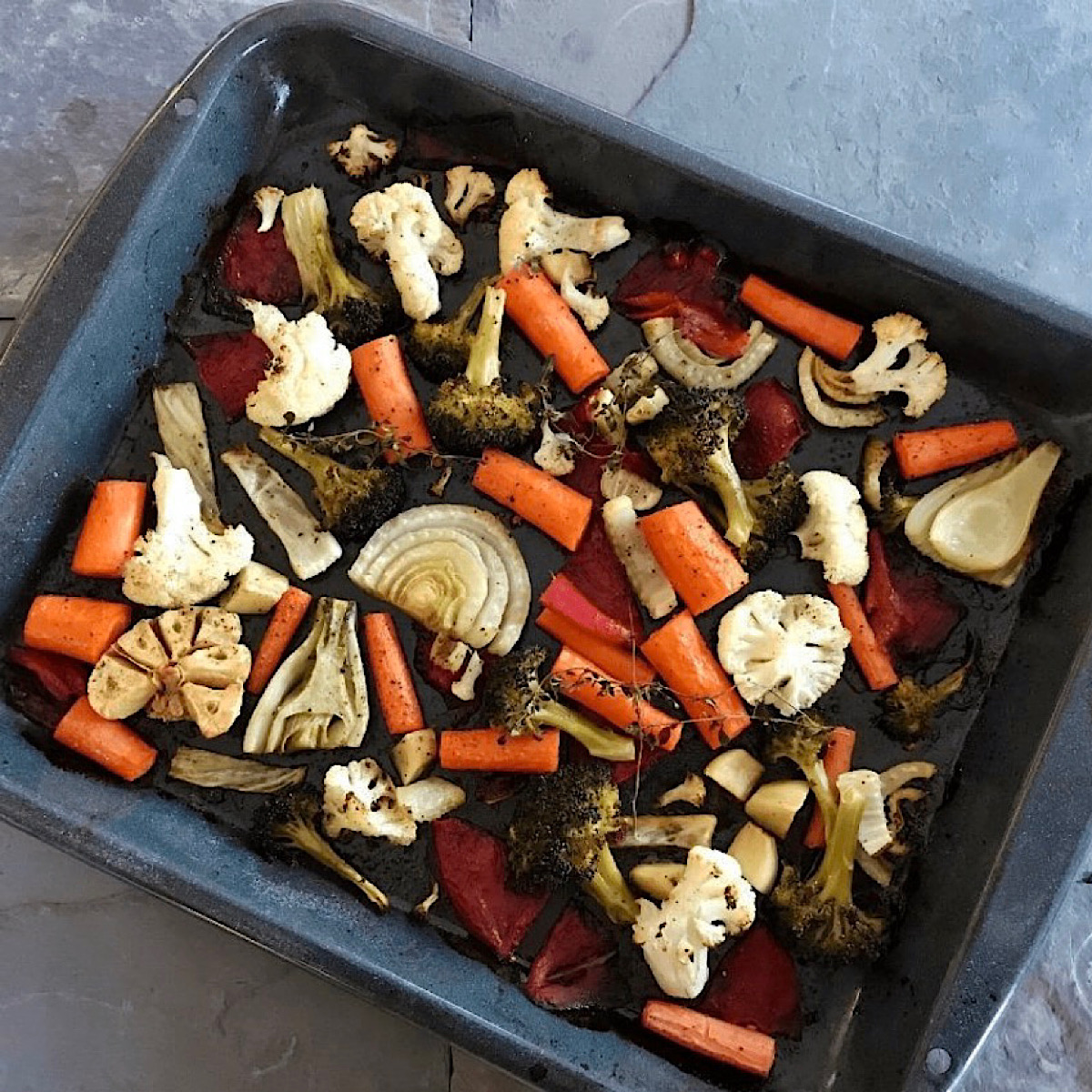 Best Vinegars to Use in Making Vegetables Delicious
Vinegar, like salt, is a flavor enhancer so experiment with different vinegar and vegetable combinations. You can't really go wrong. Here are a few of my favorites:
Balsamic Vinegar:
This is typically a sweet, aged vinegar, but there is quite a large range of flavor between brands. In general, the longer it is aged, the sweeter and thicker it gets, and the more expensive also.
Less expensive balsamic vinegars can be used in roasting vegetables, as well as for marinades and salad dressings where there are many other ingredients. Save the expensive balsamic vinegars for drizzling over cheese and greens, or to top off strawberries and ice cream.
Sherry Vinegar:
Sherry vinegar is wonderful on marinated red onions and tomatoes, and works well as a vinaigrette on salads (add in a little walnut oil or other good oil).
Sherry vinegar works well when combined with strong, robustly flavored vegetables because it has been aged in wood. Sherry vinegar is also great for brightening braised greens.
Infused Vinegars:
If you're looking to really boost the flavor of your vegetables, check out some of the infused vinegars. Infused vinegars (aka flavored vinegars) give everything a bit of a flavor boost while only adding a few calories.
There are more and more infused vinegars on the market now, some with berries, some with herbs and some with rather exotic ingredients like tree barks.
Shrub Syrups vs Infused Vinegars
At our farm we make a wide range of fruit vinegars called "shrub syrups" which are basically different vinegars infused with fruit and/or herbs and spices. The difference is that shrub syrups are quite concentrated and include some sugar.
Yes there is sugar in the shrub syrups, but you don't use much of it when cooking with it as it is concentrated. The large tray of roasted vegetables that I experimented with only needed 1/4 cup of the shrub syrup to enhance the flavor tremendously.
Shrub syrups are also great to use as an enhancement to cocktails, mocktails, or just sparkling water. With drinks (like fizzy waters or cocktails), it only takes a couple of tablespoons to give your water a wonderful boost of flavor.
I tried the recipe below with a Rhubarb Fennel Shrub Syrup and again with a Cranberry Ginger Shrub Syrup. I plan to also try it with the Orange Chipotle and the Smoked Cherry in the coming winter weeks.
Sheet pan vegetables
Roasting vegetables sprinkled with infused vinegars is extremely easy to do on a sheet pan. Just grab whatever vegetables you have in your fridge, try and match the thickness, add some oil, some salt and pepper and a few splashes of vinegar and roast at 400 degrees for an hour.
The recipe below is extremely flexible. I used the vegetables I had on hand at the time. Other veggies that I have used with success include: cabbage, brussel sprouts, summer squash (zucchini and yellow squash, and celery. The vegetable world is really your oyster here 🙂
Other Great Roasted Vegetable Recipes:
Using Vinegars with Roasted Vegetables
Sprinkling a fruit vinegar or a balsamic vinegar on a traybake of cut up vegetables before roasting can really enhance the flavor of vegetables. It is an easy way to explore new flavor profiles of all kinds of vegetables
Ingredients
1

fennel bulb

sliced

¼

head of cauliflower

broken up into florets

1

large stalk of broccoli

broken into florets

5

carrots

peeled and coarsely chopped

2

cups

chopped bell peppers

1

head of garlic

sliced in half

3

sprigs of thyme

3

Tbsp

olive oil

salt and pepper

¼ – ½

cup

Infused vinegar

Your favorite fruit infused vinegar or balsamic vinegar. I used Rubarb Fennel in this recipe
Instructions
Preheat oven to 400 degrees

Coarsely chop the veggies (peel the carrots) and lay out on a sheet pan or broiler pan tray.

Drizzle with the oil and generously sprinkle with salt and pepper. Using your hands toss the veggies with the oil and salt so they are pretty much covered.

Drizzle the infused vinegar over the top of the vegetables and cover loosely with aluminum foil

Roast for 40 minutes and then take the foil off and roast another 5 minutes.

Serve and enjoy!
Nutrition
Calories:
235
kcal
Carbohydrates:
28
g
Protein:
7
g
Fat:
12
g
Saturated Fat:
2
g
Sodium:
149
mg
Potassium:
1264
mg
Fiber:
10
g
Sugar:
10
g
Vitamin A:
16096
IU
Vitamin C:
260
mg
Calcium:
142
mg
Iron:
2
mg
Did you make this recipe?
If you tried this recipe, please give it a 5-star rating! To do this, just click on the stars above.
Online Diet/Health Coaching:
Although I am not currently taking clients for diet & health coaching, I have been a coach for many years with the online service called coach.me. It is a great platform for all kinds of coaching – anything from specific diets, writing a blog, getting up early, or getting rid of that pesky procrastination.
There are some wonderful coaches and the testimonials will tell you what you need to know. Contact me at [email protected] to get a referral to some of the tested, experienced online coaches on Coach.me
If you'd like to start with a plan for a low carb or keto lifestyle, check out this detailed guide in ebook form. It may be all you need to lose weight on this lifestyle. Or it may be used as a supplement to one-to-one coaching.