Unlike many of the winter squash varieties, spaghetti squash does not pack in the carbs and sugar. It is a great foil for pasta when modifying dishes to low carb, as in this low carb lasagna. Watch out for sugary tomato-based pasta sauces however. Make your own homemade tomato sauce if you have time and reap the benefits!
Jump to: RECIPE | Best alternatives for pasta | More Recipes with Spaghetti Squash
This post may contain affiliate links, and you can read our disclosure information here–
Best Low Carb Pasta Alternatives
The two most popular alternative for spaghetti-like past are spaghetti squash and zucchini noodles. Shiratake noodles can also work well with some dishes.
My favorite alternative is spaghetti squash as I think it has more texture for sauces to stick to, and although fairly neutral in taste, it does have more vegetal flavor than zucchini noodles or shiratake noodles.
The Easiest
For me, spaghetti squash is the easiest alternative to pasta, as well as the highest in nutrition. The spaghetti squash does have to bake in the oven for about an hour but that is hands free (or you could use the microwave for even quicker results)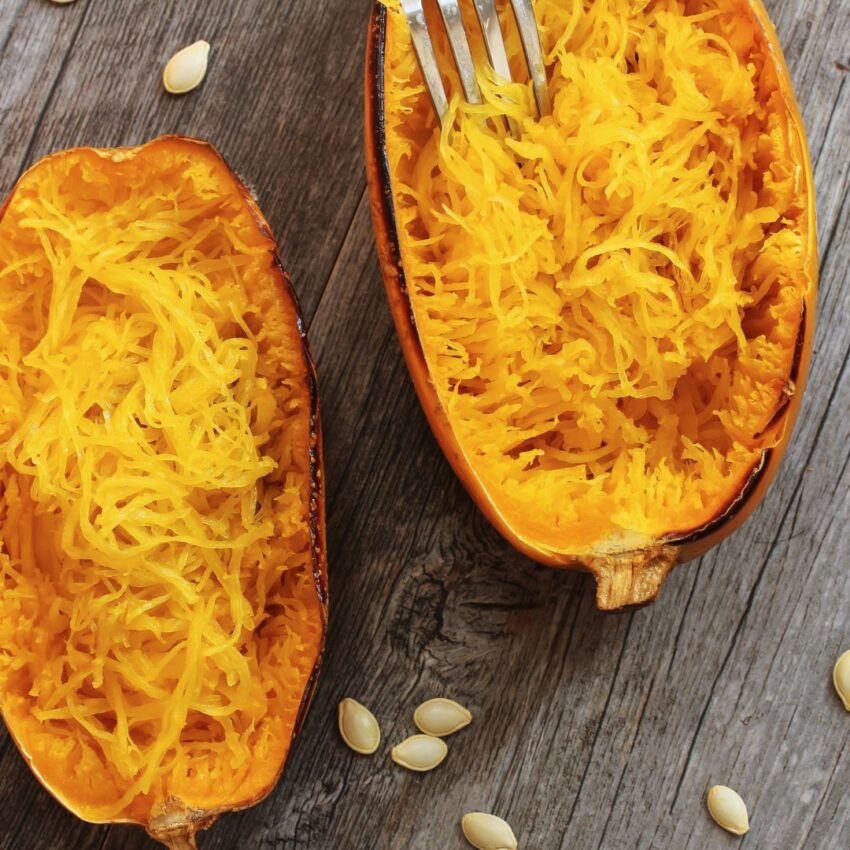 I've just never gotten into the spiralizing craze and maybe that's why I think it's easier.
Spaghetti squash doesn't take any specialized equipment, just stick it on a baking sheet and turn the oven on 350 for an hour (you can also turn it upside down on a plate and microwave).
If you do this a day ahead of making your recipe you can just keep it covered in the refrigerator (whole or scraped out strands) until you are ready to make the lasagna.
You do have to scrape the seeds out of the squash before baking and you will also need to scrape the strands out of the squash when it has cooled.
The other nice thing about spaghetti squash is that you can buy it at the store or the farmers' market and keep it on your counter until you are ready to use it.
Fresh zucchini doesn't have nearly the shelf life as Winter squash and should really be kept in the fridge if you are going to wait to cook it. Shiratake noodles also needs to be refrigerated
The grocery stores do carry frozen zucchini noodles however, if you want to go that route.
The Tastiest
I grow both zucchini and spaghetti squash on the farm and personally think spaghetti squash has more flavor than zucchini because it has less water. The flavor and texture differences are going to boil down to your own tastebuds however.
They both have more nutrition than pasta. The carbs, sugar and calories of zucchini and spaghetti squash are pretty comparable.
So…..the bottom line is either one is a great alternative for pasta in a low carb keto lasagna!
Tips for Quick and Easy Lasagna
First: Using spaghetti squash instead of pasta for the base makes this "lasagna" a heck of a lot easier than making a classic lasagna (and tastes just as good if not better).
While I was working as a diet coach, I saw what a huge challenge it was for people to cook whole food dishes.
People were either too busy with families and careers or they never really learned how to cook so it was just a little too intimidating.
My goal is to make it as easy, painless and quick as possible, while still being delicious. The spaghetti squash itself does take some time to bake so do it ahead. The rest of the filling is very quick and easy.
Second: Make use of pre-cut or pre-frozen vegetables. This recipe uses canned tomatoes, garlic from a jar, and a minimum of equipment.
If you want to chop up fresh garlic and make your sauce with fresh tomatoes, it "might" taste better, but fresh tomatoes don't always equal better flavor (depends on the tomato and how it was grown).
I will say, however that purchased tomato sauces tend to have a lot of added sugar. If you are watching the carbs, read the labels carefully before selecting your pre-made sauce.
If you have access to good tomatoes in the Summer, make large batches of homemade tomato sauce and freeze for Winter dishes.
Frozen and canned vegetables can be just as nutritious as fresh in many circumstances. In face, in the case of vegetables and fish that are flash frozen, the nutritional value is often preserved and much higher than buying off of a grocery store shelf, where it has been exposed to air and warmth for days (if not weeks).
Other Recipes Using Spaghetti Squash:
Chicken Enchilada with Spaghetti Squash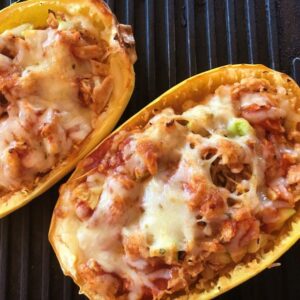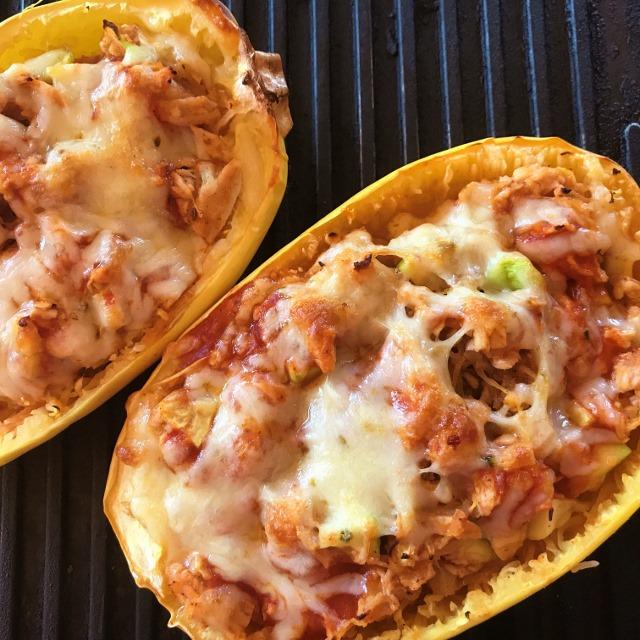 Pork Ragu with a side of Spaghetti Squash
Slow Carb Lunch of Spaghetti Squash with Sun Dried Tomatoes
Low Carb Puttanesca Sauce on a Bed ofSpaghetti Squash
Low Carb Lasagna in Spaghetti Squash Shell
Low Carb Lasagna with Spaghetti Squash
Use spaghetti squash for the pasta and fill it with delicious meat and cheese mixtures for a tasty low carb lasagna
Ingredients
1

large spaghetti squash (or two small)

a large one will weigh 4-5 lbs

1

Tablespoon

olive oil

1

small onion

chopped

1

lb

ground pork

substitute hamburger, sausage, ground chicken or any ground protein

1

Teaspoon

minced garlic

from jar-alternatively mince 2-3 fresh garlic cloves

1

Teaspoon

dried oregano

1-2

Teaspoon

chipotle spice powder

1

Teaspoon

salt

29

oz

canned diced tomatoes

(equivalent to 2 cans)

1

cup

ricotta

½

cup

shredded parmesan

I used freshly grated parmesan but it isn't necessary

1

egg

2

Ounces

mozerella cheese

Fresh or shredded
Instructions
Directions for the squash (can be done ahead)
Preheat oven to 350 (or just use microwave).

With a large, sharp knife, cut the spaghetti squash in half. With a strong spoon, scoop out the seeds. Then, if using the oven, lay the squash flesh-side down on a baking sheet and bake for about an hour (flesh will be soft and easy to penetrate with a fork). If using the microwave place the squash flesh side down on a plate and microwave about 20 minutes (or until soft.).

1 large spaghetti squash (or two small)

Let the squash cool so you can handle them and then take a fork and rake the flesh into a bowl. It will come out in strands….like spaghetti! Set the empty squash shells aside and save for later use as a baking "vessel" if you want.

Cover the bowl of strands and put in the refrigerator to use when ready.
Directions for the Lasagna
Preheat the oven to 375 degrees.

In a large skillet, saute the onion in oil over med high heat for around 5 minutes, or until translucent. Add the ground pork to the pan and saute with the onions until no longer pink. When meat is no longer pink, add the garlic, spices and tomatoes.

1 Tablespoon olive oil,

1 small onion,

1 lb ground pork,

1 Teaspoon minced garlic,

1 Teaspoon dried oregano,

1-2 Teaspoon chipotle spice powder,

1 Teaspoon salt,

29 oz canned diced tomatoes

Turn the burner down to medium-low heat and let the meat sauce simmer about 10 minutes.

While the sauce is simmering, add the ricotta, parmesan and egg in a bowl and stir together until thoroughly combined.

1 cup ricotta,

1/2 cup shredded parmesan,

1 egg

Now you are ready to layer the lasagna. Put some meat sauce in the bottom of a glass baking pan or in the saved shells of the spaghetti squash. Then add a layer of the spaghetti squash on top of the meat sauce and then a layer of the cheese mixture. Add one more layer of the meat sauce and then top it off with little dollops of mozzarella cheese if using fresh or a layer of shredded mozzarella if using packaged.

2 Ounces mozerella cheese

Bake for 30 minutes at 375 degrees. Let it sit for 5 minutes or so before serving so it can "set".
Notes
** Add chopped up black olives and/or baby spinach for more taste and nutrition.
Nutrition
Serving:
228
g
Calories:
583
kcal
Carbohydrates:
32
g
Protein:
33
g
Fat:
37
g
Saturated Fat:
16
g
Polyunsaturated Fat:
3
g
Monounsaturated Fat:
14
g
Cholesterol:
124
mg
Sodium:
1260
mg
Potassium:
1119
mg
Fiber:
7
g
Sugar:
13
g
Vitamin A:
1077
IU
Vitamin C:
27
mg
Calcium:
391
mg
Iron:
4
mg
Did you make this recipe?
If you tried this recipe, please give it a 5-star rating! To do this, just click on the stars above.
Online Diet/Health Coaching:
Although I am not currently taking clients for diet & health coaching, I have been a coach for many years with the online service called coach.me. It is a great platform for all kinds of coaching – anything from specific diets, writing a blog, getting up early, or getting rid of that pesky procrastination.
There are some wonderful coaches and the testimonials will tell you what you need to know. Contact me at [email protected] to get a referral to some of the tested, experienced online coaches on Coach.me
If you'd like to start with a plan for a low carb or keto lifestyle, check out this detailed guide in ebook form. It may be all you need to lose weight on this lifestyle. Or it may be used as a supplement to one-to-one coaching.