This recipe for Turmeric Tea (or for Golden Milk Latte) is comforting in the dark days of winter (think "hygge") and is considered a healing drink in many parts of the world. It is warm and aromatic with a chai-like flavor. Make your own with the recipe below or purchase one from HeathGlen's Kitchen.
Jump to Recipe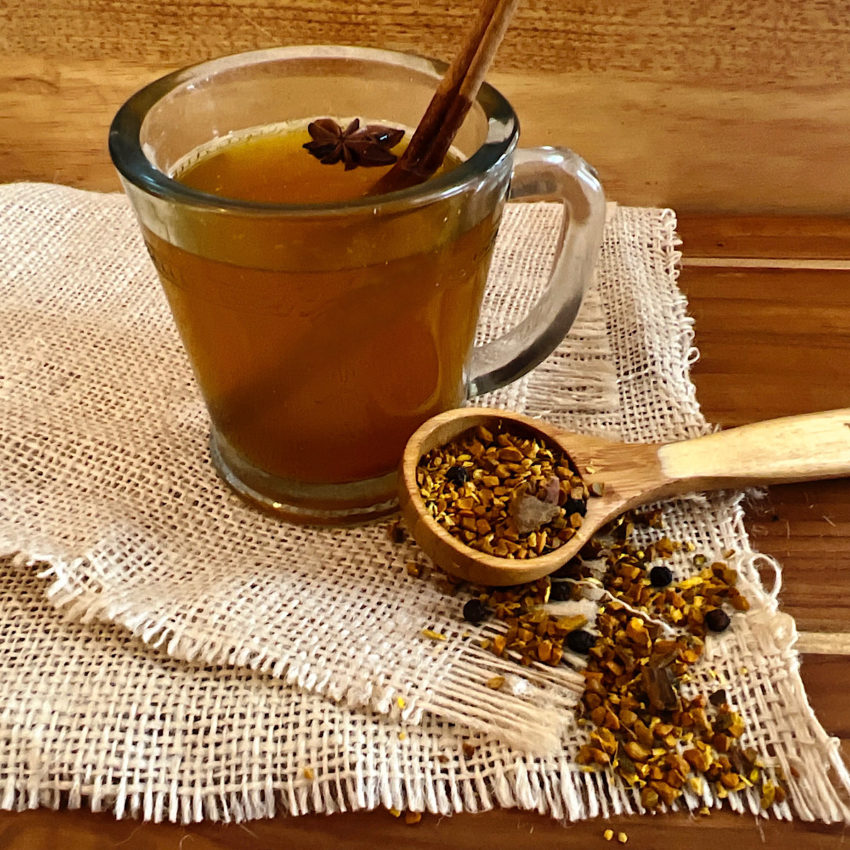 Jump to Recipe
Print Recipe
What is "Hygge"?
The Danish lifestyle referred to as "hygge" has become very popular world-wide, particularly in those areas that have cold winters. Hygge is loosely defined as cozy and intimate and it brings up visions of fireplaces, board games, candles and, of course, warm food and drink.
Turmeric tea or golden milk latte is a blend of warm spices that is often used to promote health. It always contains turmeric, but the additional spices used in the blend varies. Typically it will include ginger and cardamom, and the spices associated with chai tea. There is quite a range of blends however.
If you use the blend with hot water as a tea it is referred to as turmeric tea. If you opt for steamed milk instead of hot water, it is referred to as golden milk latte. Sugar is optional, with honey being the most common sweetener.
I drink a lot of this wonderful elixir in the winter evenings in Minnesota. I do love coffee, but I also love sleep so I try to cut off all caffeine by 2 pm and replace it with turmeric tea. Sometimes a shot of brandy enhances the hygge experience even more, as the family board games ensue!
Other Ideas for Exploring Hygge
It can be a life-enhancing experience to celebrate the darkness that comes with late Fall and Winter. Here are some ideas taken from the Danes to celebrate and embrace this season:
Light some candles – have meals by candlelight, watch Netflix by candlelight, knit/read/draw by candlelight
Add warm spicy scents to the home – you can do this with either scented candles, potpourri or heated essential oils.
Warm drinks – this might be a turmeric tea, hot chocolate, or a brandy-infused drink. Whatever your pleasure, there is something wonderful about sipping warm drinks in the Winter.
Engage with friends or family in small ways – board games have made a comeback, as have jigsaw puzzles and activities you can enjoy with family members in a casual non-divisive way
Bundle up and watch the sunrise or sunset – a walk at dawn or dusk when the world is in between night and day can be a powerful mood-enhancer. If you are lucky enough to have an outdoor hot tub, that is another place to watch the sunrise or sunset for a soothing peace (I don't have one but I have fond memories of staying at a Winter resort that did)
What Makes Golden Milk Latte (Turmeric Tea) Healthy?
I'm a big fan of the study done by National Geographic on the world's "Blue Zones". A National Geographic team studied the regions of the world that had the highest number of people that reached an old age (beyond 80 years) in good health. They came up with 5 regions in the world, with Okinawa, Japan being one of them.
On the Japanese island of Okinawa, turmeric tea is a way of life. The population drinks this traditional favorite daily, and numerous studies have linked turmeric with wide-ranging anti-inflammatory effects.
While a number of different criteria were applied to understand the "why" of each Blue Zone region, the people of Okinawa were shown to have one of the world's longest average life spans: 81.2 years. A daily dose of Golden Milk Tea may play into the overall reason.
What are the Common Ingredients in Golden Milk Tea (Turmeric Tea)?
Turmeric is the Golden Milk Tea ingredient thought to be most beneficial. Ginger, cinnamon, cardamom, chile peppers with capsaicin, black pepper and honey all purport various types of healing, but turmeric is the star of this "tea".
Inflammation is running wild in our bodies these days, leading to all kinds of seemingly disconnected symptoms, from joint pain to food allergies to digestive troubles. Turmeric's active ingredient is curcumin, which is a well-documented powerful anti-inflammatory herb. Turmeric contains up to 3% curcumin by weight.
Consuming turmeric (whether in tea or in curries, soups, sauces, or other cooking) is an ancient healing spice, and this tea maximizes the natural antioxidant power of turmeric because it is a) hot and b) combined with other beneficial spices and a little bit of fat.
If you want to purchase a pre-made Turmeric Tea spice mix rather than make your own, click here. **Note: Three additional blends of turmeric tea are available November 1st, 2020, along with gift boxes.
If hot chocolate drinks are more enticing to you, try this spicy, rich, spicy Mexican chocolate mix. Add it to coffee or hot water or hot milk for another drink that can spice up cold winter evenings (or your morning coffee). My husband adds a bit of Peppermint Schnapps to his, but the kids just add a little sugar. It's all good, as they say.
For more DIY recipes for low carb beverages, click here.
Golden Milk Latte (Turmeric Tea)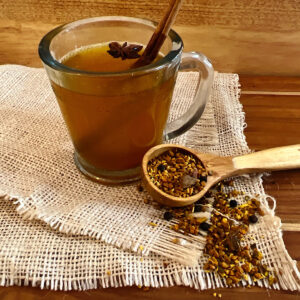 Make your own Golden milk latte with a blend of turmeric and chai spices. It's a really flexible recipe and can be used with hot water for turmeric tea or steamed milk for the golden milk latte
Ingredients
2

Tsp

turmeric

peeled, grated fresh turmeric

½

tsp

cinnamon

½

tsp

freshly ground cardamom

½

tsp

ground ginger

or 1 Tbsp peeled grated fresh ginger

pinch

of black pepper

increases absorption

pinch

of hot pepper spice

optional – I used HeathGlen's chipotle spice

2

cups

unsweetened almond milk

any milk can be used or just steep in water for a simple tea

1

tsp

honey

your choice of sugar or sugar substitute

consider adding more fat like butter or coconut oil as it increases absorption

there is a little fat in coconut milk but adding more fat is common, especially on a keto diet
Instructions
In a small bowl, mix together first six ingredients (the spices).

For Golden Milk Latte: Heat 2 cups light, unsweetened coconut milk (or almond milk or milk of choice).

Add 1 Tbsp spice mix to an empty tea bag or a tea ball or a tea pot with strainer. Pour the hot milk over the spice mix and steep for about 3 minutes. Remove spice bag or tea ball and add sweetener of choice.

For Turmeric Tea: Instead of milk, follow above directions using boiling water.
Notes
**Note: calories and nutrition analysis is for spice mix only and does not include your choice of milk or sweetener **Note: This may stain blenders and countertops. The color will eventually fade, but making a thick paste of baking soda and water and scrubbing the stain can help if it happens to you.
Nutrition
Calories:
23
kcal
Carbohydrates:
5
g
Protein:
1
g
Fat:
1
g
Saturated Fat:
1
g
Sodium:
27
mg
Potassium:
101
mg
Fiber:
2
g
Sugar:
1
g
Vitamin C:
1
mg
Calcium:
15
mg
Iron:
2
mg
Did you make this recipe?
If you tried this recipe, please give it a 5-star rating! To do this, just click on the stars above.
Online Diet/Health Coaching:
Although I am not currently taking clients for diet & health coaching, I have been a coach for many years with the online service called coach.me. It is a great platform for all kinds of coaching – anything from specific diets, writing a blog, getting up early, or getting rid of that pesky procrastination.
There are some wonderful coaches and the testimonials will tell you what you need to know. Contact me at [email protected] to get a referral to some of the tested, experienced online coaches on Coach.me
If you'd like to start with a plan for a low carb or keto lifestyle, check out this detailed guide in ebook form. It may be all you need to lose weight on this lifestyle. Or it may be used as a supplement to one-to-one coaching.