This chile verde sauce is made with fresh tomatillos and chile peppers which are at their peak in the summer, but it freezes well. I make the sauce in large batches and enjoy it long after the harvest. It is a great addition to breakfast eggs and chorizo, to pork stew, as a fresh salsa and many other favorite Mexican dishes.
Jump to: Recipe | How to Use the Verde Sauce | Why Homemade?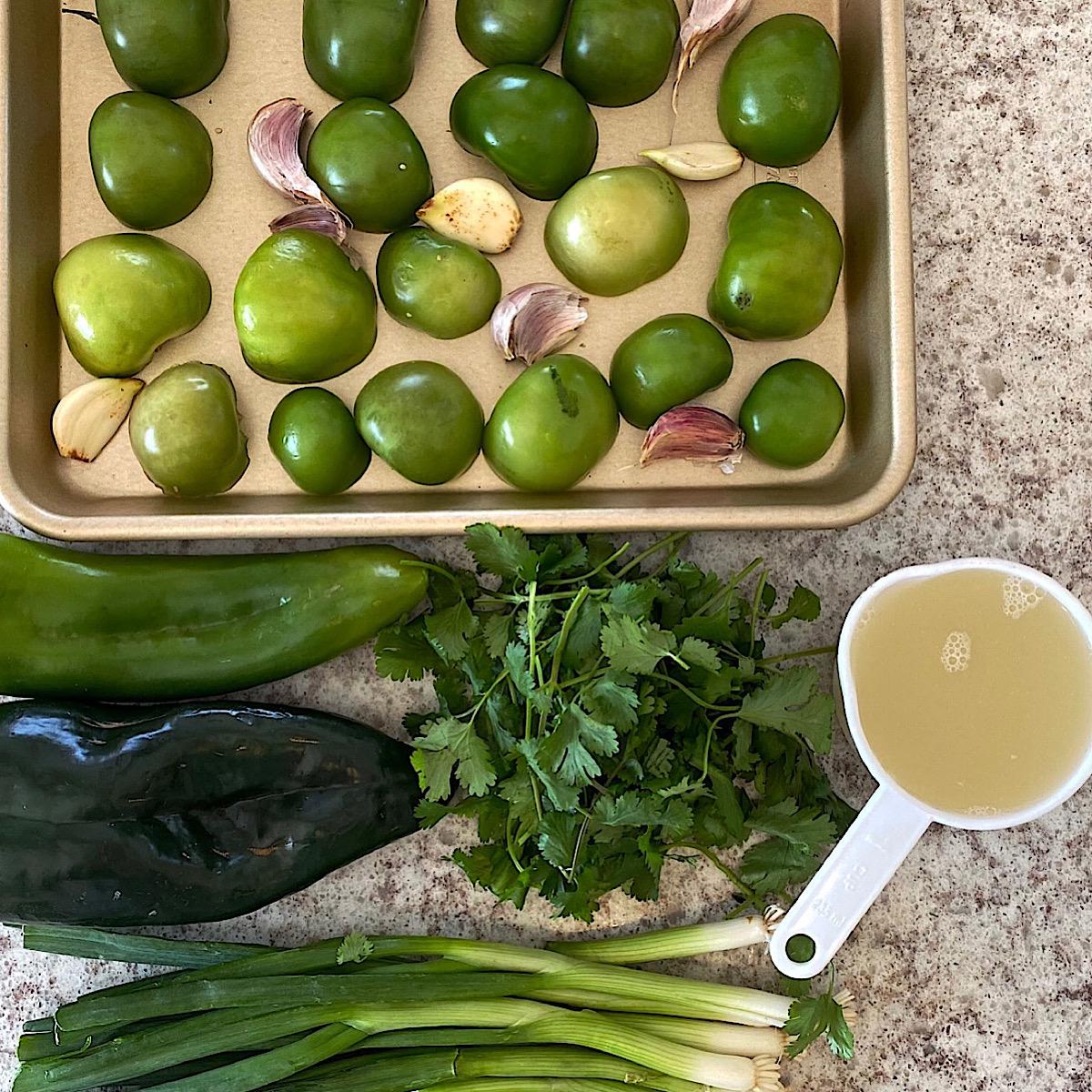 What is the Difference Between Chile Verde Stew and Chile Verde Salsa?
Although both the chile verde stew and salsa have a variety of names, "chile verde" usually refers to the stew version, with meat and vegetables where the green chiles are the star.
Typically, chile verde stew uses Hatch green chiles. "Chile verde salsa" is typically made with tomatillos and poblano peppers.
As with other salsas, the verde salsa version is primarily used as a condiment, whereas chile verde (stew) is either a standalone dish or used to "smother" burritos.
Uses for Chile Verde Salsa
I freeze batches of this sauce in quart freezer bags and bring it out all year to enhance breakfasts or Mexican main dishes. There are SO many uses for this simple salsa! Here are some of my favorite uses: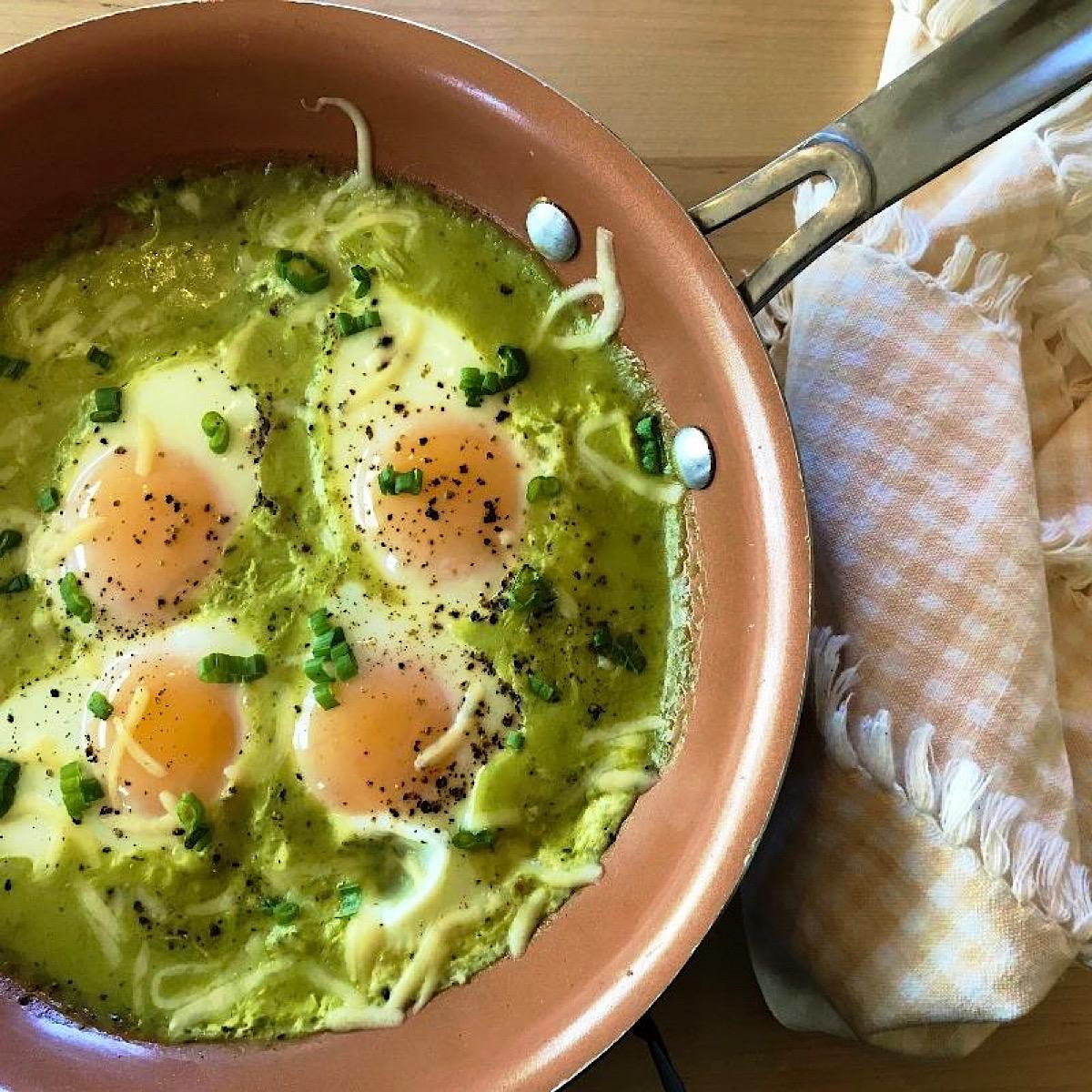 The Case for Homemade Chile Verde Salsa
My daughter lives in Denver, Colorado, where pre-made chile verde salsa is present in nearly every store. However, there are so many reasons to make fresh chile verde salsa at home.
Ease
One of the main reasons to make this salsa at home is it is simple. It only takes a few minutes and there are relatively few ingredients. Even the most novice of cooks can feel like a 5-star chef after making this salsa type of sauce.
Taste
Another important reason to avoid the store-bought versions is taste. When you buy products at the store, you have less control over the spice level, salt content or different preservatives and additives.
We taste-tested the recipe below against this Costco version, and found that, although both versions were good, all four of our family members preferred the homemade version.
Although the Costco version touts "medium" spice, it was too spicy for some of our family and not spicy enough for others. It also did not taste as fresh as our homemade version.
Here are some ideas of different ingredients you could add to the basic chile verde recipe below to change the flavor profile slightly:
Cilantro
Onion
Lime juice
Sugar/ salt
Health
The final reason to make your own chile verde salsa is health. Store-bought products often have chemical additives or added sugar/ sodium.
As with the taste, when you make this at home, you can more easily add or take out certain ingredients that don't fit with your specific diet.
Other Mexican Recipes We Think You'll Love
If you love this chile verde sauce as much as my family does, here are some other great recipes to check out:
Homemade Chile Verde Sauce
Chile Verde Sauce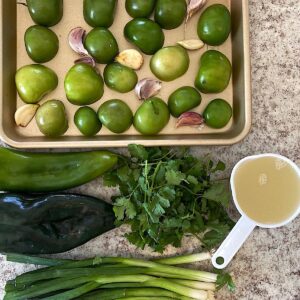 Ingredients
1 ½

lb

tomatillos

2

Anaheim or Jalapeno chile peppers

3

poblano peppers

5-6

cloves

garlic

2

Cups

chicken broth

1

bunch

green onions (scallions)

coarsely chopped

1

bunch

cilantro

stems removed

1

Teaspoon

hot chile powder optional: use ground Hatch chile powder to taste
Instructions
Remove papery husks from tomatillos and rinse. Cut the tomatillos in half and place cut side down on a foil-lined baking sheet. Place peppers (whole) and 5-6 garlic cloves (in their skins) on the baking sheet.

Roast tray of tomatillos and peppers and garli under a broiler for about 5-7 minutes or until skins are blackened.

1 1/2 lb tomatillos,

3 poblano peppers,

5-6 cloves garlic,

2 Anaheim or Jalapeno chile peppers

Cool tomatillos and peppers for a few minutes. In a food processor or a blender combine roasted tomatillos, garlic, peppers, 2 cups chicken broth, green onions, and cilantro.

If you want a spicier version, add some hot chile powder to the blender (I used a hatch chile powder)

2 Cups chicken broth,

1 bunch green onions (scallions),

1 bunch cilantro,

1 Teaspoon hot chile powder

Season to taste with salt. Can be used as salsa immediately or frozen to serve with a wide array of Mexican dishes.
Nutrition
Calories:
88
kcal
Carbohydrates:
18
g
Protein:
3
g
Fat:
2
g
Saturated Fat:
1
g
Fiber:
6
g
Sugar:
10
g
Did you make this recipe?
If you tried this recipe, please give it a 5-star rating! To do this, just click on the stars above. And don't forget to tag me at @dorothy_stainbrook_heathglen, if you share a picture on Instagram! You can also tag me at #heathglen!
Below is a photo of using the chile verde sauce in a pork stew with chile verde sauce.
Online Diet/Health Coaching:
Although I am not currently taking clients for diet & health coaching, I have been a coach for many years with the online service called coach.me. It is a great platform for all kinds of coaching – anything from specific diets, writing a blog, getting up early, or getting rid of that pesky procrastination.
There are some wonderful coaches and the testimonials will tell you what you need to know. Contact me at [email protected] to get a referral to some of the tested, experienced online coaches on Coach.me
If you'd like to start with a plan for a low carb or keto lifestyle, check out this detailed guide in ebook form. It may be all you need to lose weight on this lifestyle. Or it may be used as a supplement to one-to-one coaching.