This recipe for baked eggs in a chile verde sauce is a really popular low carb breakfast. The fresh, tangy chile verde sauce pairs with the hot eggs for a heartwarming breakfast made in a snap. Bake them covered on top of the stovetop or in a 325 degree oven.
Jump to:
Recipe
Easiest Way to Bake Eggs
Popular Uses for Chile Verde
Serving Suggestions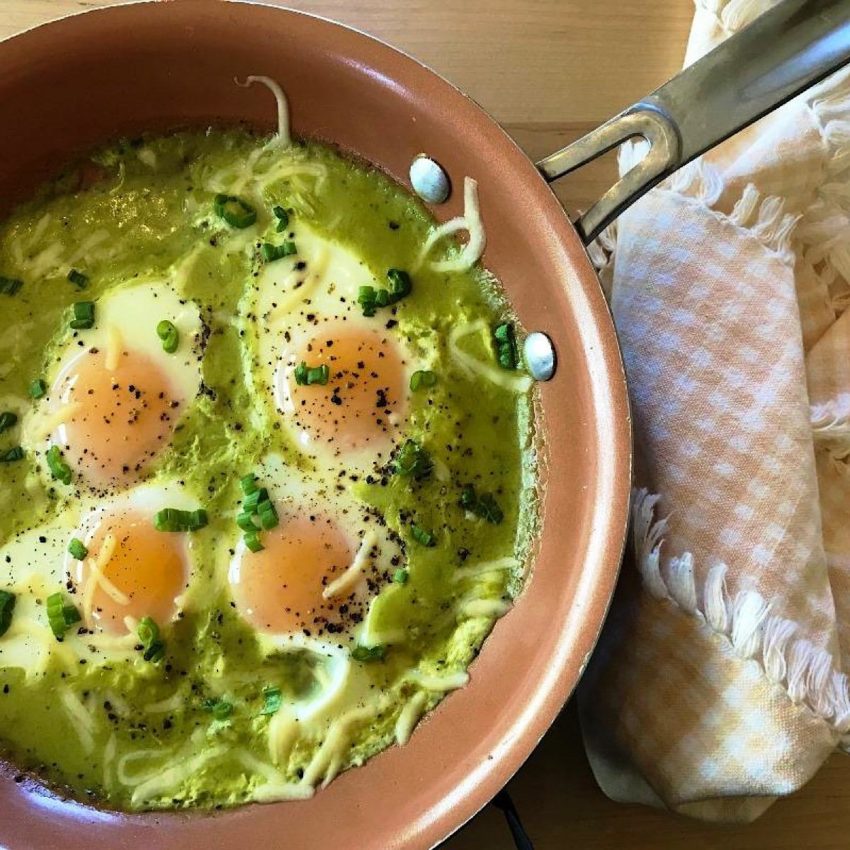 This post may contain affiliate links, and you can read our disclosure information here–
Easiest Method for Baked Eggs with Verde Sauce
One of the main reasons we love these chile verde eggs is because they are so easy! They take about 10 minutes from start to finish which makes them the perfect healthy weekday breakfast.
By far the easiest way to make chile verde baked eggs is to use a pre-made chile verde sauce and gently cook the eggs nestled into the sauce on the stovetop over medium-low heat (covered). This method takes about 8 minutes all told.
Alternatively you can nestle the eggs into the sauce, cover and bake in a 325 F oven for 5 minutes. The recipe below details each of these methods.
If you have the time and available ingredients, this homemade chile verde sauce ups the flavor even more. Make it throughout the Summer, freeze it and use your own chile verde in this dish.
Variations Using Chile Verde
Breakfast:
The recipe below is for eggs baked in wells of a pre-made chile verde sauce.
Baked eggs aren't for everyone though- and one of the best things about eggs is you can cook them in so many different ways!
The recipe below would be easily adaptable to egg "muffins" (made in muffin tins). Just add a base layer of refried beans, add the chile verde, crack an egg on top and sprinkle with cheese. Cook at 350° for about 15-17 minutes.
Another great variation of this recipe would be to bake the eggs in a chile verde "ragu", similar to this Harissa Baked Shakshouka recipe. Follow steps 5-7, and allow to cool slightly. Top with crema mexicana (or sour cream) and red salsa to resemble the Mexican flag.
If you prefer it with poached eggs, here is how to make the perfect poached egg
Dinner:
With chile verde sauce as the star ingredient, you can easily mix and match proteins for a great dinner. Typically made with chicken, this chile verde stew substitutes in beef or pork for an incredible dinner that will provide leftovers for tacos the next day.
Serving Suggestions
The traditional serving accoutrement is tortillas- but if you are trying to maintain a low carb lifestyle, low carb tortillas can be hard to come by. Check out our low carb tortilla comparison here.
Here are some other low carb traditional serving suggestions for this eggs and chile verde:
With refried beans
Over a slice of ham
With chorizo
Over a layer of shredded chicken
With any squash- our favorite with this dish is butternut squash
This is a delicious recipe no matter how you serve it!
More Low Carb Breakfast Recipes:
Recipe for Baked Eggs with Chile Verde Sauce
Baked Eggs with Chile Verde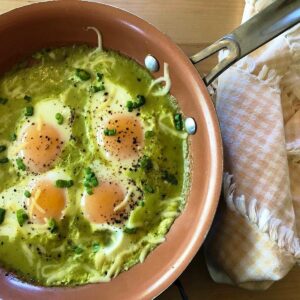 Simple and quick breakfast recipe of eggs and pre-made chile verde sauce. Add these steps if you want a homemade chile verde sauce
Instructions
Heat oil over medium to medium-low heat. Cover the bottom of a non-stick, oven safe skillet with the chile verde sauce and heat until lightly bubbling.

1-2 tbsp Olive oil,

1-2 cups chile verde sauce

Make 3-5 shallow wells in the sauce and gently crack an egg into each well (amount of eggs will depend on how large your skillet is). The egg should not be touching the bottom of the skillet.

Sprinkle with cotija cheese (or queso fresco), cover skillet, and cook slowly over low heat until the egg yolks are to your liking. For me it was just under 8 minutes on the stovetop.

Alternatively put covered skillet in 325 degree oven for 5 minutes or until yolks are cooked to your liking.

Serve with additional sauce, black beans, cilantro, extra cheese or straight out of the pan!
Nutrition
Calories:
204
kcal
Carbohydrates:
5
g
Protein:
9
g
Fat:
16
g
Saturated Fat:
7
g
Trans Fat:
1
g
Cholesterol:
156
mg
Sodium:
872
mg
Potassium:
184
mg
Sugar:
5
g
Vitamin A:
690
IU
Vitamin C:
2
mg
Calcium:
203
mg
Iron:
1
mg
Did you make this recipe?
If you tried this recipe, please give it a 5-star rating! To do this, just click on the stars above.
Online Diet/Health Coaching:
Although I am not currently taking clients for diet & health coaching, I have been a coach for many years with the online service called coach.me. It is a great platform for all kinds of coaching – anything from specific diets, writing a blog, getting up early, or getting rid of that pesky procrastination.
There are some wonderful coaches and the testimonials will tell you what you need to know. Contact me at [email protected] to get a referral to some of the tested, experienced online coaches on Coach.me
If you'd like to start with a plan for a low carb or keto lifestyle, check out this detailed guide in ebook form. It may be all you need to lose weight on this lifestyle. Or it may be used as a supplement to one-to-one coaching.