I always wondered whether a mortar & pestle truly made a difference or whether it was just another item to take up space in the kitchen and something else to clean. Well, this fresh keto salsa, made with seasonal heirloom tomatoes and a few other fresh ingredients made me a true believer.
Jump to Recipe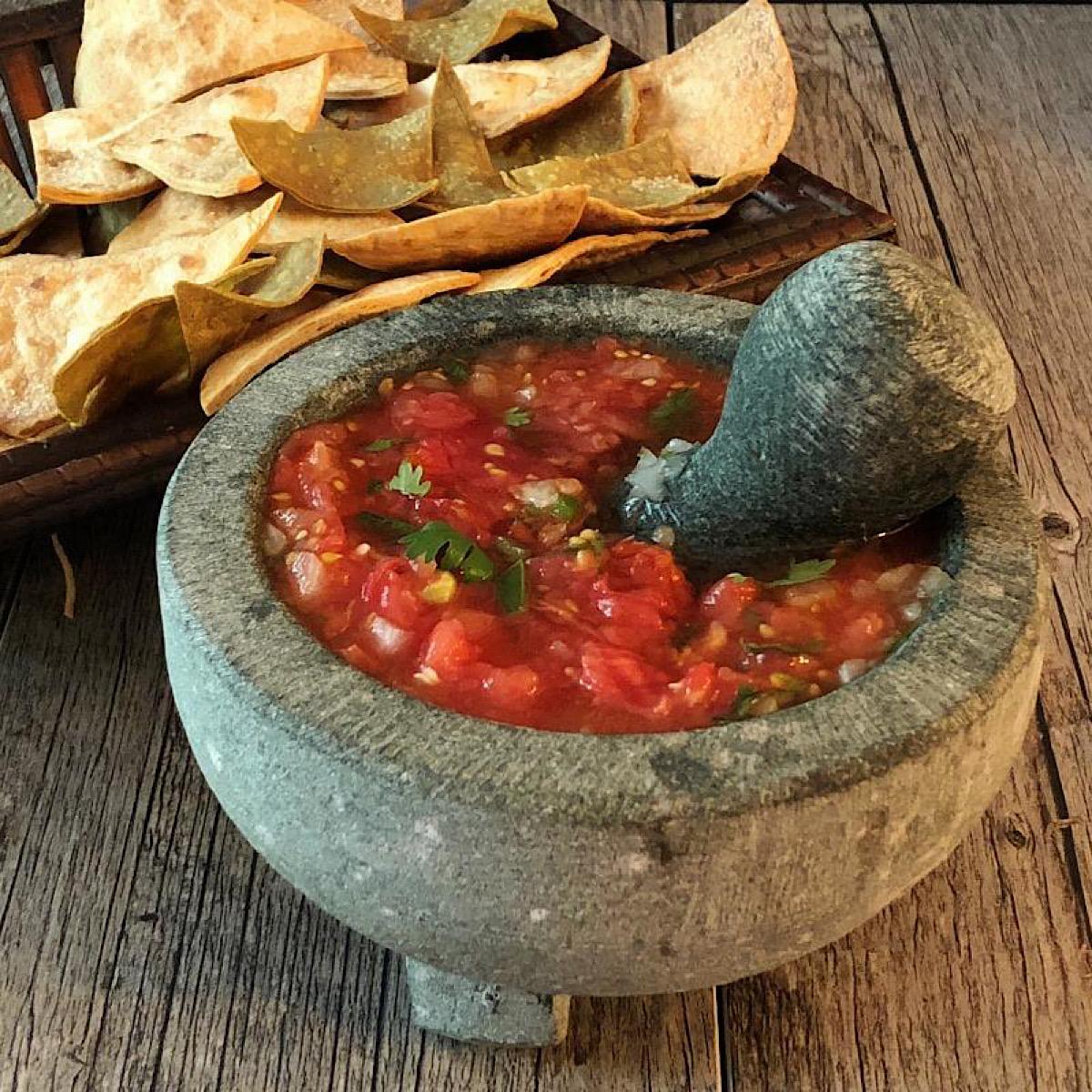 Mashing the tomatoes, onion, cilantro and peppers together with a little salt released more of the oils and blended the various flavors than my food processor or kitchen knife ever did! Cooked salsas would be a different story, but when you're in the high season of fresh, juicy heirloom tomatoes, using a mortar and pestle (aka a molcajete in spanish) will turn your salsa into a food memory that will last all winter.
Flavor Options for Fresh Keto Salsa
The tomato is the star so first opt for the freshest, tastiest tomato you can find. I use a range of heirloom tomatoes because I grow them and have easy access to them. It's fairly easy to find heirlooms at most farmers' markets these days, but if all you have access to is grocery store tomatoes, then make sure and roast them in the oven first to bring out the flavor. Roasting the heirlooms is a good idea also and make them easy to peel and muddle in the molcajete.
I used a jalapeno, but of course any chili pepper works well and just depends on your heat preference. Serranos are a classic salsa pepper, but you can mix it up a bit with Anaheims, Habaneros, or even some sweet bell peppers.
Tomatillas are great in fresh salsas and add a bit of tartness and acid. Lime juice is often added to salsas also. There is no harm in being creative here. Like radishes? Add them!
If you keep the salsa fresh and chunky, rather than a soupier version you are now treading into Pico de Gallo territory. I like them all and every which way, as long as they have good tomatoes! Below is a photo of our first heirloom tomato to ripen this year, the Italian Costoluto.
The Chips:
It's pretty tough to enjoy salsa without the crunchy, salty tortilla chips. The good news is there are now low carb tortillas available (I order cactus tortillas online) and you can put a little oil and salt on them and bake them at 350 for 10-12 minutes for delicious chips. If you're not living a low carb lifestyle, then do the same thing with flour or corn tortillas. They are soooo much better than store-bought!
Recipe for Fresh Keto Salsa using a Molcajete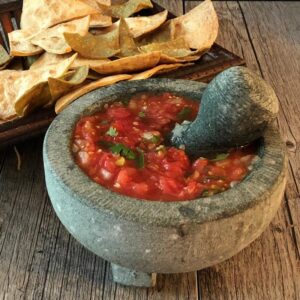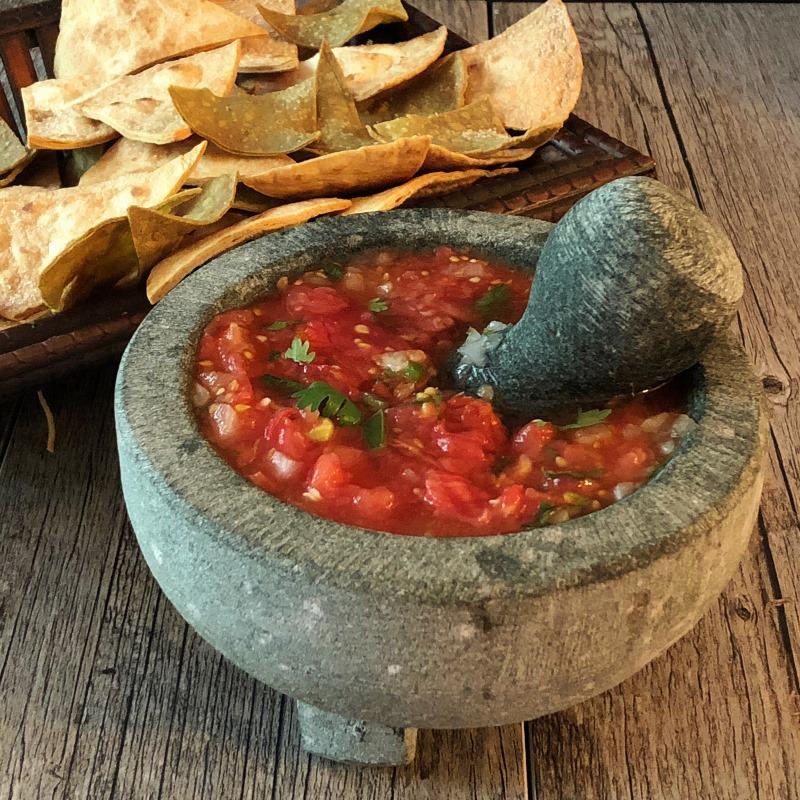 Ingredients
2

heirloom tomatoes

large roma types

½

cup

onion

chopped

1-2

tsp

jalapeno

coarsely chopped

1

clove

garlic

coarsely chopped

1

tbsp

cilantro

½

tsp

salt
Instructions
To get the most flavor out of the tomatoes, roast them for about 15 minutes in a 400 F degree oven.

While the tomatoes are roasting, chop the remaining ingredients and muddle together in the molcajete (mortar and pestle) with the 1/2 tsp salt

Add the tomatoes to the mortar and grind together with the other ingredients (depending on the size of your molcajete, this may need to be done in 2 batches)

Enjoy with the freshly baked chips and store any remaining salsa covered and in the refrigerator.
Nutrition
Calories:
21
kcal
Carbohydrates:
5
g
Protein:
1
g
Fat:
1
g
Sugar:
3
g
Did you make this recipe?
If you tried this recipe, please give it a 5-star rating! To do this, just click on the stars above.
Online Coaching Available:
I have followed the slow carb diet for 2 years, the keto diet for 1 year and now I currently do a nuanced version of the best of both including a 16/8 intermittent fasting protocol. I have put my "been there done that" knowledge to work helping people figure it out and customize the approach that works for them. I am currently an online fitness coach (info can be found here if you're interested), and have just hit the 325-client mark. Come and visit me and see if online coaching might be for you!
If not for diet or exercise, there are other coaches on the site that coach anything from writing a blog, to getting up early, to getting rid of that pesky procrastination. Explore the site while you are there. There are some wonderful coaches and the testimonials will tell you what you need to know. Click here to get to my profile and then explore others from there.