Although fruit can be too high in sugar for a strict keto diet, some fruits CAN fit into a low carb or slow carb lifestyle. This low carb cherry dessert (a Clafoutis) is made with almond flour, eggs, a bit of sugar (or sugar substitute), and of course cherries. It is easy, delicious and a great low carb summer dessert.
Jump to Recipe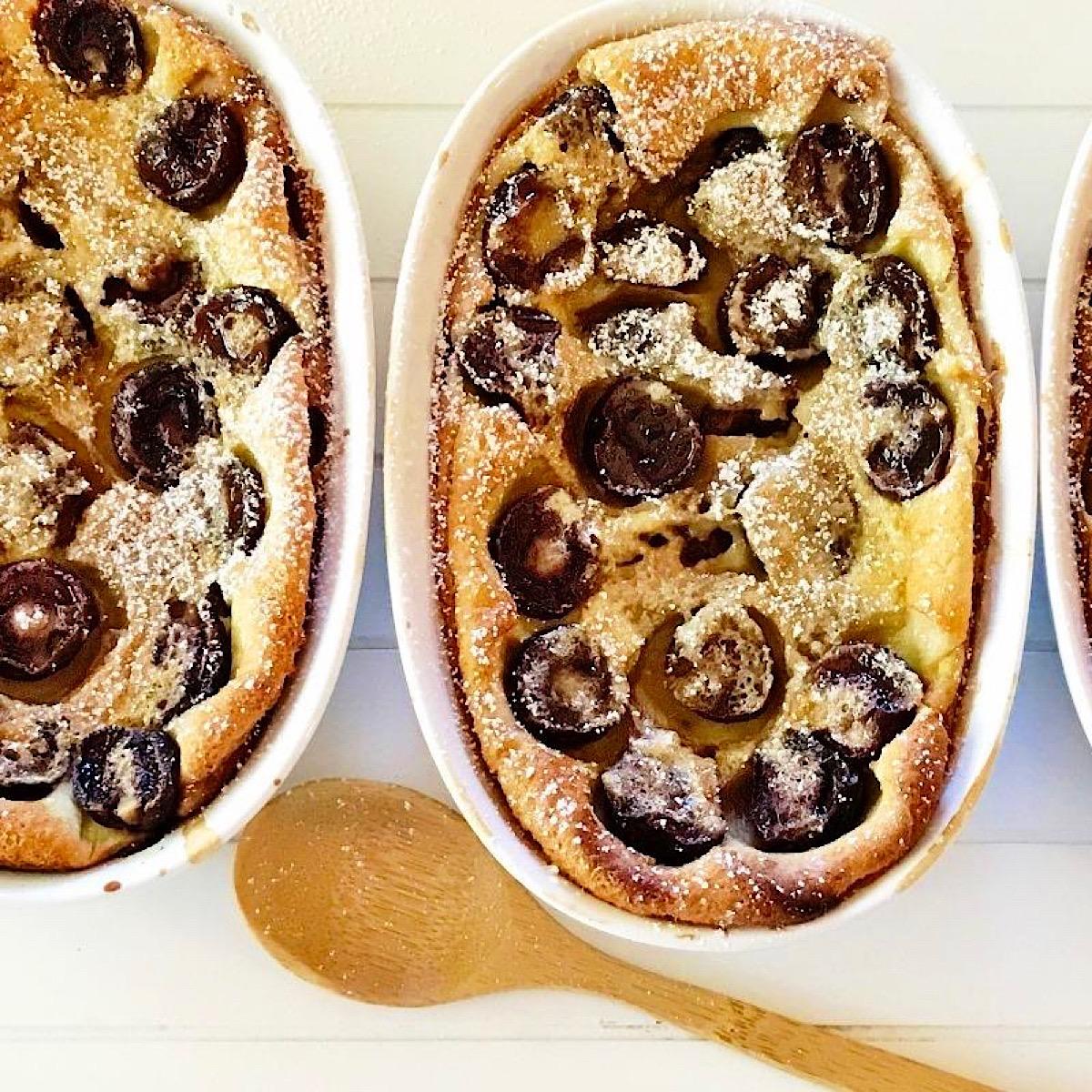 Why is Fruit to be Avoided on a Slow Carb Diet?
A lot of people have trouble with the idea that fruit is to be avoided on a low carb, slow carb or ketogenic diet.
There are a lot of variables to consider before excluding all fruit entirely however (i.e., if your goal is weight loss or maintenance, if you partake in cheat days, and what kind of fruit we are talking about).
The main reason fruit is not considered compliant with low carb lifestyles is the amount of sugar that is found in most fruit (in the form of fructose) and how it can impact weight loss.
While fruit and sugar may both impact weight loss, there is a big difference however between whole fruit and processed sugar in terms of "health". Fruit definitely has some antioxidants and nutritional benefits that are healthy in a diet.
My recommendations on incorporating fruit into a low carb diet are as follows:
when you are trying to lose weight include fruit on your cheat day ( or once a week) but exclude it during the other 6 days;
berries are the least problematic with respect to weight gain;
learn the hierarchy of which fruits are best and worst in terms of fructose and glucose responses.
Here is a very simple list of fruits and their "relative" amounts of sugar compared to each other:
Fruits Lowest in Sugar:
Lemons or limes
Rhubarb
Blackberries
Cranberries
Fruits Low to Medium in Sugar
Strawberries
Casaba Melon
Papaya
Watermelon
Peaches
Nectarines
Blueberries
Cantaloupes
Honeydew
Apples
Guavas
Apricots
Grapefruit
Fruits Fairly High in Sugar
Plums
Oranges
Kiwifruit
Pears
Pineapple
Fruits Very High in Sugar:
Tangerines
Cherries
Grapes
Pomegranates
Mangos
Figs
Bananas
Dried Fruit
Low(er) Carb Cherry Clafoutis
While Bing Cherries are one of the fruits higher in sugar, they are packed with vitamins, micro-nutrients and antioxidants. Using almond flour and a sugar substitute allows this dish to be a relatively low carb dessert that is quite delicious.
Low Carb Cherry Clafoutis
An easy low carb summer dessert with almond flour, eggs and cherries
Ingredients
1

cup

almond flour

4`

large

eggs

¾

cup

almond milk, unsweetened

¼

cup

heavy whipping cream

3

Tbsp

Truvia

modify for other sweeteners

1

tsp

Truvia

modify for other sugar substitutes

½

tsp

salt

1

Tbsp

vanilla

1

tsp

lemon zest

zest of 1 lemon

2

cups

pitted cherries

halved

2

Tbsp

Amaretto

optional
Instructions
Preheat oven to 350 degrees. Use butter to grease a 9″ round baking dish or several smaller dishes or ramekins

In a blender add all ingredients except cherries and blend to mix thoroughly

Pour mixture into the baking dish(s) and drop in halved cherries to cover (they will sink a bit)

Place in middle rack of oven and bake 35-40 minutes or until golden brown on top. Remove and let cool in dish. It will puff up while baking and deflate in the middle upon cooling. That's OK…it still looks and tastes great.
Nutrition
Calories:
157
kcal
Carbohydrates:
5
g
Protein:
6
g
Fat:
12
g
Saturated Fat:
3
g
Cholesterol:
103
mg
Sodium:
184
mg
Potassium:
40
mg
Fiber:
1
g
Sugar:
2
g
Vitamin A:
244
IU
Vitamin C:
1
mg
Calcium:
48
mg
Iron:
1
mg
Did you make this recipe?
If you tried this recipe, please give it a 5-star rating! To do this, just click on the stars above. And don't forget to tag me at @dorothy_stainbrook_heathglen, if you share a picture on Instagram! You can also tag me at #heathglen!