Rhubarb season is brief and there are so many delicious sweet and savory rhubarb dishes to make. This tangy-sweet dish can be enjoyed as a sweet-tart custard or as a sweeter rhubarb crisp. I've also added whipped cream to the leftovers and made it into an adapted "eton mess". Try it in all three versions!
Jump to:
RECIPE
All About Rhubarb
Ingredients for Recipe
Illustrated Step by Step
Modifying Recipe to Low Carb
Make it into an Eton Mess
Setting a Custard without Water Bath
Best Thickeners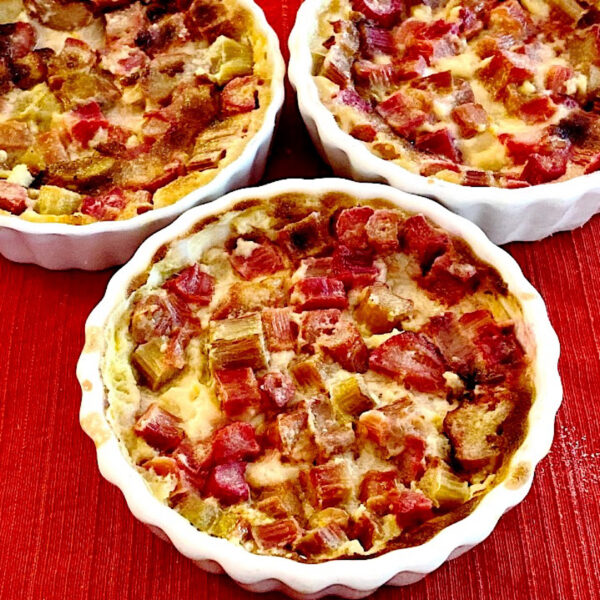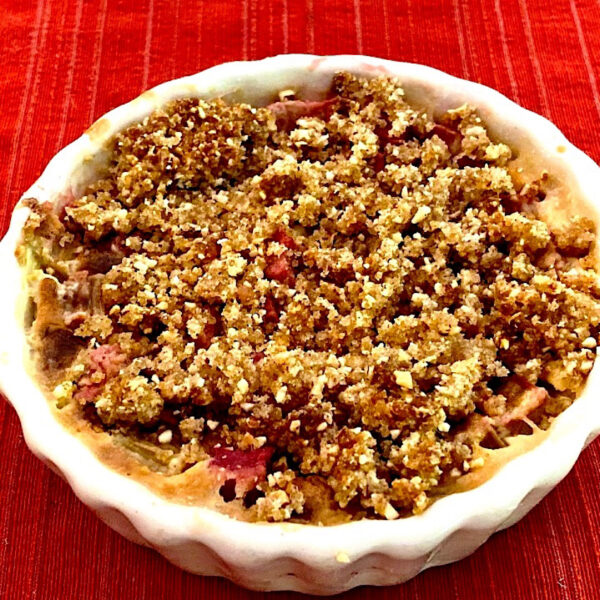 This post may contain affiliate links, and you can read our disclosure information here–
All About Rhubarb
Is Rhubarb a Fruit or Vegetable?
For a little background, rhubarb is a vegetable that is often used like a fruit in cooking, Rhubarb has pink to red celery-like stalks and large green leaves. The only part of the plant that is edible is the stalk; the leaves are toxic and must be removed and discarded.
The tart-flavored stalks are always served sweetened and cooked. Field-grown rhubarb is available April through July, while hothouse varieties are sold January through June.
What to Look for when Purchasing:
Look for bunches of rhubarb with crisp, straight well-colored stalks. Any attached leaves should look fresh, although they should never be eaten, as they are toxic. Most stores and markets have cut off the leaves.
Avoid rhubarb with stalks that are turning green or have blemishes or cuts.
How to Store and Freeze Rhubarb
Refrigerate unwashed rhubarb in a plastic bag for 3 to 5 days.
Freeze fresh, cut-up rhubarb in freezer-weight plastic bags for up to 9 months.
How to Prepare Rhubarb for Cooking:
Trim off and discard all leaves and the ends of the stalks.
Remove any brown spots or coarse strings with a vegetable peeler. Wash under cold running water.
Cut the stalks crosswise into 1- to 2-inch pieces if using in a sauce or compote. Because it breaks down easily during cooking, rhubarb is usually not cut into small pieces. For this custard recipe however, I have cut the rhubarb into smaller 1/2" pieces.
Ingredients for Rhubarb Custard:
An ingredient list and detailed directions are listed in the recipe card below. Here is a photo of all the ingredients you need measured out in the precise amounts: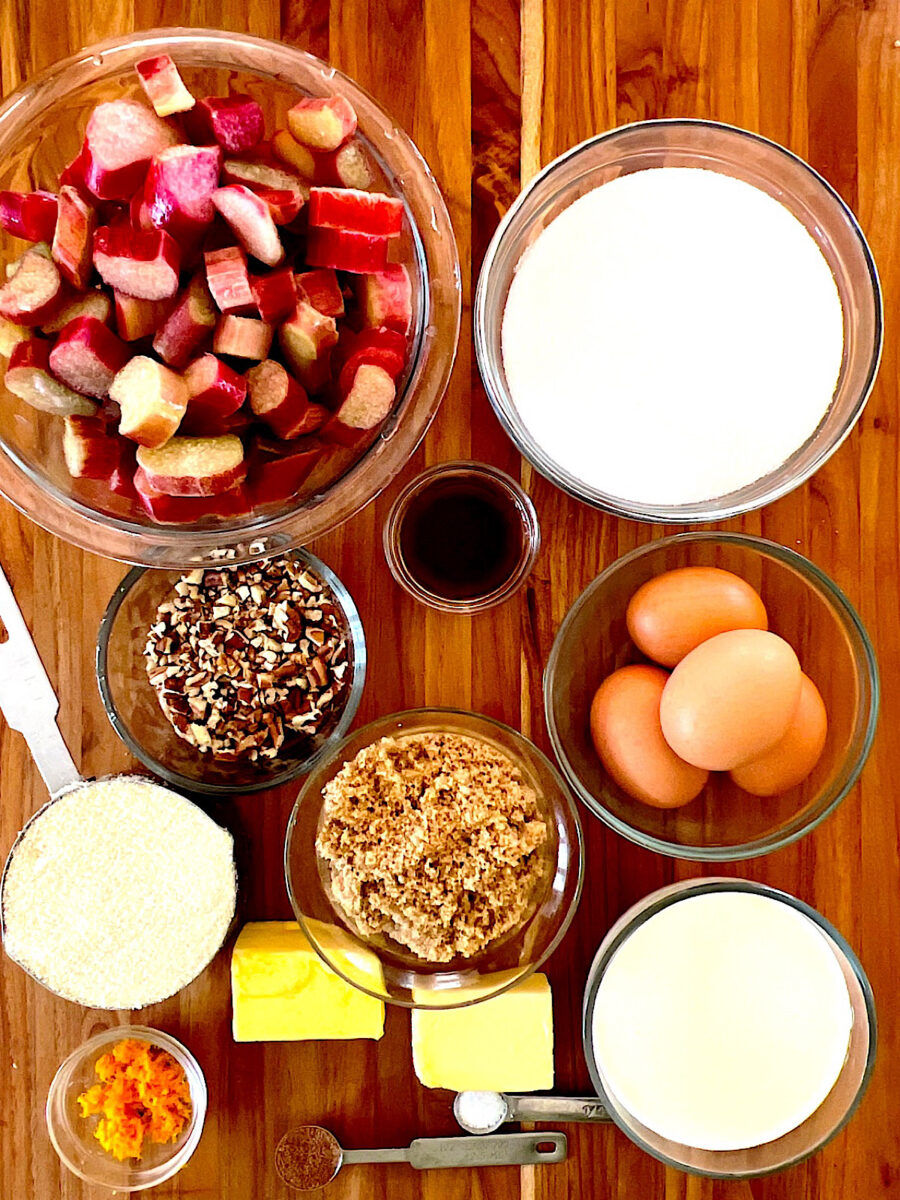 Illustrated Step by Step
Step #1: Cut rhubarb into small pieces and sprinkle with sugar and set aside.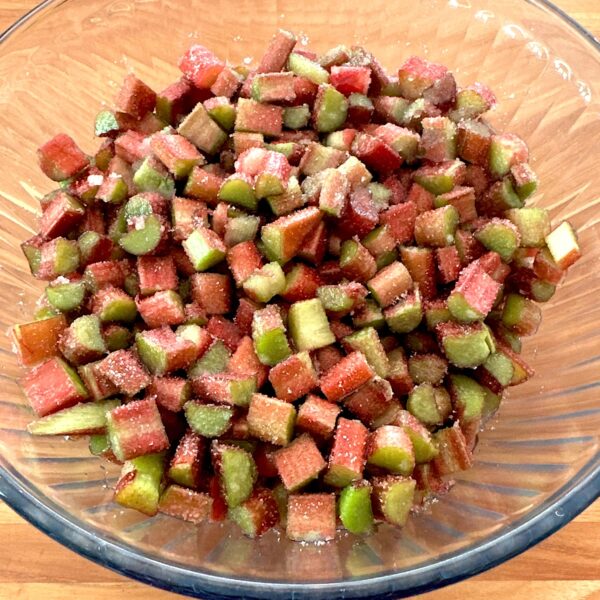 Step #2: In a stand mixer, blend eggs, sugar, water, cream, butter, sale, vanilla, cornstarch and orange zest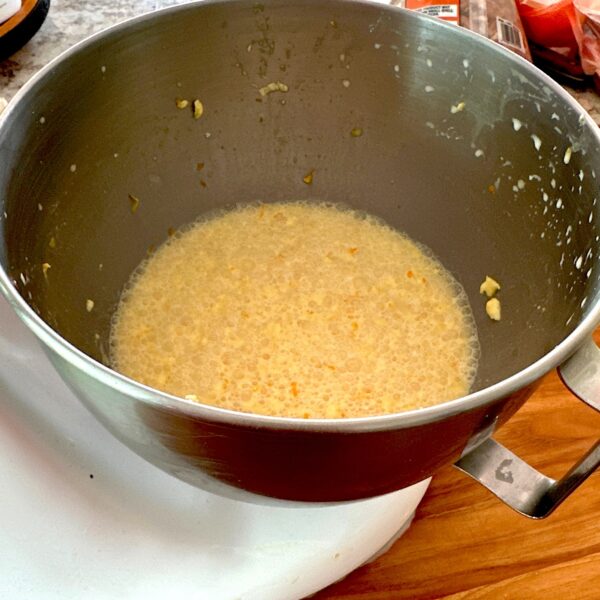 Step #3: In a food processor, mix flour, sugar, cinnamon, nuts, butter and salt until crumbly
Step #4: Layer the rhubarb in the baking dish, pour over the custard mixture and top with the crumble topping.
Step #5: Bake rhubarb crisp at 350 F for about 40 minutes.
How to Modify Rhubarb Custard & Crisp to Low Carb:
Rhubarb custard and rhubarb custard crisp can easily be modified to be low carb recipes.
For the crisp:
Modifying the "crisp" to be low carb is a matter of switching white enriched flour to almond flour and switching pure cane sugar to a sugar substitute. Use nuts instead of oats for the desired crunch in a crisp.
For the Custard:
Custards include eggs, cream and sugar. Eggs and cream are staples on a low carb or keto diet so for the custard, it is mostly a matter of switching out the sugar to a sugar substitute.
My favorite sugar substitute is A monkfruit blend. The monkfruit blends usually include erythritol. The flavor of the custard using this blend is very good. Some people will notice a "cooling" taste from the erythritol part of the blend. Some people also experience digestive issues with erythritol.
Even though erythritol sounds like an artificial compound, it occurs naturally in a variety of foods (e.g., grapes, mushrooms, pears and watermelon) and some fermented foods and beverages like beer, cheese, sake, soy sauce and wine. Erythritol is produced using fermentation.
For the Thickener:
Cornstarch is often used to thicken fruit pies, and this would include a rhubarb pie. While cornstarch is not low carb, you don't usually use enough of it to make much of a difference.
Adapted Eton Mess
Eton mess is a classic British dessert made of a mixture of fresh fruit, cream and crushed baked meringue. It's deliciously simple and perfect for lazy summer days.
The recipe below makes a fairly large crisp and if you don't eat it fairly quickly, the custard will start to weep as it gets warm.
Since there is just 2 people in our current household, I decided to change up the leftover custard as it softened. Basically I just scooped up the crisp/custard into a dish and added some whipped cream. It looked like an eton mess to me, with the crumble crust acting as the meringue. Granted it is an adaptation, but I must say it was a delicious adaptation!
Getting the Custard to Set without a Water Bath?
While some custards do better cooked in a waterbath, this rhubarb custard dish is easy and successfully sets without a hot-water bath, but there are 3 key considerations.
Tips to Set a Custard without a Water Bath:
You need to match the size of the baking dish to the length of cooking time. If you use shallow baking dishes (i.e., 8 ramekins or a 1" pie plate) the custard will set in about 35 minutes. In a 9" pie plate it took 1 hour before it was properly set. It should be a bit jiggly when you shake it and have an internal temperature of 175 F or more.
You need to use a little flour or a little cornstarch in the custard mix. Both of them will work, but I used 2 Tablespoon flour in the first batch, and 1 Tablespoon cornstarch in the second batch. I prefer the set with the cornstarch, but it is a little higher in carbs.
Let the custard cool completely when removed from oven. Then refrigerate (covered) to keep the custard from becoming runny.
Flour vs Cornstarch as Thickener for Custards
Either Flour or cornstarch can be used as a thickener for custards. They are different however. Here are a few key distinctions to be aware of:
You can't use cornstarch instead of flour at a 1:1 ratio. You will need to use twice as much flour as cornstarch (or a ratio of 2:1)
Flour will start to thicken at a lower temperature, but it needs to be cooked long enough to get the taste out (at least 20 minutes). Cornstarch, on the other hand, doesn't have a taste but you need to get the temperature up to almost boiling before it reaches it's thickening power.
They have a different look in dishes. Cornstarch will have a slight shine and be transparent. Flour will be more opaque. For this reason a lot of cooks use cornstarch for sweet dishes and flour for savory type sauces.
Flour has more nutrients and less carbs than cornstarch
I tested this recipe using 2 Tablespoons flour for the first batch and 1 Tablespoon cornstarch for the second batch. I prefer the custard to be a bit thicker and found that the cornstarch worked better for me. If I were to make this again with flour, I would try 3 Tablespoons rather than 2.
Neither cornstarch or flour will have a taste in this recipe, as it does cook long enough at a high enough temperature to erase the taste of the flour.
Recipe for Low Carb Rhubarb Custard or Crisp
Crustless Rhubarb Custard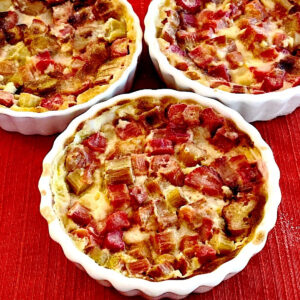 This rhubarb custard can be enjoyed on it's own as a creamy sweet-tart dessert, or you can add a low carb nut topping to it and enjoy it as a crisp (recipe for crisp topping included)
Ingredients
FOR THE CUSTARD
1 ½

lb

rhubarb (cut off ends before weighing)

cut into 1/2" pieces (about 5-6 cups)

1 /2

cup

sugar

Plus a couple of tablespoons to sprinkle over the top

4

medium

eggs

½

Cup

sugar

½

Cup

water

1

cup

fluid heavy whipping cream

¼

Cup

butter

cold

1

Tablespoon

Cornstarch

Alternatively use 2-3 Tablespoons flour

¼

Teaspoon

salt

1

tsp

vanilla

1

Tablespoon

zest from 1 orange
For the Crisp Topping
1

Cup

almond flour

1

cup

brown sugar

Or brown sugar substitute

½

cup

nuts

chopped (I used pecans)

½

tsp

cinnamon

¼

tsp

salt

4

oz

unsalted butter

chilled and cut into small pieces

1-2

Tbsp

Fresh tarragon

chopped ** optional
Instructions
Preheat oven to 350° F.

In a large bowl, mix together cut-up rhubarb, 1/2 cup sugar (or sugar substitute) and set aside.

1 1/2 lb rhubarb (cut off ends before weighing),

1 /2 cup sugar

In a mixer, beat together until well combined the eggs, the other 1/2 cup sugar, water, cream, butter, 1 cornstarch, salt, vanilla and orange zest.

4 medium eggs,

1/2 Cup water,

1 cup fluid heavy whipping cream,

1/4 Cup butter,

1 Tablespoon Cornstarch,

1/4 Teaspoon salt,

1 tsp vanilla,

1 Tablespoon zest from 1 orange,

1/2 Cup sugar

Distribute the rhubarb evenly into 6-8 ramekins until they are about 3/4 full. I used 8 ramekins that were 5" diameter by 1 1/2 inch deep.

OR

Distribute rhubarb into a 10" shallow single baking dish I made it in a 10" diameter round baking dish which was 1 1/2" deep

Pour egg/cream mixture over the top of the rhubarb. If adding the crisp topping, prepare it as in the direction below and sprinkle over the rhubarb custard mixture at this point before baking.

Bake at 350° F for about 35 minutes if in a shallow baking dish. It should jiggle slightly on the top and be at least 175°F internal temperature

**Note: To get a deeper custard, distribute rhubarb into a 9" pie plate instead of a 10 " dish and bake at 350°F for 1 hour. It should jiggle on top and be at least 175°F internal temp.

Let the custard cool completely, and then place in refrigerator to keep custard from becoming runny. You can cover with plastic wrap, aluminum foil or a plate before placing in refrigerator.

To make the crisp topping: Add all ingredients except the butter to a food processor and pulse until blended. Then add the chilled butter (cut up into small chunks) to the processor and pulse for a minute or until the mixture is crumbly and well blended (like a coarse meal).

Sprinkle the crisp topping over the rhubarb mixture and add the chopped tarragon if you are using that option, and bake at 350° F.

Check on the crisp at 30 minutes and watch until it is browned to your liking. Make sure the custard is done underneath the topping (175° F)

1 Cup almond flour,

1 cup brown sugar,

1/2 cup nuts,

1/2 tsp cinnamon,

1/4 tsp salt,

4 oz unsalted butter,

1-2 Tbsp Fresh tarragon
Notes
** This can be made in a single baking dish instead of ramekins but the cooking time will vary. Cook for 1 hour in a 9" diameter pie plate and about 35 minutes in a 10" circular round baking dish filled it to about 1" deep. The cooking time is dependent on the depth of the custard.
** Use either 2-3 Tablespoons flour or 1 Tablespoon cornstarch for thickener.
Nutrition
Calories:
269
kcal
Carbohydrates:
27
g
Protein:
4
g
Fat:
17
g
Saturated Fat:
10
g
Polyunsaturated Fat:
1
g
Monounsaturated Fat:
4
g
Trans Fat:
1
g
Cholesterol:
116
mg
Sodium:
213
mg
Potassium:
273
mg
Fiber:
1
g
Sugar:
24
g
Vitamin A:
729
IU
Vitamin C:
6
mg
Calcium:
99
mg
Iron:
1
mg
Did you make this recipe?
If you tried this recipe, please give it a star rating! To do this, just click on the stars above. Comments are always helpful also and I respond to all of them (except rude ones)