Follow this quick and easy recipe for oven-baked fish filets with a spicy cornmeal seasoning rub. A perfect weeknight dinner the whole family will love ready in under 30 minutes. No frying and no oil is used in this healthy sheetpan fish recipe.
Jump to:
RECIPE
Ingredients & Substitutions
Is Baked Catfish Healthy?
Best Fish Seasoning Rubs
Step-by-Step Baked Fish
Ingredients and Substitutions
It is easy to substitute different types of fish or seasoning blends with this recipe and still have a stellar dish that is customized to your own tastes.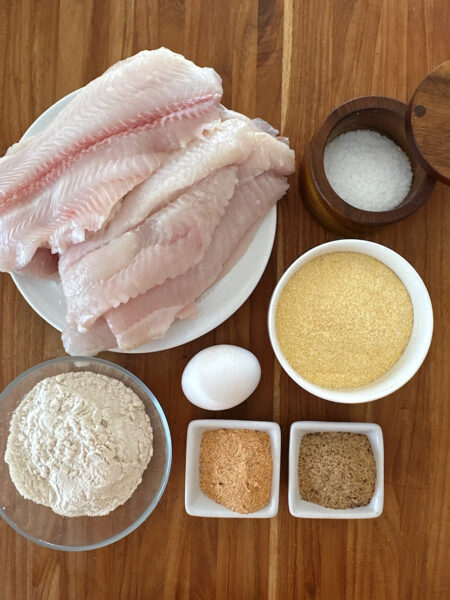 Fish Substitutions:
I prefer white fish filets with a cornmeal seasoning, but salmon can work also if that is your favorite. The main thing to be aware of is to accomodate the thickness of the fish.
Thin fish filets (~ 1 1/2-inch) will take a shorter cooking time (10-13 minutes). These filets might include:
Catfish
Walleye
Tilapia
Perch
Fish filets that run a thicker (~ 2-inches) need a little longer in the oven (15-18 minutes). This might include:
Cod
Mani mahi
Sea bass
Steelhead
Salmon
Halibut
Seasoning Blends for Fish
There are many different powdered spice and herb blends that pair well with fish. Old Bay seasoning blend is probably the most well-known pre-made blend and it is one that I use frequently.
Homemade fish spice blends can offer a truly fresh, customized taste treat. Popular fish seasoning blends include dried dill, parsley or paprika, but dried dill and parsley tend to get old very quickly, losing their flavor.
Just make sure you use the freshest ingredients you can find, as spices do not keep their potency forever!
I tend to enjoy a little spice with fish, as white fish can be somewhat bland at times. Here are my two favorite fish seasoning blends:
Homemade Spicy Fish Seasoning:
Stir together:
1 tablespoon onion powder
1 1/2 teaspoons garlic powder
1 tablespoon chipotle powder
1 1/2 teaspoons sea salt (or himalayan pink salt)
1 1/2 teaspoons white pepper
This recipe only makes 3 1/2 tablespoons of seasoning, as that is what is needed for the recipe below. You can certainly double or triple it if you'd like and store it for the future.
Homemade Chile Lime Fish Seasoning:
This spice blend is known as "tajin" and is a blend of lime zest, chile pepper and salt. It is dynamite on fish in my opinion.
1 part sea salt
1 part chile pepper (powdered)
1 part dried lime zest (I use True Lime)
Salmon is more robust with a more distinct flavor than white fish, and a different rub may work better for salmon. These spice and herb combinations from 'Eating Well' magazine are my favorite blends for salmon rubs.
Healthy Fish Dinners
While most fish dinners are considered healthy by their nature, baking fish rather than frying fish is without oil is considered by most studies to be much more healthy. Here is a snippet from 'Time' magazine's article on the health of fish:
"Not all fish are equal, and how you prepare it really matters," said lead author Dr. Donald Lloyd-Jones of Northwestern University Feinberg School of Medicine in a statement. "When you fry fish, you not only lose a lot of the benefits, you likely add some things related to the cooking process that are harmful."
The cornmeal and rice flour in the breading are not compliant with a low-carb diet, but if you don't need a gluten-free diet for health purposes, oven-baked breaded fish filets can certainly fit with a healthy lifestyle….much more so than fried fish.
Illustrated Step-by-Step for Breaded Baked Fish
Step #1: Lay out 3-4 plates with rice flour, egg, and seasoning cornmeal blend(s)
Step #2: coat the fish filets first in the rice flour to help make breading "stick"
Step #3: After coating with rice flour, dip the filet(s) in the lightly beaten egg
Step #4: After the egg dip, coat the filet(s) in the cornmeal-seasoning blend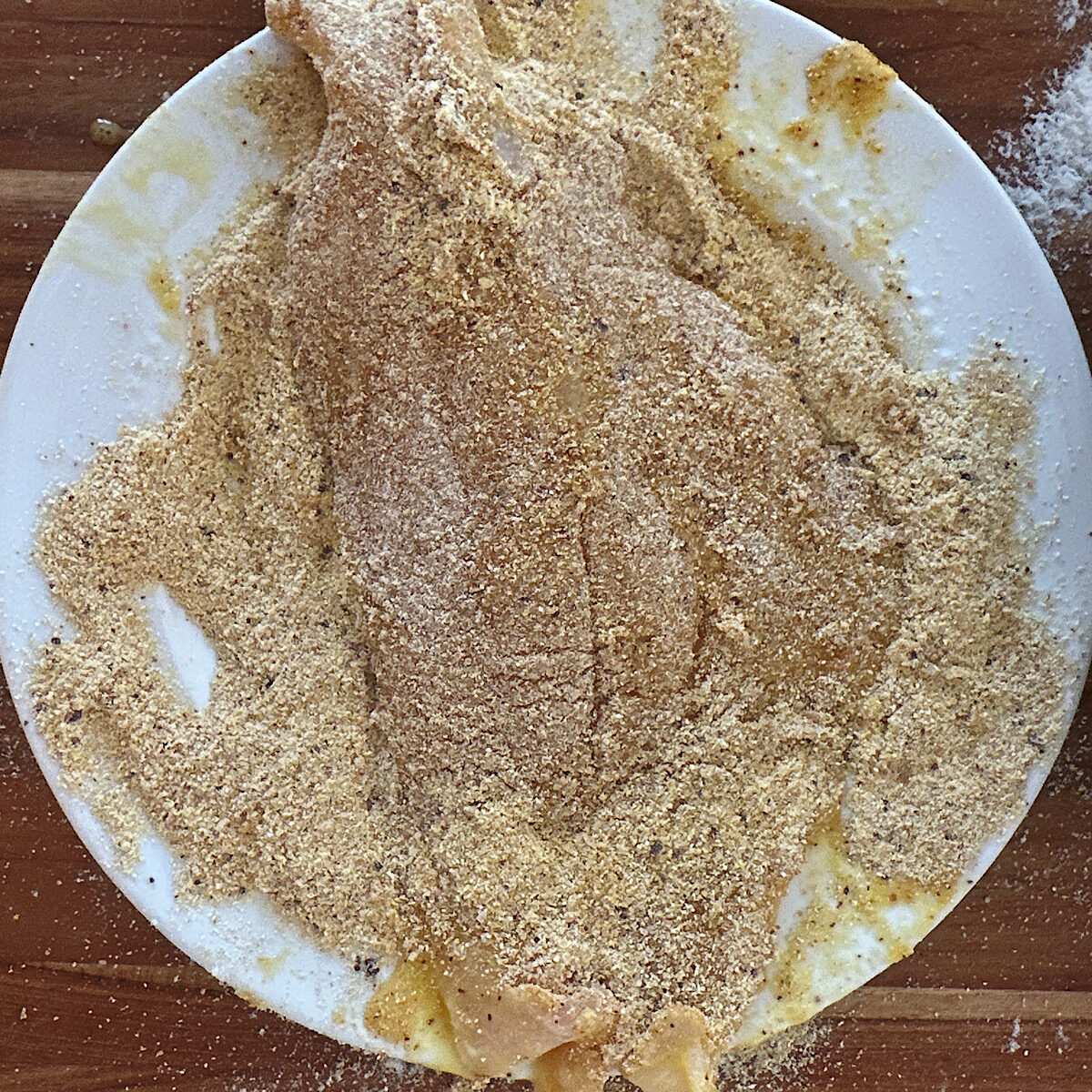 Step # 5: Spread out filets on parchment-covered baking sheet and bake at 400 F for 12 minutes
Can you reheat leftovers?
Yes, they will reheat best on a baking sheet lightly covered with foil. Bake at 275F for 15 minutes to warm through.
Can you use frozen fish?
Fresh fish typically has a better texture, but frozen fish can work really well if you make sure and thoroughly defrost them and pat them dry to remove excess moisture.
Recipe for Oven-Baked Fish with Cornmeal Seasoned Rub
Baked Fish Filets with Seasoned Cornmeal Rub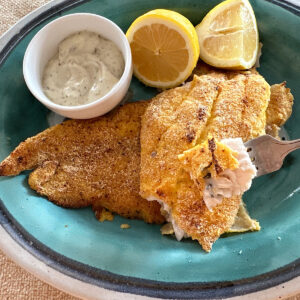 Easy fish dinner with filets breaded with a seasoned rub and then baked
Ingredients
1

Cup

cornmeal

3

Tablespoons

seasoning blend

see notes for seasoning ideas

1

Cup

rice flour

1

egg

may need 2 eggs if small

6

fish filets

I used catfish
Instructions
Preheat oven to 425 degrees F

Add seasoning blend to the cornmeal and stir together thoroughly (helps to use slotted spoon). If your seasoning blend does not include salt, add 1/2 to 1 teaspoon salt.

Prepare 3 stations for coating fish: 1 plate of rice flour, 1 bowl with egg(s), and 1 plate of seasoned cornmeal

1 Cup cornmeal,

3 Tablespoons seasoning blend,

1 Cup rice flour,

1 egg

Using either your fingers or the tongs, dip each filet first into the rice flour, then the egg, and then the cornmeal seasoning. Make sure each filet is fully coated.

Line a cookie sheet with parchment paper and spread the breaded fish out on the sheet (not touching).

Bake at 400 F for 10-15 minutes depending on thickness of fish. You will know when it is done when it flakes easily when pierced with a fork. Alternatively you could use a digital thermometer and remove when it reaches 145 degrees.
Notes
**FISH SEASONING BLEND (spicy)
Stir together:
1 tablespoon onion powder
1 1/2 teaspoons garlic powder
1 tablespoon chipotle powder
2 teaspoons seas salt (or himalayan pink salt)
1 1/2 teaspoons white pepper
**CHILE LIME SEASONING BLEND
1 part sea salt

1 part chile pepper (powdered)

1 part dried lime zest (I use True Lime)
Did you make this recipe?
If you tried this recipe, please give it a star rating! To do this, just click on the stars above. Comments are always helpful also and I respond to all of them (except rude ones)