Using sun-dried tomatoes in a butter or a spread is the perfect way to get concentrated tomato flavor in the depths of Winter. Dry your own tomatoes with a dehydrator or use store-bought. For a tomato butter just mince the sun-dried tomatoes and stir them into softened butter. Easy and delish!
Jump to: Recipe | What to Serve with Tomato Butter | How to Use Sun-Dried Tomatoes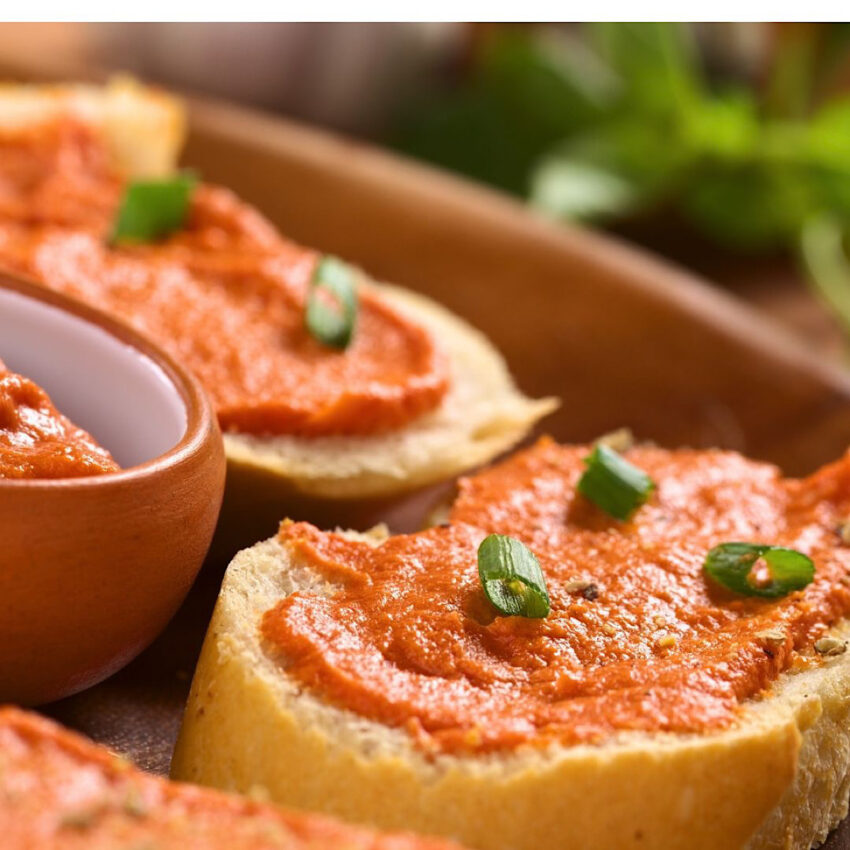 Sun-dried Tomato Butter.
Butters that have herbs or grated citrus whipped into them are referred to as compound butters. Most of these are herbal compound butters, but combining finely minced "sun-dried" tomatoes with softened butter is another delicious form of a compound butter.
The beauty of this tomato butter is that it is easily frozen and can be used all Winter to enhance just about any recipe or dish.
The basic way to make this is to whip softened butter until smooth and fluffy and then to add minced or pureed sun-dried tomatoes. Often cooks will add minced garlic, fresh herbs, lemon juice, pepper and salt. See recipe below for my version.
What to Serve Tomato Butter With
There aren't many dishes that tomato butter wouldn't enhance. A few of my favorites are:
A topping on salmon (smothered salmon)
Stirred into any Italian pasta sauce
Melted over Romano beans or any other vegetable for that matter
As a spread on crackers or rustic breads
Stirred into scrambled eggs
As a spread on a sandwich
As a condiment on a cheese tray
Spreads Using Sun-Dried Tomatoes
Once sun-dried tomatoes are rehydrated they can be blended with a number of different bases to form delicious spreads. If you are drying your own tomatoes the key to flavor is to use a variety that is meaty with a good sugar-to-acid balance.
The Italian variety, Principe Borghese is considered the best tomato for drying as it is small, meaty and balanced in flavor. They are perfect to cut in half and dry in a food dehydrator!
More ideas for using sun-dried tomatoes
Rehydrate and mince the tomatoes and add capers, garlic and herbs with a little vinegar and olive oil (perfect with goat cheese and crackers)
Blend rehydrated, minced tomatoes into a white bean puree with a bit of rosemary, olive oil and lemon juice and serve with pita bread
Blend with hummus and serve with fresh vegetables.
How to Dry Tomatoes
For the "how-to" on drying your own tomatoes, whether they be heirloom or not, click here.
More Methods for Preserving Summer's Produce:
Recipe for Sun-Dried Tomato Butter
Sun-Dried Tomato Butter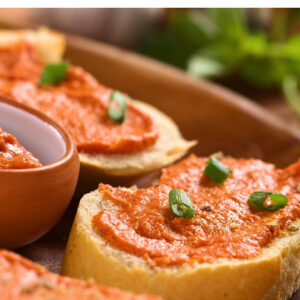 Softened butter blended with rehydrated, minced sun-dried tomatoes has a ton of delicious uses. Try it in a veggie dip, a sandwich spread, a pasta sauce or with a cheese tray. An easy way to get concentrated heirloom tomato flavor in the Winter!
Ingredients
2

Sticks

Butter

Salted or unsalted (add your own amount of salt if using unsalted); softened

⅓

Cup

Sun-dried tomatoes

rehydrated and minced

1

Tablespoon

Thyme

Or your favorite herb (basil, oregano, dill, etc.)

1

Tablespoon

Garlic

Mined

1

Tablespoon

Lemon juice

Fresh
Instructions
Unwrap butter and leave butter on counter until softened to room temperature.

Rehydrated dried tomatoes in warm water until soft and then mince with knife.

1/3 Cup Sun-dried tomatoes

1 Tablespoon Thyme,

1 Tablespoon Garlic

Blend (or whip) all ingredients together (butter through lemon juice) and add salt if using unsalted butter.

At this point you can either refrigerate and use as you go, or you can roll into logs, wrap in wax paper and freeze. Then slice off "coins" to use throughout the Winter to enhance dishes.
Notes
Tomato butter is also good with spices added rather than herbs. One of my favorites is to toast the following spices whole and then grind them before adding to the butter.
1-2 Tablespoons coriander seeds
1-2 Tablespoons fennel seeds
1-2 Tablespoons caraway seeds
1-2 teaspoons black peppercorns
Nutrition
Calories:
217
kcal
Carbohydrates:
3
g
Protein:
1
g
Fat:
23
g
Saturated Fat:
15
g
Polyunsaturated Fat:
1
g
Monounsaturated Fat:
6
g
Trans Fat:
1
g
Cholesterol:
61
mg
Sodium:
213
mg
Potassium:
175
mg
Fiber:
1
g
Sugar:
2
g
Vitamin A:
788
IU
Vitamin C:
4
mg
Calcium:
17
mg
Iron:
1
mg
Did you make this recipe?
If you tried this recipe, please give it a 5-star rating! To do this, just click on the stars above.