Fruit-infused shrub syrups (aka drink syrups or drinking vinegars) combine fruit, vinegar and sugar together to form a thin, but concentrated syrup to add to drinks. There is some debate as to which method, cold shrubbing or a hot process, produces a better drink syrup. Here are some tips for each of these methods so you can make your own homemade shrub syrup. Bonus is a recipe made with an apple shrub syrup.
Jump to:
RECIPE for Apple Beer
What is a shrub syrup?
Fruit, Sugar, Vinegar Ratios
Cold Process vs Hot Method
Simple Syrup vs Shrub Syrup
More fruit preserving methods
This post may contain affiliate links, and you can read our disclosure information here–
Using a Molcajete
What is a Shrub Syrup:
Shrub syrups are basically a preserved mixture of fruit, vinegar and sugar. The ratios of each varies widely, as does the process.
Usually the shrub syrups are used as an addition to sparkling water (which makes it an Italian soda) or as an enhancement to cocktails. They can also be used as an excellent salad dressing with the addition of a little oil.
I have been making shrub syrups on my farm since 2001 and selling them at farmers' markets as well as online.
Here are some of the tips that will help you if you decide to make your own shrub syrups.
Fruit, Sugar and Vinegar Ratios:
A shrub syrup is basically extracted juice, sugar and vinegar. The ratios of these 3 ingredients vary greatly depending on whose recipe you use and your own taste.
The most common ratio of shrub ingredients is 1:1:1. That is 1 cup extracted juice to 1 cup sugar to 1 cup vinegar. Of course the type of sugar and the type of vinegar you use will add nuance to your shrub.
For our shrub syrups I typically use organic fruit, apple cider vinegar and organic cane sugar.
Typical ratios that I use are 4 cups extracted juice to 2 1/4 cups sugar to 3 cups apple cider vinegar, but many people like it sweeter than this. It will depend a bit on how sweet the fruit you use it, and your own sweetness preferences.
If you are making a small batch, you'll just need to experiment. The recipe is very forgiving and can easily be adjusted.
Just remember, the vinegar will mellow after it sits with the fruit syrup for a while so the first taste while cooking will be more pungent than the final product.
Cold Shrubbing vs Hot Shrubbing
Cold Shrubbing
Cold shrubbing involves extracting the juice by letting the fruit sit overnight in the sugar and then straining before adding vinegar.
After the vinegar is added cover and let the syrup sit for several weeks to mellow.
It works well with soft fruit like strawberries or peaches, but I don't like to use the cold shrubbing method on apples or pears. The resulting strained syrup is too thick for my taste.
Hot Shrubbing method:
For hot shrubbing I have a stainless steel steam juicer from Finland (called a Mehu Liisa) that I use to extract the juice. It's somewhat expensive, but you could steam your fruit in a double boiler if you're just making a small batch and then strain.
With apples, you could also put them through an apple press. If you go the apple press route however, make sure and pasteurize your apple shrub in the end by bringing it up to 160 degrees for a short time. This article from the University of Georgia is about making apple cider, but it has some good information on extracting juice from apples and when and why to pasteurize.
Once you've extracted the fruit juice you need to add the sugar and vinegar. Pour the juice into a pot and add the sugar. Heat the mix slowly to dissolve the sugar. You do not need to boil the syrup mixture, just simmer it enough to dissolve the sugar.
I personally like to heat the mixture to about 165 degrees before covering to evaporate some of the volatile elements of the vinegar. I think it mellows the syrup, but it certainly isn't necessary.
I then bring the heat up to 160 degrees for 5 minutes or so to pasteurize.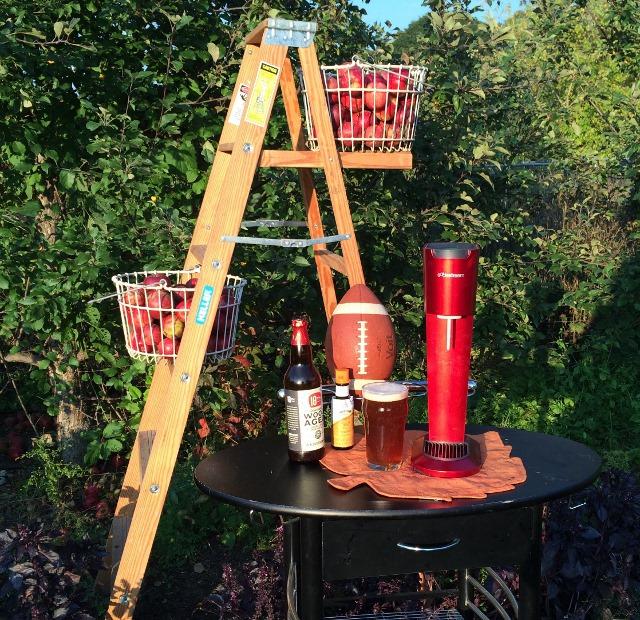 Fruit-Infused Simple Syrups
A basic simple syrup is basically a 1:1 ratio of sugar and water, heated until the sugar dissolves into a syrup.
To make a fruit-infused simple syrup, you would extract the juice from your fruit first and replace the water with this juice. I use a great piece of equipment to extract the pure juice from the fruit, called a Mehu Liisa.
The Mehu Liisa It is essentally a 3-piece double boiler with a strainer on top where you put the whole fruit, a middle section where the juice collects and is gravity-fed through a hose into your end vessel, and the boiler pot on the bottom to heat up the fruit and break it down into juice (see the photos below)
If you want to add even more flavor to your simple syrup, you can add whole spices or herbs to the pot as the sugar and fruit juice is heating up. Bring the mixture to a boil, turn off the heat and let the pot sit for 20 minutes to an hour to infuse the flavors. Then strain the syrup into a bottle and refrigerate until ready to use.
More Methods for Preserving Summer's Produce:
Recipe for Apple Beer Cocktail
Apple Beer Cocktail
This is an easy Fall drink that enhances your favorite beer with some bitters and an apple shrub. Great for game days!
Equipment
Tall beer glass

Long stir spoon
Ingredients
1 ½

oz.

Apple Shrub Syrup

(apple juice with a touch of vinegar if you don't want to make a shrub syrup)

6

oz.

beer of your choice

2-3

dashes orange bitters

2

oz

carbonated water
Instructions
In a tall glass, add all of the ingredients except carbonated water and stir gently with a long bar spoon. Make sure all ingredients are really cold for the best drink.

1 1/2 oz. Apple Shrub Syrup,

6 oz. beer of your choice,

2-3 dashes orange bitters

Top it off with a little carbonated water to bring out the fizz.
Video
Beer Cocktails With Shrub Syrups And Bitters
Notes
Note: If you want to make your own homemade fruit-infused syrups, check out the method using a piece of equipment called a Mehu Liisa. It's a little spendy but it makes juice extraction a breeze.
Alternatively you could simply add a little vinegar to your favorite apple juice and heat it up a bit to mellow out the pungency of the vinegar. Apple juice will already have plenty of sugar so don't add more sugar!
Nutrition
Calories:
93
kcal
Carbohydrates:
11
g
Protein:
1
g
Fat:
0.1
g
Saturated Fat:
0.01
g
Polyunsaturated Fat:
0.02
g
Sodium:
20
mg
Potassium:
90
mg
Fiber:
0.1
g
Sugar:
4
g
Vitamin A:
0.4
IU
Vitamin C:
0.4
mg
Calcium:
13
mg
Iron:
0.1
mg
Did you make this recipe?
If you tried this recipe, please give it a 5-star rating! To do this, just click on the stars above.