It's often hard to satisfy the craving for salty, crunchy snacks on a low carb diet (or any diet actually). This easy step by step process shows you how to make salt and vinegar veggie chips (using cucumbers in the recipe) in a dehydrator or in your oven set at low.
Jump to:
RECIPE
Dehydrator vs Oven
Best Dehydrator
Using a Mandolin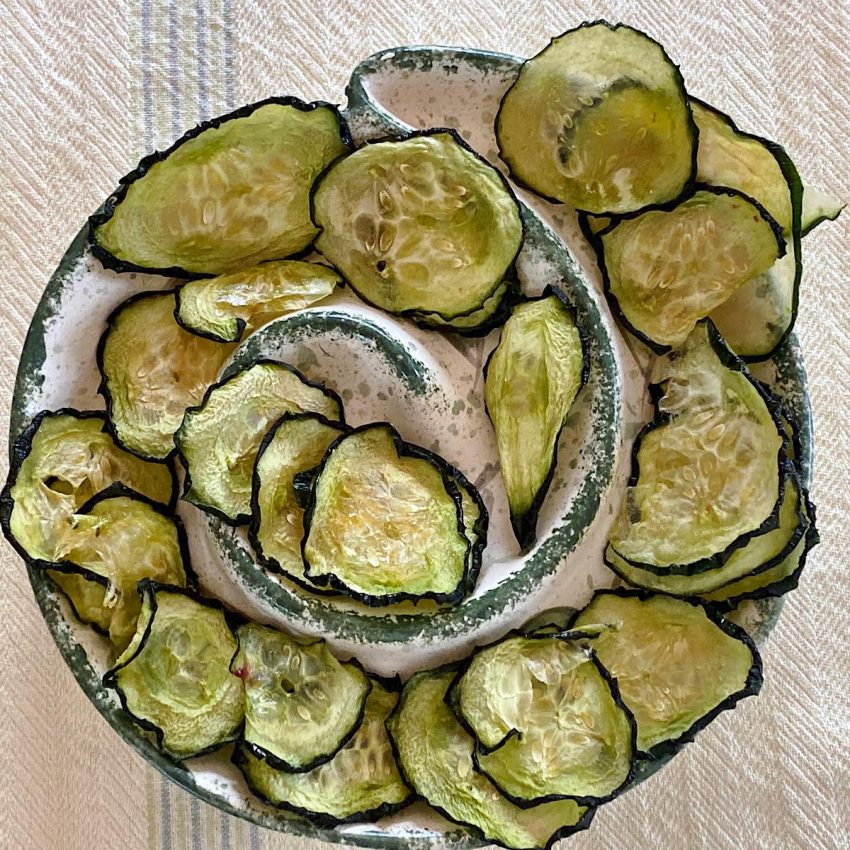 This post may contain affiliate links. See Disclosure
Dehydrator vs Oven-Baked
The dehydrator is basically just a low temperature oven which circulates the air throughout, so that the food dries evenly top to bottom and side to side (similar to a convection oven). The idea is to "slowly" remove moisture from foods, and crisp the food rather than "cook" it.
The advantage of a dehydrator is that it is easier to get consistency and you don't have to worry about burning them or having the edges turn brown like in an oven.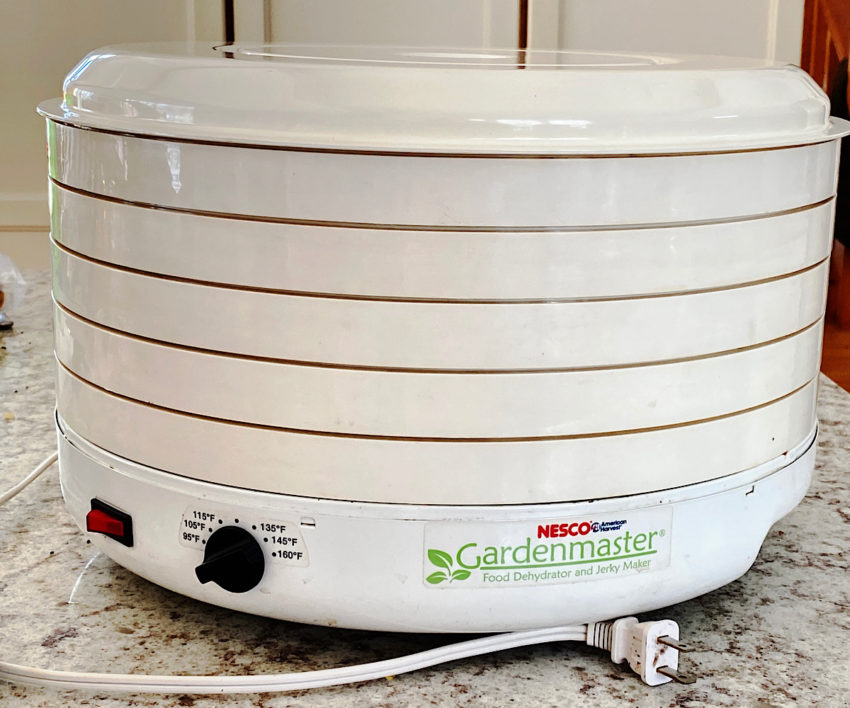 The down side of a dehydrator vs the oven is time. It takes around 12 hours to dry chips in a dehydrator, compared to 3-4 hours in the oven. That means thinking ahead a bit when using a dehydrator. You don't want to get up at 3 am to turn it off….like I did.
I find you can also moderate the exact temperature better in a dehydrator. I dry most everything at 135 degrees, which seems to be the sweet spot for crispy dried produce. This will vary of course, based on how thick you slice things, and how much water is in the produce.
So to summarize, I prefer the dehydrator because of the higher level of control over the final product. Time being the main down side.
Which is Best Dehydrator for Vegetables?
My favorite dehydrator is the American Harvest (aka Nesco brand, American Harvest). I have 4 of them now as we dry chile peppers and tomatoes on the farm for making our spice blends.
There are some that are not as expensive however. Many of the inexpensive ones work fine but they have limited temperature settings or they may not be flexible in the amount of trays you can add. So, if you choose a less expensive one, just make sure it has a temperature setting that you can control and think about how many trays you might want in the future.
The only one I would NOT recommend is one by Ivation. Mine broke after limited use and their customer service was abysmal.
Good used ones are fairly easy to find on local marketplace apps.
Using a Mandolin vs a Knife
One of the keys to successful salt and vinegar cucumber chips is consistency of the thickness. If you are extremely talented with a knife, you may be able to get consistent, thin slices. I personally am not that skilled with a knife.
The thickness of the slices will determine how long to dry the chips and how crispy they will become. A good mandolin allows you to set the thickness of the slices, and is much quicker than a knife (once you get it down).
There are many brands of mandolins, and some are very inexpensive. I like the French de Buyer Mandolin (photo below) because of the range of control you have over the thickness or thinness of the slices.
I also like it due to safety. It has legs which make it stable on the counter, and a knob that keeps your fingeres away from the very sharp blades.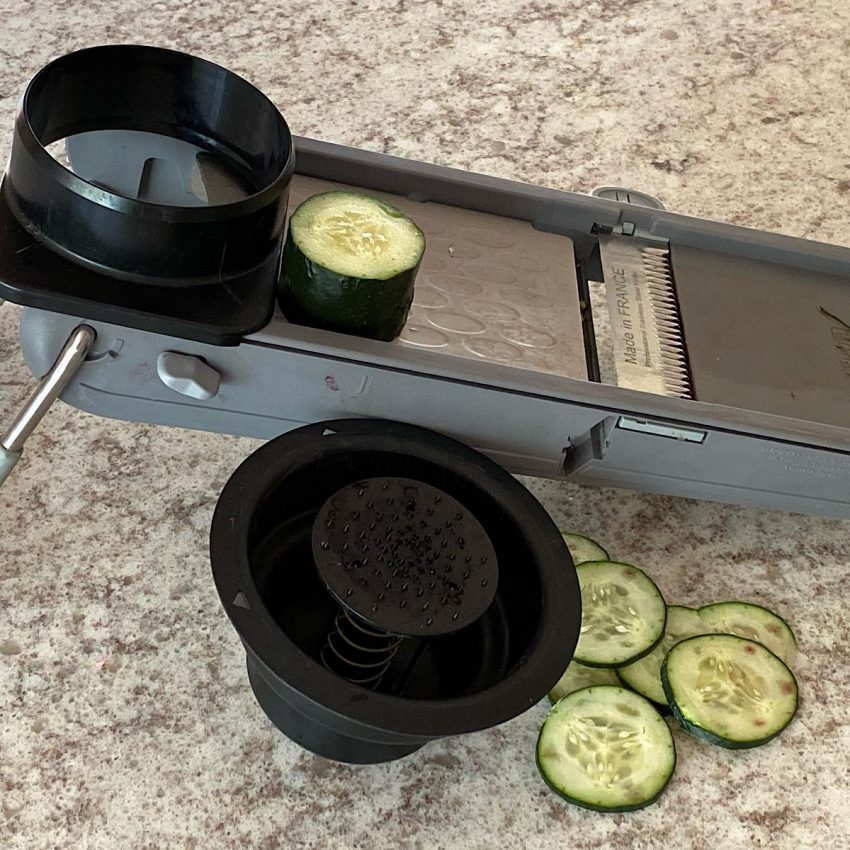 The disadvantage of a mandolin is the cost. If you already have a knife and don't want another kitchen tool, just make sure your knife is very sharp and keep your fingers away when slicing things thinly.
Other Low Carb Snacks to Make in Dehydrator
Once you get the hang of drying food, the preservation world really opens up. You can dry fruit, vegetables and even meat.
I grow and dry chile peppers and spices, which keep for a year and are much better than store-bought spices.
My daughter loves to dry vegetables. One of her favorites are these dried beet chips.
Try your hand with fruit roll-ups, jerkey, or dried berries. It's a great way to make use of the food you grow yourself or pick up at the farmers' market
Check out our facebook group called Grow Your Own Food at Home. We talk about preserving food and it's a great community!
More Methods for Preserving Summer's Produce:
Recipe for Salt & Vinegar Cucumber Chips
Salt and Vinegar Cucumber Chips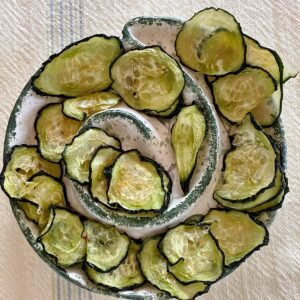 How to make low carb cucumber chips in dehydrator or in the oven
Ingredients
2

Medium

Cucumbers

1

Tbsp

Olive oil

1

tsp

salt

or to taste

2

tsp

Vinegar

Apple cider vinegar or your favorite
Instructions
Slice cucumbers very thin, trying to get consistent thickness so they will dry evenly. Use a mandolin slicer if available for best results. If you don't have a mandolin, use a very sharp knife.

Pat cucumber slices dry with a paper towel to remove as much moisture as possible. Place cucumbers in fairly large bowl and add the rest of the ingredients. Toss together gently but thoroughly to combine.

No need to let them soak in the brine, but don't pat the brine ingredients off either. I used tongs to remove and place on dehydrator racks, letting the liquid drip off a bit.

1 Tbsp Olive oil,

1 tsp salt,

2 tsp Vinegar

For dehydrator: Place cucumber slices on trays and dry at 135°F for 12 hours or until they reach your desired crispiness (start checking them at 10 hours).

For oven: Place slices on parchment lined baking tray. Dry at 175°F for 3-4 hours, checking every hour to ensure they don't brown around the edges or burn. Turn them over half way through.

Allow slices to cool before serving.
Notes
Note on Nutritional Information
Nutritional information for the recipe is provided as a courtesy and is approximate only. We cannot guarantee the accuracy of the nutritional information given for any recipe on this site. Carbs listed are total carbs rather than net carbs, so as to be consistent with most low carb tracking metrics.
Nutrition
Calories:
29
kcal
Carbohydrates:
1
g
Protein:
1
g
Fat:
2
g
Saturated Fat:
1
g
Sodium:
389
mg
Potassium:
91
mg
Fiber:
1
g
Sugar:
1
g
Vitamin A:
48
IU
Vitamin C:
2
mg
Calcium:
9
mg
Iron:
1
mg
Did you make this recipe?
If you tried this recipe, please give it a star rating! To do this, just click on the stars above. Comments are always helpful also and I respond to all of them (except rude ones)