Ajvar is a red pepper eggplant spread popular in the Balkan region. This recipe is a particularly robust version enhanced with a Peruvian hot spice. The video that accompanies the recipe also demonstrates a quick and easy way to roast and peel peppers.
Jump to Recipe
Author: Tesla Stainbrook
What is Ajvar?
Ajvar is a condiment made from red sweet peppers and eggplant. It is traditionally served in the Balkan region (Serbia, Macedonia, Albania, Kosovo… etc.) Each particular region has a slight variation on the recipe, with our version inspired by a classic recipe from Kosovo.
Traditional Kosovar recipes use a pepper known as Red Bull's Horn Pepper. Red Bull's Horn is a sweet pepper that got its name from its shape. This particular pepper is not readily available in many US grocery stores however, so we opted for sweet red "bell" peppers.
Red Bull's Horn peppers are a bit sweeter than red bell peppers. They are also a deeper red color, which offsets the pale flesh from the eggplant and gives the ajvar it's traditional deep red color.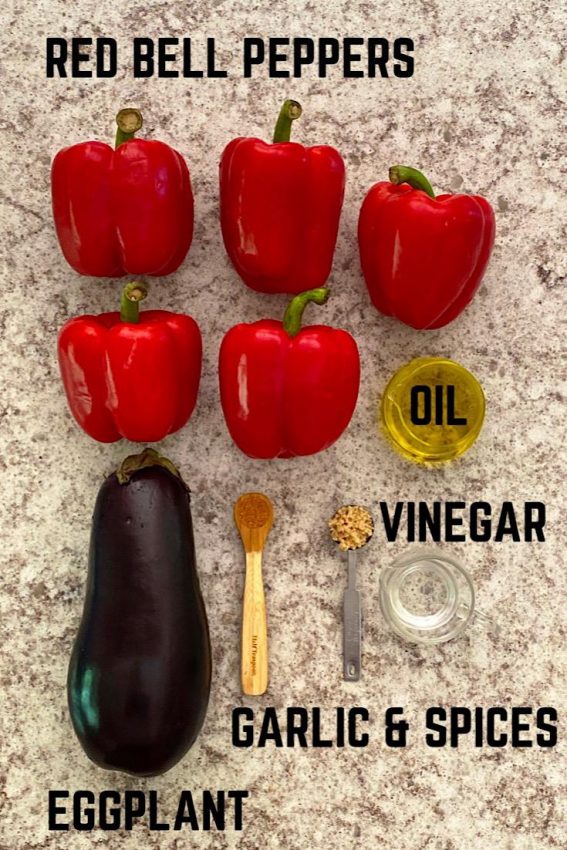 How to Roast and Seed the Peppers
Whether you use red bell peppers or Red Bull's Horn, the key is to roast the peppers and eggplant. Typically, I like to roast peppers over our gas stove, holding and turning them with metal tongs.
However, because there are a lot of peppers and because roasting a large eggplant with this method would be awkward, I used the oven to roast the vegetables.
The oven is actually a much quicker way to roast vegetables. Traditional Kosovar ajvar is made on an outdoor open fire pit.
In the step by step video (within the recipe card), we baked the peppers on a lined baking sheet at 475 degrees for 15 minutes and then broiled them on the high broil setting for the remaining 15 minutes.
Although I think they would have turned out if we had just left them to bake, we wanted to get a more charred effect that you would get with the broil. The peppers turned out pretty black- so I think we managed to get the charred effect!
The other part of the recipe that can take more time than it's worth is seeding the peppers and eggplant. Our family isn't too particular about seeds, so we didn't seed the eggplant as much as we probably could have.
Roasted red bell peppers can take forever to seed thoroughly. However, I recently saw a trick online about running the peppers through cold water and washing the seeds off. That worked like a charm!
How to Save Time on the Sauce
Many people comment that the most daunting part of making ajvar is the amount of time it takes to make the sauce. This time around, we wanted to keep all the flavor but save a lot of time with the process of making it.
Traditional Kosovar ajvar is make by using a hand grinder (like a meat grinder), but I don't know that I have the strength or time for that, so I just used the food processor, which worked just fine.
Is Ajvar Spicy?
I love spicy foods so I made the Ajvar with our Peruvian hot spice blend, which is extremely spicy! You can tone it down with a milder pepper or a sweet pepper blend if you want a sweeter ajvar.
We also thought the version we made this time needed more salt, so we added more at the end.
What to Serve with Ajvar
Ajvar, though it has a very distinct flavor, goes well on almost anything. When I was in Kosovo, I had ajvar on a tuna fish sandwich, which was so delicious I wanted to recreate that at home.
Instead of tuna, we made these salmon kebabs and used the ajvar as a dipping sauce. We've also been eating it on sandwiches with Cotto salami, and for breakfast on fried and scrambled eggs.
Originally, we made this as an addition to our Chicago dog bar for Father's Day, which was delicious as well. The cold and zingy ajvar pairs well with the warm hot dogs. Enjoy!
Kosovar Style Ajvar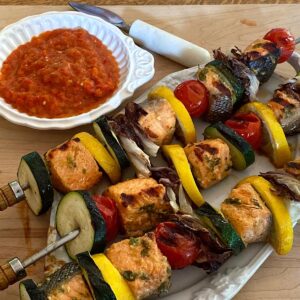 A traditional Balkan sauce from red bell peppers and eggplant.
Ingredients
5

red bell peppers

1

eggplant

¼

cup

olive oil

1

Tbsp

white vinegar

½

tsp

Peruvian Hot Pepper Spice

or spice of your preference

2

cloves

garlic

minced

salt & pepper

to taste
Instructions
Preheat the oven to 475°F. Prepare a baking sheet with tin foil and place the eggplant and peppers on the baking sheet.

Bake the peppers and eggplant for 30 minutes, turning once at the 15 minute mark. Alternatively, roast the peppers and eggplant on the grill or broil them for about 10 minutes in the oven.

Place peppers and eggplant in a large bowl or large plastic bag. Cover or seal the bowl. Allow to rest for 20-30 minutes.

Peel and seed the peppers and eggplant. See recipe note and video for a tip to speed up the seeding process.

Place peppers and eggplant in a food processor, and add salt and pepper. Pulse a couple of times to mix and then puree almost to the desired smoothness.

Add oil, vinegar, garlic and spices. Pulse a few times and then puree.

Pour into jars, a large bowl or a serving dish
Notes
It is really helpful to use a large bowl of cold water to wash the seeds of the peppers away, rather than removing the seeds by hand.
Nutrition
Calories:
20
kcal
Carbohydrates:
2
g
Protein:
1
g
Fat:
1
g
Sugar:
1
g
Did you make this recipe?
If you tried this recipe, please give it a 5-star rating! To do this, just click on the stars above.
Online Diet/Health Coaching:
Although I am not currently taking clients for diet & health coaching, I have been a coach for many years with the online service called coach.me. It is a great platform for all kinds of coaching – anything from specific diets, writing a blog, getting up early, or getting rid of that pesky procrastination.
There are some wonderful coaches and the testimonials will tell you what you need to know. Contact me at [email protected] to get a referral to some of the tested, experienced online coaches on Coach.me
If you'd like to start with a plan for a low carb or keto lifestyle, check out this detailed guide in ebook form. It may be all you need to lose weight on this lifestyle. Or it may be used as a supplement to one-to-one coaching.