These robustly flavored salmon skewers (or kebabs) are ready to eat in 30 minutes and can be cooked indoors for year-round enjoyment. If you keep the spicy, lemon-herbal marinade but change up the vegetables, you can have an easy low carb dish for any season.
Jump to:
RECIPE
Tips for Cooking on Skewers
Best Veggies for Kebabs
Dipping Sauces for Kebabs
Indoor Cooking Methods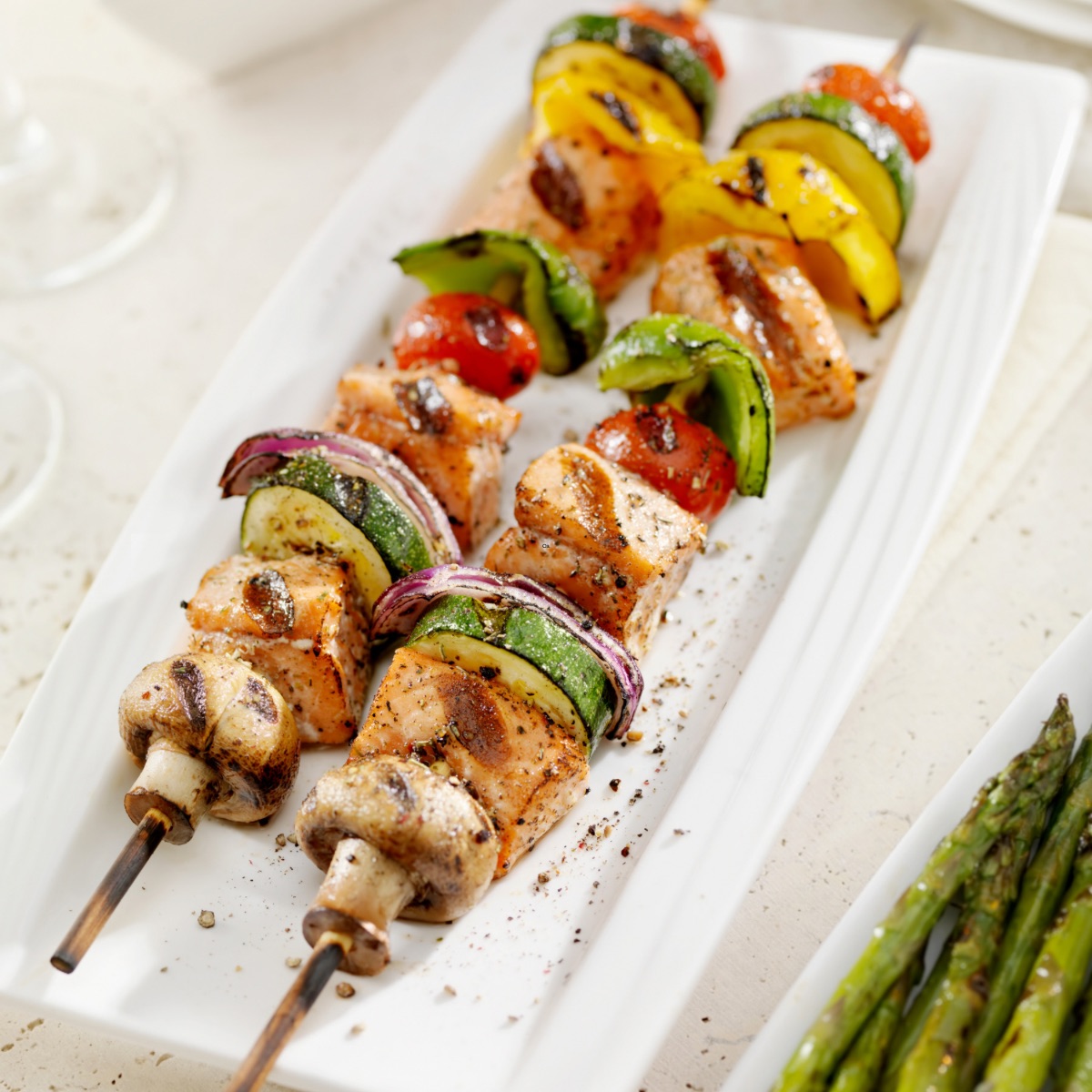 Guidelines for Cooking on Skewers
There is a huge range of vegetables (and fruits) that can be placed on skewers and grilled as kebabs. the recipe below is made with salmon and veggies, but this pork kebab with red pepper dipping sauce, or this chicken kebab with a mustard-rosemary baste are two of my other favorites. If you like things a bit more spicy, try these Mexican kebabs.
There are a few "guidelines" however that can help make your kebab dinner successful and delicious.
Stay in season. The best fruits and vegetables to eat, whether on a skewer or not, are fresh produce that is in season. Kebabs are often viewed as summer fare and summer is the season of abundance, so you will have a lot of choices. Don't forget about the Sprin asparagus, the Fall squash or the Winter brussel sprouts however.
Choose the rainbow. It is often said that people eat with their eyes, so be sure and include vegetables (or fruit) that show a range of colors. In the Summer I like something green (like zucchini), something red (like cherry tomatoes) and something yellow (like lemons).
Firmness: The other thing to be aware of is whether the fruit or vegetable you choose is firm enough to stay on the skewer. Some fruits are so soft that they quickly fall off, and can get a little too mushy. Some leafy vegetables can work as long as you fold them over enough times to make them a "pad" that the skewer can pierce.
Match cooking rates. If you are using pork or beef as your protein of choice, you can go with firmer vegetables (think carrots or brussel sprouts). If you are using salmon or seafood, it only takes about 5 minutes to cook so you want to opt for softer produce. Don't get overwhelmed with cooking rates however. Most grilled produce is great even if slightly undercooked. Just know that seafood doesn't take much time. If you are really concerned add just one type of veggies per skewer and then everything will cook at the same rate.
Modify the sauce (or fruit) if you are on a specific diet. Practically any reputable diet includes vegetables as a compliant food. Some diets (like keto) exclude fruit. Where most kebab dishes might have a problem would be in the marinating sauce. The recipe below is oil, lemon, herbs and spice. If you are following a recipe with a different marinade, watch out for the sugar.
Vegetables that Work Well on Skewers
Here are a few options that I gravitate toward when thinking of what to pair with the proteins on the kebabs:
Spring or Summer Vegetables
Asparagus
Cherry tomatoes
Zucchini or summer squash
Lemons or limes
Radicchio or endive
Purple onions
Bell peppers or hot peppers
Fall or Winter Vegetables
Sweet potatoes
Fingerling potatoes
Roasted peppers (in a jar)
Citrus (lemon, lime, grapefruit)
Pineapple
Purple onions
Cauliflower
Carrots
Mushrooms
Dipping Sauces to Pair with Salmon Kebabs
Just as there is a plethora of vegetables that go with salmon kebabs (or any other protein), there is also a wide range of dipping sauces that can take kebabs to the next level.
My favorite summer dips include a Mexican Crema dip or a red pepper Serbian dip known as Ajvar. Both of these are included in the notes section of the recipe below.
Although I have not made it, this Sesame Tahini Dipping Sauce and Sriracha Mayo from a fellow food blogger looks really good.
Indoor Cooking Methods
Using an Indoor Grill
If you have an indoor grill you simply thread the kebabs and cook for 3-5 minutes per side. I have a Cuisinart Griddler that has been my go-to indoor grill for ages. I absolutely love it. It has an upper and lower plate so that you are grilling both sides at once.
It makes for very quick dinners and you have the benefit of those great grill marks. Here's the details on how to use the Griddler. I'm sure something like a George Foreman grill would work as well.
Using a Broiler
Heat oven broiler to high. Arrange salmon skewers on a large baking sheet (use parchment paper for easy cleanup) and place about 5 to 6 inches below broiler.
Cook on one side for 4 to 5 minutes, turn over and cook another 4 minute or so or until fish is opaque throughout.
Other Low Carb Salmon Dishes
I cook salmon and seafood a lot and I'm always looking at ways to enhance flavors. Seafood can often be quite bland. Below are a few of the seafood dishes that we have enjoyed:
Low Carb Salmon Kebabs
How to select vegetables for kebabs and cook kebabs indoors
Ingredients
1 ½

lb

Salmon filet

cut into 2" cubes

⅓

cup

olive oil

2

Lemons

1 is zested and then juiced, 1 is sliced and halved for the skewer

2-3

tsp

fresh thyme leaves

2-3

Cloves

Garlic

Minced

1-2

tsp

fish spice blend

alternative: old bay, mild or spicy chile pepper spice

1

tsp

Salt

12

Cherry tomatoes

1

Small

Zucchini

Sliced into 1" rounds

1

Small

Radicchio

Torn and folded into thick squares for the skewer
Instructions
Cut the salmon filet into 2" cubes, leaving the skin on. Turn on the indoor grill to high or turn on the broiler to high to preheat.

Add the oil to a large bowl and use a microplane to zest a lemon into the bowl. Juice the lemon and add to the bowl

1/3 cup olive oil,

2 Lemons

If you have one, use a mortar and pestle to grind together the thyme leaves, garlic, spice blend and salt. If you don't have a mortar and pestle, just smash them all together with the back of the knife. Smashing will bring out the oils from the thyme leaves and add more flavor. When done add to the bowl of oil and lemon and mix together

2-3 tsp fresh thyme leaves,

2-3 Cloves Garlic,

1-2 tsp fish spice blend,

1 tsp Salt

Add salmon cubes to the bowl to marinate for 15-20 minutes. While it is marinating, prep the vegetables that you plan to use on the skewer by cutting or slicing into bite size pieces

12 Cherry tomatoes,

1 Small Zucchini,

1 Small Radicchio

Thread salmon cubes and vegetables on the skewers, alternating ingredients as you please. Place the skewers on the grill or under the broiler for about 5 minutes. It does not take long for salmon and veggies to cook. Don't overcook.

Serve with rice or cauliflower rice and your favorite dipping sauce.
Notes
For Mexican crema dipping sauce stir or blend together:
1/4 cup sour cream
3/4 cup mayonnaise
zest and juice of 1 lime
1/2 tsp salt
1/4 cup chopped cilantro
1/2 tsp ground cumin
For Ajvar dipping sauce:
roast and then peel and seed 5 red bell peppers and 1 eggplant
Puree peppers and eggplant together with:
1/4 cup oil
1 Tbsp white vinegar
1/2 tsp hot chile pepper powder
2 cloves garlic
salt and pepper to taste
Nutrition
Calories:
268
kcal
Carbohydrates:
5
g
Protein:
35
g
Fat:
11
g
Saturated Fat:
2
g
Polyunsaturated Fat:
4
g
Monounsaturated Fat:
4
g
Cholesterol:
94
mg
Sodium:
674
mg
Potassium:
1147
mg
Fiber:
1
g
Sugar:
2
g
Vitamin A:
434
IU
Vitamin C:
22
mg
Calcium:
46
mg
Iron:
2
mg
Did you make this recipe?
If you tried this recipe, please give it a 5-star rating! To do this, just click on the stars above.
Online Diet/Health Coaching:
Although I am not currently taking clients for diet & health coaching, I have been a coach for many years with the online service called coach.me. It is a great platform for all kinds of coaching – anything from specific diets, writing a blog, getting up early, or getting rid of that pesky procrastination.
There are some wonderful coaches and the testimonials will tell you what you need to know. Contact me at [email protected] to get a referral to some of the tested, experienced online coaches on Coach.me
If you'd like to start with a plan for a low carb or keto lifestyle, check out this detailed guide in ebook form. It may be all you need to lose weight on this lifestyle. Or it may be used as a supplement to one-to-one coaching.