When outdoor grilling is not an option, a skillet with grill marks or an indoor grill can do the trick perfectly. Add a chipotle-spiced rub and a fresh salsa and you have an exquisite Mexican salmon dinner.
Salmon is one of the best proteins you can eat on a low carb or keto diet and this dish is a natural to pair with a wide range of fresh (or grilled) vegetables.
Jump to Recipe
Indoor vs. Outdoor Grilling
I know grillers think it is heresy to grill inside the house, but honestly I'm just too lazy to do the prep work for grilling outside. I know the gas grills are easy, but I find it infinitely easier to use an indoor grill like the Cuisinart Griddler or a grill pan on the stovetop.
For a great tutorial on using the indoor grill that I love for all things protein, see the video at the end of this post
The grill pan shown above in the photo is simply a cast iron pan that makes grill marks on your protein. Cast iron cooking is my favorite way of cooking because of the way it holds the temperature. I also like that well-seasoned pans are non-stick for the most part. Sometimes eggs will stick to the cast iron, so I do use one of the copper non-stick pans for eggs.
The other problem some people note with grilling indoors is the smoke. That is more of a problem with steaks and proteins that take a long time to cook. Salmon and fish usually takes less than 7-10 minutes from sear to done and doesn't emit any smoke that I have noticed.
The other way to grill effectively (and quickly) indoors is to use one of the pannini-type of indoor grills. These cook from the top and bottom at the same time and makes short shrift out of grilling steaks and pork chops. Love grill marks on both sides of the meat also!
Mexican Grilled Salmon adapts easily to low carb or keto
Salmon is one of the healthiest proteins you can eat in my opinion. It lends itself well to many low carb rubs and toppings and accompaniments.
Miso-glazed salmon, harissa-glazed salmon, lemon-parmesan salmon are just a few that come to mind.
The recipe below uses lime juice and a Mexican-inspired rub. The grilled salmon dinner is further enhanced with a Mexican chile verde sauce. You can pair the salmon with a chile verde sauce or a tomato salsa, both of which are low carb.
Asparagus, green beans, fresh peas, ramps or any of the wonderful fresh spring vegetables round out the dinner and make it a delight to eat on the deck. Right next to the cold, but clean, grill.

DIY Fish (and Veggie) Spice Rub
You can purchase the Mexican-inspired fish rub here, or make your own with the following ratios:
Stir together:
1 Tbsp onion powder
2 tsp garlic powder
1 Tbsp chipotle spice
1 tsp pink salt
1/2 tsp white pepper
Mexican Grilled Salmon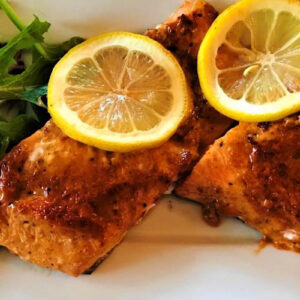 Grilling salmon on an indoor grill with a Mexcan spice rub and a fresh salsa
Equipment
Indoor grill (like the "Griddler"
Ingredients
4

fillets

salmon

skin-on

2

Tbsp

Mexican fish spice blend

see recipe in the "notes" below to make your own

2

cloves

garlic

minced

2

Tbsp

olive oil

4

tsp

fresh lime juice

about 1/2 large lime
Instructions
Dry the salmon fillets off with a paper towel. Season each filet with a little salt.

In a small bowl, stir together Mexican spice blend, garlic, olive oil and lime juice. Spread the resulting rub over the salmon fillets and set aside while you make a chile verde sauce or a fresh salsa, as well as any vegetables that you will have with the salmon.

Set a cast iron or non-stick grill pan over med-high heat and wait for it to get hot, about 5 minutes. Brush the pan with some olive oil and add the salmon fillets skin-side down. Cook for a couple of minutes to sear and then turn the salmon to the other side and cook for another minute. Do not overcook or it will be dry. Salmon is done when it is no longer translucent, and it does keep cooking after you remove it from the pan.

If using an indoor grill just place in a hot grill, close the cover and grill for about 3-5 minutes (depending on thickness of salmon).

Serve with chile verde sauce or fresh salsa and green vegetables.
Notes
For DIY spice blend Stir together:
1 Tablespoon onion powder
2 teaspoons garlic powder
1 Tablespoon chipotle spice
1 teaspoon pink salt
1/2 teaspoon white pepper
Nutrition
Calories:
307
kcal
Carbohydrates:
1
g
Protein:
34
g
Fat:
18
g
Saturated Fat:
3
g
Cholesterol:
94
mg
Sodium:
75
mg
Potassium:
845
mg
Fiber:
1
g
Sugar:
1
g
Vitamin A:
71
IU
Vitamin C:
2
mg
Calcium:
24
mg
Iron:
1
mg
Did you make this recipe?
If you tried this recipe, please give it a 5-star rating! To do this, just click on the stars above. And don't forget to tag me at @dorothy_stainbrook_heathglen, if you share a picture on Instagram! You can also tag me at #heathglen!
Online Diet & Health Coaching
Although I am not currently taking clients for diet & health coaching, I have been a coach for many years with the online service called coach.me. It is a great platform for all kinds of coaching – anything from specific diets, writing a blog, getting up early, or getting rid of that pesky procrastination. There are some wonderful coaches and the testimonials will tell you what you need to know. Contact me at [email protected] to get a referral to some of the wonderful online coaches on Coach.me