So many of the current low carb snack items that you can order online or buy in the grocery store are basically processed food. This recipe for crunchy roasted chickpeas satisfies the craving for a salty, filling snack that is still slow carb and doesn't use overly processed ingredients.
Jump to: RECIPE | Why Chickpeas? | How to Make Them Crunchy | Mexican Low Carb Snack with Tajin
Low Carb Snack with Crunchy, Salty Flavor
Roasted chickpeas are quite popular as a low carb snack and can satisfy that crunchy, salty flavor that is sometimes missing from a low carb or keto lifestyle. It can also be an extremely versatile snack to make, as you can roast them with your favorite blend of spices.
Parmesan adds a umami flavor to the chickpeas, and the recipe below is a blend of parmesan, herbs and Worcestershire sauce. It is a robust flavor bomb that hits all the salty, crunchy, spicy notes.
Another favorite chickpea snack is roasted chickpeas with a Moroccan spice blend called harissa.
Tips for making the chickpeas "crunchy"
Sometimes roasted chickpeas can look crunchy, only to bite into a soft "beany" center. They're still good that way, but we're going for the crunch that you might be missing from the lack of tortilla chips in your low carb lifestyle.
So, here are a few tips to promote the crunch:
After rinsing the chickpeas let them drain in a colander or on paper towells for quite a while. Dab them with a dry paper towel after draining. You want to get them as dry as possible.
Fold the chickpeas inside of a kitchen towel and gently rub the skins off. The skins keep the moisture in and this helps make them more crunchy. Don't worry if some skins are still left on.
Cook the chickpeas without any oil for the first half of the roasting process. Add the oil and seasonings for the second half. A lot of recipes mix the chickpeas with oil and seasoning before roasting and the coating prevents them from crisping up as much
Bake (or roast) at 350 degrees F for about 45 minutes rather than a high temperature for shorter time (they will burn), or a lower temperature for a longer time (they won't get crispy).
After roasting, let them cool inside the oven for a bit with the oven door open and the heat turned off.
Store them in a breathable container rather than a tightly sealed container.
A Popular Mexican Low Carb Snack
A classic chile lime salt sprinkled over fruit or vegetables is another low carb snack that is really popular as a Mexican street food.
It is a basically a blend of chile peppers, salt, and dehydrated lime juice or lime peels. The resulting powder is tangy and spicy and is used to enhance the flavor of a huge variety of fruits and vegetables.
Probably my favorite way to use chile lime salt is sprinkled on cool cucumbers. A squeeze of lime juice on the cucumber slices before sprinkling the spice on them can add more tang and mute the heat of the spice a bit if that is your preference.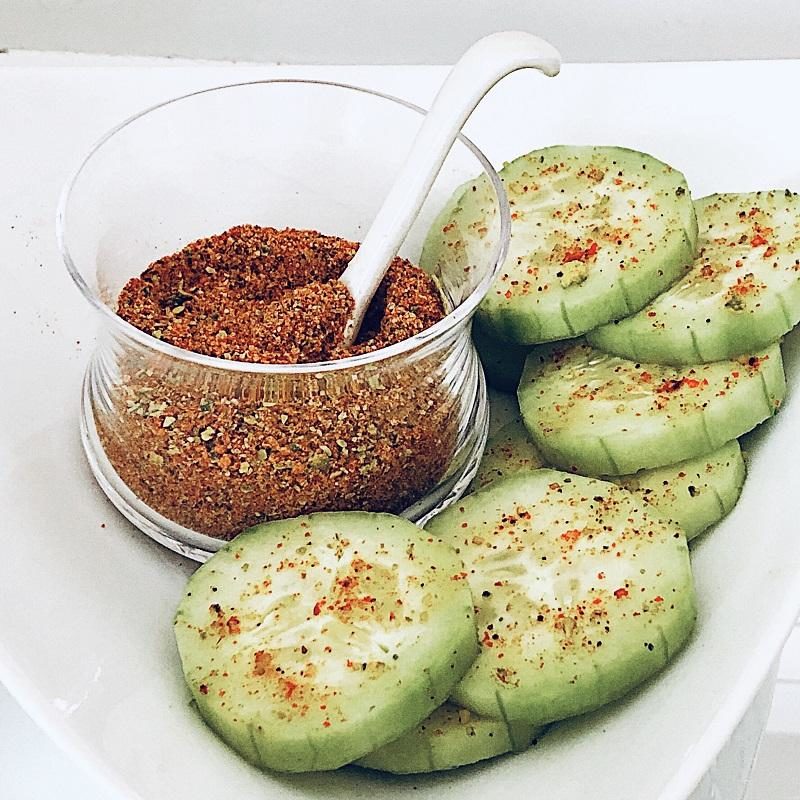 The Tajin seasoning is widely available in Mexico and at many US grocery stores, and is commonly used as a condiment on the tables of many Mexican restaurants, to season mango, melon or other fruits. You might also see it as a rimming salt for a Michelada (a beer cocktail).
If you want an alternative to buying the Mexican brand, try this tajin spice blend using pink himalayan salt, organic chipotle peppers and dehydrated lime peels. It is similar ingredients, but is a bit more spicy because the chipotle peppers are grown and smoked on our small organic farm and the resulting chile powder is quite hot.
Another alternative is to make your own chile lime salt.
Recipe for Crunchy Roasted Chickpeas (with Parmesan)
Crunchy Roasted Chickpeas with Parmesan
Chickpeas are roasted until crisp with parmesan, herbs and Worchestershire sauce, for a healthy slow carb snack.
Ingredients
2

15 oz

cans chickpeas

drained, rinsed and patted dry

¼

cup

olive oil

2

Tbsp

Worcestershire sauce

1

tsp

chile pepper spice

2

tsp

mixed dried herbs

(I used a mix of oregano, thyme and rosemary

1.5

tsp

garlic salt

2

Tbsp

freshly grated parmesan cheese
Instructions
Preheat the oven to 425 degrees. Rinse the chickpeas and let drain. Dry thoroughly with paper towels or a dish towel. The drier they are the crunchier they will be in the end.

In a large bowl, whisk together the next 5 ingredients (oil, Worcestershire, chile spice, herbs and garlic salt). Add the chickpeas and toss to coat.

Spread out the mixture onto a baking sheet and roast 15 minutes.

1/4 cup olive oil,

2 Tbsp Worcestershire sauce,

1 tsp chile pepper spice,

2 tsp mixed dried herbs,

1.5 tsp garlic salt

Stir in parmesan cheese and roast 25 minutes more or until brown and crisp, stirring twice (beans may pop during roasting). Serve warm or allow to cool prior to storing.

2 Tbsp freshly grated parmesan cheese
Notes
To Store: Store in a breathable (not airtight) container in refrigerator up to 3 days or freeze up to 3 months. To serve after cooled, preheat oven to 350 degrees and roast 5 minutes or until crisp
Nutrition
Calories:
61
kcal
Carbohydrates:
1
g
Protein:
1
g
Fat:
6
g
Saturated Fat:
1
g
Polyunsaturated Fat:
1
g
Monounsaturated Fat:
4
g
Cholesterol:
1
mg
Sodium:
442
mg
Potassium:
32
mg
Fiber:
1
g
Sugar:
1
g
Vitamin A:
13
IU
Vitamin C:
1
mg
Calcium:
17
mg
Iron:
1
mg
Did you make this recipe?
If you tried this recipe, please give it a 5-star rating! To do this, just click on the stars above.
Online Diet/Health Coaching:
Although I am not currently taking clients for diet & health coaching, I have been a coach for many years with the online service called coach.me. It is a great platform for all kinds of coaching – anything from specific diets, writing a blog, getting up early, or getting rid of that pesky procrastination.
There are some wonderful coaches and the testimonials will tell you what you need to know. Contact me at [email protected] to get a referral to some of the tested, experienced online coaches on Coach.me
If you'd like to start with a plan for a low carb or keto lifestyle, check out this detailed guide in ebook form. It may be all you need to lose weight on this lifestyle. Or it may be used as a supplement to one-to-one coaching.