Finding alternatives for chips is often problematic for people living a slow carb lifestyle. Some people crave sugar, but almost as many crave a salty, crunchy snack. These spicy and salty roasted chickpeas are my go-to snack when I'm craving a salty snack.
Jump to: Recipe | Best Spice Blends | Keeping them Crunchy | How to Serve | More Slow Carb Snacks
This post may contain affiliate links, and you can read our disclosure information here–
Slow Carb Snacks that are Salty and/or Crunchy
Protein, fat and vegetables are standards on a low carb diet, but they often don't lend themselves to the beloved salty, crunchy snap of chips or crackers.
Chicharonnes (fried pork skins) are one alternative. I love these but they are not for everyone. I use them as dippers into cottage cheese or guacamole.
Nuts are another alternative. While nuts tend to be very healthy, they are high in calories and it's very easy to overdo it if you are watching your weight.
Cashews are my particular downfall. Nothing better at bedtime than a cup of cashews, a glass of Cabernet Sauvignon, and a good book. Cashews are an indulgence however, and can quickly become a "domino food"
There are a number of crackers and chips currently available that are made with almond flour and other flours. While gluten free and not made with white processed flour, they are also high in calories and may be quite high in carbs.
My favorite is the sea salt/almond meal crackers made by Simple Mills, and available at Target and Costco. Used sparingly they can be an alternative.
Best Spice Blends with Roasted Chickpeas
For slow carb lifestyles, roasted chickpeas is an alternative that lends itself to a lot of customization. You can add your favorite spices while roasting and come up with a huge range of flavors to suit any palate.
The spice blend is baked into the chickpeas, creating a depth of flavor that is hard to get with something like chicharrones.
Some of my favorite blends with roasted chickpeas include an East Indian spice blend, a Mexican tajin blend, a Parmesan blend and an heirloom tomato salt. The possibilities are endless!
Below is a recipe for roasted chickpeas with a harissa spice blend. You can purchase a pre-mixed harissa spice blend online or make your own homemade harissa spice blend. With only 4 ingredients, it's a simple recipe but packed with flavor.
Tips for making the chickpeas "crunchy"
Sometimes roasted chickpeas can look crunchy, only to bite into a soft "beany" center. They're still good that way, but not always satisfying when you are prepared for the crunch that you might be missing from the lack of chips in your low carb lifestyle.
**Pro Tips: to help make the chickpeas crisp and crunchy:
After rinsing the chickpeas let them drain in a colander or on paper towels for quite a while. Dab them with a dry paper towel after draining. You want to get them as dry as possible.
Fold the chickpeas inside of a kitchen towel and gently rub the skins off. The skins keep the moisture in and this helps make them more crunchy. Don't worry if some skins are still left on.
Cook the chickpeas without any oil for the first half of the roasting process. Add the oil and seasonings for the second half. A lot of recipes mix the chickpeas with oil and seasoning before roasting and the coating prevents them from crisping up as much
Bake (or roast) at 350 degrees F for about 45 minutes rather than a high temperature for shorter time (they will burn), or a lower temperature for a longer time (they won't get crispy).
After roasting, let them cool inside the oven for a bit with the oven door open and the heat turned off.
Store them in a breathable container rather than a tightly sealed container. These are some mesh baggies I use, but there are lots of options out there!
On the topic of storage- the key element to storing and maintaining the crunch is to make sure you get as much moisture out of the chickpeas as possible.
The roasted chickpeas will last for about a week in a bag like the ones mentioned above.
Serving Suggestions:
While roasted chickpeas make an excellent snack, they are also awesome as toppings on all kinds of dishes. I'm having mine tonight on a salad.
I've know several people that have them in soups or in all kinds of skillet sausage mashups.
Here are a few other popular uses:
They are a healthy addition to trail mix,
They are excellent in wraps or in gyros
Soups of all flavors
Skillet dinners with sausage
As a substitute for hominy in pozole
And of course, salty crunchy snacks need to be paired with a soothing drink. Chickpea snacks go wonderfully with a DIY herbal Mediterranean tea with mint, rosemary, thyme & lemon peel
Other Seasoning Blends for Roasted Chickpeas
I have used one of our harissa spice blends on the roasted chickpeas below. However, the possible flavor combinations are really endless- I think I might try a chile lime flavor next!
Or, try this DIY recipe for a herbal/parmesan blend that will give them a very different flavor. Whatever flavor you choose, roasted chickpeas are a win for flavor, ease and health.
Frequently Asked Questions
What is the best way to store roasted chickpeas?
The key element to storing and maintaining the crunch is to make sure you get as much moisture out of the chickpeas as possible. The roasted chickpeas will last for about a week in a breathable bag like a mesh baggie.
Recipe for Roasted Harissa Chickpeas
Roasted Harissa Chickpeas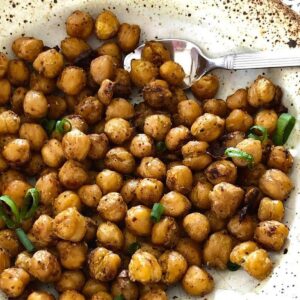 Simple delicious recipe for roasted chickpeas with harissa spice mix.
Ingredients
1

14.5 oz

chickpeas

¾

Tbsp

olive oil

1 ½

tsp

harissa spice

½

tsp

kosher salt
Instructions
Preheat oven to 400 degrees F. Rinse chickpeas and let them drain. Pat dry with paper towels.

Wrap the chickpeas in a dry kitchen towel and gently rub and massage them to get the skins off. You want them as dry as possible for the crunchiest chickpeas. Don't worry if a few skins are still left on.

Spread out the chickpeas on a sheet pan and roast in oven for 15-20 minutes, shaking the pan every 10-15 minutes or so to avoid burning.

Remove the pan from the oven and drizzle the oil on the chickpeas and sprinkle the spices over them. Using your hands mix everything together thoroughly to coat the chickpeas (let them cool a bit if they are too hot to handle)

3/4 Tbsp olive oil,

1 1/2 tsp harissa spice,

1/2 tsp kosher salt

Roast coated chickpeas for another 20-30 minutes, shaking the pan every 10-15 minutes or so. Turn off the oven, open the oven door, and let chickpeas cool in the oven for about 15 minutes. Cool and store in a breathable container.
Nutrition
Calories:
24
kcal
Carbohydrates:
1
g
Protein:
1
g
Fat:
3
g
Saturated Fat:
1
g
Sugar:
1
g
Did you make this recipe?
If you tried this recipe, please give it a 5-star rating! To do this, just click on the stars above.
Online Diet/Health Coaching:
Although I am not currently taking clients for diet & health coaching, I have been a coach for many years with the online service called coach.me. It is a great platform for all kinds of coaching – anything from specific diets, writing a blog, getting up early, or getting rid of that pesky procrastination.
There are some wonderful coaches and the testimonials will tell you what you need to know. Contact me at [email protected] to get a referral to some of the tested, experienced online coaches on Coach.me
If you'd like to start with a plan for a low carb or keto lifestyle, check out this detailed guide in ebook form. It may be all you need to lose weight on this lifestyle. Or it may be used as a supplement to one-to-one coaching.