Harissa is one of my favorite spice blends and this recipe uses both a harissa spice rub and a harissa paste on wings. Great for game days!
Jump to Recipe
Harissa Rub or Harissa Paste?
Harissa is a North African blend of spices that typically includes smoked chile peppers, cumin, coriander, caraway, cinnamon and salt & pepper.
Frequently you will find it for purchase as a paste rather than a dry spice blend. Just know that the heat level of the harissa pastes vary quite a bit. Some are scorching hot.
I prefer more complexity of the chile blends rather than just overpowering heat, so the paste that we make at Heathglen involves 7 different chile peppers, ranging from mild to very hot.
Harissa can also be found as a dry spice blend, although it is more common to see it as a paste. The dry spice blend is great as a rub on proteins and vegetables. It is a go-to blend for me for sheet pan dinners.
The paste is preferable if you are making a finishing sauce or if you want to use it as a side condiment for dipping vegetables in. It's also great as a topping for quinoa and various grains!
Baked Wings vs Smoked Wings
Wings are incredibly popular, especially for athletic event watching. It doesn't seem to matter much how you make them as long as you provide a big plate of them!
I chose baking the wings, simply because it was the easiest. I used the harissa spice blend as a rub and baked them on a sheet pan for 25 minutes. Easy!
I did make an additional harissa sauce to drizzle over the top after they were done. Using a prepared harissa paste made that process very easy also, but be warned that it also makes for messy eating.
My husband smoked his wings with a garlic rub and then dusted them with parmesan while they were still warm.
Both were awesome. Since I was the single judge the taste test went to the harissa baked wings of course. I will say however, that if you prefer non-spicy food then go for the smoked wings.
The best way to please your guests of course is to provide both! As long as you have a couple of cooks in the house that works great.
You can make your own homemade harissa paste or purchase it. Harissa also comes in a powdered form that you can use as a rub. The recipe for the powdered harissa spice blend is in the recipe card below.
There are a number of recipes on this site that use harissa rubs or harissa pastes. One of my favorites is this Mexican casserole recipe , but enter harissa into the search bar on this site for many more!
Harissa Baked Wings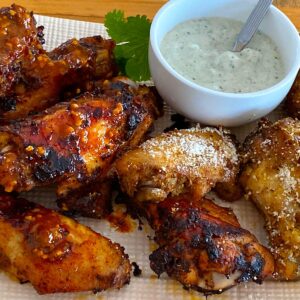 Ingredients
22

chicken wings

5

Tbsp

harissa spice

see below for DIY spice blend

4-5

Tbsp

harissa paste

4

Tbsp

butter

¼

cup

honey (optional)
SPICE BLEND
2

Tbsp

ground cumin

toasted if possible

2

Tbsp

ground caraway

toasted if possible

2

Tbsp

ground coriander

toasted if possible

2

Tbsp

cinnamon

1

cup

smoked chile peppers

salt (to taste)
Instructions
Preheat oven to 400°F. Place some parchment paper over a sheet pan

In a large bowl, combine chicken wings with harissa spice blend and rub together thoroughly with your hands. Spread wings on the parchment papered sheet pan, leaving a bit of room between each one. Bake for about 20 minutes

Remove the wings from the oven after 20 minutes and turn them over. Bake for another 10 minutes.

While wings are finishing baking, make a harissa sauce by adding the harissa paste and the butter together over medium heat. Add honey if desired to make it more sticky. I didn't think it needed the honey, but if you prefer a sweeter, stickier sauce, add a bit of honey.

Remove wings from the oven and drizzle the harissa sauce over the wings. Serve with a tzatziki or dipping sauce of your choice.
Video
Low Carb Harissa Baked Wings vs Smoked Wings - a Taste Test
Nutrition
Calories:
731
kcal
Carbohydrates:
9
g
Protein:
50
g
Fat:
55
g
Saturated Fat:
19
g
Cholesterol:
234
mg
Sodium:
500
mg
Potassium:
570
mg
Fiber:
4
g
Sugar:
2
g
Vitamin A:
879
IU
Vitamin C:
5
mg
Calcium:
124
mg
Iron:
5
mg
Did you make this recipe?
If you tried this recipe, please give it a 5-star rating! To do this, just click on the stars above. And don't forget to tag me at @dorothy_stainbrook_heathglen, if you share a picture on Instagram! You can also tag me at #heathglen!