Chile lime salt sprinkled over fruits and vegetables is a popular Mexican snack, often served in small cups in Latin America as Mexican street food. Tajin is the "brand name" of the ubiquitous chile lime salt, but a homemade DIY version is much fresher, allowing the simple ingredients to stand out. Try it with the fruit and vegetable cups in the recipe below for your own Mexican street food!
Jump to: RECIPE | What is Tajin? | Variations and Ratios | Popular Uses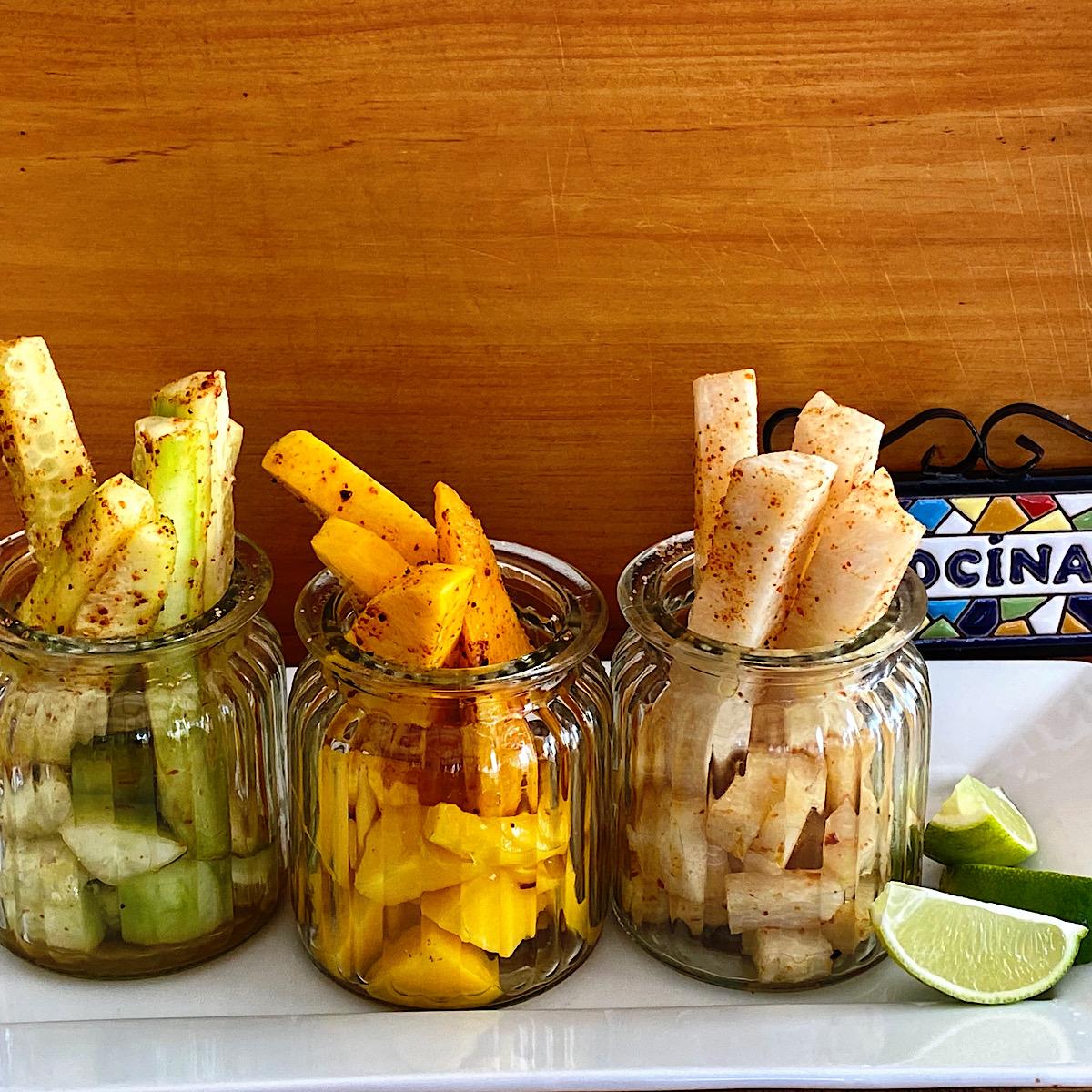 How is Chile Lime Salt different from "Tajin"
Tajin is a brand name for a popular salt that you will find in most grocery stores and on most Mexican tables. While the Tajin company does have some variations of the blend, the Tajin Clásico is the most popular and the easiest to find.
It is a blend of red chiles, sea salt and dehydrated lime juice/peels. It also includes some anti-caking agent so that it stays fresh on the grocery store shelves.
Because the seasoning is so simple, consisting of only 3 ingredients, it is easy to make your own. There are a lot of "recipes" that you can find by searching for chile lime salt or chile lime seasoning. While the ingredients do not vary that much the ratios most certainly do.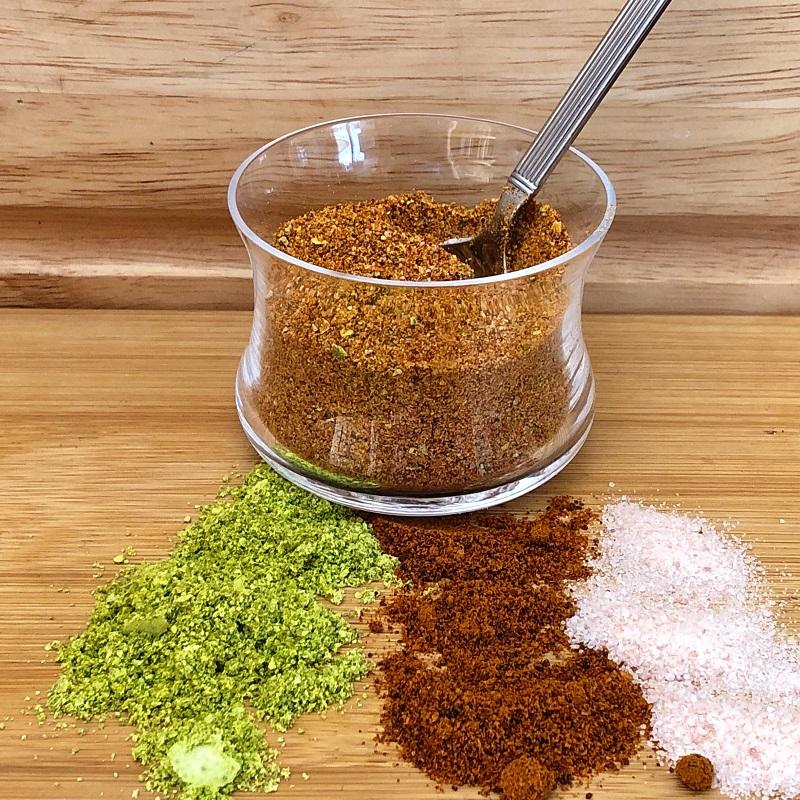 The recipe below is my favorite blend, after doing a "lot" of trials with different spices, different salts and different ratios. The recipe and the video below also shows how to use chile lime salt with fruits or vegetables, ala Mexican Street Food!
Variations and Ratios:
I tried a number of different variations of the salt, the chile powder and the dehydrated lime. The one I ended up favoring was 1 Tbsp pink himalayan salt, 2 tsp True Lime, and 1 1/2 tsp spicy chipotle powder.
If you want to try my version, you can purchase it from HeathGlen. Just know that my version is quite a bit spicier than commercial Tajin.
The lime ingredient: I tried fresh lime zest that I then dehydrated, storebought lime zest from a reputable company in San Francisco, and with True Lime (powdered lime juice that you can buy at the grocery store). The "True Lime" definitely gave the salt the strongest flavor of lime;
The chile powder: Tajin uses a blend of red chiles, but most of them are fairly mild. I prefer more heat so I used some of our hot chipotle powder and it was quite spicy. There are plenty of chile powders that you can try;
The salt: I tried kosher salt and pink himalayan salt. They were both good with the kosher salt making it coarser if you use it for rimming cocktails, and the pink salt making a prettier blend.
The ratios: I tried a number of different recipes available online, some of them quite salty! I wanted the lime flavor to be predominant so I ended up with the ration of: 1 Tbsp salt, 2 tsp lime, and 1 1/2 tsp chile powder.
Popular Uses for Chile Lime Salt
There are so many wonderful uses for chile lime salt, but probably the most well-known is for the fruit cups you will see in cities and in Latin America, often referred to as Mexican street food.
Here are some of the variables to be aware of if you make your own:
This video shows you how to make the fruit/vegetable planks and the tajin spice:
The most popular fruit used in the fruit cups is watermelon or mangos and the typical vegetable cups include cucumbers or jicama. However, chile lime salt really goes well sprinkled over any of your favorite fruits or vegetables.
The fruit cups often include a sauce called chamoy, but in an effort to keep things low(er) carb, I would stick with the chile lime salt over cucumbers and jicama, and then maybe add a few spears of mango or watermelon.
Chamoy sauce tends to use fruit or fruit jam to sweeten things up more.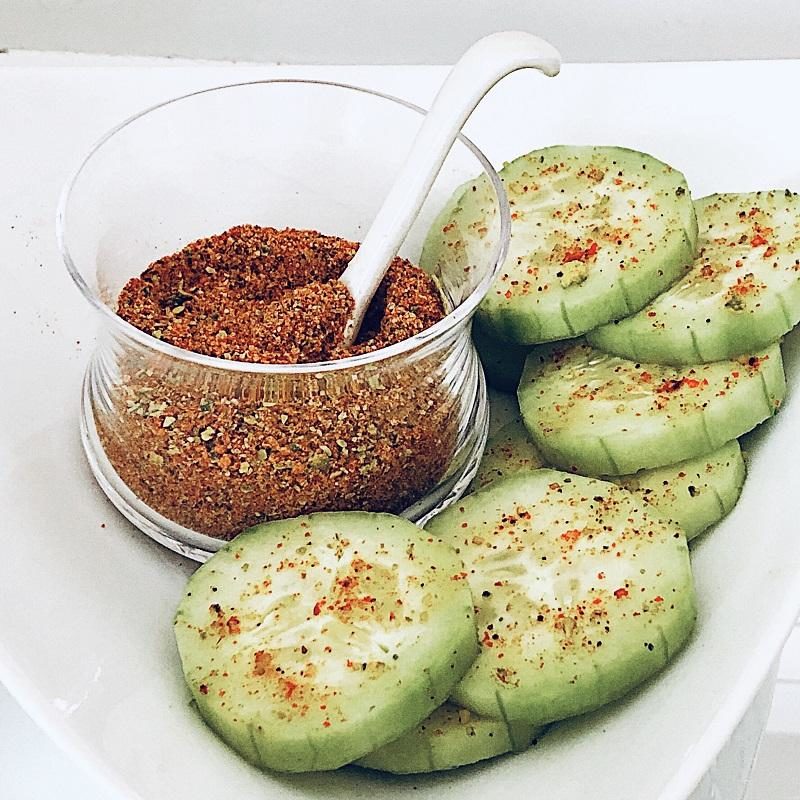 You can also use this seasoning mix in marinades or spice rubs for chicken, fish, or shrimp. Another favorite use is sprinkled over popcorn. Try it with a jicama slaw on a fish sandwich.
Two other popular servings of Mexican street food that uses chile lime salt is grilled corn (or Elote) or fruit popcicles (Paletas)
And last, but not least is to use the chile lime salt as a rimming salt for Micheladas or margaritas (or to spice up non-alcoholic drinks).
Mexican Street Food: Fruit & Veggies with Chile Lime Salt
"Tajin" for Mexican street food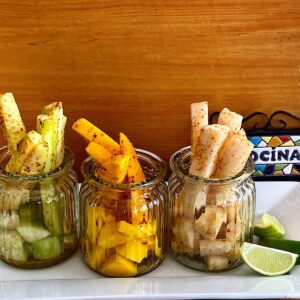 A homemade "Tajin" spice will be much fresher than the storebought one and you can adjust the amount of salt, which is pretty high in storebought. Cut planks of fruits and vegetables and sprinkle with this homemade tajin for some awesome Mexican Street food.
Equipment
Medium sized bowl

Whisk or slotted spoon
Ingredients
For the chile lime salt blend
1

Tbsp

Salt

Kosher salt or pink himalayan salt

2

Tsp

True lime

1 ½

Tsp

Chipotle spice

Or other spicy chile powder
Fruit cups
1

Small

Jicama

1

Med

Cucumber

1

Mango

1

Avocado, pineapple, papaya, etc.

Your favorite fruit or vegetable
Instructions
For the seasoning blend: With a whisk or slotted spoon, thoroughly blend together the salt, True lime and the chile powder

1 Tbsp Salt,

2 Tsp True lime,

1 1/2 Tsp Chipotle spice

For the fruit: wash and peel the fruit you choose to use. Cut into planks or spears (see youtube video above for cutting illustration)

1 Small Jicama,

1 Med Cucumber,

1 Mango,

1 Avocado, pineapple, papaya, etc.

Place fruit spears in a large bowl and sprinkle with the chile lime salt. Cut wedges of lime and serve fruit/vegetable spears on a plate with lime wedges for people to squeeze over the fruit/vegetables.
Notes
**Two other popular offerings of Mexican street food that uses chile lime salt is grilled corn (or Elote) or fruit popcicles (Paletas)
Nutrition
Calories:
44
kcal
Carbohydrates:
11
g
Protein:
1
g
Fat:
0.2
g
Saturated Fat:
0.05
g
Polyunsaturated Fat:
0.1
g
Monounsaturated Fat:
0.1
g
Sodium:
1166
mg
Potassium:
149
mg
Fiber:
4
g
Sugar:
6
g
Vitamin A:
386
IU
Vitamin C:
25
mg
Calcium:
12
mg
Iron:
0.4
mg
Did you make this recipe?
If you tried this recipe, please give it a 5-star rating! To do this, just click on the stars above. And don't forget to tag me at @dorothy_stainbrook_heathglen, if you share a picture on Instagram! You can also tag me at #heathglen!
Online Diet/Health Coaching:
Although I am not currently taking clients for diet & health coaching, I have been a coach for many years with the online service called coach.me. It is a great platform for all kinds of coaching – anything from specific diets, writing a blog, getting up early, or getting rid of that pesky procrastination.
There are some wonderful coaches and the testimonials will tell you what you need to know. Contact me at [email protected] to get a referral to some of the tested, experienced online coaches on Coach.me
If you'd like to start with a plan for a low carb or keto lifestyle, check out this detailed guide in ebook form. It may be all you need to lose weight on this lifestyle. Or it may be used as a supplement to one-to-one coaching.