Calabaza en Tacha (aka candied pumpkin) is one of the traditional treats served on Mexico's Day of the Dead Celebration, "Dia de Muertos". The flavor is similar to what is served in the US as candied yams or sweet potatoes, but the key ingredients to this Mexican recipe include piloncillo syrup, cinnamon sticks, orange peel and of course the pumpkin.
Jump to:
RECIPE
What is Calabaza?
Best Pumpkins to Use
Tips for Enhancing Flavor
Substitutions
How to Serve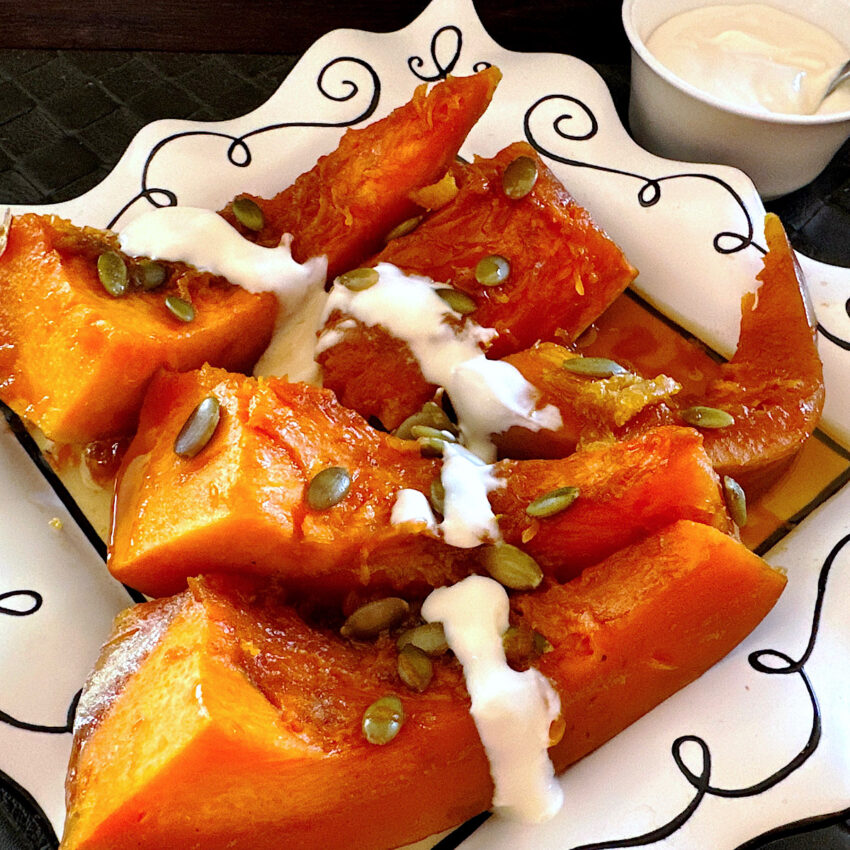 This post may contain affiliate links, and you can read our disclosure information here–
What is Calabaza en Tacha?
Calabaza en Tacha, or candied pumpkin, is a traditional Mexican celebration recipe. Sliced Winter squash is simmered in a syrup of piloncillo (or brown sugar) and aromatic spices.
It is one of those traditional treats prepared especially for Día De Los Muertos, a celebration on November 1st and 2nd that honors and celebrates the life of those who have died. It is one of the most common foods placed on family altars during this Mexican holiday.
If you prefer a similar dish using sweet potatoes rather than squash, this sweet potato casserole is really popular on the American holiday table.
Unlike the Thanksgiving candied sweet potato side dish however, Calabaza en Tacha is usually enjoyed in Mexico as a dessert, snack, or even as breakfast (often drizzled with crema).
Other Mexican food and drink recipes served at various Mexican celebrations might include one of these ten popular Mexican celebration dishes.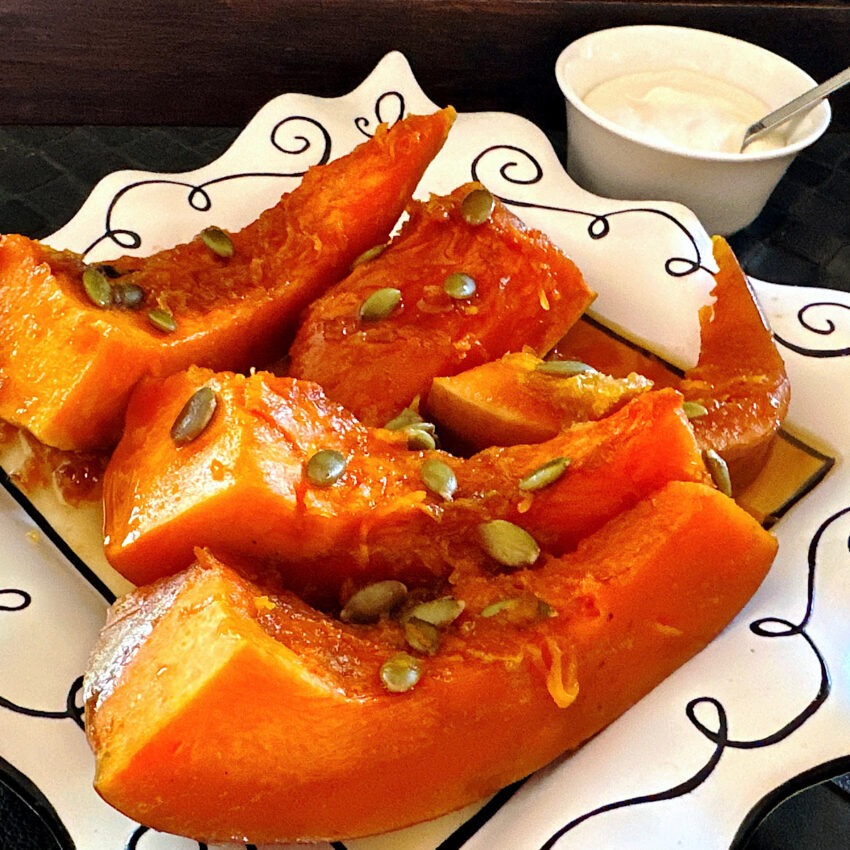 Best Pumpkins to Use for Candied Pumpkin
In Mexico, candied pumpkin is usually made with calabaza de Castilla, a light-colored Winter squash with a tough rind. Cooks used to drill holes in the tough rind to allow the sugar syrup to penetrate.
You can use any type of Winter squash to make this recipe, but if the rind is tough poke it a few times with a knife (no drill required).
The Calabaza is a West Indian type of winter squash, with a sweet flavor and very firm texture. It looks similar to an American pumpkin, but the flavor more closely resembles butternut or acorn squash. They are very popular in the Caribbean and Central and South America.
In the recipe below I used a variety of Winter squash called Long Island Cheese, as it has bright orange flesh and a smooth, dense texture.
Most Winter squash will work for this recipe. I would just avoid the kind of pumpkins sold for carving jack o' lanterns. They are not the best in flavor.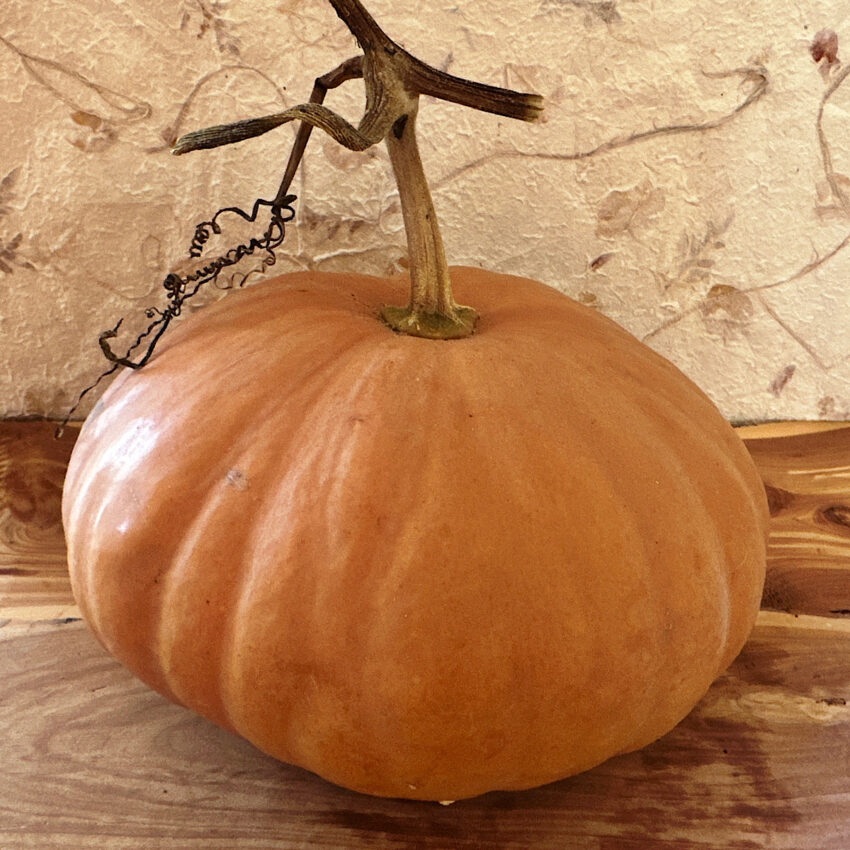 I grow heirloom Winter squash and have provided a summary of flavor and texture of my favorite heirloom squash if you want more information.
Tips for the Best Flavor
While this is a fairly simple recipe, there are a few things you can do to eke out the best flavor possible:
Cut your preferred squash into even pieces that are large, but not so big they won't fit into your pot. The shape doesn't matter. I cut mine into slices 1 1/2" thick and about 4-5" long to fit into a large dutch oven.
Don't worry if your pumpkin slices are not completely covered with the syrup. They will release some of their juice and that will help to cover them.
Poke some holes in the rind with a sharp knife before placing them in the pot so they can uptake all of the sugar syrup.
Place pumpkin slices in the pot, rind side down.
Select your favorite aromatic spices. I used the traditional cinnamon sticks and cloves, but then added some star anise. Cardamom would be good also.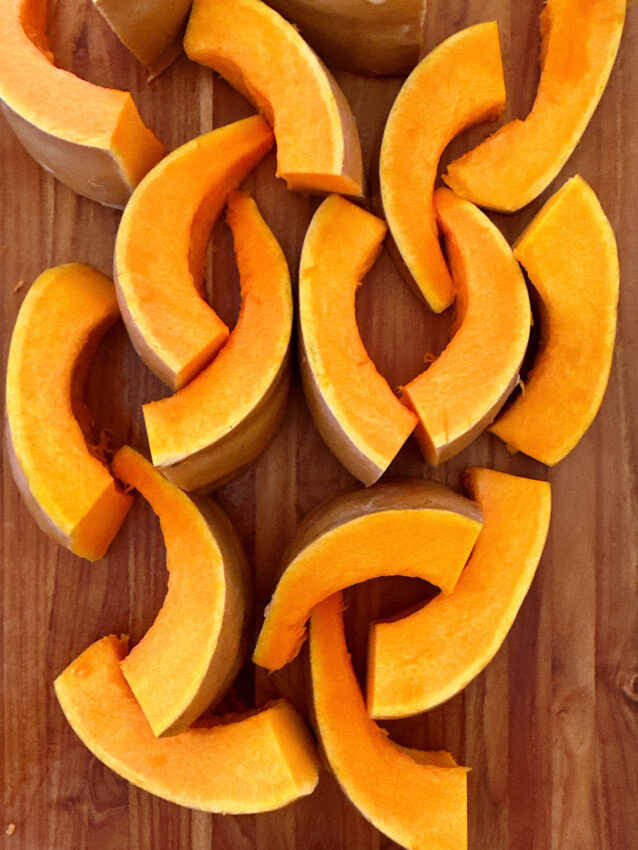 Ingredients & Substitutions
There are very few ingredients in this candied pumpkin recipe: the squash, the sugar and the spices (with optional crema drizzled on top).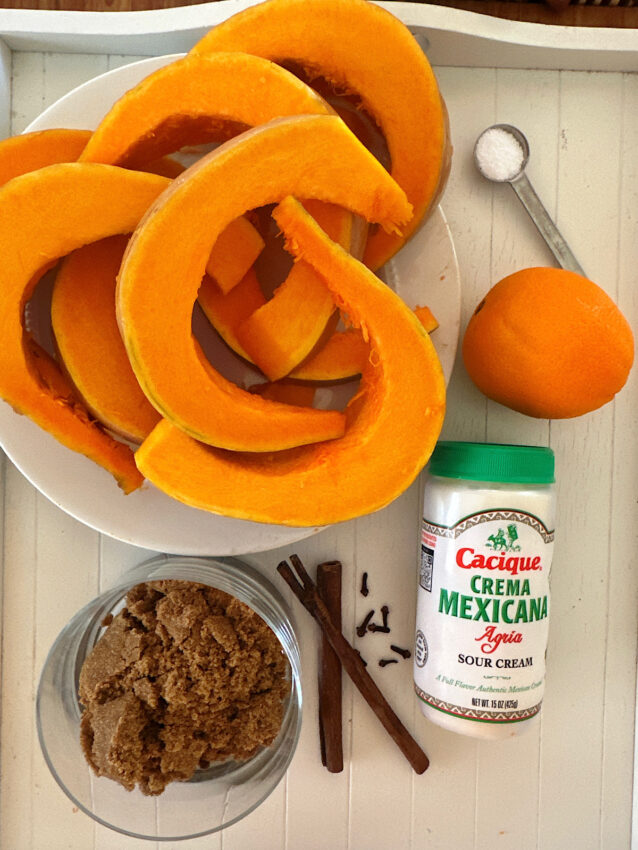 Here are the typical substitutions you might find from cook to cook:
Squash/Pumpkin
Butternut squash
Cinderella pumpkin
Long Island Cheese
Basically any type of Winter squash that has good flavor and density (no carving pumpkins)
Piloncillo
Piloncillo is sometimes referred to as Mexican brown sugar. Although similar to American brown sugar, it is less processed.
Piloncillo is not as sweet as granulated white sugar and when reduced it turns into a syrup with notes of smoke, caramel and rum. Mmmm.
If you can't find piloncillo, you can substitute it by weight with dark brown sugar and molasses (1 cup dark brown sugar + 2 teaspoons of molasses).
Spices & Flavoring
Orange and cinnamon and a bit of salt are the key flavors added to the syrup. Different cooks will also add cloves, star anise and/or allspice.
The oranges can be zested ahead of time or just sliced and added to the simmering syrup. Some cooks will add their favorite spices (mine is cardamom), but it is not necessarily traditional.
An added benefit to the flavor here is the sweet and spicy aroma that fills the house while it is simmering!
How to Serve
I've seen many different ways that people serve and enjoy this dish. A classic way is to have it with Mexican crema, either drizzled over the top or used as a bed in a bowl with the pumpkin sitting on top.
Sometimes the candied pumpkin is served without crema in a bowl of syrup with more syrup drizzled on top.
My favorite is to cook the pumpkin seeds along with the pumpkin in the syrup and then drizzle crema on top of the pumpkin and add a few roasted pumpkin seeds for crunch. Here are a few more variations:
Frequently Asked Questions
How to store
Homemade candied pumpkin can be stored in an airtight container in the fridge for up to 10 days thanks to the sugar that acts as a preservative.
Is it a dessert or a side dish?
The traditional ways to enjoy candied calabaza in Mexico is at breakfast with a glass of cold milk, as a late-afternoon snack, or as a dessert with crema drizzled over.
If you enjoy all types of Mexican food, check out this category of ALL Mexican recipes, where you will find over 40 Mexican recipes, from casual, to low carb, to fancy.
If you make and love this recipe, please leave a ★★★★★ review below and any comments others might find helpful. It means a lot to me when you try my recipes, and I'd love to know how it goes.
Mexican Candied Pumpkin
Candied pumpkin (Calabaza en Tacha) is a traditional dish served during the early November Day of the Dead holiday. It is an easy dish of Winter squash simmered in a sweet syrup flavored with oranges, spices and brown sugar.
Ingredients
4

cups

water

8

ounces

brown sugar

2

teaspoons

molasses

dark if possible

2

6"

cinnamon sticks

1

orange

sliced (with rind left on)

6

cloves

1

star anise

½

teaspoon

kosher salt

¼

cup

pepitas

3

pounds

Winter squash

with hard rind

Mexican crema and fresh pepitas

for serving additions
Instructions
Make the syrup: add water, sugar, spices, pumpkin seeds and orange slices to a large pot or dutch oven. Bring the heat up to medium high to dissolve the sugar (stirring), and when sugar is dissolved turn heat down to maintain a simmer.

Simmer for about 20 minutes or until liquid releases the aromas and becomes a little syrupy.

4 cups water,

8 ounces brown sugar,

2 teaspoons molasses,

2 6" cinnamon sticks,

1 orange,

6 cloves,

1 star anise,

1/2 teaspoon kosher salt,

1/4 cup pepitas

While the syrup is cooking, slice the pumpkin into wedges or a shape that will fit into the pot you are using. I sliced mine into slices about 1 1/2" thick and about 5" long for a large dutch oven.

Once sliced, use a sharp knife to carefully poke some holes into the rinds so the syrup can penetrate to the squash flesh.

Add the pumpkin slices to the pot of syrup, rind side down. It's OK if they are not completely covered, as they will release some of their own juice.

Simmer for about 30 minutes, or until the squash is soft enouth that a fork will easily penetrate the flesh.

Remove from heat and let it sit for another 10 minutes. Serve with a side of Mexican crema and some fresh pepitas.

Mexican crema and fresh pepitas
Notes
If you enjoy all types of Mexican food, check out this category of ALL Mexican recipes, where you will find over 40 Mexican recipes, from casual, to low carb, to fancy.
**Want more like this? Subscribe to our Sunday newsletter to get recipes, gardening guides and diet help. Let's go from Inspiration to Done!
Nutrition
Calories:
186
kcal
Carbohydrates:
46
g
Protein:
2
g
Fat:
1
g
Saturated Fat:
0.2
g
Polyunsaturated Fat:
0.5
g
Monounsaturated Fat:
0.3
g
Trans Fat:
0.001
g
Sodium:
149
mg
Potassium:
632
mg
Fiber:
4
g
Sugar:
30
g
Vitamin A:
16106
IU
Vitamin C:
40
mg
Calcium:
110
mg
Iron:
2
mg
Did you make this recipe?
If you tried this recipe, please give it a star rating! To do this, just click on the stars above. Comments are always helpful also and I respond to all of them (except rude ones)