On the 1st and 2nd of November, Mexicans will honor and celebrate the spirit and memory of loved ones that came before them. The celebration is known as Día De Los Muertos (Day of the Dead). There are a number of traditional food dishes that are enjoyed during this time, either as a meal or placed on the grave as an offering. Here are 10 popular recipes that might help you enjoy this holiday.
Jump to: Pozole | Tequila Flight | Tamales | Chicken Mole | Candied Pumpkin | Spiced Coffee | Orange Flan | Pan de Muerto | Pickled Onions | Marigold Syrup
On the 1st and 2nd of November, modern-day Mexicans head off to cemeteries to welcome and honor the spirits. This tradition stems from the Nahua cultures especially the Aztec, who believed the dead remained alive in spirit and memory.
Th Aztecs respected the fact that death is an inevitable phase of life and chose to celebrate rather than mourn the dead.
Modern Mexican Day traditions for Día De Los Muertos follow this tradition of their ancestors, and spend the day laughing and dancing and eating to honor the dead rather than mourning and weeping.
Some of the food that is popular to this Mexican celebration is listed below. Of course there are many others, but this is a sampling of some traditional food and drink you might see during Día De Los Muertos.
Pork Pozole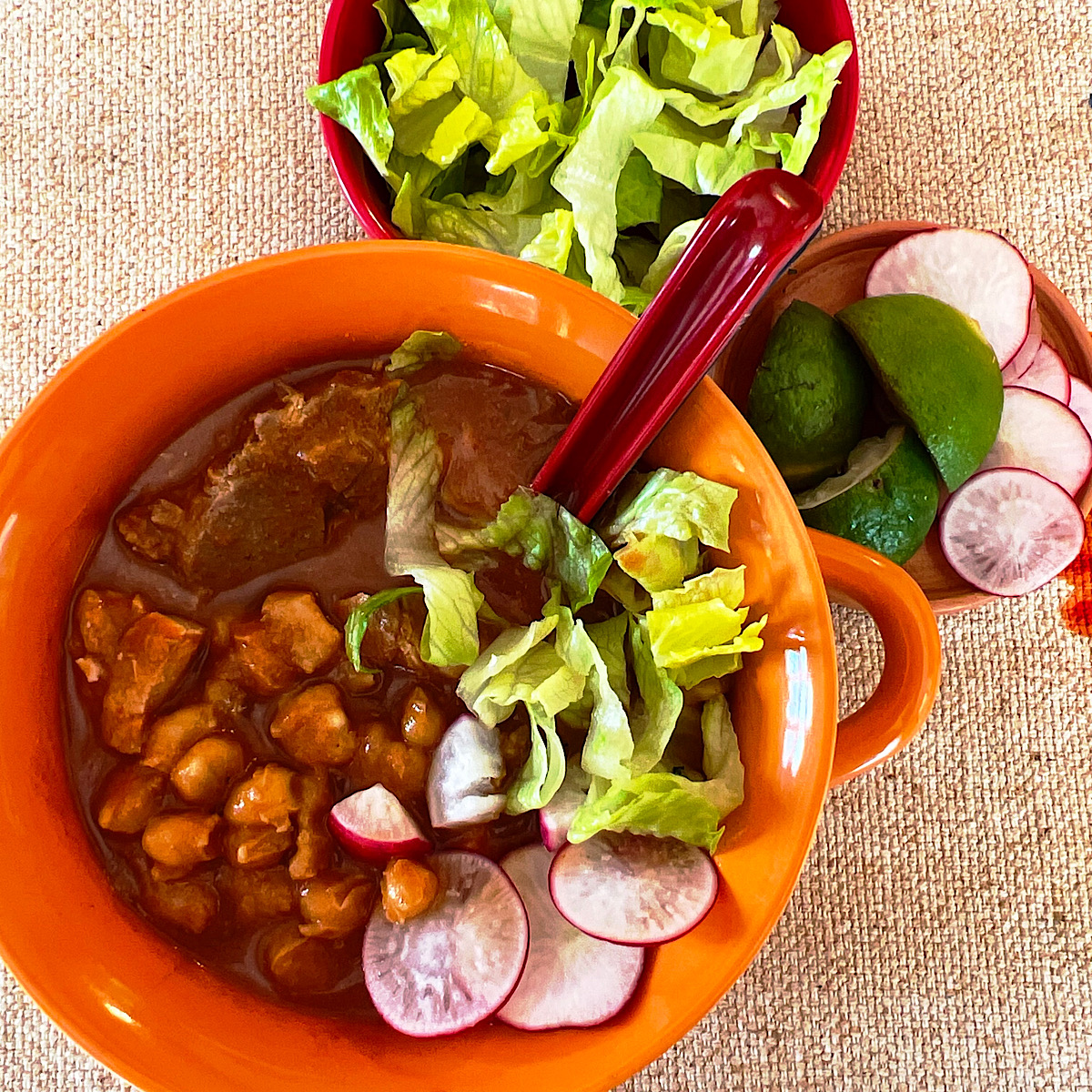 This traditional version of pozole rojo is a luscious slow-cooked stew made with pork, hominy, Mexican spices, and a blend of mild to moderate chile peppers. It is simple to make without a lot of hand-on time, but to develop the full flavors it should be simmered for a couple of hours. Make a big batch as it gets better every day!
Mexican Sangritas and a Guide to a Tequila Flight
A tequila flight (or Mezcal flight) can be made special by adding a Mexican Sangrita. Sangrita is a non-alcoholic accompaniment to a flight that highlights tequila's crisp acidity and cleanses the palate between each sip. Here is a guide for putting together a tequila flight accompanied by an orange sangrita and a tomato-based sangrita.
Tamales: Step by Step Tutorial
Tamales are special. While not the easiest thing to make, this recipe offers a few methods to make it easier by revising the step where you rehydrate, deseed and roast the dried peppers. These tamales have excellent flavor and texture and can be made even easier if you enlist family or friends in the assembly!
Chicken Mole Rojo
The variety of Mexican moles are all unique and delicious, but the required pepper roasting, peeling and rehydrating can be a bit daunting and time consuming. This mole rojo using a powdered blend of smoked chiles, cocoa and spices is the key to making a more achievable, but still full-bodied, mole. Included in the recipe is a quick summary on making your mole sauce from scratch using fresh or dried chile peppers.
Want to try a different mole for your celebration? Try this chicken mole amarillo with chayote instead of potatoes for a low carb version.
Candied Pumpkin
Candied pumpkin is a Day of the Dead food primarily associated with the Yucatan Peninsula, but it's popular around the country.
Similar to candied yams, calabaza en tacha is made from pumpkin chunks, cinnamon, piloncillo cane sugar, and/or brown sugar and aromatic spices.
It is not usually served as a side dish as in US Thanksgiving meals, but rather It's often served as a dessert or even as breakfast. A popular way to enjoy this candied pumpkin is with a drizzle (or many drizzles) of Mexican crema.
Mexican Spiced Coffee (or Hot Chocolate)
The wonderful combination of chocolate, coffee and chile spice, is known as a Mocha Chile Coffee (aka Spicy Mexican Coffee), but the cocoa-chile spice combination is also wonderful as a hot chocolate drink without the coffee.
A more traditional warm drink would be Champurrado, a chocolate-based beverage, prepared with masa piloncillo; water or milk; and sometimes containing cinnamon, anise seed, or vanilla. Ground nuts, orange zest, and egg are also used at times to thicken the drink. This recipe for Champurraado from Isabel Eats looked both tradtional and delicious.
Orange Flan de Queso
Flans of all sorts are very popular Mexican desserts. This Low Carb Mexican Flan (Orange Flan De Queso) is a dessert that works well with low carb diets. It is creamy and scrumptious, with the only sugar coming from the fructose in a small amount of fresh orange.
Pan de Muerto: Mexican Day of the Dead Bread
With a design that resembles a skull and crossbones, this popular Mexican bread can be found in most Mexican bakeries starting in October.
The most important aspect of the Mexican holiday is showing reverence to loved ones that have passed on. If you don't have a Mexican bakery nearby and want to try your hand at making your own Pan de Muerto, Amigo Foods offers this traditional recipe.
Pickled Onions
Pickled onions are a tart and slightly sweet accompaniment to a wide variety of dishes (a perfect match with Mexican cuisine). The cool, pungent crunch adds a crisp fresh taste to carnitas or fish tacos or just about any Mexican dish.
They take 5 minutes to prep, 30 minutes to marinate, and will keep in the refrigerator for many weeks.
Marigolds in Día De Los Muertos
During the Day of the Dead holiday, marigolds are often seen around the cemetery, as they are thought to attract the souls of the dead. Families might use them on the offering, or scattered along a path to the cemetery to ensure that the souls of the dead make their way safely to and from their final destinations.
I happened to have some marigolds still trying to survive here in Minnesota this Fall. I harvested all of them, dried them out and decided to make a marigold simple syrup. I used the simple syrup with some tequila and sparkling water and it was delightful!
The recipe is very simple if you have dried marigolds: Heat equal parts of water and sugar and add a large handful of marigold petals. Steep with a couple of cinnamon sticks for several hours to overnight and then refrigerate.
For the drink I added 2 oz tequila, 1 1/2 oz marigold syrup and topped it off with sparkling water….Awesome!
I still have the dried marigolds left and thought I'd try this marigold rice dish from Sweet Life next. Gotta hurry though, Dia de los Muertos is next week!