The variety of Mexican moles are all unique and delicious, but the required pepper roasting, peeling and rehydrating can be a bit daunting and time consuming. This mole rojo using a powdered blend of smoked chiles, cocoa and spices is the key to making a more achievable, but still full-bodied, mole.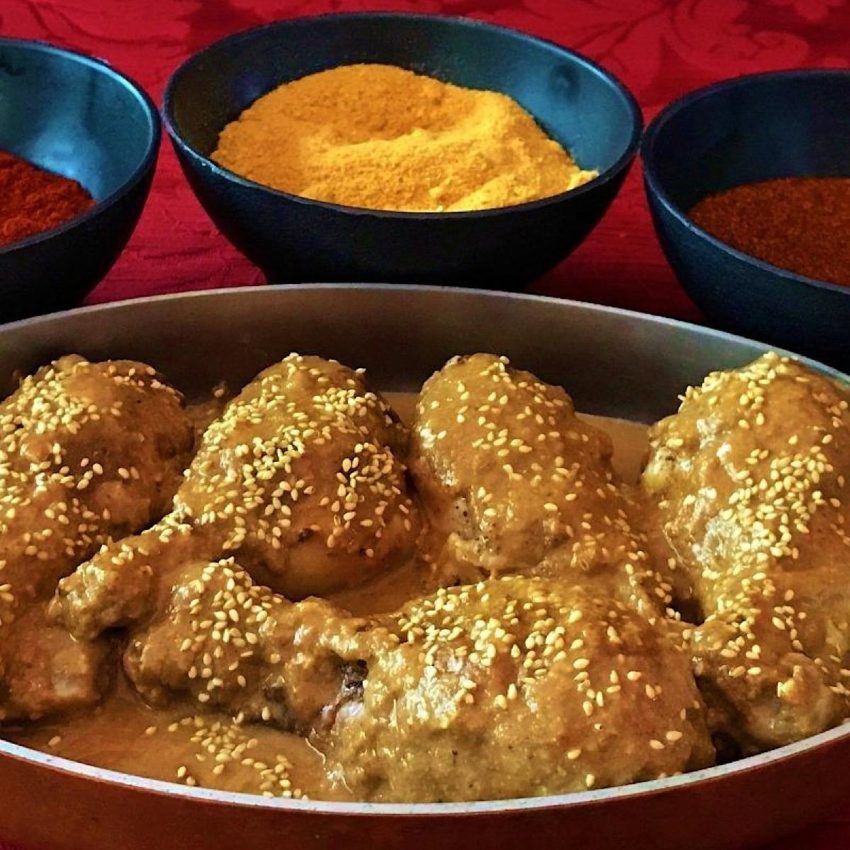 What is Mole Rojo?
Mole rojo is one of the seven renowned mole sauces hailing from the Oaxaca region of Mexico.
The ingredients in a mole rojo typically include a mixture of onion, garlic, chile peppers (commonly pasilla and ancho and sometimes guajillo), ground nuts or sesame seeds, toasted bread, spices, oil, sugar, and occasionally a small amount of sweet chocolate.
These ingredients are then mixed with water or chicken broth (1 part Mole to 3 parts water/broth) before being heated and boiled into a sauce. It is then added as a seasoning to chicken or pork, eggs or egg dishes, enchiladas, rice, refried beans, or tamales.
Mole rojo is deep red in color, usually spicy, and with a texture between a paste and a sauce. Mole rojo and mole poblano are sometimes used interchangeably as they are similar.
Mole Rojo vs Mole Poblano
Mole Poblano is not from Oaxaca and is not part of the "7 Moles". The names of the different moles are often focused on color and/or location rather than the specific ingredient ratio and mix.
All of the various moles share a lot of similar ingredients but the color and taste changes due to the different chiles that are used to make them along with the amount of each of the ingredients:
Mole Rojo Is often referred to as "red mole" and is frequently interchanged with the other "red mole" called mole poblano. They are both versatile and use many of the same ingredients. Several kinds of dried red chile can be used, like pasilla, guajillo and ancho and almonds or peanuts are usually included.
Mole poblano is what many in the US think of as "mole", but the world of moles is huge, and is filled with nuance and debate.
In truth, moles vary from village to village, and from cook to cook. Someone outside of Puebla may prefer to call their dark mole (with chocolate) Negro, just because they are not Poblano.
If you want to experience the full range of moles, don't forget the pumpkin seed pepians, the mole verde, and the fruity manchamantales.
Can a Powdered Mole be as Complex as a Mole from Scratch?
A mole seasoning blend of powdered chile peppers, chocolate powder and various other spices can make your life easier, as it takes the place of roasting, rehydrating and peeling your own peppers. A good powdered blend that is fresh can be every bit as flavorful as using rehydrated peppers.
I have made a chicken mole many times by roasting and peeling poblano peppers and it leaves my kitchen in a mess and is a lengthy process.
But can a mole spice blend really bring out the same complex flavors as making your own mole? Well, the answer is, of course, "it depends".
It depends on how the chile peppers in the blend were grown and smoked. It depends if the chocolate is Mexican chocolate powder or Dutch cocoa or sweetened or unsweetened cocoa.
I made a Chicken Rojo Mole (recipe below) with the smoky mole blend that we make on our farm. We smoke, dry and grind the fresh poblanos and pasillas, add the dried spices in the ratios for a good mole blend, and then use it all Winter.
It was every bit as good as the versions I made with all the roasted, dehydrated peppers. And a heck of a lot easier!
If you want to make your own spice blend, this recipe looked simple, although lacking in some of the heat a variety of chiles can bring.
Just be sure and use the freshest chile powders and ingredients you can find! Try out some of the blends offered to see which you prefer….just read the ingredient list and ask questions if you can.
The recipe below uses a spice blend that has chipotles, anchos and pasillas that have already been smoked and dried.
Additional Ways to Use Mole Spice Blends
Mole spice blends can easily enhance recipes other than chicken mole also. Try adding a tablespoon or two to your next pot of red chili for some smoky, chocolaty notes of flavor.
Make this easy recipe in the slow cooker for a slow carb spicy chili and try the mole blend instead of your usual spice combinations.
A mole spice blend can also be used in this yellow mole recipe for a quick and delicious take on a yellow mole dinner complete with vegetables
If you have the time and/or experience and want to make "from scratch" mole sauce from dried, roasted and rehydrated peppers, check out this recipe. It uses chayote rather than potatoes to keep it in the low carb range and takes you through the process of making your own mole sauce.
Frequently Asked Questions about Mole Rojo
What is the difference between mole rojo and mole negro?
Mole rojo and mole negro are similar, but the key difference is that mole rojo uses less chocolate and relies more heavily on the ancho chiles, giving it the redder color.
Where does mole rojo originate?
Mole rojo is part of the seven traditional moles served in the Oaxacan region in Mexico. The other traditional moles include: mole negro, mole amarillo, mole verde, mole coloradito, mole chichilo, and mole manchamantel.
Is mole rojo spicy?
It depends! Typically mole rojo is not spicy, unless the person making the mole adds extra ingredients to up the spiciness. In the version we make here, the mole rojo has a subtle heat but would be considered mild by most.
What gives mole rojo its red color?
Mole rojo uses mostly ancho peppers, giving it a red flavor. In our version, we use a mole spice mix which has achiote to amp up the deep red color even more.
Low Carb Chicken Mole Rojo
An easy chicken mole using a fresh spice blend of smoked peppers, chocolate, and spices.
Ingredients
2

Tbsp

olive oil

1

medium

onion

chopped

2

tsp

garlic

optional

2

cups

chicken broth

4

Tbsp

peanut butter

1

oz

mole spice mix

8-9

pieces

chicken legs or thighs

2-3

Tbsp.

sesame seeds

optional
Instructions
Preheat oven to 400 degrees F

Heat oil in large skillet and add chopped onion. Saute about 5 minutes or until translucent (add 2 tsp minced garlic for last minute if desired). Add chicken broth and simmer for 10-15 minutes. Let it cool a bit.

While onion mix is cooling, place chicken pieces in 9 x 11 baking dish and drizzle with a bit of olive oil and sprinkle with salt and pepper to taste. Bake at 400 degrees for 20 minutes

While chicken is baking, pour cooled onion mix into blender or food processor and add peanut butter and mole spice blend. Blend until smooth.

When chicken has cooked for 20 minutes, remove from oven and pour mole-peanut butter sauce over chicken in baking dish. Place back in oven and cook for 15-20 more minutes at 400.

Garnish with sesame seeds over the sauce and serve.
Nutrition
Calories:
219
kcal
Carbohydrates:
8
g
Protein:
6
g
Fat:
19
g
Fiber:
2
g
Sugar:
3
g
Did you make this recipe?
If you tried this recipe, please give it a 5-star rating! To do this, just click on the stars above. And don't forget to tag me at @dorothy_stainbrook_heathglen, if you share a picture on Instagram! You can also tag me at #heathglen!
Online Diet/Health Coaching:
Although I am not currently taking clients for diet & health coaching, I have been a coach for many years with the online service called coach.me. It is a great platform for all kinds of coaching – anything from specific diets, writing a blog, getting up early, or getting rid of that pesky procrastination.
There are some wonderful coaches and the testimonials will tell you what you need to know. Contact me at [email protected] to get a referral to some of the tested, experienced online coaches on Coach.me
If you'd like to start with a plan for a low carb or keto lifestyle, check out this detailed guide in ebook form. It may be all you need to lose weight on this lifestyle. Or it may be used as a supplement to one-to-one coaching.