Mexican mole sauces are simple enough to modify to low carb, but sometimes the vegetables typical of mole dishes include potatoes or higher carb vegetables. This chicken mole amarillo (aka yellow mole) includes chayote and asparagus for vegetables, allowing the bright flavor of the mole sauce to really shine through.
Jump to:
Recipe
What is Chayote?
Cooking with Chayote
More Recipes with Chayote

This post may contain affiliate links, and you can read our disclosure information here–
Using a Molcajete
What is Chayote?
Chayote (chai-OH-tay) is a pear-shaped, light green vegetable belonging to the gourd family. It has a crunchy texture and a mild, sweet flavor, similar to a summer squash.
Some people think it tastes like a cross between a cucumber and an apple. In fact, a lot of recipes use chayote as a substitute for apples in low carb apple strudel or pies.
The substitution of chayote for potatoes lends a slight crunch to the stew, which enhances the texture and overall flavor.
Chayote originated from Central America and is commonly found in Latin American grocery stores, it may be difficult to find in your neighborhood grocery store. I have found it year-round at Walmart.
The photo below is what "fresh" chayote looks like.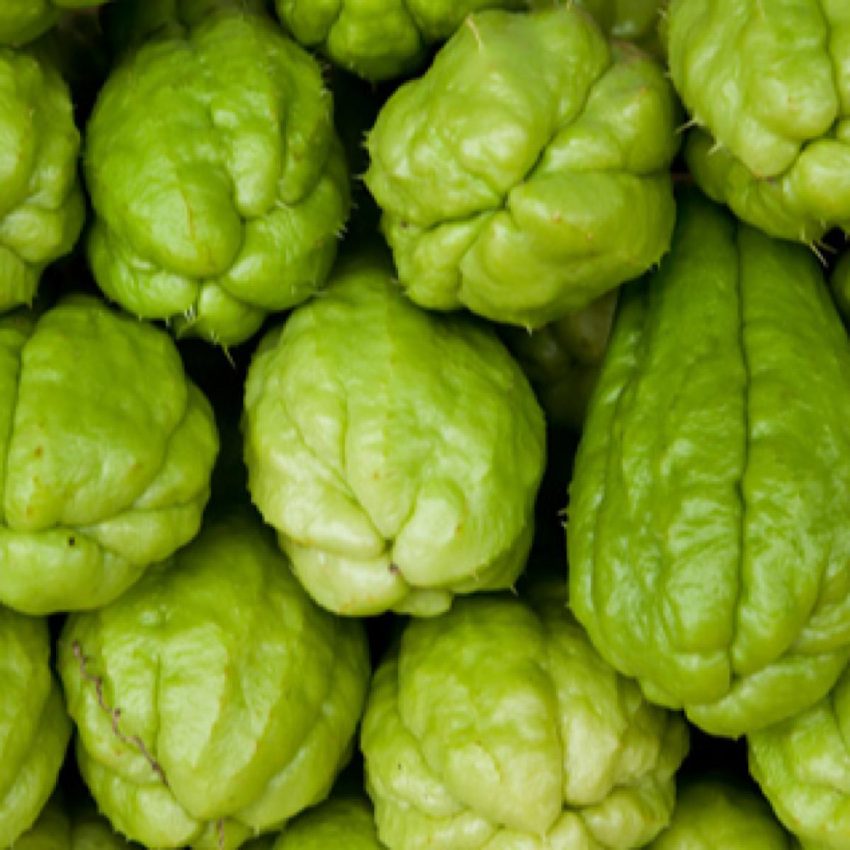 Is Chayote Healthy?
Chayote is rich in fiber, antioxidants, iron, manganese, phosphorus, zinc, potassium, copper and vitamins B1, B2, B6 and C. It is a good food for easing acid reflux, and it is said to lower blood pressure.
Is Chayote Low Carb or Keto?
Although chayote isn't necessarily as low carb as some other vegetables (like greens or broccoli), it's definitely lower carb than potatoes and some other high-starch vegetables. Chayote is allowed on a low carb (or keto) diet.
One whole chayote squash has 6 grams of carbs. However, it also has 2.2 grams of fiber, giving it a grand total of 3.8 net carbs!
Is Chayote Easy to Grow?
Chayote is common in Central and South America and grows the best in tropical or sub-tropical environments. However, they are easy to grow compared to other perennial vegetables if you have a long growing season.
You can grow chayote in containers, however, the yield will not be as great as growing them in the ground. Sow the seeds 10 feet apart if growing in the ground.
They grow well with other squash, corn or peppers and can be complementary in cooking. Chayote are climbing plants, so you will want to trellis them or plant them near something they can climb on, like a fence.
If you'd like more tips on how to grow chayote, here is a post with videos and other helpful hints.
How to Peel and Cut Chayote
Though chayote can be consumed raw and with the peel on, removing the peel and cooking the chayote helps to make it softer and more palatable.
To prepare chayote for the chicken mole recipe below, you need to peel off the skin, usually with a common vegetable peeler. It can then be cut into different sized pieces, depending on what you are making.
Most often you can cut the fruit down the middle and then cut the halves into quarters. This makes it easy to remove the large seeds by scraping it out with a knife or spoon.
Recipes Using Chayote
Chayote is very versatile. Similarly to other squashes, you can broil, bake, fry or eat chayote raw. You can toss it in salads or puree it in soups. Here are a few of our favorite dishes using chayote:
Baked chayote "apple" crisp
Pickled chayote
Chayote and carrot coleslaw
Roasted chayote with sheet pan or traybake dinners
Chayote, tomato and cucumber salad
Chayote also pairs well with ground pork or beef, shrimp, or eggs. It would be a great ingredient in spring rolls or cabbage rolls with any of these ingredients!
More Recipes with Mole Sauces
Easy Chicken Mole Rojo for the Home Cook
Recipe for Chicken Mole Amarillo with Chayote
Chicken Mole Amarillo with Chayote
This mole sauce substitutes chayote and asparagus for the potatoes to modify it to a low carb dish. Easy, bright and medium spicy, mole amarillo is one of the 7 popular moles from Oaxaca
Ingredients
3

dried guajillo chile peppers

1-2

dried ancho chile peppers

10

whole black peppercorns

4

whole cloves

¼

tsp

cumin seeds

4

tomatillos

unpeeled

1

firm

Roma tomatoes

1

onion

unpeeled and cut into quarters

3

tsp

granulated garlic

1

tbsp

olive oil

1

tsp

salt

2

tbsp

cold water

2

tsp

masa harina

or white corn meal

4

cups

chicken broth

6

large

chicken thighs

skinless and boneless

1

medium

chayote

peeled and sliced into large chunks

1

bunch

fresh asparagus

cilantro

to taste, optional
Instructions
Heat a large skillet over medium-high heat (no oil). You're going to roast (or toast) the first 7 ingredients in this skillet.

First add all the chile peppers and roast 2-3 minutes, turning once. Remove from skillet and place on cutting board. Cut peppers in half lengthwise and remove seeds. Place in a bowl and pour enough boiling water over the peppers to cover. Let them soak for about 10 minutes.

3 dried guajillo chile peppers,

1-2 dried ancho chile peppers

While peppers are soaking, toast the peppercorns, cloves and cumin seeds for 1-2 minutes or until just fragrant. Remove from skillet and grind up in a spice grinder until finely ground.

10 whole black peppercorns,

4 whole cloves,

1/4 tsp cumin seeds

Roast the tomatillos, tomato and onion about 7 minutes or until charred, turning occasionally. Add the garlic for the last minute or so. Remove everything from heat until cool and then peel them. *note: you can put the tomatillos and tomato in a paper bag and close it up for a bit to make them easier to peel.

4 tomatillos,

1 firm Roma tomatoes,

1 onion,

3 tsp granulated garlic

Drain the chile peppers and add the peppers, peeled tomatillos, tomato and onion to a food processor and process until smooth. Add the toasted spices and process until combined.

In a medium saucepan, heat the oil over medium-high and add the processed pepper mixture and salt and bring to a boil. Reduce heat and simmer about 10 minutes.

1 tbsp olive oil,

1 tsp salt

In a small bowl whisk together the water and corn meal and add to the simmering pepper mixture. Cook briefly until it reaches a low boil.

2 tbsp cold water,

2 tsp masa harina

In a 6-quart Dutch oven, bring the 4 cups chicken broth to a boil. Add the chicken thighs and reduce the heat. Cover the pot and simmer about 15 minutes. Then add the chayote and asparagus. Simmer, covered 10-15 more minutes until chayote is tender.

4 cups chicken broth,

6 large chicken thighs,

1 medium chayote,

1 bunch fresh asparagus

To serve: Transfer the chicken thighs and vegetables to a plate with a slotted spoon (unless you want more of a soup) and spoon the mole over the chicken and vegetables. Garnish with cilantro if desired.
Nutrition
Calories:
299
kcal
Carbohydrates:
10
g
Protein:
22
g
Fat:
19
g
Saturated Fat:
5
g
Polyunsaturated Fat:
4
g
Monounsaturated Fat:
8
g
Trans Fat:
0.1
g
Cholesterol:
111
mg
Sodium:
1098
mg
Potassium:
570
mg
Fiber:
3
g
Sugar:
4
g
Vitamin A:
688
IU
Vitamin C:
10
mg
Calcium:
48
mg
Iron:
3
mg
Did you make this recipe?
If you tried this recipe, please give it a 5-star rating! To do this, just click on the stars above.
Online Diet/Health Coaching:
Although I am not currently taking clients for diet & health coaching, I have been a coach for many years with the online service called coach.me. It is a great platform for all kinds of coaching – anything from specific diets, writing a blog, getting up early, or getting rid of that pesky procrastination.
There are some wonderful coaches and the testimonials will tell you what you need to know. Contact me at [email protected] to get a referral to some of the tested, experienced online coaches on Coach.me
If you'd like to start with a plan for a low carb or keto lifestyle, check out this detailed guide in ebook form. It may be all you need to lose weight on this lifestyle. Or it may be used as a supplement to one-to-one coaching.