This Low Carb Mexican Flan (Orange Flan De Queso) is a dessert that works well with low carb diets. It is creamy and scrumptious, with the only sugar coming from the fructose in a small amount of fresh orange.
Jump to:
RECIPE
What is a flan?
Do Flans Need Waterbaths?
How to Modify to Low Carb
Sugar Substitutes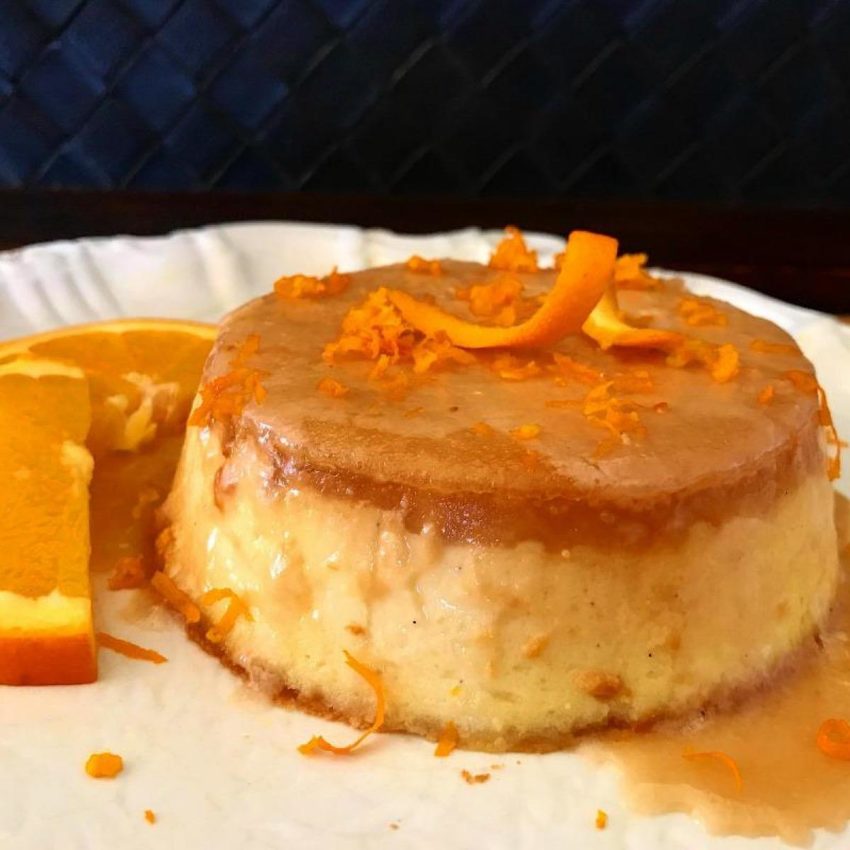 This post may contain affiliate links, and you can read our disclosure information here–
What is a Mexican Flan?
Flan is a popular dessert in Spain and Latin America, and it most often refers to a custard made with eggs, sweetened condensed milk, cream or whole milk, plus flavorings such as vanilla, orange, coconut or coffee.
Because this type of egg-based custard is delicate, flan is baked in a water bath in the oven.
Another name for a Mexican flan is flan napolitano, which has a caramel layer on the bottom that is then inverted onto a serving plate so the caramel is on top.
A Mexican type of flan is similar to a French crème brulee, except that in the Latin American flan, the caramel top is more like a thin sauce with a less sweet flavor. In the French crème brulee the top is a layer of hardened caramelized sugar which often requires a torch to make.
While there are also savory flans made with eggs and often cheese (like the Italian sformato), Mexican flans are usually sweet and served for dessert.
The recipe below is actually a Flan De Queso, which uses cream cheese as an ingredient. This is not an uncommon ingredient to add and it makes for an even creamier flan!
Are Flans Made with a Water Bath?
Latin American egg-based flans are known for the smooth and creamy consistency of a custard and that is achieved by cooking the flan in a water bath. This creates steam within the oven which cooks the flan evenly and ensures that the eggs do not curdle or get scrambled.
The caramel is cooked on the bottom of the pan and the custard mixture on top. After it's cooked (and cooled), the flan is then inverted onto a plate. The result is visually stunning, even though a flan is relatively easy to make.
Are all Flans Low Carb?
The trick to making flan low carb friendly is swapping out the sugar for a low carb sweetener and using heavy cream instead of condensed or evaporated milk.
The recipe below adds some orange zest and a tiny bit of orange juice. Be aware that If you add fruit to your flan the fruit may add carbs and sugar.
Most custard ingredients are low carb with the exception of some sweetener. I have opted for a sugar substitute for the sweetener since we are not using sweetened condensed milk. Feel free to use regular sugar if you are not concerned with the carb count.
Using Sugar Substitutes in Desserts
If you steer clear of the Mexican desserts that use sweetened condensed milk and the higher sugar fruits, there are actually quite a few desserts that can be modified to low carb without a loss of flavor and texture.
I've recently been trying out desserts that highlight cheese, dark chocolate or berries, achieving sweetness without added sugar. These Mexican paletas are a great snack that don't need much sugar of any kind, with these Mexican chocolate pots using a little sugar substitute.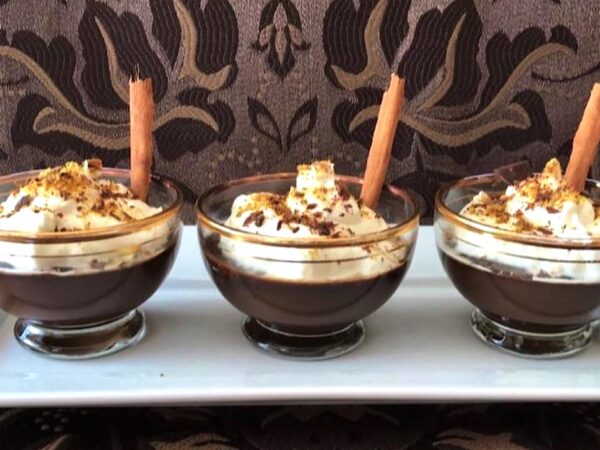 While I recommend avoiding the artificial sugar substitutes, there are some natural substitutes that don't contain chemicals and are not likely to cause blood sugar spikes. This would include xylitol, erythritol, stevia, and monk fruit extract. Truvia, Swerve and a few other brands are blends of these substitutes.
Working with natural sugar substitutes can still be a bit tricky however. A couple of things to watch for are:
there are some sugar substitutes that will spike blood sugar more than others
some baked goods and desserts work better with granulated sugar substitutes, some work better with liquid substitutes, and some work best with a combination
they do have different tastes, with some imparting a bitter taste if not masked by other spices or flavorings
The texture of sauces (in this case the caramel sauce) can be challenging to get right
My favorite sugar substitute as far as taste goes is Truvia (a mix of erythritol and stevia), but I think I might try liquid Stevia alone next time I make this flan.
While it tasted wonderful (really quite awesome to tell the truth), the Truvia did result in a "crunchy" caramel on the outside rather than a more flowing caramel you would get with regular pure cane sugar.
The crunchy texture was due to it crystalizing a bit. I didn't mind the crunch at all and it was a rather nice contrast to the creaminess of the flan, but it isn't what you would expect when you think of an authentic Flan De Queso.
One way to prevent crystallization is to use less Truvia. You would lose some of the sweetness that way but that may be preferable to you.
At any rate, this recipe for a flan held up in flavor to a recent tasting of Mexican flans in some of the better restaurants over a recent vacation to Santa Fe, New Mexico.
Natural Sugar Substitutes vs. Artificial Sugar Substitutes:
There is quite a bit of confusion over some of the qualities of sugar substitutes. Erythritol is currently one of the more popular sugar substitutes due to taste and it is important to note that even though the name sounds like a chemical it is a "sugar alcohol" which is different from an artificial sugar substitute.
While sugar alcohols do contain fewer calories than sugar, they occur naturally in plants, like fruits and vegetables. Erythritol and Stevia is the blend in Truvia, which is what I used for the Low Carb Mexican Flan.
Erythritol is:
Fermented – it is made by fermenting the natural sugar found in corn.
Heat stable up to 160 degrees C.
Non-caloric – While most sugar alcohols are low-calorie, erythritol has zero calories.
Non-glycemic – Does not raise blood sugar – erythritol is considered suitable for people with diabetes because it does not raise plasma glucose or insulin levels.
The easiest sugar alcohol to digest – more than 90% of erythritol is absorbed in the small intestine, so minimal amounts reach the colon where other sugar alcohols end up causing diarrhea and other symptoms.
Noncarcinogenic– studies have shown that erythritol, like xylitol, does not have carcinogenic properties.
An antioxidant – erythritol helps to fight free radicals, responsible for the aging process. It is considered to be even more efficient than other sugar alcohols because it is so readily absorbed and yet not metabolized (it is excreted unchanged).
Erythritol has the status of generally recognized as safe (GRAS) from the FDA and is widely used in many other countries like Japan, the European Union, Mexico and Canada.
There has been a lot of research on sugar alternatives and you now have quite a few options, but they all differ a bit.
More Low Carb Custard-Like Desserts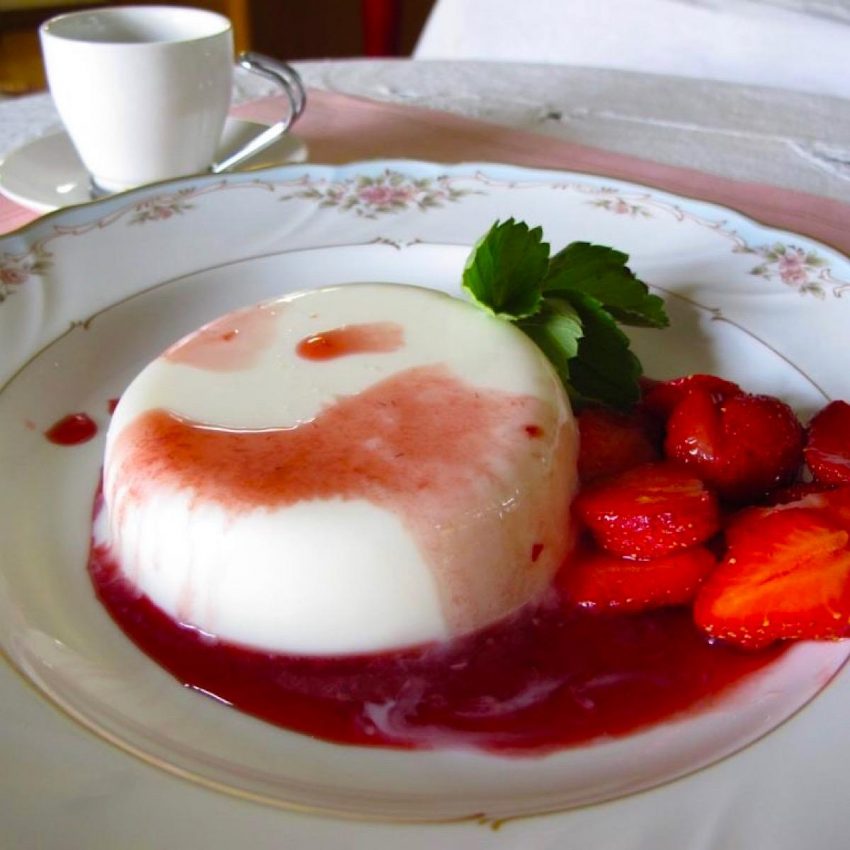 Low Carb Mexican Orange Flan
Low Carb Mexican Orange Flan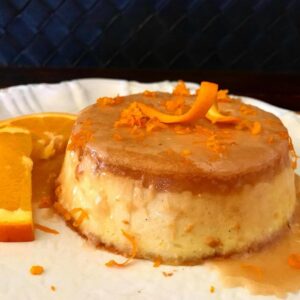 This Low Carb Mexican Flan (Orange Flan De Queso) is a dessert that works well with low carb diets. It is creamy and scrumptious, with the only sugar coming from the fructose in a small amount of fresh orange.
Equipment
cake pan

8-9" (or use ramekins)

small saucepan
Ingredients
¾

cup

Truvia

divided into 1/2 cup portion and 1/4 cup portion

½

tsp

molasses

1

tbsp

water

1

tbsp

butter

2

tsp

vanilla

divided

8

oz

full fat cream cheese

room temperature

2

cups

heavy whipping cream

5

large

eggs

room temperature

¼

tsp

sea salt

3

tbsp

fresh squeezed orange juice

1.5

tsp

orange zest
Instructions
Preheat oven to 350 degrees Fahrenheit

Grease an 8 or 9 inch cake pan or 4-6 ramekins (the number will depend on their size. You want to fill them 3/4 of the way full). Set cake pan or ramekins in a 13×9-inch baking pan.

In a small saucepan, heat 1/2 cup Truvia, molasses, water, butter, and 1 tsp vanilla over medium-low heat until Truvia dissolves. Increase heat to medium-high and cook until syrup turns amber, about 10 minutes. Keep a close eye on the sweetener, as it can quickly go from amber to burned.

3/4 cup Truvia,

1/2 tsp molasses,

1 tbsp water,

1 tbsp butter,

2 tsp vanilla

Quickly pour the caramel into the ramekins or cake pan. Be very careful to not touch or taste the caramel. It is very, very hot and will burn you!

In a food processor, blend the cream cheese, heavy cream, eggs, sea salt,1/4 cup Truvia, 1 tsp of vanilla, 3 Tbsp fresh orange juice and orange zest until it becomes a smooth batter.

3/4 cup Truvia,

2 tsp vanilla,

8 oz full fat cream cheese,

2 cups heavy whipping cream,

5 large eggs,

1/4 tsp sea salt,

3 tbsp fresh squeezed orange juice,

1.5 tsp orange zest

Pour the cream cheese batter over the caramel.

Add hot water into the larger pan, around the ramekins or cake pan, making sure not to get water in the flan batter. The hot water should come up the sides of the cake pan about an inch deep so that the cake pan or ramekins will be sitting in a water bath.

Bake for 1 hour and remove from oven and let the flan cool in the water bath. Once it is cool to the touch, refrigerate for a 3-4 hours or overnight.

When you are ready to serve the flan, run a knife around the edges ofthe flan to loosen it up. Place a larger serving plate over the flan andthen flip upside down to invert.

If it doesn't easily fall onto theplate, try loosening it up again with the knife and tapping the bottom of cakepan while inverted onto the plate.When you lift off the ramekin the caramel syrup will run over the flan. Garnish with orange peels or orange zest.
Notes
**Note:
The trick to making flan low carb friendly is swapping out the sugar for a low carb sweetener and using heavy cream instead of condensed or evaporated milk.
The recipe below adds some orange zest and a tiny bit of orange juice. Be aware that If you add fruit to your flan the fruit may add carbs and sugar.
Nutrition
Calories:
723
kcal
Carbohydrates:
4.5
g
Protein:
12
g
Fat:
66.8
g
Sugar:
3.9
g
Did you make this recipe?
If you tried this recipe, please give it a 5-star rating! To do this, just click on the stars above.
Online Diet/Health Coaching:
Although I am not currently taking clients for diet & health coaching, I have been a coach for many years with the online service called coach.me. It is a great platform for all kinds of coaching – anything from specific diets, writing a blog, getting up early, or getting rid of that pesky procrastination.
There are some wonderful coaches and the testimonials will tell you what you need to know. Contact me at [email protected] to get a referral to some of the tested, experienced online coaches on Coach.me
If you'd like to start with a plan for a low carb or keto lifestyle, check out this detailed guide in ebook form. It may be all you need to lose weight on this lifestyle. Or it may be used as a supplement to one-to-one coaching.