While it is not too difficult to modify a typical Mexican "dinner" to be low carb, low carb Mexican desserts are challenging. Churros, tres leches cake and sopapillas just don't work well for low carb options. However these awesome Mexican Chocolate Pots de creme, are relatively low on the sugar and carb scale. And they are delicious!!
Jump to:
RECIPE
What is Pot de crème
Which Chocolate is Best?
Best Dairy to Use
More Low Carb Custards
Common Questions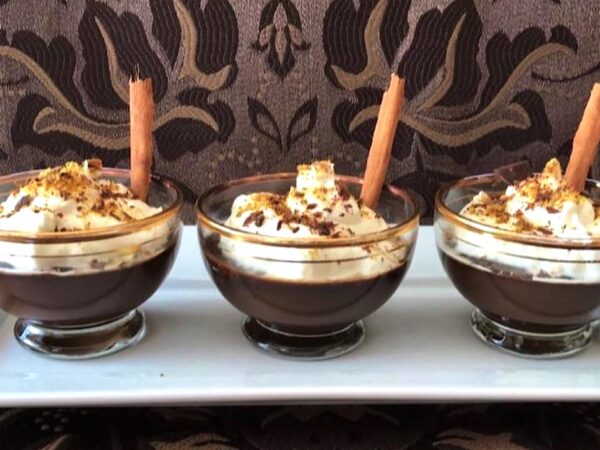 This post may contain affiliate links, and you can read our disclosure information here–
What are Chocolate Pots de Crème?
Chocolate Pots de Crème is a classic French custard, baked in a water bath and typically served in small elegant little pots.
They are quite rich, and deeply chocolatey, made with only a few ingredients, including heavy cream, chocolate, sugar and eggs.
Pot de crème is sometimes compared to chocolate mousse, but chocolate mousse is lighter and airier and not baked or steamed like the Pot de crème.
Best Chocolate for Mexican Low Carb Chocolate Pots?
I tested these chocolate pots with 3 different kinds of chocolate to see which made the tastiest dessert. Here are the pros and cons of each chocolate that I tested:
Mexican chocolate discs
The Mexican version of these chocolate custards would typically use the Ibarra chocolate discs. This is the chocolate most often used in Mexican hot chocolate. They are heavily flavored with cinnamon and they are rich and wonderful.
The problem is… there is 15 grams of sugar in .78 ounces and a typical recipe for Mexican Chocolate Pots calls for 6 ounces. That's a lot of sugar and definitely not low carb or keto!
I did make the first round of Mexican chocolate pots with Ibarra chocolate however (just so I could have a control batch for the cinnamon and spices lol). They were great but I had to give them away as quickly as possible to get them out of my kitchen and out of my sight before I went on a sugar binge.
Bittersweet Chocolate with no Sugar
The next round of chocolate pots de crème was made with bittersweet chocolate and no sugar but a lot of vanilla and spices to try and make up for the lack of sugar.
These were "OK" but fairly bitter and nothing to write home about. The bittersweet chocolate was so strong that it was difficult to taste the subtlety of the cinnamon, vanilla and chile pepper spice.
Bittersweet Chocolate with a Sugar Substitute
Finally the third round was a major hit, both in taste and in being low carb/low sugar. I used the bittersweet chocolate again, but this time I added 1/4 cup of Truvia (sugar substitute made of Stevia and erythritol; both natural).
I also upped the ante on the cinnamon, vanilla and chipotle spice. Simply divine I must say! Magnificent would be another word. These did not leave my house.
The Truvia tamed the bittersweet chocolate enough that the bitterness was almost gone and the spices really shined.
**Pro Tip: I added a little more vanilla to the whipped cream topping, but you could add almond, cinnamon or more chile spice if you wanted to increase a particular Mexican flavor.
They are definitely not low calorie, but they are very low in carbs, and they are a treat for the table that all would enjoy.
And one last plus to these Mexican Chocolate Pots……they are EASY! Of course they got easier each time, but really they didn't take much effort at all and they are hard to mess up.
High Fat Cream for Keto Desserts
Pots de Crème are basically European custards, so you will often see a recipe that calls for double cream or crème fraiche. The typical cream used in American custard is heavy whipping cream. Here are a few differences:
Heavy cream is an American term which refers to cream with 36 per cent (or more) fat. Most American grocery stores sell 36% fat heavy whipping cream, but I have seen some that are 40%
Double cream has a higher fat content – around 48-50 per cent, and it's not commonly available in American grocery stores.
Crème fraîche, on the other hand, is cream that's had a culture added, making it slightly sour in flavor. I love the Mexican crema and use it for anything that calls for sour cream. It's around 40 per cent fat.
Keto desserts are often high fat so these creams are not an issue. If you are trying to go lower in fat you can use a combination of whipping cream and low-fat yogurt.
**Pro Tip: Dessert recipes that have whipped cream toppings often tell you to whip it into "soft peaks" vs "stiff peaks". Check out these illustrated steps for distinguishing between soft peaks and stiff peaks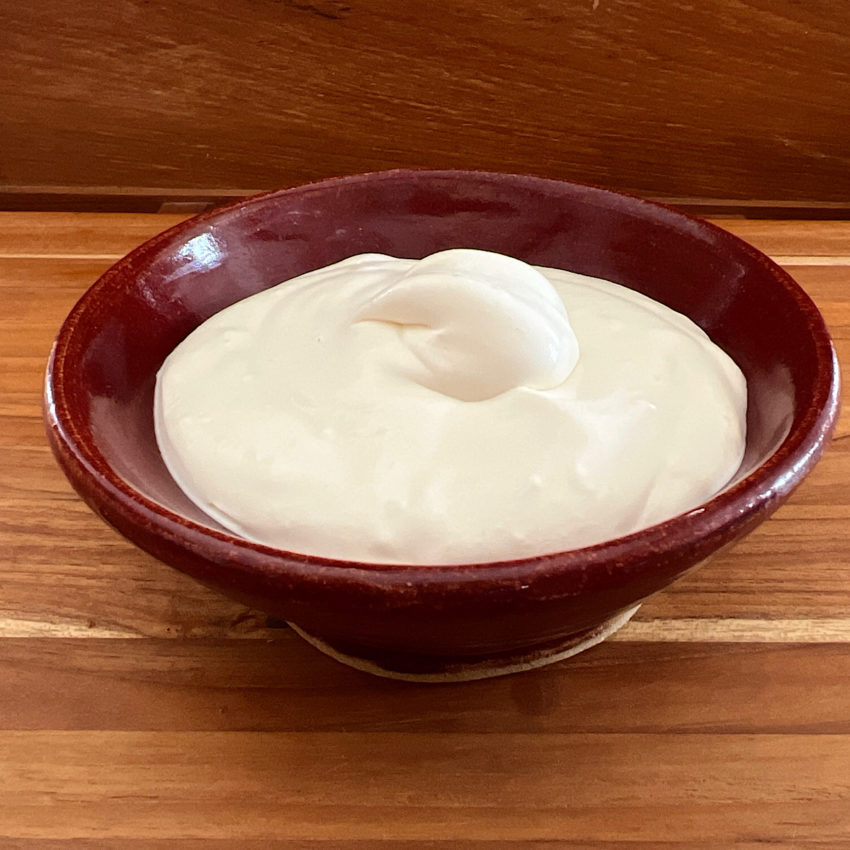 More Custard Dessert Recipes
Frequently Asked Questions:
Can chocolate pots be frozen?
Yes, in fact some people prefer them frozen (like a fudgesicle). Chill the pots in the freezer safe containers until cold, then place in the freezer, covered in plastic wrap. Once frozen, they will be quite hard; remove them from the freezer about 30 minutes before you want to serve.
What is the difference between pots de crème and custards?

A custard is made by cooking the milk and sugar base and adding whole eggs to thicken the mixture.

Pot de crème is a cooked custard that contains heavy cream and egg yolks. Most often pot de crème is steamed or made in a water bath.

A mousse is typically uncooked, with a lighter texture than a pot de creme or custard. A mousse is usually made by folding beaten egg whites or whipped cream in a cold milk and sugar base. The addition of air to the mixture leads to a fluffier consistency and lighter texture than a pot de creme or custard.
What special ingredients can you add to chocolate pots de creme?

Most often you will see recipes that add fresh raspberries to the chocolate pots, with or without whipped cream on top.

Orange and chocolate are also a great pairing of flavors and you enhance chocolate pots with a bit of orange-flavored liqueur like Grand Marnier
Recipe for Mexican Chocolate Pots
Keto Mexican Chocolate Pots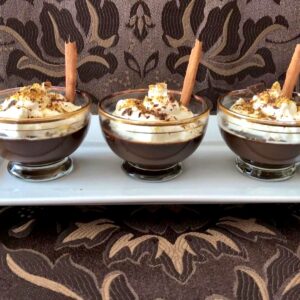 These spiced chocolate pots are rich and creamy with the chocolate flavor shining through. They are a cross between a custard without eggs and a mousse. Easy and quite delicious!
Ingredients
2

cups

whipping cream

additional 1 cup if you want a whipped cream topping

1

tsp

espresso powder

optional

¼

cup

Truvia

granulated

6

oz

bittersweet chocolate

6

eggs

¼

tsp

salt

1.5

tsp

vanilla

1.5

tsp

cinnamon

½

tsp

chile spice (I used smoked chipotle spice)

heavy cream

1 cup for topping

pistachios

crushed, for garnish
Instructions
Preheat oven to 300 degrees Fahrenheit

Pour the 2 cups of cream into a stainless steel pot, add the espresso powder and Truvia and bring to a simmer, stirring the mixture until the espresso powder and sugar substitute is dissolved (about 2-4 minutes).

2 cups whipping cream,

1 tsp espresso powder,

1/4 cup Truvia

Turn the burner off and add the chocolate bars to the warm cream mixture to melt. Stir in chocolate until smooth and creamy (bring back to a slow simmer if the chocolate is not melting).

6 oz bittersweet chocolate

Lightly beat eggs in a bowl. Add the salt, vanilla, cinnamon and chile spice to the eggs and whisk together. Stir the entire egg mixture into the warm espresso cream mix and whisk to combine.

6 eggs,

1/4 tsp salt,

1.5 tsp vanilla,

1.5 tsp cinnamon,

1/2 tsp chile spice

Put some hot water on to boil, either in a pot or a kettle. Pour the chocolate-egg mixture into small ramekins, 3/4 of the way to the top. Place the ramekins in a 13 x 9 inch baking dish and pour the hot water around the ramekins until it goes at least half-way up the sides of the ramekins.

Bake for 20 minutes. Edges should be set and the middle should be a little wiggly. Remove the ramekins from the baking dish and set on a towel as soon as you can handle them. Refrigerate for a couple of hours.
For Whipped Cream/Pistachio Topping for Mexican Chocolate Pots
Pour 1 cup heavy whipping cream in a mixer and beat until it has soft peaks (add vanilla if you wish). Place a dish towel over the pistachios and crush with a heavy mallet or bottom of heavy glass.

To serve: Dollop the whipped cream over the chocolate pots and sprinkle with crushed pistachios.
Notes
**NOTE: The Mexican version of these chocolate custards would typically use the Ibarra or Abuelita chocolate discs. This is the chocolate most often used in Mexican hot chocolate. They are heavily flavored with cinnamon and they are rich and wonderful.
The problem is… there is 15 grams of sugar in .78 ounces and a typical recipe for Mexican Chocolate Pots calls for 6 ounces.
If you are not on a low carb lifestyle, using the Ibarra chocolate will certainly make be a delicious chocolate pot for the holidays.
Nutrition
Calories:
380
kcal
Carbohydrates:
18
g
Protein:
9
g
Fat:
30
g
Sugar:
7.5
g
Did you make this recipe?
If you tried this recipe, please give it a star rating! To do this, just click on the stars above. Comments are always helpful also and I respond to all of them (except rude ones)
Online Diet/Health Coaching:
Although I am not currently taking clients for diet & health coaching, I have been a coach for many years with the online service called coach.me. It is a great platform for all kinds of coaching – anything from specific diets, writing a blog, getting up early, or getting rid of that pesky procrastination.
There are some wonderful coaches and the testimonials will tell you what you need to know. Contact me at [email protected] to get a referral to some of the tested, experienced online coaches on Coach.me
If you'd like to start with a plan for a low carb or keto lifestyle, check out this detailed guide in ebook form. It may be all you need to lose weight on this lifestyle. Or it may be used as a supplement to one-to-one coaching.