Love tarts but hate rolling out pie crusts? This crustless, low carb fruit tart with a frangipane filling is easy and not overly sweet. It can be made with any seasonal fruit you have on hand and can be enjoyed warm or cold, with or without ice cream, for breakfast or dessert!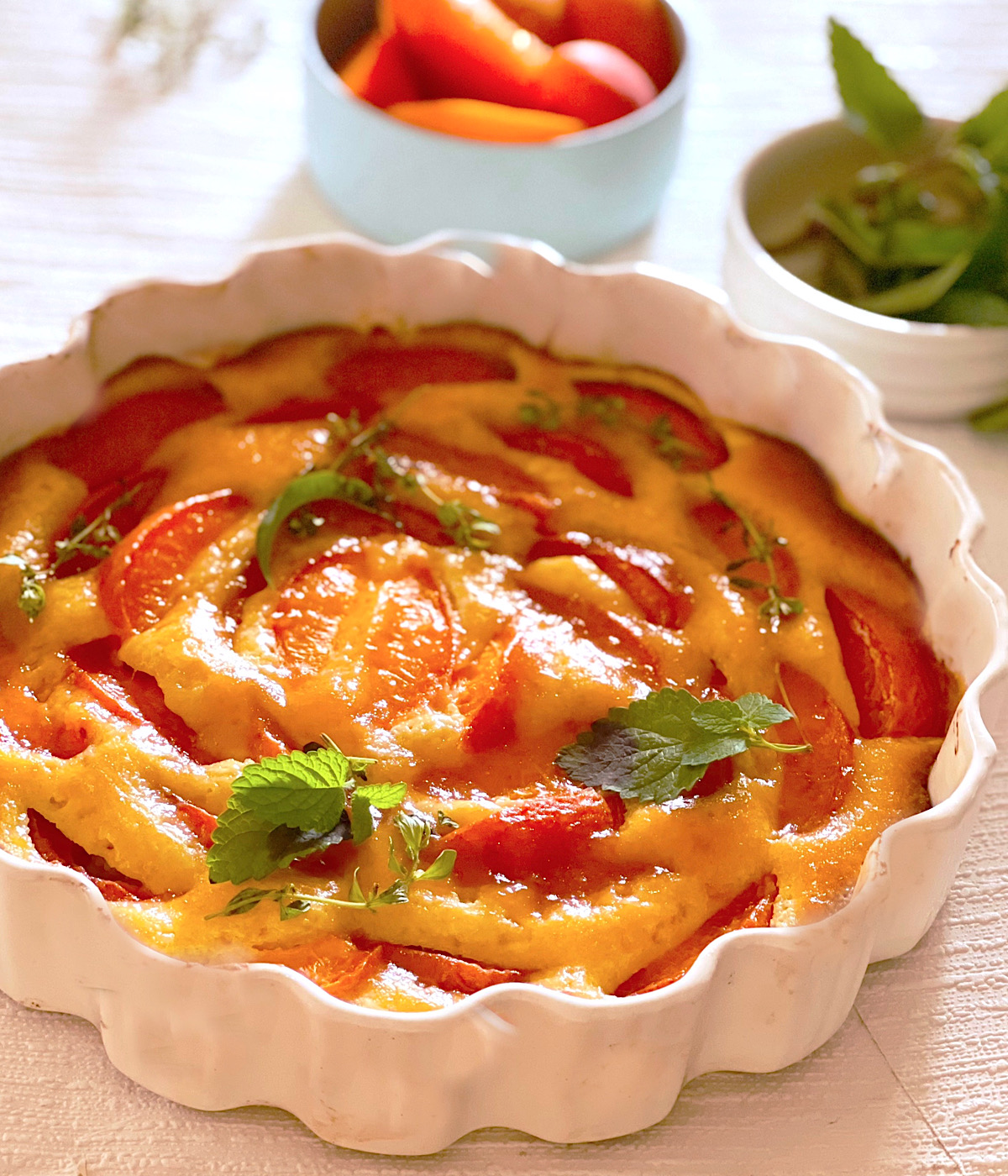 What is Frangipane?
When I scored a box of the plumpest, freshest, tastiest apricots I had ever seen, I knew I needed to make some sort of tart. I am definitely not a baker and I usually avoid carbs and hence pie doughs, but I really wanted to do good by these apricots.
I started with a classic tart using homemade shortbread dough (see photo below) and it was great. Not exactly easy for a non-baker however, and I made a mess with trying to get the dough into the tart pan. Not to mention the hassle of cutting in the butter and blind baking the dough to the perfect golden brown (which mine was not).
The recipes all said making the tart dough was easy, but I did not find it quick or easy. The other thing that the tart dough was not, was low carb. Tasty, but not low carb.
I then stumbled across a recipe for a fruit tart that included a filling of Italian origin called frangipane. Frangipane is essentially a dessert filling made from ground almonds, butter, eggs, a little sugar, and a small amount of unbleached all-purpose flour.
It is sometimes referred to as almond cream and is typically used as a filling for pastries like croissants or fruit tarts.
How to Lower the Carbs in a Fruit Tart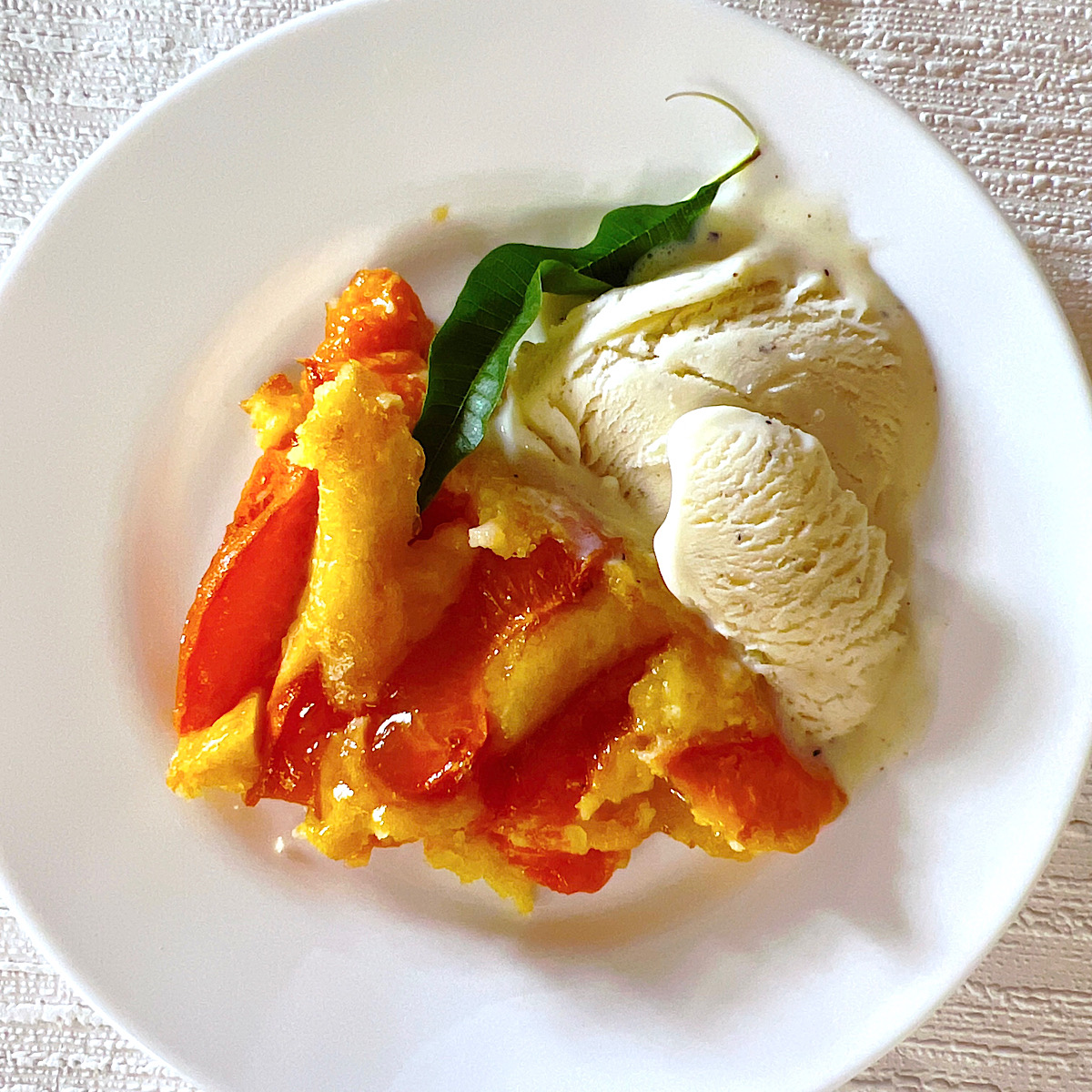 While fruit in and of itself has carbs, the crust in a fruit tart is generally the biggest culprit. After a bit of research it appeared that a frangipane alone might serve as a soft, creamy medium to hold the fruit in a "tart-like" fashion, similar to a clafoutis.
I was familiar with making clafoutis, which is basically fresh fruit (Often cherries) baked in a flan-like filling without a crust. Using frangipane as a means to a crustless fruit tart seemed to have promise. Although not low calorie, it was definitely lower in carbs and definitely easier than messing with a dough.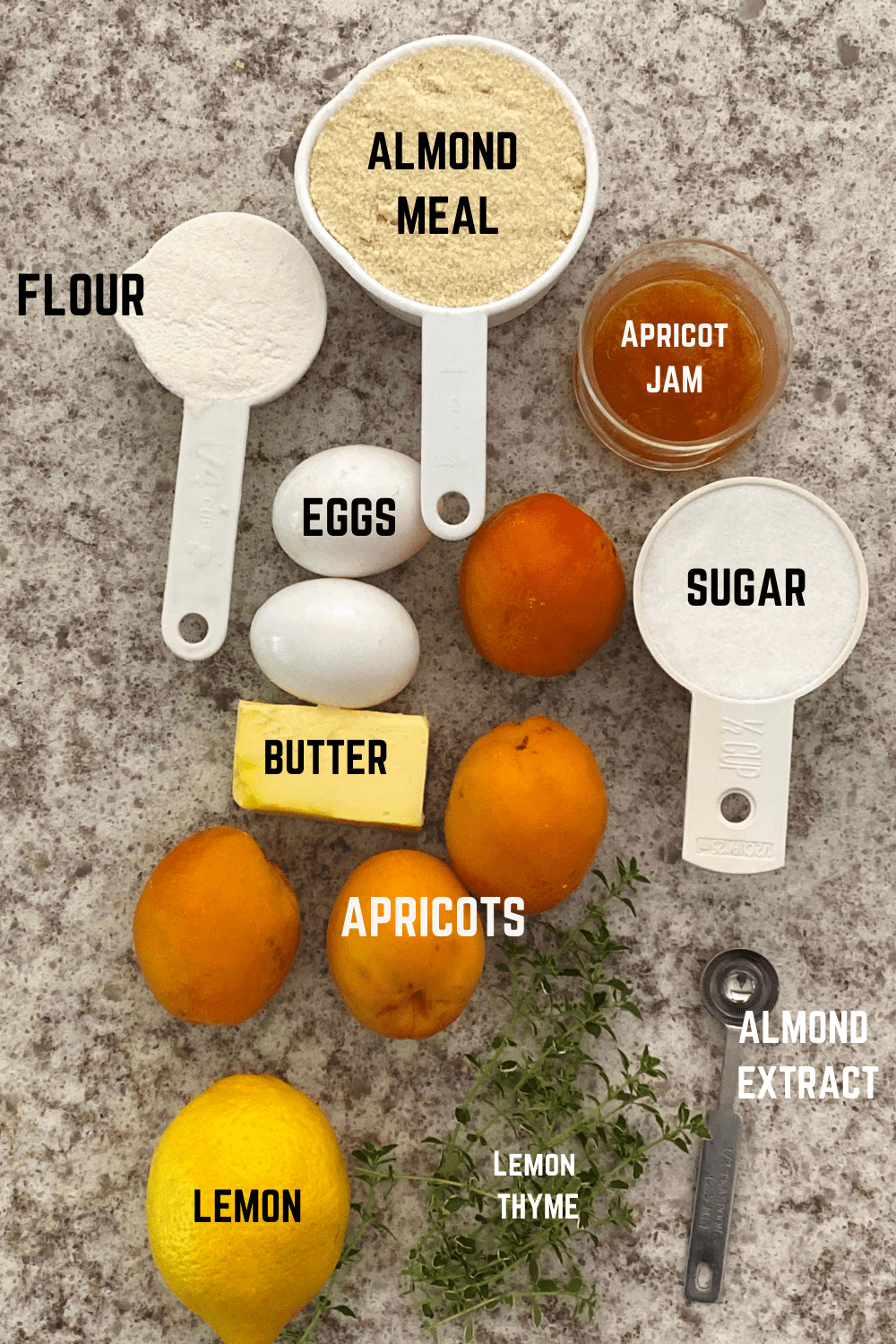 Frangipan is typically layered on top of a crust as a filling, with the fruit then placed on top of the almond cream and baked. Because this recipe is designed to lower the carbs, there is no crust, but rather just the almond cream filling baked with the fruit.
Crustless Tarts Equals Easy Tarts
The recipe is simple, and can be made with a few different methods—in the food processor, standing mixer, or stirred in a bowl by hand—but basically it calls for adding all of the ingredients at once.
There is no rolling out of dough, no blind baking a crust, no cutting in butter bit by bit, and no crimping the dough to make it pretty. It is a simple batter spread in a tart pan with fruit layered on top and then baked together. My kind of dessert!
Other Great Fruit Tart Desserts
I did make an apricot tart with a shortbread crust also and it definitely was tasty. Probably the best recipe of all would be with the shortbread crust the frangipane filling and the fresh apricots on top. If you've got the time and like to bake I'd definitely give that a try!
For the absolute easiest tart in the whole world, check out this 2-Ingredient Jam Tart
For two other crustless fruit desserts, see this Crustless Rhubarb Custard or this Low Carb Cherry Clafoutis.
And finally, for a range of award winning jams you can use in these tarts, check out HeathGlen's preserves.
Crustless Apricot Frangipane Tart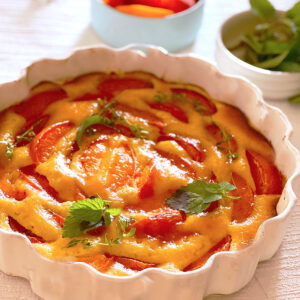 An easy, delicious way to enjoy an apricot tart without the fuss and the carbs of a pie or shortbread dough
Equipment
Round or square tart pan

About 9" diameter or 9 x 9 square

Measuring cups and spoons
Ingredients
1

Cup

Almond flour

¼

Cup

flour

regular white enriched flour

½

Cup

Sugar

4

Tablespoons

Butter

Softened

2

Eggs

1 whole egg and 1 egg yolk

1

Teaspoons

Almond extract

¼

Teaspoons

Salt

1

Teaspoons

Grated lemon zest or lemon thyme leaves

if using thyme leaves, mince them

3 ½

Cups

Sliced fresh apricots

about 1 lb or 4 medium apricots

2

Tablespoons

Apricot jam
Instructions
Preheat oven to 350 F

Using a sifter over a large bowl, sift together the 2 flours. Stir in the sugar. Add flour/sugar mix to a food processor and pulse briefly to combine. Add the softened butter to the food processor and pulse to combine.

Add the whole egg plus the egg yolk to the food processor, along with the almond extract, salt and lemon zest (or the lemon thyme) and pulse until everything is combined. This is the frangipane.

Grease the bottom of the tart pan with a little butter and spread the frangipane along the bottom.

Cut apricots in half, remove the pit and slice each half into quarter slices. Arrange on top of the frangipane in a pretty pattern.

Bake at 350° F for 35-40 minutes.

Mix 2 Tbsp apricot jam with 1 Tbsp water and brush over the tart with a pastry brush to glaze. Let cool and if desired dust with some powdered sugar. Serve alone or with ice cream or whipped cream.
Nutrition
Calories:
155
kcal
Carbohydrates:
23
g
Protein:
3
g
Fat:
6
g
Saturated Fat:
4
g
Polyunsaturated Fat:
0.4
g
Monounsaturated Fat:
2
g
Trans Fat:
0.2
g
Cholesterol:
50
mg
Sodium:
122
mg
Potassium:
179
mg
Fiber:
1
g
Sugar:
19
g
Vitamin A:
1378
IU
Vitamin C:
6
mg
Calcium:
17
mg
Iron:
1
mg
Did you make this recipe?
If you tried this recipe, please give it a 5-star rating! To do this, just click on the stars above.