An heirloom tomato crostata (aka glaette) is a beautiful, savory way to enjoy the best days of Summer tomatoes. The crust is an easy biscuit dough, but if you want truly quick and easy, pick up some store-bought pastry dough. Just be sure and use the tastiest, freshest tomatoes available, heirloom tomatoes if possible. Top it off with herbs and a soft cheese and you have a delicious freeform tart for Summer or Fall!
Jump to:
RECIPE
What is a Crostata?
Ingredients & Substitutions
Tips for Successful Freeform Tarts
Add Beauty to the Dish
This post may contain affiliate links, and you can read our disclosure information here–
Crostata vs Galette vs Tart
The terms crostata and a galette are often used interchangeably to describe a rustic, freeform tart which is made with either a sweet or savory filling. Crostata refers to the Italian version of this dish, whereas galette is the French version.
A tart (or pie) generally is made in a pie shell with sides giving it some structure, whereas a crostata or galette is baked flat on parchment paper atop a cookie sheet or sheet pan.
The dough is folded up around the filling so that it holds itself together, resulting in a rustic, uneven crust. This is ofter referred to as a "pleated" crust. This method of making a crust means every crostata will look a bit different, which is part of the charm.
The filling itself can be sweet or savory — such as fruit tossed with a bit of sugar, or tomatoes paired with cheese and herbs (like the recipe below). This tomato tarte tatin is another delicious way to enjoy tomatoes in pastry, but it is a bit sweeter than the galette.
One of my favorite food memories from Denver, Colorado is a sweet plum crostata I got at a farmers' market. Yum!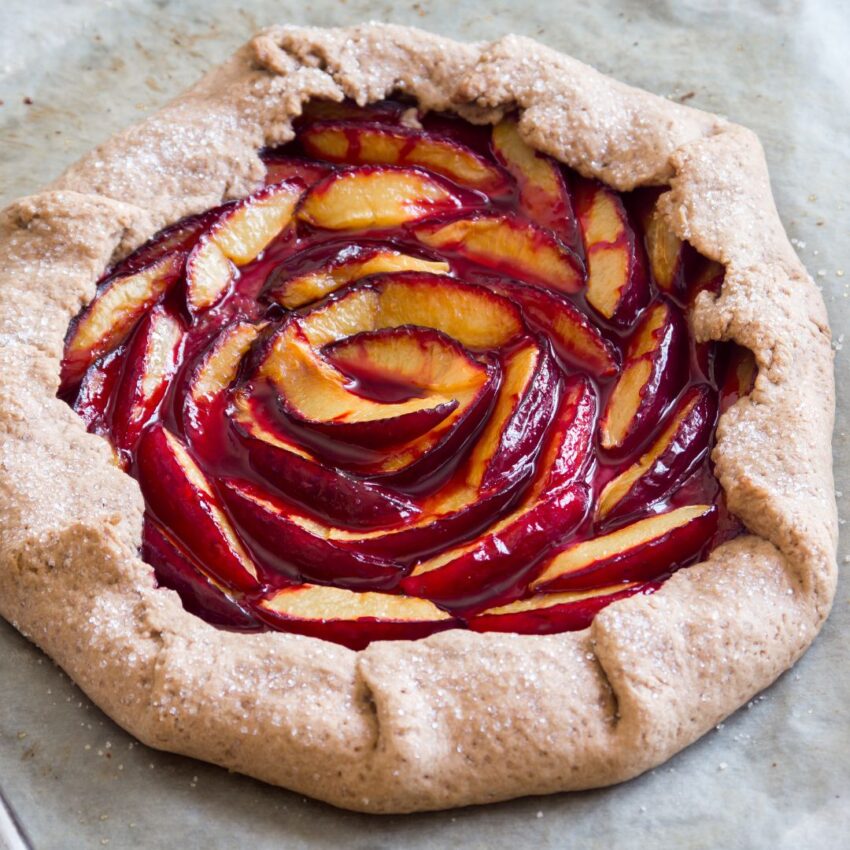 Ingredients and Substitutions
The dough: I chose to modify a buttermilk biscuit dough recipe from Fine Cooking. Because buttermilk often tends to be a single purpose ingredient that then goes to waste, I substituted a Mexican sour cream instead. Greek Yogurt could also be used.
Just be sure to add a little bit of water to the sour cream or yogurt to give it the consistency of buttermilk or your dough will not stick together enough. Just a little water though – no wet dough!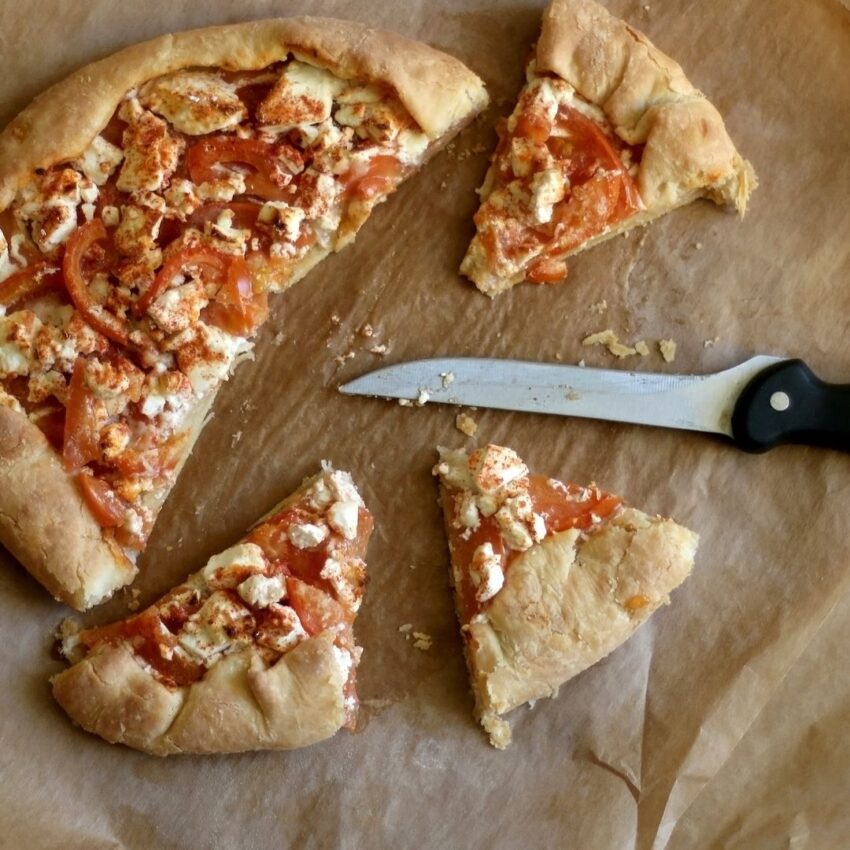 The tomatoes: Of course you don't have to use heirloom or heritage tomatoes, but rather you can use your favorite tomato variety. A few things to consider however:
I would not recommend a roma type, because even though they hold together well while cooking, they don't have the flavor profile of a good meaty slicer type of tomato.
Select slicer or beefsteak types of tomatoes that are noted as being "meaty" rather than "juicy"
I prefer a higher acid tomato (Druzba is my favorite) to bring out the robustness that can sometimes be lost when using a sweet tomato with all the cheese.
Tips for Success
Dust the parchment paper with cornmeal (or AP flour) before rolling out the dough and then dust the top of the dough with cornmeal before placing the tomatoes on it. It will help you lift the dough edges when pleating and it will help prevent a soggy crust.
Salt the tomatoes and let them sit for 15-20 minutes before using to bring out the water and juice. Pat dry before using them. This will also help prevent a soggy crust
Don't pile the tomatoes and cheese too high. Crostatas and galettes are freeform pies and do not have a rim or a structure that keeps the sides in tact. Too much filling makes a mushy crostata.
The crust of a crostata is fairly thin and will burn quicker than a pie crust. Since all ovens are a bit different, check on your crostata during the bake time and remove when the crust is golden brown. Use the middle rack. It should take 20-25 minutes at 425, but some recipes are longer times with lower heat.
If you tear the dough while bringing it up around the tomatoes, simply put a little water on your fingers and rub the dough to "patch" it up
Brushing dough with a quick egg-wash is the secret to getting that shiny, lacquered glow to your crostatas, galettes or pie crusts. Whisk one egg with a fork, then use a pastry brush to cover the exposed crust before baking.
Adding Beauty to a Rustic Crostata
While crostatas are rustic and will taste great no matter what they look like, it's always fun to make your dishes beautiful also. Here's a few tips:
Use a range of colors of the tomatoes, and remember that the prettiest ones go in the center where the filling will show
For savory crostatas use an egg wash (a whisked up egg white) on the top of the crust and dust with kosher salt. For sweet galettes, sprinkle with sugar instead of salt (large crystals of sugar if you can find it)
Btw, I grow heirloom tomatoes for farmers' markets and have developed a huge range of tomato recipes that make the best of this well-loved fruit. Check out some of the best of the tomato recipes (some are much easier than this crostata!).
If you're a fan of growing your own tomatoes, check out some of these detailed posts on how to grow your own food, whether in a pot, a greenhouse or a garden.
Heirloom Tomato Crostata (Galette)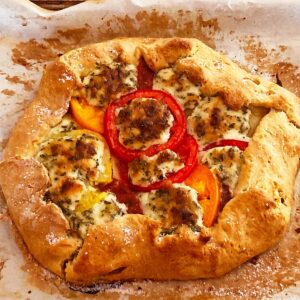 Step by step tutorial on making a rustic tomato crostata with an herbed, flaky crust and a tomato and cheese filling.
Ingredients
1 ½

Lb

Meaty tomatoes

I used 5 medium sized heirloom varieties

1

Tablespoon

kosher salt

1 ¾

Cup

Flour

I used AP flour, you could try with almond flour

2

Tsp

Baking powder

1

Tsp

Sugar

½

Tsp

Baking soda

½

Tsp

Salt

6

Tbsp

Unsalted butter

Cold; 6 Tbsp = 3 oz

¾

Cup

Sour cream

I used Mexican sour cream

¼

Cup

Water

2

Tbsp

Cornmeal

⅔

Cup

Cheese

I used gruyere but gouda, etc. is fine

⅓

Cup

Mayonnaise

1

Tsp

Rosemary

Minced

1

Tsp

Thyme

Minced
Instructions
Preheat oven to 425° F. Slice the tomatoes fairly thickly and lay out flat on paper towels. Sprinkle the tomatoes with kosher salt and let them sit for 15-20 minutes to draw out the water and concentrate the tomato flavor.

1 Tablespoon kosher salt,

1 1/2 Lb Meaty tomatoes

In a stand mixer with a paddle attachment combine the flour, baking powder, sugar, baking soda and salt. Blend until dry ingredients are combined.

Now over the bowl of the stand mixer, cut the cold buter into small pieces and let them drop into the bowl. Blend the butter and dry ingredients until the mixture looks like pea-sized bits of butter.

1 3/4 Cup Flour,

2 Tsp Baking powder,

1 Tsp Sugar,

1/2 Tsp Baking soda,

1/2 Tsp Salt,

6 Tbsp Unsalted butter

Whisk together the sour cream and water so that it is the consistency of buttermilk (add more water if sour cream (or yogurt) is really thick, but be careful not to get it too wet).

Fold the sour cream mixture into the flour/butter mixture and form into a 5-inch round. The dough will be sticky.

3/4 Cup Sour cream,

1/4 Cup Water

Place some parchment paper on the countertop and sprinkle with cornmeal.

Knead the 5" dough ball 6-8 times, place on the parchment paper and roll out with a rolling pin to a 13-inch round. Dust the rolling pin with flour when it starts to stick to the dough.

When finished rolling out, sprinkle about a 9-inch circle of the dough with remaining cornmeal, leaving out about 1 1/2 inches around the outside edges. This is to keep the tomato filling from getting too soggy.

Transfer the parchment paper with the dough onto a sheet pan.

Pat the tomatoes dry and arrange them in a concentric circle on the 9-inch portion of the dough, overlapping a bit if necessary.

In a small bowl, combine cheese, mayonnaise and herbs. Dollop a bit of the cheese mixture on top of the tomatoes

2/3 Cup Cheese,

1/3 Cup Mayonnaise,

1 Tsp Rosemary,

1 Tsp Thyme

With your hands, gently fold the dough up around the filling, forming "pleats" where it overlaps. It will be freeform and rustic. Do not fret.

See the youtube video in the notes section for a detailed look. Wet your fingers with water and rub the dough to patch any holes.

For a really pretty look, brush some whisked up egg on the dough and sprinkle lightly with kosher salt.

Bake 20-25 minutes until golden crust. Check to make sure cheese and crust are not getting too dark.
Video
Heirlooom Tomato Crostata (or Galette) - Easy Step by Step Tutorial
Nutrition
Calories:
157
kcal
Carbohydrates:
26
g
Protein:
6
g
Fat:
4
g
Saturated Fat:
2
g
Polyunsaturated Fat:
0.3
g
Monounsaturated Fat:
1
g
Cholesterol:
9
mg
Sodium:
1156
mg
Potassium:
341
mg
Fiber:
2
g
Sugar:
3
g
Vitamin A:
815
IU
Vitamin C:
12
mg
Calcium:
126
mg
Iron:
2
mg
Did you make this recipe?
If you tried this recipe, please give it a star rating! To do this, just click on the stars above. Comments are always helpful also and I respond to all of them (except rude ones)
Online Diet/Health Coaching:
Although I am not currently taking clients for diet & health coaching, I have been a coach for many years with the online service called coach.me. It is a great platform for all kinds of coaching – anything from specific diets, writing a blog, getting up early, or getting rid of that pesky procrastination.
There are some wonderful coaches and the testimonials will tell you what you need to know. Contact me at [email protected] to get a referral to some of the tested, experienced online coaches on Coach.me
If you'd like to start with a plan for a low carb or keto lifestyle, check out this detailed guide in ebook form. It may be all you need to lose weight on this lifestyle. Or it may be used as a supplement to one-to-one coaching.