This is truly a unique taste treat that will surprise and delight you. The heirloom tomatoes cook in the caramel until tender, but they manage to retain their fresh tomato flavor at the same time. Combine that with a sweet crunchy pastry crust and it is the essence of a delicious, special Summer dessert!
Jump to Recipe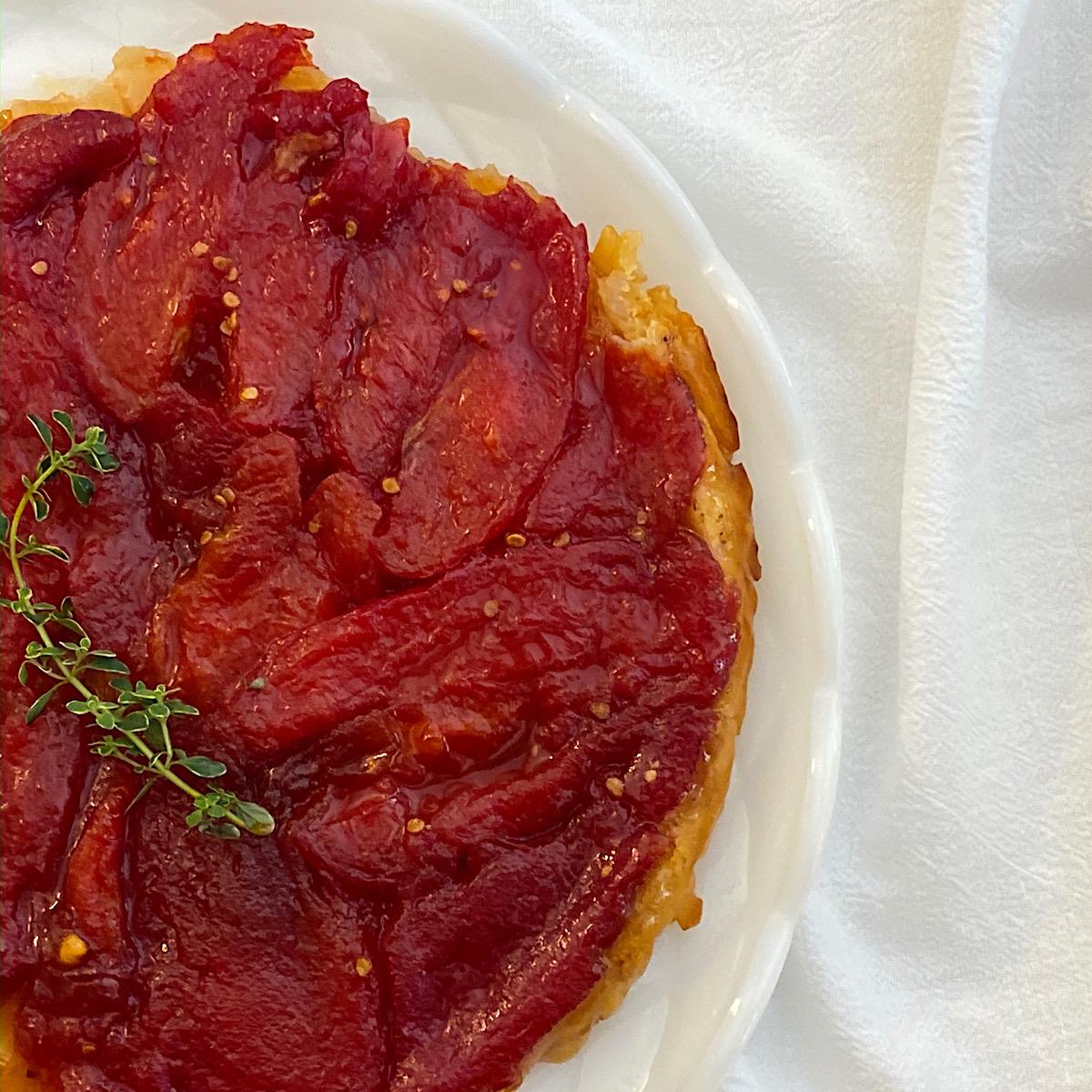 Is This Dessert Easy or Difficult?
There is really only one thing that is difficult about this dessert, and that is the part where you flip the pan and the tart releases easily and comes out perfect. I have made this recipe three times so far. One of the three was perfect, and the other two had a few tears in the crust.
I have to say however, that the "taste" of all three was absolutely perfect in every way. Sweet with a hint of savory, a caramelized but flaky crust to die for, and the surprise factor of tomatoes as a dessert (they are fruits after all).
Part of the reason the flip was difficult for me is that a cast iron skillet is heavy and doesn't lend itself to easy flipping. I think next time I try this dessert I will use a lighter stainless steel pan. The key is to make sure you have loosened the crust from the sides of the pan, as the caramelization can seep through and make the stick to the pan.
Other than the "flip", this recipe is quite easy. Just spread butter and sugar over the bottom of the pan, add the tomatoes on top and cook for 20 minutes. The puff pastry dough is store bought and doesn't require any rolling. It is the perfect size and it is easy enough to pick up and place over the tomatoes without tearing.
5 Ingredients for Caramelized Tarte Tatin
The ingredient list is pretty simple: tomatoes, butter, sugar, puff pastry and vanilla. You could add your favorite herbs to the dessert or you could add a little balsamic vinegar along with the vanilla. Both would be delightful.
I used an heirloom Roma tomato called "Opalka" as it is my favorite heirloom tomato for cooking. It is very meaty with few seeds but I think it has much more flavor than typical Roma types. You could use slicer tomatoes also, but cut them pretty thick if you do.
The recipe below is adapted from a recipe found in Bon Appetit magazine
Caramelized Tomato Tarte Tatin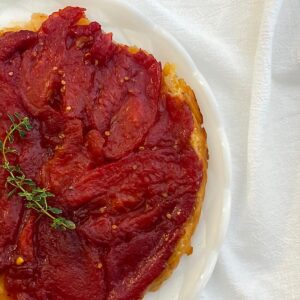 A step-by-step recipe on making a Tarte Tatin dessert with heirloom tomatoes
Ingredients
2

lbs.

meaty tomatoes

I used an heirloom Roma called Opalka. Romas work well due to being meaty with few seeds

3

Tbsp

unsalted butter

room temperature

¾

cup

sugar

1

tsp.

pure vanilla extract

1

sheet frozen puff pastry

half of 17.3-oz package, thawed, corners cut to make very rough 9-10-inch round

3

sprigs

fresh thyme

optional, can use any herb

1

tsp

balsamic vinegar

optional
Instructions
Preheat oven to 425 degrees. Bring large saucepan of water to boil and get a large bowl of ice water ready. With a sharp knife cut a shallow X in the blossom end of each tomato. Gently drop the tomatoes into the boiling water until skins begin to peel back (30-60 seconds). Using slotted spoon, transfer blanched tomatoes to bowl of ice water to cool quickly.

Peel tomato skins off (see photo). Cut off end of tomato, slice tomatoes lengthwise into thick slices and remove the hard white core if there is one. Remove most of the seeds with your fingers.

If the butter is soft enough, spread it over the bottom of a 9" ovenproof skillet as evenly as possible using a pastry brush. If it doesn't spread well, let it melt very slowly in the pan over very low heat. Do not let it burn. Sprinkle 3/4 cups sugar over the butter. Arrange the tomatoes in concentric circles in the skillet, cutting off pieces of tomato here and there to fill in any gaps. Tomatoes should cover the entire skillet.

Cook about 20-25 minutes over medium heat. The caramel will bubble up around the tomatoes and form a thick amber syrup, about 1/4 inch deep. Gently move the tomatoes around occasionally to prevent burning, and cook about 20-25 minutes. The first time I made this I loosened the tomatoes as they cooked and it came out beautifully. The second time I just let them cook in the caramel and they stuck to the bottom when I inverted it. It was a mess (a tasty mess however).

Remove skillet from heat and immediately drizzle vanilla over tomatoes. Top with the pastry round. You can tuck the edges of the pastry in with a knife or just let the pastry lay on top of the tomatoes with about 1/2 inch ring of caramel exposed around the pan. When I tucked it in, the pastry puffed up and made a rounded tarte bottom rather than flat. Both ways work. Cut 2 or 3 slits in the pastry also

Place the skillet in the oven and bake until pastry is deep golden brown, about 20-25 minutes.

Cool tart in skillet 10 minutes. Cut around sides of skillet to loosen pastry. Place large plate over skillet and, using oven mitts as aid, hold skillet and platter firmly together and invert upside down. Allow tart to settle onto platter. Hit bottom of skillet several times with end of knife to loosen the tart also. Carefully lift off skillet. Rearrange any tomato halves that may have become dislodged.

Serve tart warm or at room temperature.
Nutrition
Calories:
302
kcal
Carbohydrates:
37
g
Protein:
3
g
Fat:
16
g
Saturated Fat:
6
g
Cholesterol:
11
mg
Sodium:
83
mg
Potassium:
287
mg
Fiber:
2
g
Sugar:
22
g
Vitamin A:
1078
IU
Vitamin C:
16
mg
Calcium:
16
mg
Iron:
1
mg
Did you make this recipe?
If you tried this recipe, please give it a 5-star rating! To do this, just click on the stars above. And don't forget to tag me at @dorothy_stainbrook_heathglen, if you share a picture on Instagram! You can also tag me at #heathglen!
As heirloom tomatoes are one of our market crops at the farm, you can find a huge range of tomato recipes here, from fresh salads to Fall stews.