Quinoa is an ancient grain that has regained popularity, partly due to the acclaimed health benefits but also due to its excellent nutty flavor profile. This quinoa salad enhances the nutty flavor with roasted cherry tomatoes, pine nuts and black olives.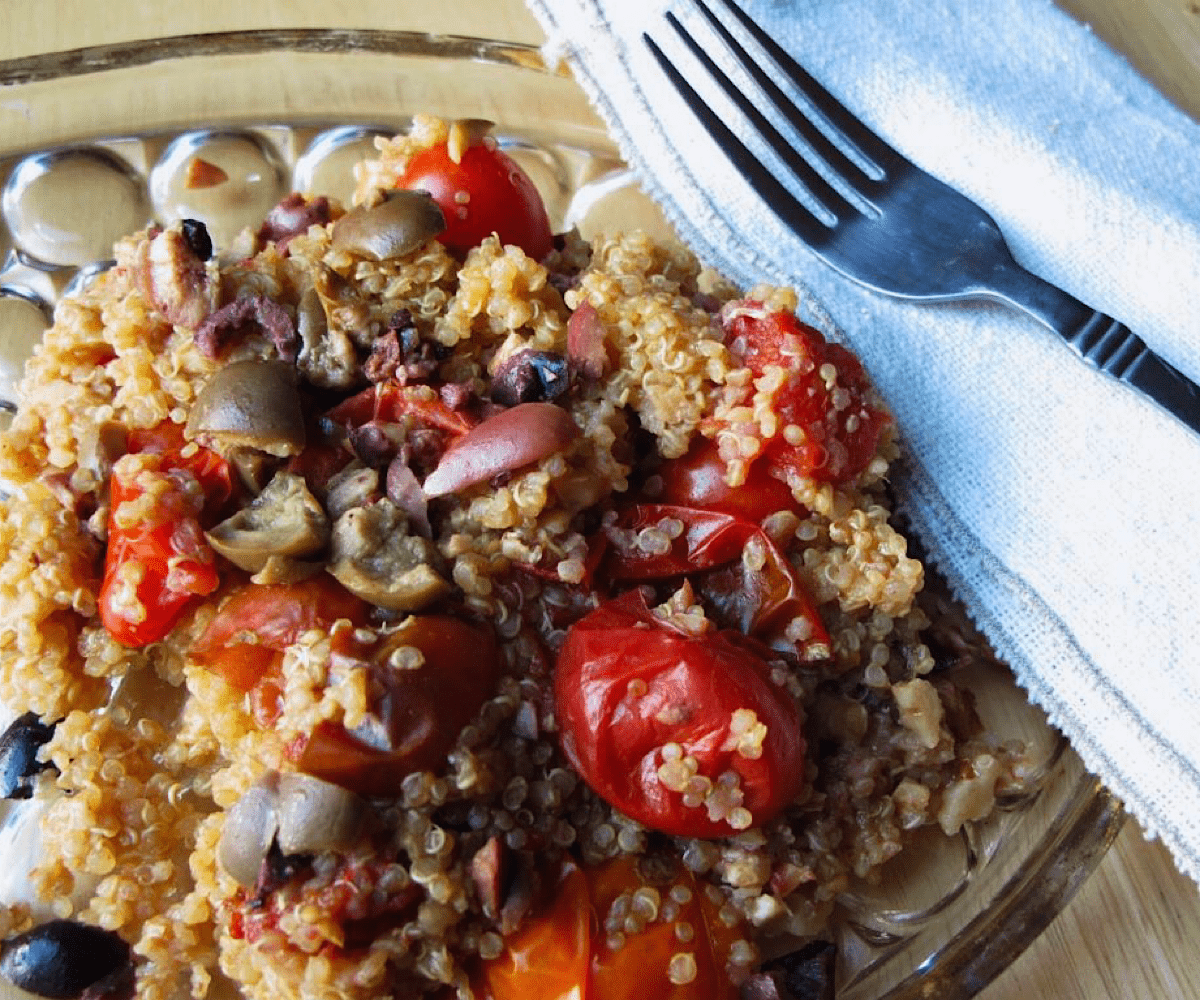 Quinoa Salad with Roasted Cherry Tomatoes, Pine Nuts & Olives
Ingredients:
1 cup quinoa, rinsed
3 cups vegetable broth
16 oz cherry tomatoes (heirloom cherries are great, but mix it up for color and flavor)
1/2 cup pitted kalamata olives, roughly chopped
1 tsp cumin, freshly ground if possible
1 tsp fresh thyme, chopped
1/2 tsp paprika
1/2 tsp salt (or, to taste)
1/2 cup pine nuts, roughly chopped (she used walnuts)
Directions:
Preheat oven to 400.
Spread the nuts out on a foil-lined sheet try and toast for 3-5 minutes, until golden. Remove and place toasted walnuts in a mixing bowl.
Spray foil with cooking spray and place cherry tomatoes on top. Roast tomatoes for about 30 minutes, or until they have burst and charred. Cool slightly and place the tomatoes in the same bowl with the walnuts.
Combine the quinoa, vegetable broth and spices in a saucepan over high heat. Bring to a boil, then reduce heat and simmer for 15 to 20 minutes, or until quinoa has absorbed all the liquid.
Add the quinoa to the nuts and tomatoes and stir in the olives. Season with salt to taste.
Serve chilled or at room temperature.
This kept its flavor well, even after refrigerating it with the tomatoes.
Enjoy! Next up is some kind of Tomato Pie. Do you have any favorites for tomato tartin or tomato pies? I'd love to hear from you on any of your favorite tomato recipes. We have about one month left for the fresh tomatoes, and then it's on to the dried Principe Borghese and the tomato chutney recipes!