This crisp, tart Jicama tomatillo slaw is a great side dish for many Mexican or Caribbean dishes. It's basically a fresh, "chopped salad" made with sweet crunchy jicama, tart tomatillos and granny smith apples. This recipe is for the jicama slaw dressed with a creamy jerk aioli and served with breaded fish fillets.
Jump to:
RECIPE
What is Jicama?
What is Aioli?
How to Cook with Jicama
Health Analysis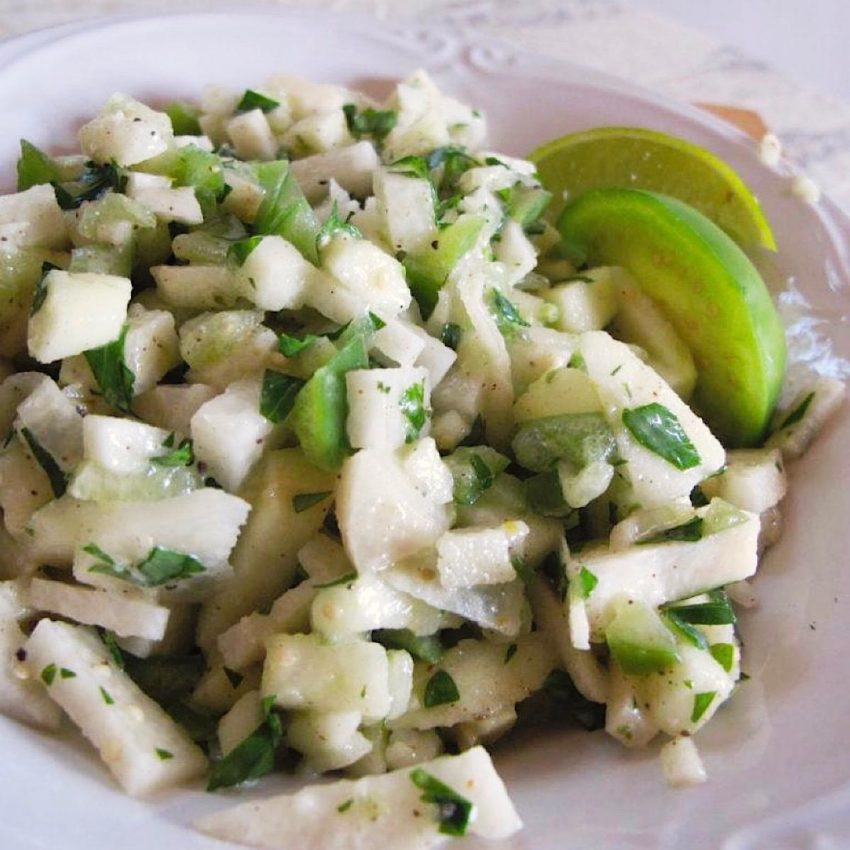 What is Jicama?
Jicama is a root vegetable that looks similar to a turnip or rutabga but is sweeter and is most often served raw. The flavor is sometimes likened to a cross between a water chestnut and an apple.
It is pronounced (HEE-kah-ma), and is native to Mexico. In Central America, jicama is often sold by street vendors as a raw snack seasoned with a chile lime powder.
What is Aioli?
In Mediterranean cultures, a traditional aioli refers to an emulsified sauce made from olive oil and mashed garlic and salt.
This traditional aioli sauce made by hand has, over time, morphed into a spread or a dip with mayonnaise as the base. Often it will still include mashed garlic, but it can now be found with any number of creative seasoning mixes.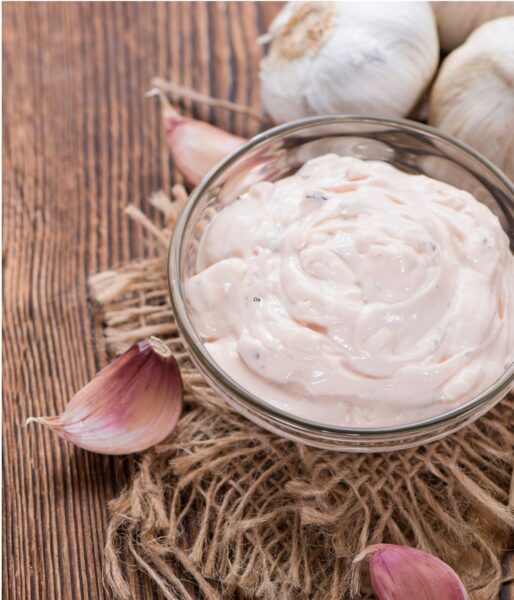 You can spice it up with hot chile peppers, warm ginger, umami fish sauce, etc.
In the recipe below I have added a jerk seasoning blend which turned out really nice. I also tried it with a homemade chile-lime salt (Tajin), which was a brighter taste but equally delightful.
Aioli is used to enhance all kinds of food, but is commonly used as a spread for breads, a dip for fries, or a drizzle over vegetables. In this case I used it as a dressing for the jicama slaw and as a spread on a fish sandwich. Talk about versatile!
Best Recipes for Jicama
Jicama is pretty versatile due to its mild flavor and satisfying crunch. It lends itself to a wide array of snacks, side dishes and toppings. Here are a few of my favorite recipes:
a topping on a Baja taco
Jicama fries
Mexican street food (raw jicama with lime and Tajin)
Jicama and mango salad
Jicama matchsticks for dipping in guacamole
The recipe below is a simple slaw made with jicama, dressed with aioli an served with breaded fish. It's easy and the combination of these flavors works remarkably well.
How to Prepare Jicama
Although quite popular in Mexican and Caribbean cuisine, in the United States jicama is less common and may intimidate home cooks who've never tried it.
To prep, remove the tough brown skin using a sharp paring knife or a vegetable peeler. The skin is pretty fibrous and can get matted up in the vegetable peeler, so I cut off both ends of the jicama off, as that is the most fibrous part.
Then cut the white flesh into cubes or strips (often referred to as matchsticks) with a sharp knife. Unlike many vegetables, jicama does not brown or become soggy after cutting.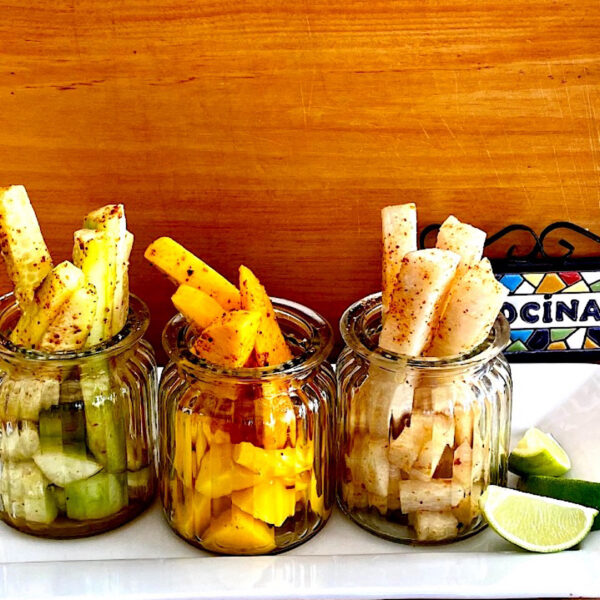 While it is popular to serve this crisp vegetable raw with a dip or in a salad, you can also use quick-cooking methods that allow jicama to keep its crispness (like indoor grilling or stir-frying).
Where can you Grow Jicama?
Jicama is commercially grown in Puerto Rico, Hawaii, and Mexico and in some warmer areas of the southwest United States. It is sensitive to frost and does best in warm climates with a medium amount of rain.
I'm giving it a go here in Minnesota and started it from seed in mid-March. If we have a long summer I might be able to pull it off. Here's what the jicama seedlings look like:
The vines of the plant can grow up to 20 feet in length, but the leaves and seeds are actually toxic. The root is the only edible portion of the entire plant.
All of the jicama found in US markets is produced in Mexico. There has been some interest in producing it in California, but hasn't been very successful. Many of the efforts in California resulted in luxurious vine growth with prolific flowering, but with low quality fibrous taproots.
A long, warm growing season under relatively short day length is required to initiate good quality fleshy root development. Past efforts in California were successful under unusually warm October and November conditions.
How to Store Jicama
You can usually find jicama in the produce section of most supermarkets and in Latin American markets. Select firm, dry jicama roots. The skin should not appear shriveled, bruised, or blemished.
Jicama should stay fresh for about two weeks when stored in the refrigerator. Cover any exposed areas with plastic wrap to minimize air exposure.
Is Jicama Low Carb or Healthy?
With respect to health, jicama is rich with a prebiotic called inulin, which is a benefit to gut health. It is also rich in Vitamin C and Vitamin A, and is often referred to as one of the "superfoods".
Most root vegetables are starchy and are not "low carb" if you are counting the overall amount of carbs. The amount of fiber in root vegetables (and in jicama) however, mitigates the impact of the carbs in relation to glycemic response.
The following nutrition information is provided by the USDA for 1 cup (120g) of raw jicama slices.
Calories:46
Fat:0.1g
Sodium: 5.2mg
Carbohydrates:11g
Fiber:5.9g
Sugars:2.2g
Protein: 0.9g
Because of the high fiber content in jicama, it is considered a low glycemic food. The glycemic load of this vegetable is approximately 10. A glycemic load of less than 10 is thought to have little effect on blood glucose response.
Naturally low in calories at 25 calories per ½ cup serving, jicama is also fat free, low in sodium, and a superb source of fiber.
Similar Recipes that are Popular
For other recipes using a jerk seasoning mix, check out this chicken sheet pan dinner or this creole jambalaya.
And another great way to use fresh jicama is this Mexican Street Food recipe with Tajin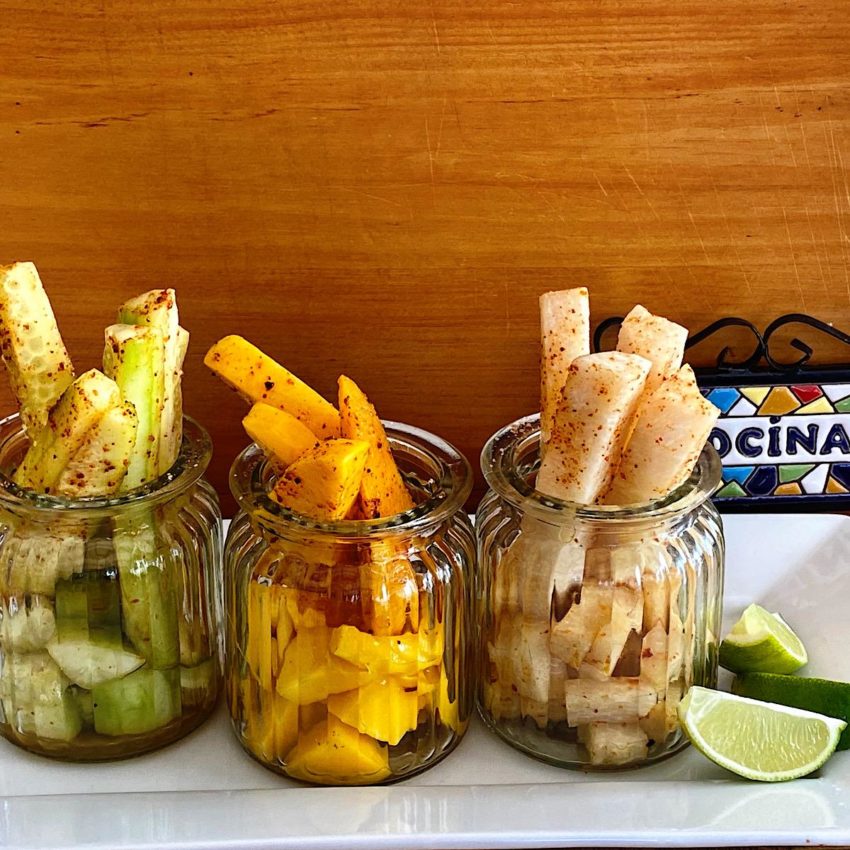 Recipe for Jicama Slaw with Breaded Fish
Jicama Tomatillo Slaw with Breaded Fish
This crisp, tart salad is a perfect side dish to most Mexican dishes, and is a great topping for a fish sandwich or as a stand-alone summer lunch
Ingredients
1

cup

mayonnaise

2

tsp

jerk seasoning mix

see notes for homemade blend

1

small

jicama

peeled and thinly chopped or julienned

5

tomatillos

peeled and chopped

1

cup

granny smith apples

peeled & sliced into thin matchsticks

1

lime

juiced

½

cup

cilantro

chopped or minced

½

tsp

salt

or to taste
For breaded fish filets
2

Tbsp

refined olive oil

2

eggs

lightly beaten with wire whip

1 ½

cup

panko crumbs

4

4-oz

Tilapia filets

Can use other white fish
Instructions
In a small bowl, mix together the mayonnaise and the jerk seasoning (see notes below for homemade jerk seasoning).

1 cup mayonnaise,

2 tsp jerk seasoning mix

Combine the next 6 ingredients plus 2 Tbsp of the jerk mayo mix in a large bowl (make sure everything is chopped to be bite size). Cover and place in refrigerator until ready to use.

1 small jicama,

5 tomatillos,

1 cup granny smith apples,

1 lime,

1/2 cup cilantro,

1/2 tsp salt
For breaded fish filets
Dry the fish filets thoroughly with paper towels. Heat oil to quite hot in large skillet. Dip the filets first in the beaten eggs and then in the panko crumbs and place in hot skillet.

2 Tbsp refined olive oil,

2 eggs,

1 1/2 cup panko crumbs,

4 4-oz Tilapia filets

Lightly fry breaded fish for about 2-3 minutes and then turn and fry on the other side. Transfer the fish to a plate and serve with a side of jicama salad/slaw and the extra jerk aioli.

To use in a fish sandwich, spread the aioli on heated buns, add the breaded fish on top of the bun and top the fish with the jicama slaw.
Notes
Homemade Jerk Seasoning Blend
For making your own jerk seasoning spice blend, whisk together the following ingredients:
2 teaspoons brown sugar
2 teaspoons dried thyme
1 teaspoon ground allspice
1 teaspoon salt
1/2 teaspoon pepper
2 teaspoons garlic powder
1/4 teaspoon cinnamon
2 teaspoons cayenne pepper
1 teaspoon paprika
1/2 teaspoon crushed chile pepper
2 teaspoons onion powder
Nutrition
Calories:
70
kcal
Carbohydrates:
17
g
Protein:
1
g
Fat:
1
g
Saturated Fat:
1
g
Sodium:
203
mg
Potassium:
292
mg
Fiber:
7
g
Sugar:
6
g
Vitamin A:
167
IU
Vitamin C:
31
mg
Calcium:
24
mg
Iron:
1
mg
Did you make this recipe?
If you tried this recipe, please give it a star rating! To do this, just click on the stars above. Comments are always helpful also and I respond to all of them (except rude ones)
Online Diet/Health Coaching:
Although I am not currently taking clients for diet & health coaching, I have been a coach for many years with the online service called coach.me. It is a great platform for all kinds of coaching – anything from specific diets, writing a blog, getting up early, or getting rid of that pesky procrastination.
There are some wonderful coaches and the testimonials will tell you what you need to know. Contact me at [email protected] to get a referral to some of the tested, experienced online coaches on Coach.me
If you'd like to start with a plan for a low carb or keto lifestyle, check out this detailed guide in ebook form. It may be all you need to lose weight on this lifestyle. Or it may be used as a supplement to one-to-one coaching.