Jambalaya, the popular cajun stew, lends itself perfectly to low carb or keto modifications without losing any of its deep, robust flavor. The rice is really the only ingredient in this popular dish that prevents it from being a low carb jambalaya. Using cauliflower rice solves that problem, making a stew that can be relished by any food critic, regardless of dietary lifestyle.
Jump to Recipe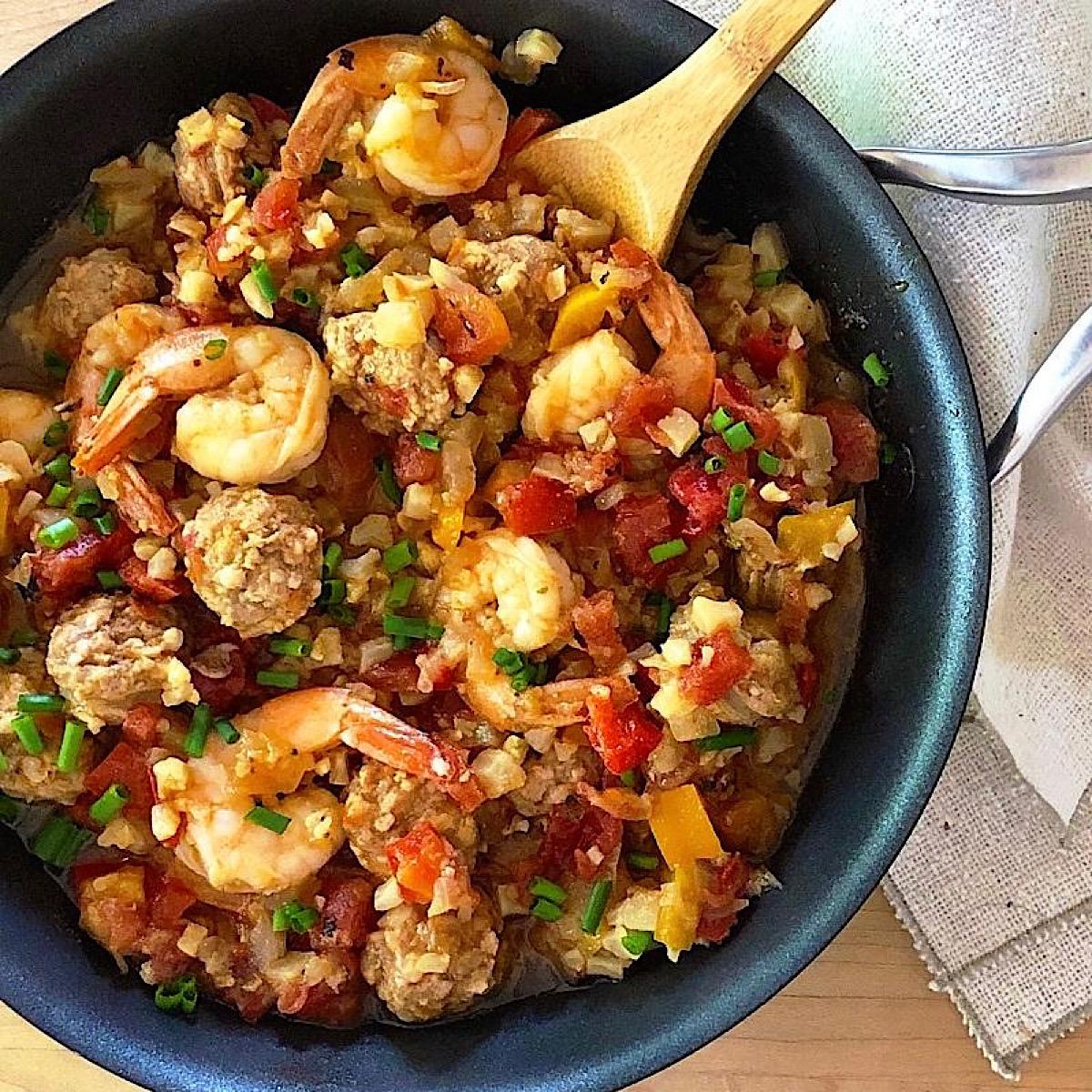 What is Jambalaya?
Jambalaya is a popular Louisiana-origin dish of Spanish, West African and French influence, consisting mainly of meat (usually smoked sausage), seafood (usually shrimp), and vegetables mixed with rice.
Jambalaya starts with a "sofrito". Sofrito is a base made of finely diced vegetables sautéed in oil until fragrant, and is commonly used in Spanish, Italian, and Latin American cooking.
In Cajun cooking, sofrito is generally made up of finely diced onion, celery, and sweet bell peppers. The vegetables are sautéed with some olive oil until tender and aromatic, and then combined with cajun spices and perhaps herbs.
Getting Robust Flavor from Low Carb Food
When I worked as a low carb diet coach, I was constantly on a quest to offer people alternative ideas for defining "comfort food". Jambalaya is one of those dishes that works really well as a comfort food.
The mouthwatering flavors from low carb jambalaya start with a sofrito, made of vegetables, spices and herbs. This gives the jambalaya the robust flavor profile, and it can easily be modified to individual tastes.
This sofrito melts into the the rest of the jambalaya ingredients, enhancing the flavor and also providing the creamy texture.
Cauliflower rice stands in for white rice in the low carb version, keeping the integrity of the jambalaya's texture without losing any flavor.
This low carb comfort food is not your bone broth with a tin of sardines, that's for sure.
Substitutions to fit Different Tastes or Diets
Like many stews or soups, low carb Jambalaya can be easily modifed. If you are vegetarian, use vegetable stock instead of chicken stock and exclude the meat.
If you hate seafood, include chicken and sausage but leave out the shrimp.
There isn't any dairy or gluten if that is a sensitive area for you.
Just be sure to include the sofrito and the cajun spices as the base and let your creativity and tastes range from there!
DIY Cajun Spice Blend
Cajun spice blends and jerk seasoning blends are the most popular spice blends to use for jambalaya. Jerk seasoning tends to be a little spicier and sweeter than a traditional cajun seasoning blend. Whisk together the following ingredients for your own DIY Cajun spice blend:
2 tablespoons garlic powder.
2 tablespoons Italian seasoning (or oregano)
2 tablespoons paprika.
2 tablespoons salt.
1 tablespoon black pepper.
1 tablespoon cayenne pepper.
1 tablespoon onion powder.
Jerk Seasoning Blend
For making your own jerk seasoning spice blend, whisk together the following ingredients:
2 teaspoons brown sugar
2 teaspoons dried thyme
1 teaspoon ground allspice
1 teaspoon salt
1/2 teaspoon pepper
2 teaspoons garlic powder
1/4 teaspoon cinnamon
2 teaspoons cayenne pepper
1 teaspoon paprika
1/2 teaspoon crushed chile pepper
2 teaspoons onion powder
If you don't want to make your own blend, we have a jerk seasoning blend using very fresh ingredients that you can purchase.
More Recipes Using Jerk Seasoning
Sheetpan Dinner (Traybake) with Jerk Rub Seasoning
Jerk Tomatillo Slaw (for Mexican or Caribbean dishes)
Low Carb Jambalaya
A creamy comfort food with robust flavoring and a Caribbean jerk spice blend
Ingredients
3

Tbsp

olive oil

divided

12

oz

cauliflower rice

3

tsp

Jerk seasoning

divided (see notes for DIY blend)

1

onion

chopped or diced

2

stalks

celery

chopped

2

cups

bell peppers

diced and different colors

4

cloves

garlic

1

tsp

paprika

12

oz

andouille sausage

sliced into coins

28

oz

diced tomatoes

Rotel tomatoes with chile peppers

½

cup

chicken broth

12

oz

shrimp

medium, frozen
Instructions
Heat over to 375 degrees F. Empty bag of cauliflower rice onto a sheet pan and drizzle with 1 Tbsp olive oil and 1 tsp Cajun spice. Mix together with your hands and place in the oven for 10 minutes. Remove from oven after 10 min. and set aside.

In a dutch oven or large pot, saute the chopped onion in remaining 2 Tbsp olive oil for 2-3 minutes over med-high heat (until it starts to become translucent). Add the chopped celery and peppers to the pot and saute everything together for another 5-7 minutes until soft and thoroughly mixed together (this is the sofrito).

Add the garlic, 1 tsp paprika and 1 tsp Jamaican Jerk seasoning (or seasoning of your choice) to the pot of sofrito and stir for about 1 minute.

Add the sausage coins to the pot for 2-4 minutes to cook through. Then add the tomatoes and the chicken broth and heat all the way through, stirring everything together as it cooks. If you want the stew to be more of a soup, add additional chicken broth.

Add the shrimp and cauliflower, cover the pot and cook for 2-3 minutes or until shrimp is no longer pink.

Serve in large bowls with a plate to discard the shrimp tails.
Notes
DIY jerk seasoning blend – Combine all ingredients below and whisk together:
2 teaspoons brown sugar
2 teaspoons dried thyme
1 teaspoon ground allspice
1 teaspoon salt
1/2 teaspoon pepper
2 teaspoons garlic powder
1/4 teaspoon cinnamon
2 teaspoons cayenne pepper
1 teaspoon paprika
1/2 teaspoon crushed chile pepper
2 teaspoons onion powder
Nutrition
Calories:
388
kcal
Carbohydrates:
18
g
Protein:
17
g
Fat:
29
g
Saturated Fat:
8
g
Polyunsaturated Fat:
4
g
Monounsaturated Fat:
15
g
Trans Fat:
1
g
Cholesterol:
57
mg
Sodium:
771
mg
Potassium:
962
mg
Fiber:
5
g
Sugar:
9
g
Vitamin A:
2705
IU
Vitamin C:
129
mg
Calcium:
101
mg
Iron:
4
mg
Did you make this recipe?
If you tried this recipe, please give it a 5-star rating! To do this, just click on the stars above. And don't forget to tag me at @dorothy_stainbrook_heathglen, if you share a picture on Instagram! You can also tag me at #heathglen!
Online Diet/Health Coaching:
Although I am not currently taking clients for diet & health coaching, I have been a coach for many years with the online service called coach.me. It is a great platform for all kinds of coaching – anything from specific diets, writing a blog, getting up early, or getting rid of that pesky procrastination.
There are some wonderful coaches and the testimonials will tell you what you need to know. Contact me at [email protected] to get a referral to some of the tested, experienced online coaches on Coach.me
If you'd like to start with a plan for a low carb or keto lifestyle, check out this detailed guide in ebook form. It may be all you need to lose weight on this lifestyle. Or it may be used as a supplement to one-to-one coaching.