Berries are the one fruit that is compliant with most low carb diet plans. Regardless of your lifestyle or diet plan, you can't beat fresh strawberries and cream for taste and simplicity. Making a low carb Strawberry Fool enhances the flavor profile of strawberries and cream, while keeping the simplicity and nutrition in tact. Here is one awesome recipe that takes those ruby red (low carb) jewels to a new level.
Jump to:
RECIPE
What is a Fool?
Best dairy to use
Popular Desserts with Strawberries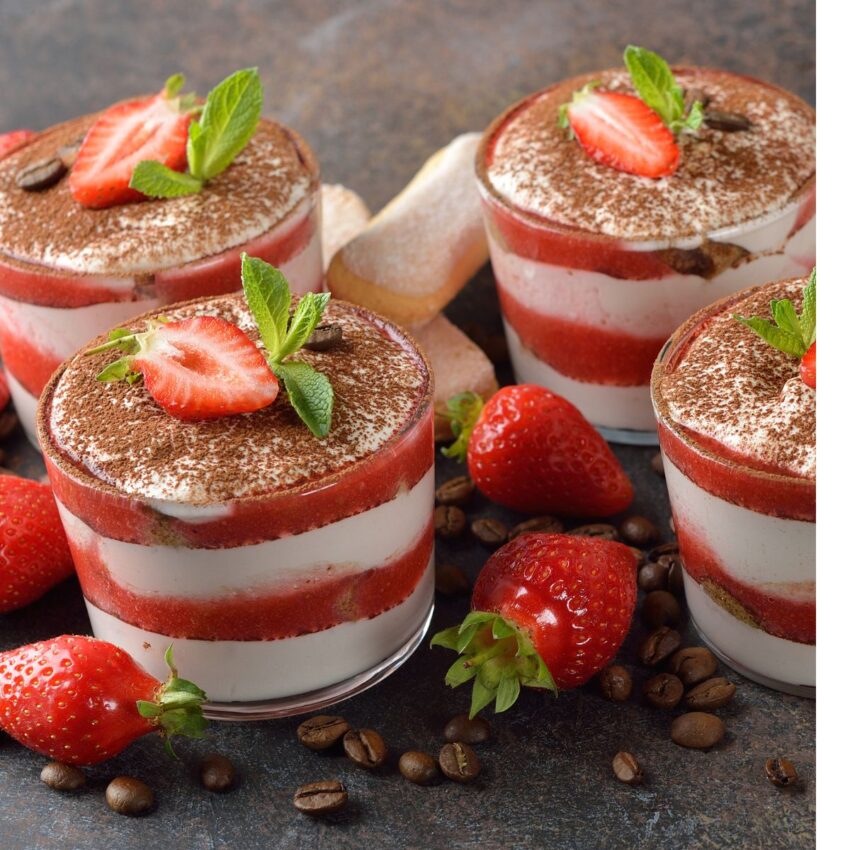 What the heck is a berry "Fool"
Basically a berry "fool" is a mix of pureed berries, some sugar and fluffy dairy (most often whipped cream). The oldest version of a fool is thought to be the Gooseberry Fool, which comes from the British.
There are some schools of thought, however that place the berry fool dessert in the 17th century with the French. The word "fouler" is a French word meaning "to mash" and many will say that is where the dessert got its origins. As these things often go however, it is highly (and sometimes hotly) debated.
At any rate, the low carb Strawberry Fool recipe below is a creamy, sweet, luscious mixture of chopped strawberries, pureed strawberries, heavy whipping cream, and a little Pimms liqueur, all topped with crunchy pistachios. I could barely finish the video before diving into it. It's so simple and so very delicious. Don't pass this one up!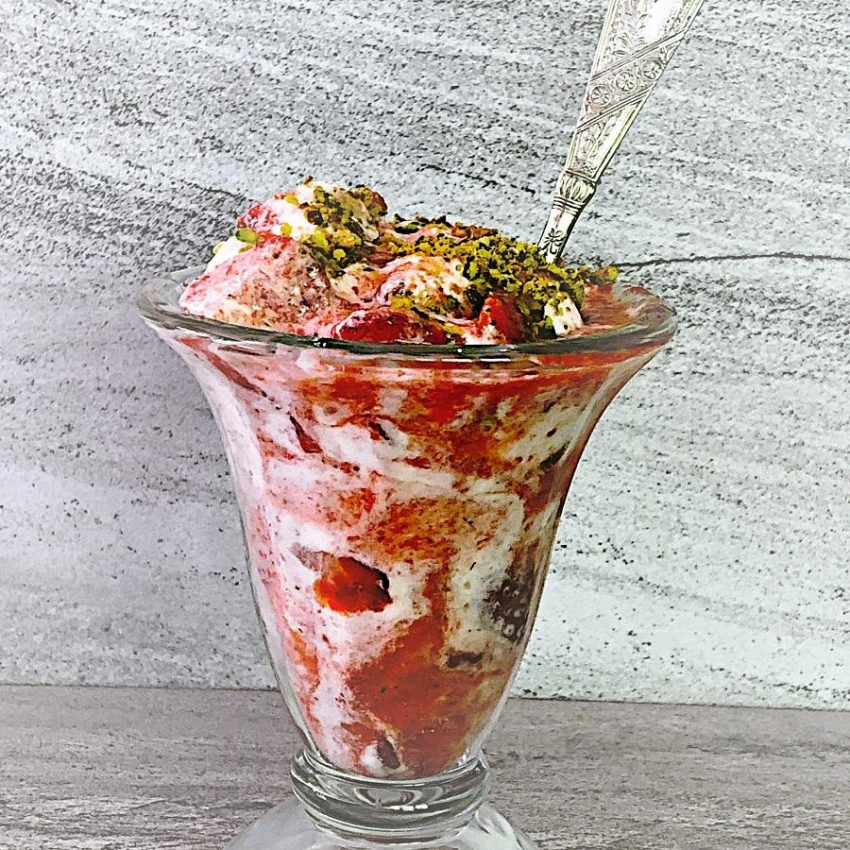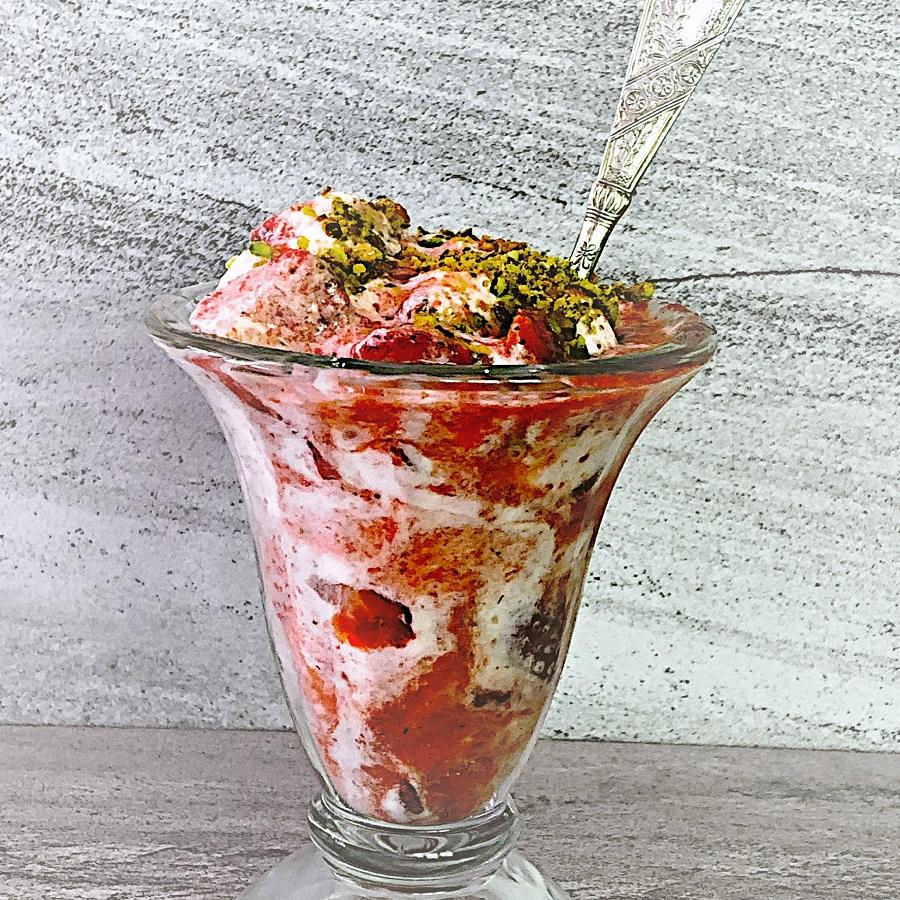 Types of Dairy that can be Used to Make a Strawberry Fool
There are three types of dairy products that are low carb and can be whipped into a creamy texture to blend with the strawberries (see this illustration for a distinction between soft peaks and stiff peaks)
The first would be heavy whipping cream. Heavy whipping cream has 36% milk fat and will whip up easily to soft peaks or stiff peaks. It is what many low carb people use in their coffee as it is high fat but without the milk sugar. This is my dairy of choice both for desserts and for coffee.
Sour cream can be used in desserts instead of heavy whipping cream. It is more tangy than the heavy whipping cream with a little less fat. Sour cream is fermented milk and cream and is around 30% fat
Plain Greek yogurt can also be a dairy replacement. It is fermented milk and the greek yogurt removes the whey. It is 10-12% fat
The three dairy listed above can be interchangeable in cold applications but not in recipes that are heated. The lower fat dairy like sour cream and yogurt will curdle and separate when used in hot applications.
Baking with different dairy products can also result in a flop, so you need to follow the recipe.
Creme fraiche is another dairy product that can be used with cold recipes. It is harder to find and more expensive however. Creme fraiche is very rich like the heavy whipping cream but it does not have any added thickeners. Creme fraiche is fermented cream (not milk).
The recipe is quite simple and is explained in the recipe below. If you would like to see this dessert (plus 2 others) made in a video, here ya go….
The video also gives you a sneak peak at the blueberry bushes on our farm.
Popular Desserts made with Strawberries
Most popular is this No-Bake Strawberry Tiramisu Cake
Other strawberry recipes you might like include:
And….for growing your own strawberries to use in these lucious desserts, check out "How to Grow Strawberries in Pots"
Recipe for a Low Carb Strawberry Fool Dessert
Low Carb Strawberry Fool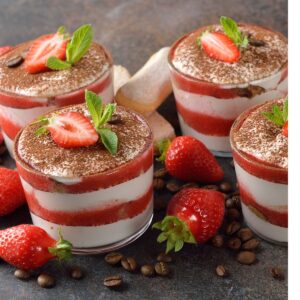 How to make a low carb berry "fool" with strawberries (or any berry actually)
Ingredients
1

lb

strawberries

hulled and quartered

1

tsp

lemon zest

¼

tsp

vanilla

¼

cup

Truvia

can use 1/2 cup white sugar instead

1

tsp

Pimms Cup liqueur

1 ¼

cup

heavy whipping cream

½

cup

shelled pistachios

crushed in food processor or with heavy rolling pin
Instructions
Take the stems off of the strawberries (aka hull them). Quarter the berries or chop into large pieces and place in large bowl

To the bowl of strawberries, add the lemon zest, vanilla, Truvia and Pimms and stir together. Place bowl in the refrigerator to chill and macerate for about 1 1/2 hours. ** note: if you want to use regular sugar instead of Truvia, use 1/2 cup.

1 tsp lemon zest,

1/4 tsp vanilla,

1/4 cup Truvia,

1 tsp Pimms Cup liqueur

While the berries are macerating, pour the heavy whipping cream into a stand mixer and mix until the cream forms 7 Chill the cream until berries are ready

1 1/4 cup heavy whipping cream

Crush the pistachios. This can be done in a food processor or you can place them in a baggie and crush with something heavy like a rolling pin or heavy tool.

1/2 cup shelled pistachios

After the berries have macerated long enough that they are sweet and juicy, pull them out of the refrigerator along with the whipped cream. Divide the berries in half and blend half of them into a puree. Pour the puree back into the bowl of strawberries and stir together

Gently fold the whipped cream into the bowl of berries and spoon the mixture into a parfait glass or a bowl. Sprinkle with the crushed pistachios and enjoy!
Nutrition
Calories:
507
kcal
Carbohydrates:
20
g
Protein:
7
g
Fat:
46
g
Fiber:
5
g
Sugar:
9
g
Did you make this recipe?
If you tried this recipe, please give it a 5-star rating! To do this, just click on the stars above.