Frequently asked questions of people on low carb or keto lifestyles are "What can I drink?" or, "Are there any cocktails that are OK?" The good news is that there are drinks you can enjoy, with or without alcohol, as long as you choose compliant ingredients. This Low Carb Blackberry Mojito is a great cocktail that fits in with low carb lifestyles. Just know your ingredients (especially when it comes to mixers) and you're good to go!
Jump to: RECIPE | Alcohol and Low Carb Lifestyle | Ingredients & Substitutions | How-to Video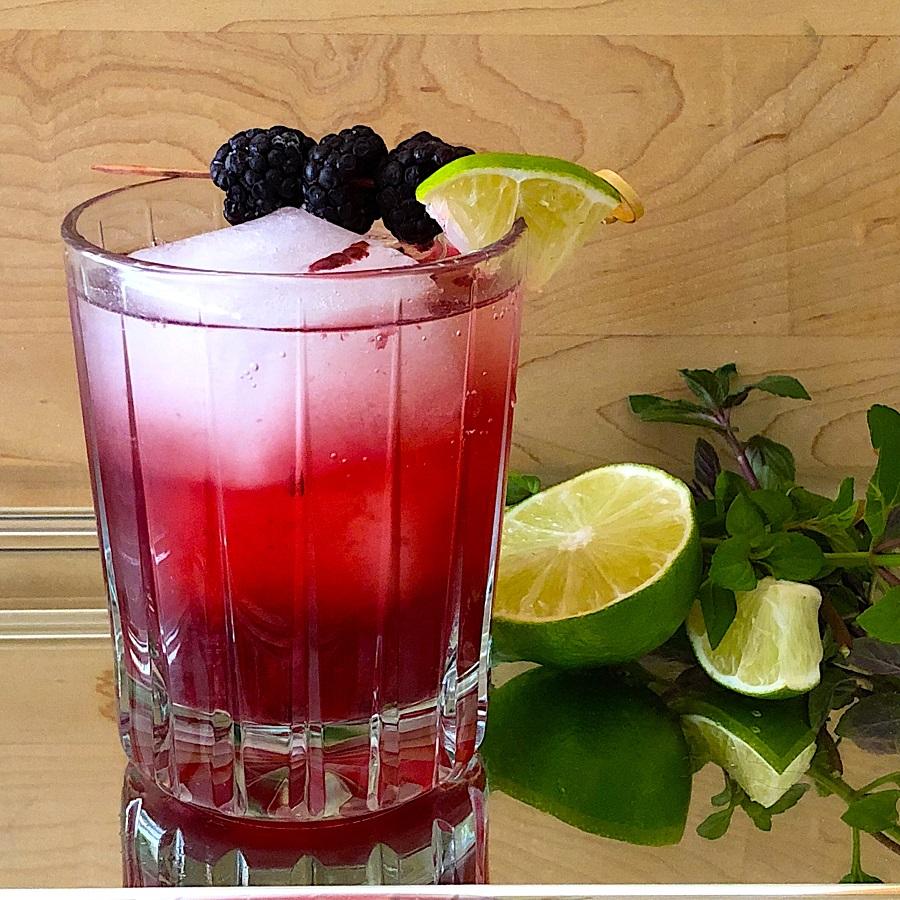 This post may contain affiliate links, and you can read our disclosure information here–
What to know about alcohol and a low carb lifestyle?
These are the five tips that I consider most important when incorporating alcohol into a low carb lifestyle:
Alcohol is processed in the liver and it is metabolized first, before anything else. It will temporarily disrupt or pause fat burning if you are in a state of ketosis. If you are on a keto diet, just know that the disruption of ketosis is temporary, unlike the longer term impact of eating sugar and carbs.
People on a low carb or keto diet will feel the effects of alcohol much quicker than those on a Standard American Diet (SAD).
People on a low carb or keto diet will also recover from the effects of alcohol quicker.
Hangovers are much, much worse on a low carb or keto diet, so be aware and be careful.
Replenishing electrolytes after a night out before bed can help tremendously with avoiding a hangover the next day. This video will walk you through a quick and easy morning drink called Ketorade that is great for replenishment of electrolytes. Ketorade is also an excellent morning drink for starting any day with energy.
What kind of drinks are compliant with low carb?
Here are 4 tips to be aware of when choosing your drinks:
Avoid beer. They are quite high in carbs and gluten and even "low carb beer" isn't really compliant. This is probably the worst form of alcohol you can have if your goal is to lose fat, especially belly fat. They don't call it a beer-belly for nothing!
Go for distilled spirits (unflavored) like vodka, gin, rum, bourbon, scotch, etc. – they do not have carbs. As mentioned earlier, the alcohol will temporarily disrupt ketosis, but it will not add to your carb level overall.
Watch out for mixers. Tonic water, sweet and sour mix, and bloody mary mix are heavy with sugar and carbs. Opt for your favorite spirit with some club soda and a few squeezes of lime for the best low carb drink.
Dry wine is not too bad, but it does have carbs, so take it easy on the amount.
Low Carb Blackberry Mojito: Ingredients and Substitutions
So, let's make a blackberry mojito! The basic idea of this cocktail is that we'll be using a blackberry and mint shrub syrup, which is a great way to add loads of flavor without going crazy with the sugar. That's why the end result comes in at only a little over 100 calories.
We produce a delicious blackberry mint syrup at our small farm that works like a charm in this mojito. However, you can also opt to make your own. I know that sounds like a lot of work for a cocktail, but it's actually very easy, plus the end result can be used in a range of recipes and (non-)alcoholic drinks! Have a look at the post on making your own shrub syrup to find out all about the magic of homemade drink syrups.
Other than that, you'll need:
Mint: whatever else you do with it, a mojito should always have fresh mint.
Blackberries: for beautiful color plus sweet and tart flavor. Frozen blackberries will taste fine. If you can't find them, a general frozen red berry mix should work almost as well.
Lime: another essential mojito ingredient. Fresh is best, though bottled should work in a pinch. Unfortunately, lemon just doesn't give the same kick, so it doesn't work that well as a substitute.
Stevia: it's not a must, but if you like your cocktail a little sweeter, this is a great alternative to sugar.
White rum: I'm sure it comes as a surprise to no one that a classic Cuban cocktail uses rum. I like the Cuban Havana Club brand.
Fizzy water: to top it all off.
Tip: looking for more skinny, low carb cocktails? Be sure to check out more Farm to Jar recipes, like my skinny moscow mule and refreshing white tea cocktail.
Frequently asked questions
Can you make a mojito with dark rum?
Technically, yes, but it may overpower the mint and lime a little. But if you really love dark rum, you may as well give it a try!
How-To Video on Making a Low Carb Blackberry Mojito & Skinny Margarita
Recipe for Low Carb Blackberry Mojito
Low Carb Blackberry Mojito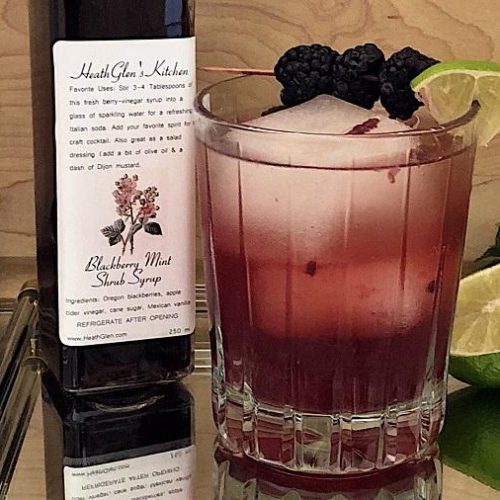 This delicious but low carb blackberry mojito uses shrub syrup instead of sugar and clocks in at barely over 100 calories.
Equipment
1 cocktail muddler

1 Highball cocktail glass
Ingredients
8

leaves

mint

5

blackberries

¼

inch

lime slice

cut into quarters

½

oz

Blackberry Mint Shrub Syrup

½

tsp

stevia

optional

1

oz

white rum

5

oz

water

sparkling or fizzy water
Instructions
In a glass muddle together the mint, the berries, the limes and the Blackberry Mint Shrub Syrup, plus stevia if you're using it

8 leaves mint,

5 blackberries,

1/4 inch lime slice,

1/2 oz Blackberry Mint Shrub Syrup,

1/2 tsp stevia

Add ice to the glass and pour in 1 to 2 oz rum. Top off with sparkling water

1 oz white rum,

5 oz water

Garnish with lime wedges and/or fresh blackberries

1/4 inch lime slice,

5 blackberries
Notes
1. Prefer skipping the shrub syrup? The flavors will be less complext, but you can make a regular blackberry mojito by using two teaspoons simple syrup or cane sugar. Add a few more blackberries for extra flavor.
Nutrition
Serving:
8
oz
Calories:
108
kcal
Carbohydrates:
13
g
Protein:
0.1
g
Fat:
0.1
g
Polyunsaturated Fat:
0.03
g
Sodium:
16
mg
Potassium:
26
mg
Fiber:
1
g
Sugar:
11
g
Vitamin A:
22
IU
Vitamin C:
2
mg
Calcium:
9
mg
Iron:
1
mg
Did you make this recipe?
If you tried this recipe, please give it a 5-star rating! To do this, just click on the stars above.