While not a food group, cocktails are one of those things many people miss on a low carb diet (along with bread and sugar). Alcohol itself, doesn't pack in a lot of carbs or sugar, rather it is usually the mixers that take cocktails over the proverbial low-carb top.
Jump to Recipe
This post may contain affiliate links, and you can read our disclosure information here–
Alternatives to Sugary Mixers
For example, with margaritas, it is generally the sweet and sour mix that adds all of the calories and sugar. So, an alternative to using the sweet and sour mixer would be to have tequila, club soda and generous squeezes of lime (aka a skinny margarita).
Judicious use of shrub syrups instead of pre-made mixers is another way to lower the calories and carbs of craft cocktails.
A really awesome margarita for the holidays might be this beautiful Cranberry Margarita made with a Cranberry Shrub Syrup. A fun shrub syrup to use here would be the Cranberry Hot Pepper Shrub Syrup, which packs a good amount of heat. If spicy cocktails are not your thing, try the margarita with the Cranberry Ginger Shrub Syrup
Want to make your own homemade shrub syrup? Here's a recipe for the cranberry hot pepper syrup, and then here's the information on making homemade shrubs syrups in general.
Calories and Carbs in Shrub Syrups vs Simple Syrups
Well… there is sugar in a shrub syrup for sure, but it is reduced considerably compared to a simple syrup. Shrub syrups are typically 1/3 fruit, 1/3 vinegar, and 1/3 sugar. Simple syrups can be anywhere from 1/2 sugar upwards and they often contain artificial flavors for the fruit.
Also, shrub syrups are usually made with whole fresh fruit, and the concentration of real fruit is intense enough that it doesn't require a lot of syrup to get the flavor punch in a cocktail, so you can use less and still get the taste you want.
So, while shrub syrups are not considered "no-sugar", you can definitely make a low carb cocktail with a shrub syrup.
I wouldn't recommend cocktails on a daily basis if you're leading a low carb lifestyle, but if you're a little mindful during holidays or celebrations you could certainly imbibe without a lot of damage to your progress.
Do Shrub Syrups Work with Non-Alcoholic Drinks?
For those that don't drink alcohol, shrub syrups are wonderful with sparkling water and a squeeze of lime. This way of using the syrups is often referred to as Mocktails or Italian Sodas
The information on making your own shrub syrups is the same, whether the final use is for a coktail or an Italian soda.
Margarita with Cranberry Ginger Shrub Syrup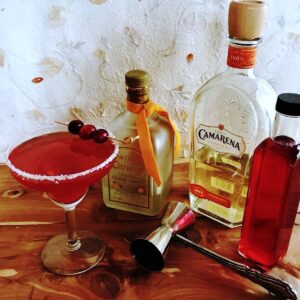 A simple but festive margarita using a cranberry ginger shrub syrup
Ingredients
kosher salt for rimming the glass

2

oz.

tequila

1

oz.

lime

cut in half for rimming and then juiced

1

oz.

triple sec

or other orange liqueur

Garnishes: thinly sliced limes

lime wedges or fresh cranberries
Instructions
Use one of the lime wedges to moisten the rim of the glass and then dip glass rim into some kosher salt spread out on a plate.

kosher salt for rimming the glass,

1 oz. lime

Combine the tequila, cranberry syrup, lime juice and orange liqueur in a shaker with ice. Shake rather vigorously for about 10 seconds.

2 oz. tequila,

2 oz. Cranberry Ginger Shrub Syrup,

1 oz. lime,

1 oz. triple sec

Strain into low tumblers filled with ice. Garnish with lime wedges or whole cranberries

Garnishes: thinly sliced limes
Nutrition
Calories:
166
kcal
Carbohydrates:
10
g
Protein:
0.5
g
Fat:
0.1
g
Saturated Fat:
0.01
g
Polyunsaturated Fat:
0.1
g
Monounsaturated Fat:
0.02
g
Sodium:
4
mg
Potassium:
75
mg
Fiber:
3
g
Sugar:
3
g
Vitamin A:
48
IU
Vitamin C:
16
mg
Calcium:
15
mg
Iron:
0.3
mg
Did you make this recipe?
If you tried this recipe, please give it a 5-star rating! To do this, just click on the stars above.
Online Coaching Available:
I have followed the slow carb diet for 3 years and the keto diet for 2 years now, and I have put my "been there done that" knowledge to work helping people figure it out. I am currently an online diet coach (info can be found here if you're interested), and have just hit the 300-client mark. Come and visit me and see if online coaching might be for you!
If not for diet, there are other coaches on the site that coach anything from writing a blog, to getting up early, to getting rid of that pesky procrastination. Explore the site while you are there. There are some wonderful coaches and the testimonials will tell you what you need to know. Click here to get to my profile and then explore others from there.