A Jamaican jerk seasoning blend can give an easy sheet pan dinner a Caribbean flavor. Chicken and Winter vegetables (root vegetables) allow the spicy jerk seasoning to shine. Prep is so simple and then just roast for 40 minutes for caramelizing the veggies and crisping the chicken skin. Feel free to take out the chicken if you are vegetarian, or use the vegetable traybake as a side to your favorite protein.
Jump to Recipe
Is this Dinner Low Carb?
Many, if not most, of the popular sheet pan dinners feature potatoes along with the protein and vegetables, but if you are low carb, there is no loss of flavor to simply remove the potatoes (or sweet potatoes) and revel in the caramelized veggies. The spice blend you choose to work with can also enhance flavors to the point you will never miss the carbs.
There is a reason sheet pan dinners became the rage a few years ago and have remained popular….they are easy to make, easy to clean up, and easy to modify to your tastes and diet restrictions.
This Jerk Chicken Sheet Pan Dinner was one of my favorites, but I did make it with sweet potatoes which are not low carb but very healthy. Jerk seasoning is on the spicy side, so beware if you are not a fan of heat.
Fundamentals to making any Sheet Pan Dinner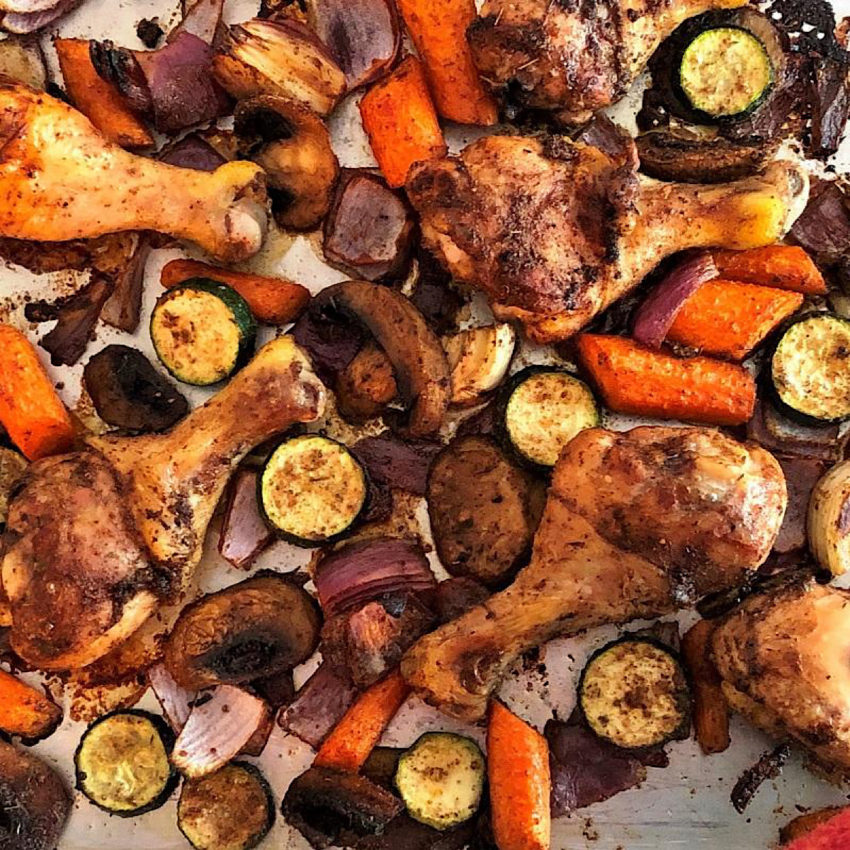 Honestly sheet pan dinners are so forgiving that there are very few "rules" or recipes that you need to follow. There are, however, a few basic principles that will help alleviate the pain of decision making or fear of failure. Here are my top five, that will work with jerk chicken but also any other sheet pan dinner:
The preferred pan: Use a half-sheet pan (aka cookie sheet) made of heavy-gage metal. It just needs to be strong enough to take high oven heat, as the temperature is usually around 400 degrees F. You also want the largest sheet pan that will fit in your oven, so that you don't need to crowd the vegetables (crowded veggies can get mushy). I usually end up making two batches on two different half-sheet pans.
Easy clean-up: If you want to make clean-up super easy, line the sheet pan with foil before adding the ingredients and simply toss the foil when the dish is done.
Coating with oil and spices: You can toss everything into a large bowl and coat with the oil and spices you are using and then place on the sheet pan. That does, however give you another dish to clean. I tend to lay everything out on the foiled sheet pan, drizzle with oil, sprinkle with my spice mix and then use my hands to massage it all in. Either way works….you either clean the bowl or clean your hands!
Denser vegetables will take longer to cook than softer, more delicate veggies. I usually cook things like carrots or root vegetables along with the chicken and add the softer vegetables like peppers, tomatoes or onions halfway through the cooking process. Really soft veggies like zucchini or eggplant can go in for the last 15 minutes. A rule of thumb here could be to roast the denser vegetables with the meat for 30 minutes or more before adding the softer vegetables to the pan.
Breading or making full use of juices: If you are breading your protein (probably not if you are low carb), or if you are using roast beef or pork and want the veggies to soak up the juices, place your protein on a wire rack that sits above the vegetables in the sheet pan and don't use parchment paper. When finished cooking you can remove the proteins and veggies and deglaze the pan with some wine, water or broth for a great sauce.
The recipe for the sheetpan jerk chicken dinner is below, but if you want to see a video that shows you how to do it step-by-step, scroll to the end of the post and watch the video.
Modifications to Low Carb Sheet Pan Dinner
Many, if not most, of the popular sheet pan dinners feature potatoes along with the protein and vegetables, but there is no loss of flavor to simply remove the potatoes and revel in the caramelized veggies. The spice blend you choose to work with can also enhance flavors to the point you will never miss the carbs.
The recipe below calls for a purchased seasoning blend. Here is a recipe to make your own jerk seasoning.
DIY Blend for Jerk Seasoning
For the Jerk spice blend you can purchase it from your favorite store, buy it online from me, or make your own. The DIY blend below is from a website called Myrecipes.com
1 tablespoon garlic powder
2 to 3 teaspoons cayenne pepper
2 teaspoons onion powder
2 teaspoons dried thyme
2 teaspoons dried parsley
2 teaspoons sugar
2 teaspoons salt
1 teaspoon paprika
1 teaspoon ground allspice
1/2 teaspoon black pepper
1/2 teaspoon dried crushed red pepper
1/2 teaspoon ground nutmeg
1/4 teaspoon ground cinnamon
Want more recipes and tips for Sheet Pan Dinners?
Try this one with a tomato mustard rub!
Click here for additional tips and tricks, and other sheet pan dinners that use different ingredients than jerk spices.
Low Carb Sheet Pan Dinner with jerk seasoning
A sheetpan dinner of Winter vegetables and chicken seasoned with a jerk seasoning blend and roasted for 40 minutes
Equipment
sharp knife

measuring spoons

Cutting board
Ingredients
1

large

red onion

3

large

carrots

can use 1 large sweet potato if not low carb

½

large

fennel bulb

can also use daikon radishes

1

lime

sliced

4

cloves

garlic

peeled but not chopped

3

Tablespoons

olive oil

2-4

Tablespoons

jerk seasoning spice blend

divided

4

chicken thighs

alternatively can use 8 chicken legs
Instructions
Preheat oven to 425 degrees F. Line a half-sheet pan (aka cookie sheet) with parchment paper or foil

Place coarsely cut vegetables in a large bowl and add some olive oil (about 2 Tbsp but doesn't have to be perfect)l. Add 2 Tbsp jerk spice to the bowl. Using your hands massage everything in the bowl with oil and spice.

Spread vegetables out on the prepared sheet pan. Add the chicken legs on top of vegetables. Drizzle oil over the chicken legs and over any vegetables that might still look dry. Sprinkle remaining 2 Tbsp over the chicken legs.

Place sheet pan in oven and cook for 30 minutes. If desired you can turn the chicken legs over at the 15-minute interval.

After the chicken has cooked 30 minutes you can add more delicate vegetables to the pan if desired (like tomatoes, mushrooms, zucchini, etc.). Place the sheet pan back in the oven and cook for an additional 10-15 minutes. Serve and enjoy!
Nutrition
Serving:
1
g
Calories:
392
kcal
Carbohydrates:
13
g
Protein:
20
g
Fat:
30
g
Saturated Fat:
7
g
Polyunsaturated Fat:
5
g
Monounsaturated Fat:
15
g
Trans Fat:
1
g
Cholesterol:
111
mg
Sodium:
142
mg
Potassium:
595
mg
Fiber:
3
g
Sugar:
4
g
Vitamin A:
9158
IU
Vitamin C:
15
mg
Calcium:
59
mg
Iron:
1
mg
Did you make this recipe?
If you tried this recipe, please give it a 5-star rating! To do this, just click on the stars above. And don't forget to tag me at @dorothy_stainbrook_heathglen, if you share a picture on Instagram! You can also tag me at #heathglen!
Online Diet/Health Coaching:
Although I am not currently taking clients for diet & health coaching, I have been a coach for many years with the online service called coach.me. It is a great platform for all kinds of coaching – anything from specific diets, writing a blog, getting up early, or getting rid of that pesky procrastination.
There are some wonderful coaches and the testimonials will tell you what you need to know. Contact me at [email protected] to get a referral to some of the tested, experienced online coaches on Coach.me
If you'd like to start with a plan for a low carb or keto lifestyle, check out this detailed guide in ebook form. It may be all you need to lose weight on this lifestyle. Or it may be used as a supplement to one-to-one coaching.