Jerk Chicken Sheet Pan Dinner
There is a reason sheet pan dinners became the rage a few years ago and have remained popular….they are easy to make, easy to clean up, and easy to modify to your tastes and diet restrictions. Many, if not most, of the popular sheet pan dinners feature potatoes along with the protein and vegetables, but there is no loss of flavor to simply remove the potatoes and revel in the caramelized veggies. The spice blend you choose to work with can also enhance flavors to the point you will never miss the carbs. This Jerk Chicken Sheet Pan Dinner was one of my favorites, and I've made many different variations. Jerk seasoning is on the spicy side however, so beware if you are not a fan of heat.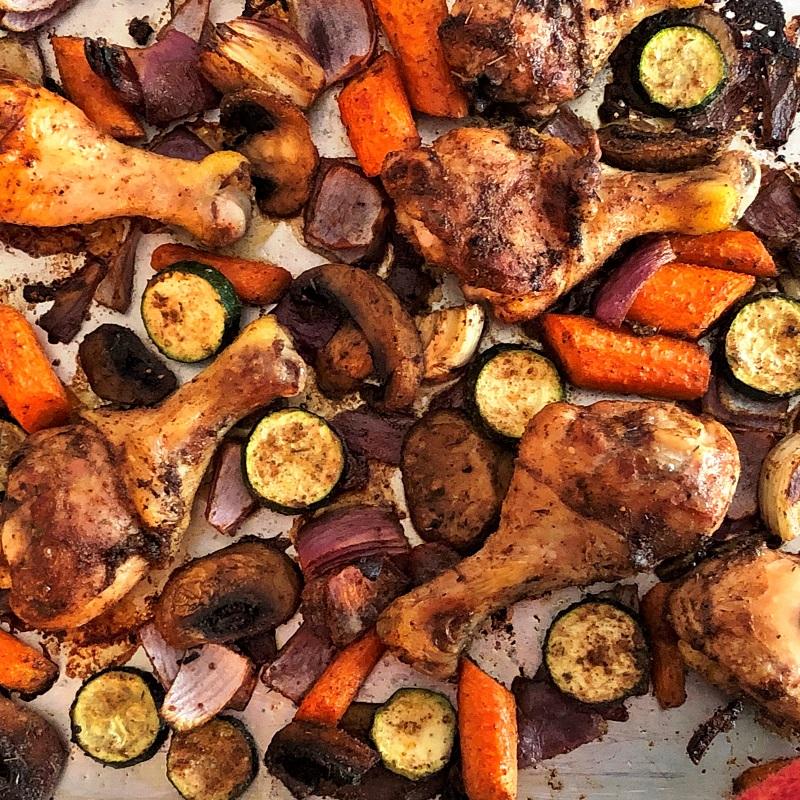 Jump to Recipe
Fundamentals to making any Sheet Pan Dinner
Honestly sheet pan dinners are so forgiving that there are very few "rules" or recipes that you need to follow. There are, however, a few basic principles that will help alleviate the pain of decision making or fear of failure. Here are my top five, that will work with jerk chicken but also any other sheet pan dinner:
The preferred pan: Use a half-sheet pan (aka cookie sheet) made of heavy-gage metal. It just needs to be strong enough to take high oven heat, as the temperature is usually around 400 degrees F. You also want the largest sheet pan that will fit in your oven, so that you don't need to crowd the vegetables (crowded veggies can get mushy). I usually end up making two batches on two different half-sheet pans.
Easy clean-up: If you want to make clean-up super easy, line the sheet pan with foil before adding the ingredients and simply toss the foil when the dish is done.
Coating with oil and spices: You can toss everything into a large bowl and coat with the oil and spices you are using and then place on the sheet pan. That does, however give you another dish to clean. I tend to lay everything out on the foiled sheet pan, drizzle with oil, sprinkle with my spice mix and then use my hands to massage it all in. Either way works….you either clean the bowl or clean your hands!
Denser vegetables will take longer to cook that softer veggies. I usually cook things like carrots or root vegetables along with the chicken and add the softer vegetables like peppers, tomatoes or onions halfway through the cooking process. Really soft veggies like zucchini or eggplant can go in for the last 15 minutes. A rule of thumb here could be to roast the denser vegetables with the meat for 30 minutes or more before adding the softer vegetables to the pan.
Breading or making full use of juices: If you are breading your protein (probably not if you are low carb), or if you are using roast beef or pork and want the veggies to soak up the juices, place your protein on a wire rack that sits above the vegetables in the sheet pan.
Want more recipes and tips for Sheet Pan Dinners?
Click here for additional tips and tricks, and sheet pan dinners that do not use jerk chicken spices.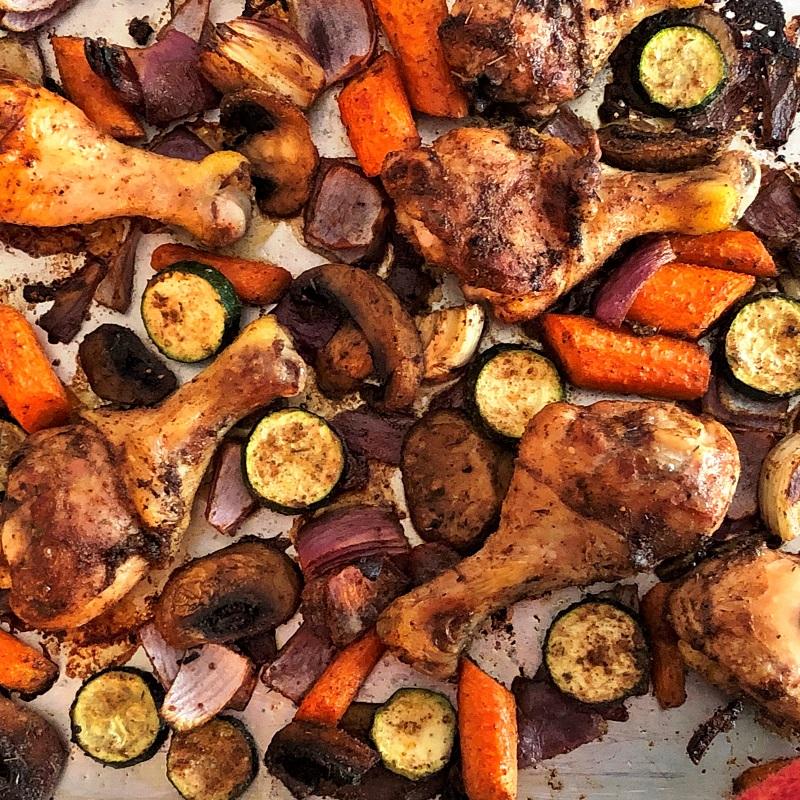 Print Recipe
Low Carb Jerk Chicken Sheet Pan Dinner
Ingredients
8

legs

chicken legs

1

large

red onion

3

large

carrots

1/2

large

fennel bulb

2

med

zucchini

1

container

sliced mushrooms

3

Tbsp

olive oil

2

Tbsp

jerk seasoning spice blend
Instructions
Preheat oven to 425 degrees F. Line a half-sheet pan (aka cookie sheet) with parchment paper or foil

Place chicken legs in a large bowl with the carrots and fennel. Add oil and jerk spice. Using your hands massage everything in the bowl with oil and spice.

Place sheet pan in oven and cook for 30 minutes. If desired you can turn the chicken legs over at the 15-minute interval.

Add the zucchini and mushrooms to the bowl that you used to coat the chicken and carrots and use your hands to coat the remaining veggies. If you need to add a little more oil or spice to the zucchini and mushrooms to coat, do so now.

Place the sheet pan back in the oven and cook for an additional 30 minutes. Serve.
Nutrition
Serving:
1
g
|
Calories:
669
kcal
|
Carbohydrates:
13
g
|
Protein:
71
g
|
Fat:
61
g
|
Sugar:
6
g