Take the stress out of cooking and roast some Winter vegetables in one pan in the oven. All that's required is a little chopping and peeling. Add your favorite spice blend and serve as a side dish to breaded pork chops for an easy Winter dinner.
Jump to:
RECIPE
Roasted Vegetables vs Sautéed
Which Veggies Roast at Same Time?
Cooking Temperatures for Root Vegetables
What to Eat with Root Vegetables
FAQ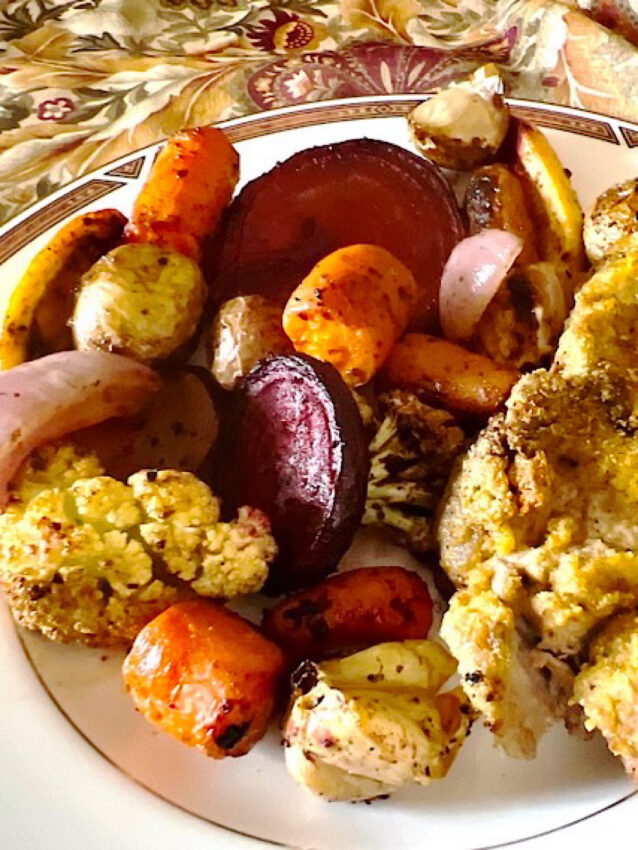 This post may contain affiliate links, and you can read our disclosure information here–
Roasted Vegetables vs Stir Fry (or Sautéed)
Winter root vegetables are some of the easiest things to roast in a sheet pan. They tend to be firm and if cut to the right size they will all caramelize at the same time.
Roasting vegetables also adds a ton of flavor. No more bland mushy veggies that you might see from steaming or boiling. Even the kids will like these richly caramelized vegetables!
Another cooking method that will bring out a lot of flavor from vegetable combinations includes a method called stir frying.
Stir frying has the added advantage of keeping the beautiful color of veggies bright. This Mediterranean Stir Fry Recipe is a great example of the ins and outs of stir-frying vegetables.
Which Root Vegetables to Roast Together in Traybake?
Many of the vegetables that grow well and store well in the Winter are called root vegetables. This is because the edible parts (tubers) grow underground, with the leaves above the soil surface.
The trick to sheet pan cooking is to combine ingredients that will get done around the same time at a high temperature. You wouldn't want to cook tomatoes and carrots on the same sheet pan, for example, or your tomatoes would be mush by the time the carrots finished cooking.
Here are some Winter root vegetables that go well together in a sheet pan. Just be mindful of cutting them to a similar thickness.
Carrots
Jicama
Beets
Parsnips
Potatoes
Sweet potatoes
Turnips
Onions
Garlic
Other vegetables to combine with root vegetables
Some people don't mind if there are soft mushy veggies on the same tray as the crunchy root veggies. It does add some different textures. Here are a few ingredients you might want to combine with your root veggies:
Brussel sprouts
Broccoli
Lemons
Cherry tomatoes
Cooking Temperatures for Roasted Root Vegetables
Root vegetables generally take longer than cruciferous ones. I like mine a bit on the al-dente side and very crispy so I cook them at 425 F for 30 minutes. You can also cook at 400 F for 40 minutes if you want them a bit less firm.
400 degrees Fahrenheit is the go-to temperature for most roasted vegetables, but it will vary based on the type of veggies and the size that you cut them.
The holy grail is a crispy, browned exterior and a fork tender interior. Check your sheet pan every so often and increase or decrease the heat if they are not browning to your liking.
**Pro Tip: Do not overcrowd the sheet pan. You want the vegetables to be in a single layer or they will cook unevenly and thus be less caramelized. Caramelization is what makes roasted vegetables so sweet and delectable.
What to Eat with Roasted Vegetables
Roasted root veggies are wonderful as a side dish to just about any main dish. The recipe below includes breaded pork chops (also see video in the recipe card). Here's a few other popular ideas:
They are also wonderful with chicken thighs and fish fillets.
If you want a low carb side dish or a plant-based main dish try this Squash-Parsnip-Carrot Ragù recipe.
Add them to salads.
Top off a bowl of rice or spaghetti squash.
**Pro Tip: Add acid. A drizzle of vinegar, a spoonful of tangy buttermilk or plain yogurt, a simple squeeze of lemon or lime will always add brightness to an otherwise boring and flat dish.
Frequently Asked Questions
Why do my roast vegetables get soggy?
Usually soggy veggies are a result of one of these 3 things:

1. The vegetables are arranged too closely together or are on top of one another. They end up steaming instead of caramelizing.
2. The oven temperature is too low. It should be 400 to 425 degrees F.
3. Use a rimmed baking sheet rather than a casserole pan or a pan with high sides. The high sides make it harder for the water inside of the vegetables to evaporate during baking, setting you up for sogginess.
Can you make roast vegetables in an air fryer?
Yes you can. I don't use an air fryer so I will refer you to this air fryer calculator for oven to air fryer conversions.
Can roasted root vegetables be made ahead? Frozen?
To make ahead, you can peel, scrub and prep the vegetables 2 days in advance then pop them in the oven just at the right time!
If you make and love this recipe, please leave a ★★★★★ review below and any comments others might find helpful. It means a lot to me when you try my recipes, and I'd love to know how it goes.
Roasted Root Vegetables & Pork Chops
Root vegetables are roasted in a sheet pan and paired with easy breaded pork chops for a wonderful late Fall or Winter dinner.
Equipment
3 shallow bowls or plates
Ingredients
3

beets

peeled and sliced

5

carrots

peeled and chopped into 2" pieces

1

purple onion

quartered

1

full head of garlic

separated into cloves but not peeled

½

pound

baby potatoes

1

medium head of cauliflower

1

lemon

4

tablespoons

olive oil

divided

3

tablespoons

spice blend

I used a harissa spice blend

4

thick pork chops
Breading Mixture
1 ½

cups

rice flour

1

egg

1 ½

cups

cornmeal

2

tablespoons

Old Bay

or your favorite seasoning blend

1 ½

teaspoon

black pepper
Instructions
Roasted Root Vegetables
Preheat oven to 425°F.

Prep all of the vegetables by rinsing them and cutting into similar thickness so they will cook at the same time.

Arrange on the sheet pan in a single layer, drizzle with 1-2 tablespoons olive oil and sprinkle with spice blend. Rub everything in with your hands to coat the veggies.

Place sheet pan on middle rack in oven and roast for 30-40 minutes, checking at 30 minutes to see if vegetables are browned and done.

3 beets,

5 carrots,

1 purple onion,

1 full head of garlic,

1/2 pound baby potatoes,

1 medium head of cauliflower,

1 lemon,

4 tablespoons olive oil
Breading Mixture
Using 3 separate bowls, add rice flour to one, the egg to one and the cornmeal to one. Add 1 tablespoon Old Bay spice to the rice flour and 1 tablespoon Old Bay spice to the cornmeal.

Add a little pepper to the rice flour and the cornmeal.

1 1/2 cups rice flour,

1 egg,

1 1/2 cups cornmeal,

2 tablespoons Old Bay,

1 1/2 teaspoon black pepper
Pork Chops
Heat 2 tablespoons oil over medium heat in a large skillet. Oil should be bubbling a little but not sizzling hot.

Dredge each pork chop first in the rice flour bowl, then the egg, and then the cornmeal.

Place each pork chop into the hot oil in skillet and sauté 4-8 minutes depending on thickness of chop. My chops were 1" thick and it took 5 minutes per side.

If you are nervous about whether the chop is done, use a digital thermometer and when it is 140 degrees F it is done.

Let it rest for about 5 minutes (it will continue to cook a little while resting).
Notes
**Note: Make sure the vegetables are in a single layer on the sheet pan. If they are too close or on top of each other they end up steaming instead of caramelizing, making them mushy.
**Want more like this? Subscribe to our Sunday newsletter to get recipes, gardening guides and diet help. Let's go from Inspiration to Done!
Nutrition
Calories:
494
kcal
Carbohydrates:
45
g
Protein:
36
g
Fat:
21
g
Saturated Fat:
5
g
Polyunsaturated Fat:
3
g
Monounsaturated Fat:
12
g
Trans Fat:
0.1
g
Cholesterol:
90
mg
Sodium:
217
mg
Potassium:
1853
mg
Fiber:
14
g
Sugar:
13
g
Vitamin A:
13017
IU
Vitamin C:
105
mg
Calcium:
297
mg
Iron:
8
mg
Did you make this recipe?
If you tried this recipe, please give it a star rating! To do this, just click on the stars above. Comments are always helpful also and I respond to all of them (except rude ones)