My favorite thing to do with the end-of-season fresh corn on the cob is to make a seafood corn chowder. Using fresh stock is a game changer in terms of true corn flavor. The milk sugar from the corn cobs is so sweet there is no need for any added sugar in this recipe.
Table of Contents: The Recipe | How to Make Corn Stock | Ingredients & Substitutions | What to Serve with Chowder | Common Questions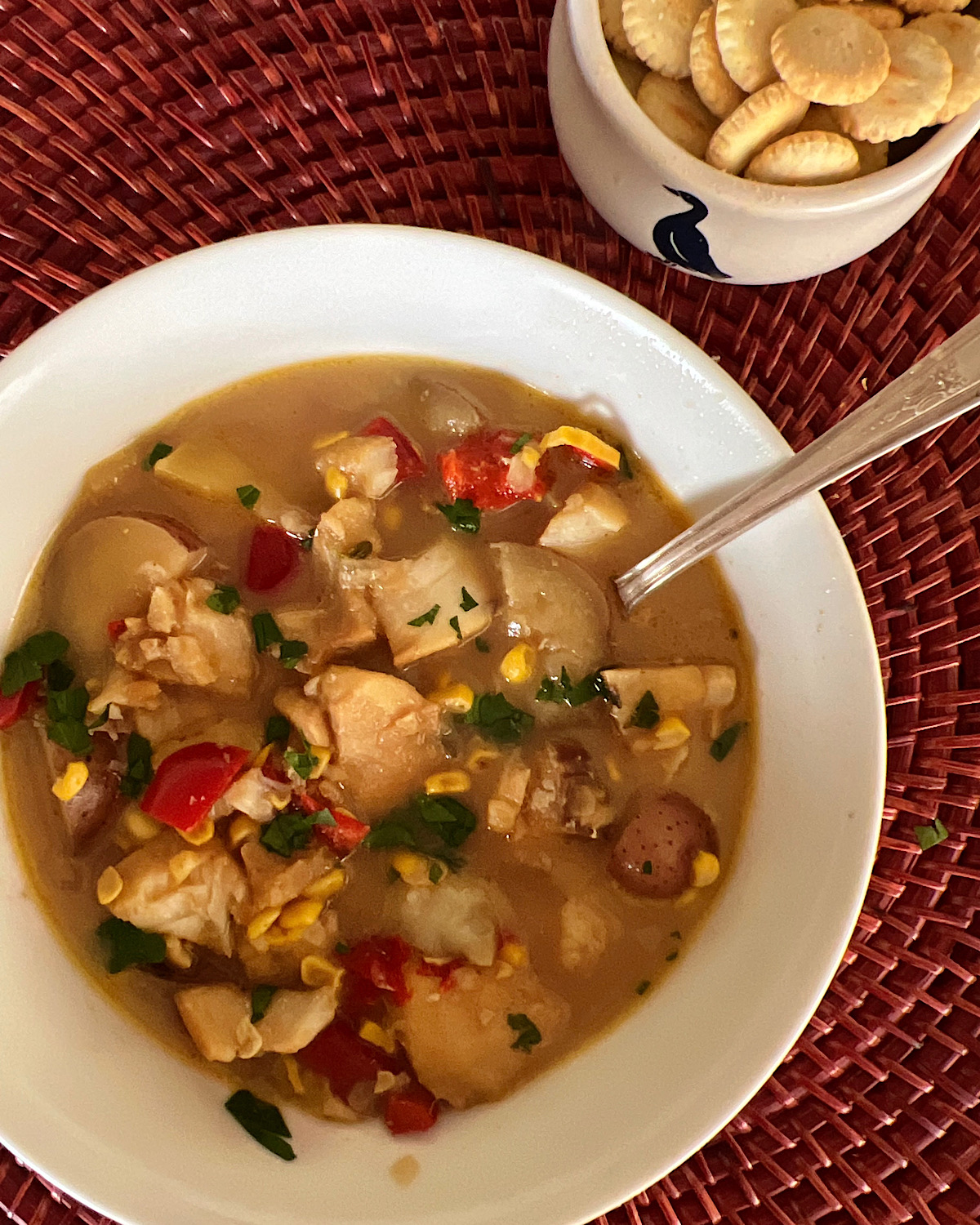 This post may contain affiliate links, and you can read our disclosure information here–
What is a Seafood Chowder vs Seafood Stew
A "chowder" typically includes some sort of milk, cream or dairy in the broth and it usually includes potatoes. A "corn chowder" adds the flavor of corn through either a corn stock made with the cobs or the corn kernels used mashed or whole. And then the "seafood corn chowder" adds a layer of fish or shellfish. Most often you will see a seafood chowder featuring shrimp.
A seafood stew on the other hand, is often made with a clear broth instead of a cream-based broth. A San Francisco cioppino or a French bouillibaisse are two popular seafood stews that have distinctive ingredients. Seafood stews often include tomatoes, with potatoes not always a common ingredient.
How to Make the Corn Stock
The best stock is made with fresh cobs, stripped of their kernels. This really highlights the corn flavor and helps to thicken the soup at the same time. The recipe below and the video show you exactly how to make the stock. It is easy, but you have to think ahead a bit as it takes a couple of hours to extract the full flavor and milk sugar from the cobs.
Of course fresh corn on the cob is not always available and you can make corn chowder with frozen or canned corn, but the corn flavor will be more muted.
Frozen corn is often frozen when at its peak so it does work in a corn chowder. You can add some creamed corn to make up some texture and flavor differences you would get from not using fresh corn.
You could also use a mixture of canned corn kernels and creamed corn, but I think frozen corn will add more fresh flavor.
Pureeing some of the frozen or canned corn kernels to stir into the simmering soup will also help deepen the corn flavor.
Ingredients and Best Substitutions
The ingredients of any chowder tend to cover a wide range of variables. Most however, will include a protein (fish or meat), some sort of dairy or nut milk, and potatoes mixed with other vegetables. Here are my favorite substitutions:
Protein substitutions
Shrimp
Crab
Salmon
Cod or other whitefish
Ham
Bacon
Chicken
Dairy Substitutions
Almond milk
Whole milk
Half and Half
Evaporated milk
Vegetable Substitutions
Carrots
Red bell peppers
Potatoes, red, fingerling or yukon
Celery
Fennel
onions
Best Way to Remove Kernels from the Cobs
Typically you stand the corn on end and use a sharp knife to scrape off the fresh kernels from the cob. The only problem with this is that it is very messy….kernels tend to fly all over.
**Pro Tip: An easy way to keep the kernels in line is to get a very large bowl and then place a small bowl upside down inside of the large bowl. Stand the cob on top of the small bowl when using the knife and the kernels fall neatly inside of the large bowl (see video in recipe card for demonstration)
Can Seafood Corn Chowder be Low Carb?
While seafood is always low carb, corn and potatoes definitely are not. Since corn and potatoes make up a large percentage of this dish it is not really compliant with a low carb diet. Check out the cioppino or bouillabaisse recipe for low carb seafood stews.
What to Serve with Seafood Corn Chowder?
For ease and convenience, oyster crackers are a classic accompaniment to chowders. If you want serve something homemade with it, try these easy, but classy cheese straws. Here are a few other ideas:
Purchased oyster crackers
Rustic bread, toasted
Common Questions
Can it be frozen?
due to the dairy and potatoes in this one, I don't recommend freezing it as is. the stock made with fresh corn cobs however can be frozen and when thawed will add a huge burst of fresh flavor to canned corn kernels. Store the stock in the refrigerator for up to 1 week or freeze in small batches and thaw as needed.
Is corn chowder sweet?
Fresh corn on the cob has been hybridized to be very sweet these days. If you make stock out of the cobs it will release the milk sugar and the corn chowder will be quite sweet without the need to add any sugar.
How can I make corn chowder thicker?

Several ways:
1) you can puree the corn kernels in the blender and add to soup instead of whole kernels;
2) you can whisk together a bit of cornstarch and whatever milk you are using and add that to the soup while it cooks;
3) you can add a paste of equal parts softened butter and flour thoroughly mixed and add this to the final stages of cooking the soup.
4) if you use the cobs to make the stock it will often act as a thickener.
Seafood Corn Chowder Recipe
Seafood Corn Chowder
Seafood corn chowder using cod instead of shellfish with a corn stock made by simmering fresh corn cobs stripped of kernels and finished with heavy cream.
Ingredients
Corn Stock
3

corn cobs

stripped of kernels

1

onion

quartered

¼

Cup

parsley leaves

1

Teaspoon

black peppercorns

8

Cups

water
Seafood Chowder
1-2

Tablespoons

butter

1

onion

1-2

Cups

red bell peppers

chopped

1

Pound

potatoes

red potatoes or yukon, cut into bite-size pieces

1

Teaspoon

ground fennel seed

or chopped fresh fennel bulb

1

Teaspoon

spicy seasoning

or Old Bay seasoning

1 ½

Teaspoon

kosher salt

5

Sprigs

fresh thyme

or 1 teaspoon dried thyme

2

Pounds

cod

or any whitefish

1 ½

Cups

corn kernels

from the stripped cobs

⅔

Cups

heavy cream

or half and half
Instructions
For the Stock
Strip the corn cobs of their kernels and set kernels aside. Cut cobs in half so they fit into your pot.

To the pot add the corn cobs, the onion, parsley, peppercorns, and 8 cups water. Bring to a boil and then reduce heat and simmer 2 hours (add more water if neede – it should cover the cobs for the full 2 hours)

3 corn cobs,

1 onion,

1/4 Cup parsley leaves,

1 Teaspoon black peppercorns,

8 Cups water
For the Chowder
In a dutch oven or heavy pot, melt butter over medium-high heat and then saute the onions for about 5 minutes. Add peppers and cook together with onions another 5 minutes until vegetables are soft and caramelized.

1-2 Tablespoons butter,

1 onion,

1-2 Cups red bell peppers

Add potatoes and corn stock to the caramelized vegetables. If you didn't make the corn stock add 8 cups of fish stock, water or vegetable stock. Add all the spices and herbs and stir together.

Cook over medium-high for 10 minutes

1 Pound potatoes,

1 Teaspoon ground fennel seed,

1 Teaspoon spicy seasoning,

1 1/2 Teaspoon kosher salt,

5 Sprigs fresh thyme

Add the cut-up cod to the pot and cook 3 minutes

Add the corn kernels you set aside earlier, along with the cream and cook about 5 minutes (covered)

2 Pounds cod,

1 1/2 Cups corn kernels,

2/3 Cups heavy cream

Serve with rustic bread or crackers.
Notes
Storing and Freezing:
Can be refrigerated for 3 days.
The corn stock and corn kernels can be made ahead and frozen, but the potatoes and cream in the chowder will not freeze well.
Nutrition
Calories:
333
kcal
Carbohydrates:
28
g
Protein:
28
g
Fat:
13
g
Saturated Fat:
8
g
Polyunsaturated Fat:
1
g
Monounsaturated Fat:
3
g
Trans Fat:
0.1
g
Cholesterol:
106
mg
Sodium:
1096
mg
Potassium:
956
mg
Fiber:
4
g
Sugar:
7
g
Vitamin A:
1535
IU
Vitamin C:
56
mg
Calcium:
73
mg
Iron:
2
mg
Did you make this recipe?
If you tried this recipe, please give it a 5-star rating! To do this, just click on the stars above.