Cioppino, Bouillabaisse and seafood chowders are three "seafood stews" that are often confused, as they are quite similar in ingredients and cooking methods. There are some nuanced differences however, mostly around type of fish used and several regionally-based distinctions. If you don't have access to fresh seafood, flash frozen seafood can stand in without a loss of flavor or texture. The Cioppino recipe is in the recipe card below. A low carb Bouillabaisse recipe or a Seafood Corn Chowder recipe are included on this website also.
Jump to:
RECIPE for West Coast Cioppino
Cioppino Key Ingredients
Bouillabaisse Key Ingredients
Seafood Chowder Key Ingredients
How to Get Best Flavor from Seafood Soups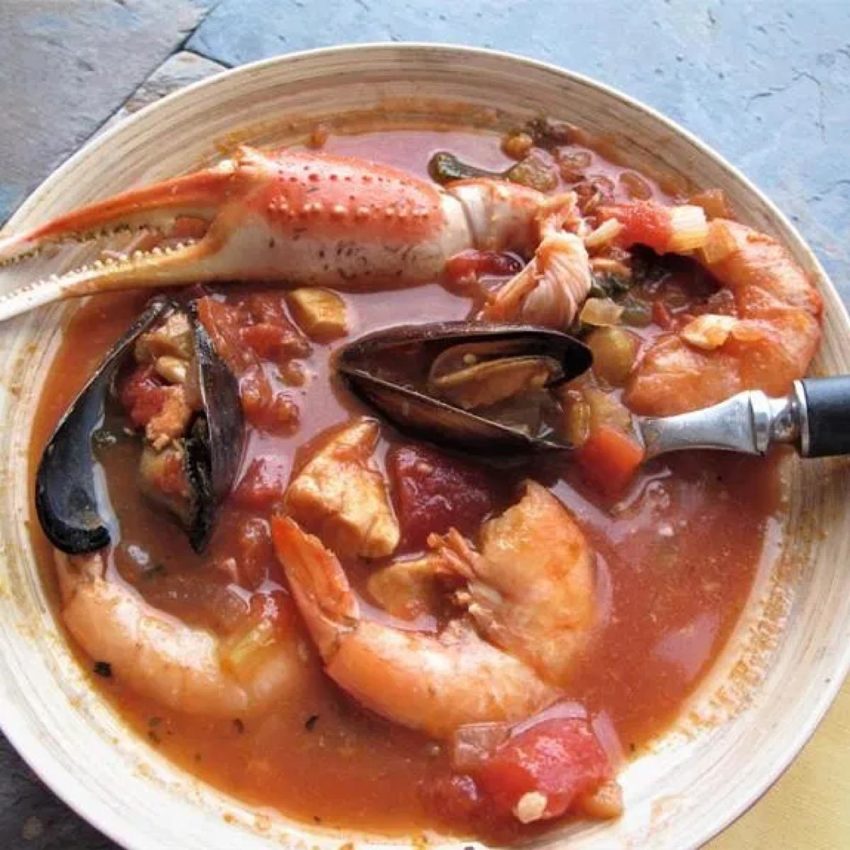 This post may contain affiliate links (at no cost to you). Here's our disclosure information
Distinctions between Cioppino, Bouillabaisse and Seafood Chowder:
Cioppino
Cioppino is a homey seafood stew thought to be created by West Coast (specifically San Francisco) Italian immigrants, with a rich tomato base as its primary broth.
The seafood that goes into cioppino generally has a regional focus, integrating ingredients like Dungeness Crab in San Francisco or lobster in Maine.
Particular seafood ingredients tend to be the "catch of the day", but one thing is certain…cioppino includes a massive amount of fish.
And, while the type of fish on any given day might include mussels, clams, crab legs, scallops, halibut, or shrimp, the addition of some form of firm-fleshed white fish is a constant.
Other ingredients often seen in cioppino include red wine, onions and garlic, parsley and basil.
Bouillabaisse
Bouillabaisse is a hearty French fish stew, similar to cioppino but further characterized by the addition of saffron.
The broth is also a distinguishing factor between cioppino and bouillabaisse. While cioppino has a true tomato base, bouillabaisse has a white (fish stock) base with some tomatoes thrown in.
To get really technical, an "authentic" bouillabaisse cannot be made outside of Provence because it must include Provence's indigenous scorpion fish. In the states, a snapper or sea bass is frequently used as a substitute for scorpion fish.
Other ingredients often seen in a bouillabaisse include white wine, potatoes, fennel and orange peel.
This recipe for a French Bouillabaisse stew is excellent, low carb and not difficult to make.
Seafood Chowder
Much of the seafood in cioppino and bouillabaise is served in the shell, requiring special utensils (i.e., crab cracker, bibs).
The beauty of a seafood chowder is that it is often made with whitefish instead of shellfish, requiring only a large spoon and a chunk of good crusty bread to sop up the broth.
Often a seafood chowder will include heavy cream in the broth along with the fish stock, and almost always, a chowder will include potatoes.
The type of seafood included in a chowder is the cook's choice, but you see smoked salmon more frequently in a chowder than in a cioppino or bouillabaise.
The Key to "Authentic" Cioppino, Bouillabaisse, or Seafood Chowder
There is really no "right way" to make these fish stews, but there are two keys to making all of these seafood stews "great":
A good fish stock
Not overcooking the seafood.
Spices are negotiable and are all over the board, so the seasoning is going to vary according to regional or household preferences.
Can these seafood stews be made with frozen seafood?
Here in the Midwest we have a lot of great food to be thankful for, but fresh seafood is something I truly miss from my early days growing up in Oregon. I used frozen seafood in each of these stews and they turned out fantastic. Seafood these days is often flash frozen right on the ship and can be a perfect alternative to fresh if you do not live in a coastal area where fresh seafood is readily available.
Best Recipe for Low Carb Cioppino:
West Coast Low Carb Cioppino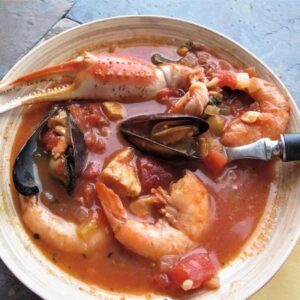 This recipe for an equisite cioppino is slightly adapted from a dish served at a popular West Coast restaurant called Mothers' Bistro. It is made with prepared pasta sauce and can be made with fresh seafood or quality flash-frozen seafood.
Ingredients
1

Tablespoon

olive oil

½

teaspoon

red pepper flakes

5

garlic cloves

minced

3

cups

clam juice

can be bottled clam juice

26

Ounces

pasta sauce

pre-made (compare nutritional label for sugar content)

½

cup

parsley

finely chopped

½

teaspoon

basil

chopped, can be omitted if not fresh basil

½

teaspoon

dried thyme

¼

teaspoon

fennel seed

freshly ground

½

teaspoon

salt

¼

teaspoon

black pepper

1

lb

mussels

can be frozen

½

cup

dry white wine

1

lb

whitefish

(cod, snapper, sea bass, etc.), cut into bite size pieces

1

lb.

uncooked medium shrimp

crab or other shell-fish

optional

2

lobster tails

optional

2

cups

fresh spinach

torn into large pieces
Instructions
Heat oil in a Dutch oven (or large pot) over medium-high heat. Add pepper flakes and garlic and saute quickly (about 30 seconds). Stir in clam juice to deglaze and add next seven ingredients (pasta sauce through salt & pepper).

1 Tablespoon olive oil,

1/2 teaspoon red pepper flakes,

5 garlic cloves,

3 cups clam juice,

26 Ounces pasta sauce,

1/2 cup parsley,

1/2 teaspoon basil,

1/2 teaspoon dried thyme,

1/4 teaspoon fennel seed,

1/2 teaspoon salt,

1/4 teaspoon black pepper

Reduce the heat, cover the pot, and simmer over low heat (taste for desired depth of flavor to determine when to stop simmering – it can be anywhere from 30 minutes to 3 hours).

Add mussels. Cover and cook over medium heat about 4- 5 minutes, or until shells open (discard any unopened shells). Add wine and rest of fish and simmer 5 minutes or until fish is done (do not overcook!)

1 lb mussels,

1/2 cup dry white wine,

1 lb whitefish,

1 lb. uncooked medium shrimp,

crab or other shell-fish,

2 lobster tails

Stir in spinach to the hot stew to soften, and serve with a crusty French Bread or other robust bread.
Notes
Additions or Substitutions:
Other ingredients often seen in cioppino include red wine, onions and garlic, parsley and basil.
Nutrition
Calories:
424
kcal
Carbohydrates:
33
g
Protein:
49
g
Fat:
9
g
Saturated Fat:
2
g
Polyunsaturated Fat:
1
g
Monounsaturated Fat:
4
g
Trans Fat:
1
g
Cholesterol:
216
mg
Sodium:
1829
mg
Potassium:
1380
mg
Fiber:
4
g
Sugar:
11
g
Vitamin A:
3583
IU
Vitamin C:
44
mg
Calcium:
151
mg
Iron:
5
mg
Did you make this recipe?
If you tried this recipe, please give it a star rating! To do this, just click on the stars above. Comments are always helpful also and I respond to all of them (except rude ones)
Online Diet/Health Coaching:
Although I am not currently taking clients for diet & health coaching, I have been a coach for many years with the online service called coach.me. It is a great platform for all kinds of coaching – anything from specific diets, writing a blog, getting up early, or getting rid of that pesky procrastination.
There are some wonderful coaches and the testimonials will tell you what you need to know. Contact me at [email protected] to get a referral to some of the tested, experienced online coaches on Coach.me
If you'd like to start with a plan for a low carb or keto lifestyle, check out this detailed guide in ebook form. It may be all you need to lose weight on this lifestyle. Or it may be used as a supplement to one-to-one coaching.