Bouillabaisse is a hearty French seafood stew, similar to cioppino but further characterized by the addition of saffron and a fish stock/white wine base as the broth. Fennel and orange peels are also ingredients that are common to a French bouillabaisse and are included in the recipe below.
Table of Contents:
The RECIPE
What makes Bouillabaisse Broth Unique?
Key Ingredients
Substitutes for Scorpion Fish
Is Bouillabaisse Low Carb?
Tips for Best Seafood Stews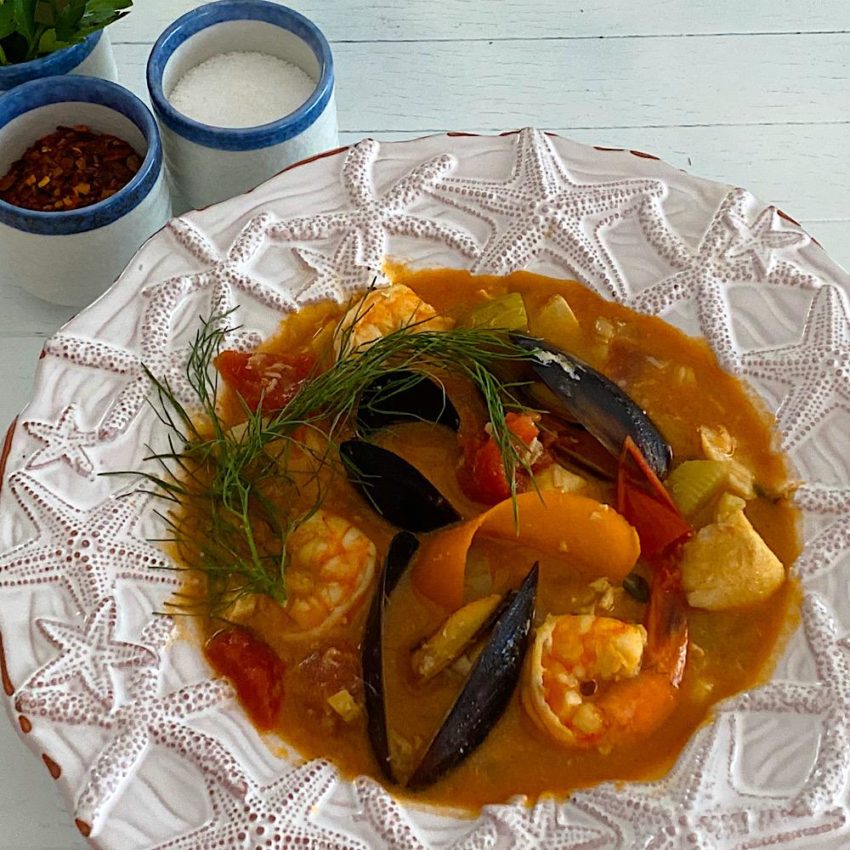 This post may contain affiliate links (at no cost to you). Here's our disclosure information
Bouillabaisse Broth vs Other Seafood Stew Broths?
While the fish itself can be quite similar in classic seafood stews, the broth is where the seafood stews make their stand and differentiate themselves.
A classic French bouillabaisse broth would be characterized by a homemade fish stock with perhaps the addition of some white wine. Another key ingredient to a bouillabaisse stock is saffron.
Chowders, like this Seafood Corn Chowder tend to have a cream based broth, while cioppino has a tomato based stock, Brazilian fish stew (moqueca) has a coconut milk base, and recipes like this Thai curry fish stew have a curry/coconut milk base.
Of course there is a fish stew indigenous to just about every region, but those are the ones I am most familiar with.
Ingredients that Distinguish a Classic French Bouillabaisse
In addition to the wine-based fish stock noted above, most French bouillabaisse stews include the addition of saffron, and will most likely include fennel and orange peels.
There are, of course, cultural distinctions between these fish stews. Understanding the differences between a bouillabaisse and a cioppino for example is often dependent on regional availability of key ingredients.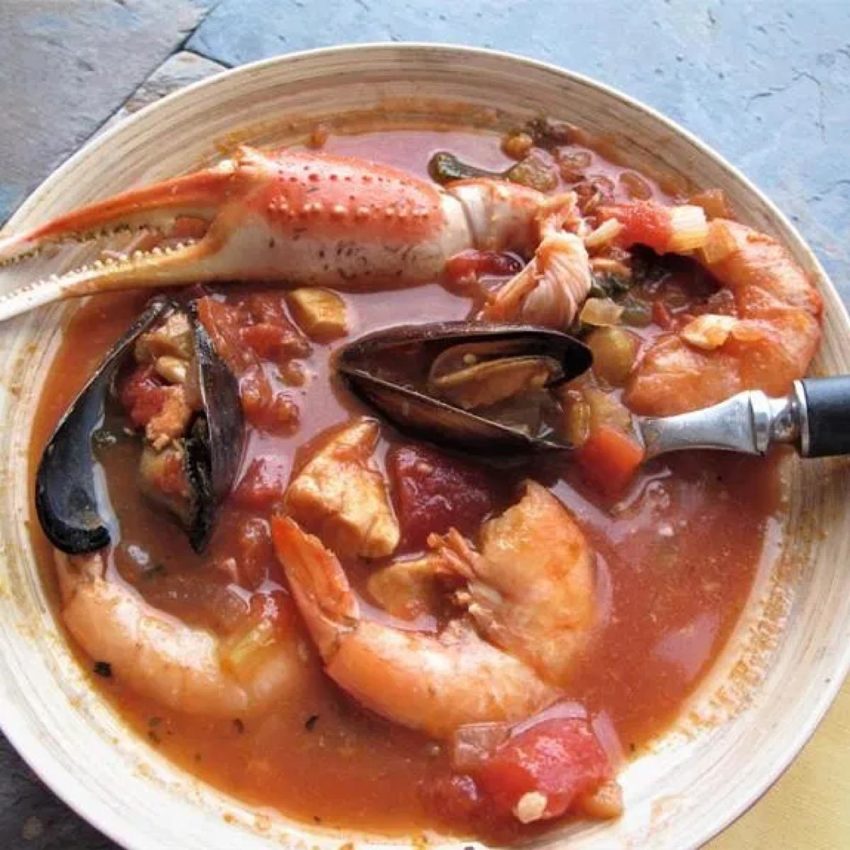 What Kind of Fish can be Substituted for the Scorpion Fish?
To get really technical, an "authentic" bouillabaisse cannot be made outside of Provence because it must include Provence's indigenous scorpion fish.
In the states, a snapper or sea bass is frequently used as a substitute for scorpion fish.
The main thing that most fish stew aficionados agree on is that oily fish like salmon is a travesty in a bouillabaisse. If you don't have access to scorpian fish and you avoid oily fish like salmon, then just about any seafood will work.
I like to start with white fish like cod, snapper, halibut and maybe tilapia. After cooking the white fish for a few minutes I will add some shrimp and mussels. If lobster or crab is available, all the better!
How to Make Bouillabaisse Low Carb
It is quite easy to make bouillabaisse low carb ….just avoid adding potatoes. Most of the other ingredients are low carb compliant and shouldn't be a problem on low carb, slow carb or keto lifestyles.
3 Tips to Making Great Seafood Stews (of any kind)
the flavor of the broth is key. Often, seafood can become somewhat bland and needs a flavorful broth to enhance it. Taste as you go and if the broth is too bland for you, add something spicy or perhaps some more anise-flavored liqueur. For a spicier fish stew, check out this Mexican Fish Stew
Seafood cooks very quickly and it is easy to overcook it and get a rubbery texture. Simmer the broth a long time to meld all the flavors but only add the seafood in the last 3-5 minutes
Don't forget the salt. This goes hand in hand with #1. Salt can bring out the more subtle and delicate flavors which is desirable. Salt and taste as you go.
More Great Low Carb Seafood Dishes: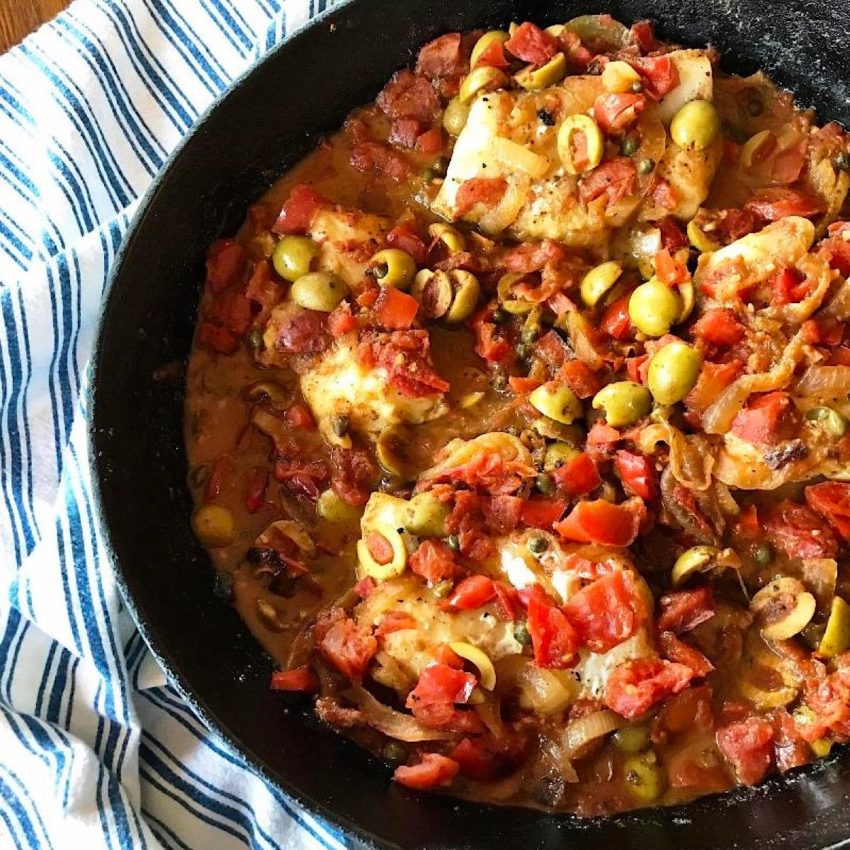 Or try a Paella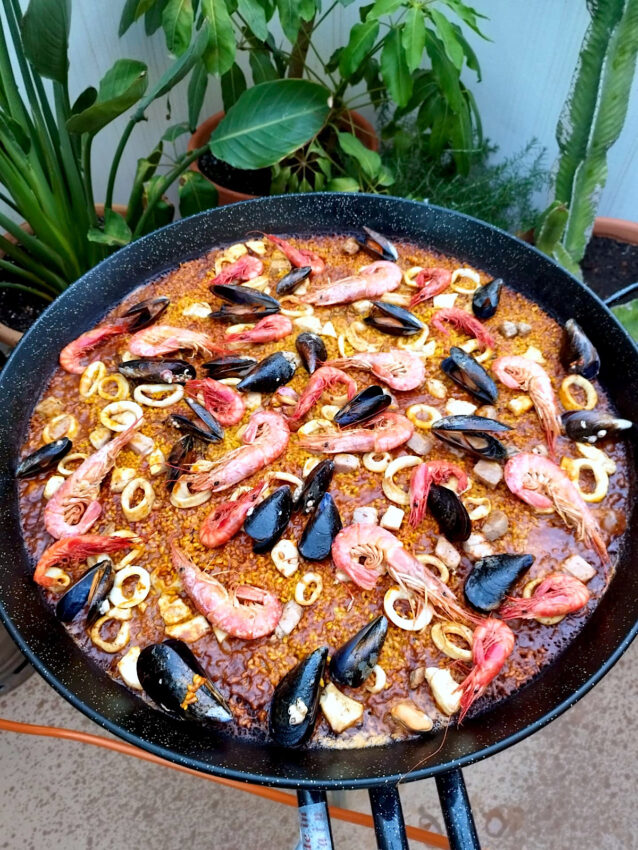 Cod with Spanish Pil Pil Sauce
Or try this Pistachio-Crusted fish dinner, or these Mexican Fish Tacos
Last but not least, use this low carb breading on any of your favorite fish dishes to add some great texture without going over the low carb limits.
If you make and love this recipe, please leave a ★★★★★ review below and any comments others might find helpful. It means a lot to me when you try my recipes, and I'd love to know how it goes.
Low Carb Bouillabaisse
Easy recipe for a perfect bouillabaisse
Ingredients
¼

tsp

saffron

2

cups

white wine

divided

2

Tbsp

olive oil

1

bulb

fennel

chopped

3

stalks

celery

chopped

1

onion

chopped

3-4

cloves

garlic

minced

1

Tbsp

tomato paste

14

oz

diced tomatoes

3

sprigs

thyme

3

sprigs

parsley

2

Tbsp

Pernod

or other anise-flavored liqueur

5

orange peels

from 1/2 orange

2

cups

clam juice

or home-made fish stock

2

tsp

salt

or to taste

3

lbs

white fish

some combination of cod, snapper, halibut, or monkfish

½

lb

mussels

½

lb

shrimp

¼

tsp

cayenne

optional
Instructions
In a small bowl or glass, add 1/4 tsp saffron to 1/2 cup white wine and set aside

1/4 tsp saffron,

2 cups white wine

Heat oil in a large pot over med-high and then add chopped fennel, celery, onions. Saute mixture until translucent (about 5 minutes). Add chopped garlic for 30 seconds to a minute.

2 Tbsp olive oil,

1 bulb fennel,

3 stalks celery,

1 onion,

3-4 cloves garlic

Add next 8 ingredients (tomato paste through salt) to the pot and bring to a low boil. Turn down heat and simmer broth for about 30 minutes. If you want more liquid in the soup, add another cup of water, clam juice or wine at this point.

1 Tbsp tomato paste,

14 oz diced tomatoes,

3 sprigs thyme,

3 sprigs parsley,

2 Tbsp Pernod,

5 orange peels,

2 cups clam juice,

2 tsp salt

Taste the broth for salt and flavor. If desired, add the cayenne and/or more salt or Pernod.

1/4 tsp cayenne,

2 Tbsp Pernod

Add the white fish to the pot and cook for 3-5 minutes, until no longer transcluent. Be careful not to overcook. Add shrimp and mussels to the pot and cook for an additional 2-3 minutes.

3 lbs white fish,

1/2 lb mussels,

1/2 lb shrimp

Taste again for seasoning and adjust to your taste. Serve with low carb almond flour crackers if low carb. Otherwise, serve with crusty French bread.
Video
Low Carb Bouillabaisse - a Cooking Tutorial
Nutrition
Calories:
458
kcal
Carbohydrates:
18
g
Protein:
58
g
Fat:
10
g
Sodium:
1512
mg
Potassium:
1281
mg
Fiber:
3
g
Sugar:
6
g
Vitamin A:
474
IU
Vitamin C:
21
mg
Calcium:
151
mg
Iron:
4
mg
Did you make this recipe?
If you tried this recipe, please give it a star rating! To do this, just click on the stars above. Comments are always helpful also and I respond to all of them (except rude ones)
Online Diet/Health Coaching:
Although I am not currently taking clients for diet & health coaching, I have been a coach for many years with the online service called coach.me. It is a great platform for all kinds of coaching – anything from specific diets, writing a blog, getting up early, or getting rid of that pesky procrastination.
There are some wonderful coaches and the testimonials will tell you what you need to know. Contact me at [email protected] to get a referral to some of the tested, experienced online coaches on Coach.me
If you'd like to start with a plan for a low carb or keto lifestyle, check out this detailed guide in ebook form. It may be all you need to lose weight on this lifestyle. Or it may be used as a supplement to one-to-one coaching.