Pheasant Normandy is a robust delicious stew typically made with pheasant legs (or chicken legs) braised in butter, then long-simmered with onions and apple cider (and a little apple brandy) and finally finished off with cream and sautéed apples.
Jump to:
RECIPE
Pheasant vs Chicken
Helpful Kitchen Equipment
Illustrated Step by Step
How to Serve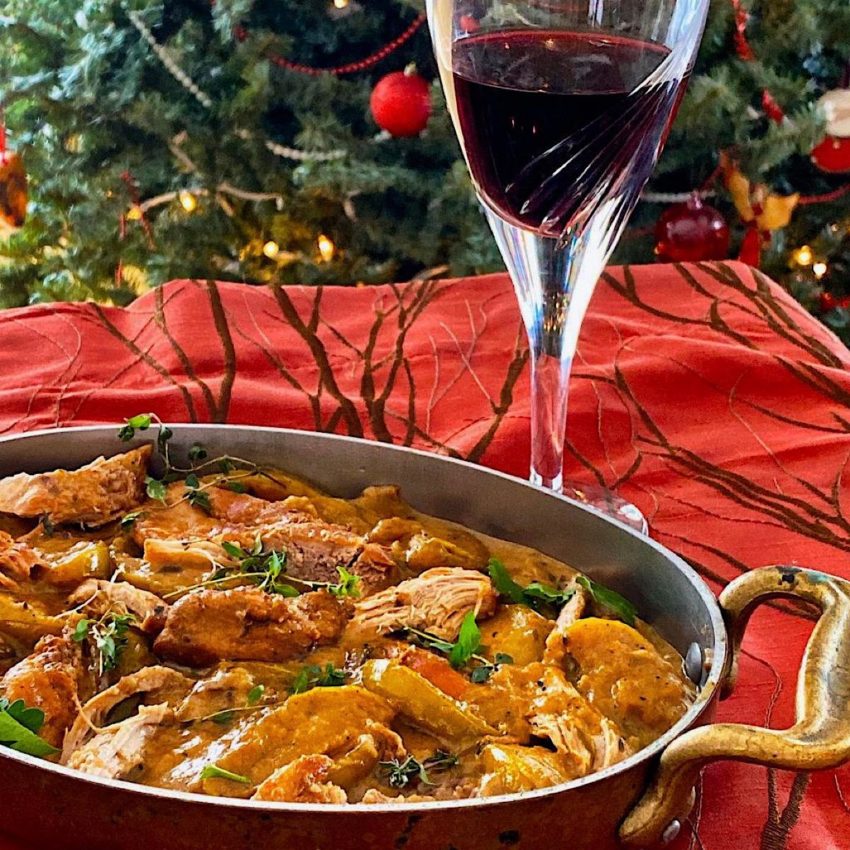 This post may contain affiliate links, and you can read our disclosure information here–
Pheasant Normandy vs Chicken Normandy?
Both Pheasant Normandy and Chicken Normandy are based on a famous French dish made with ingredients that the Normandy region of France is renowned for; which includes apples, apple cider and brandy (specifically Calvodos or apple brandy).
Both pheasant and chicken versions are typically made with the leg sections, but I made the dish with pheasant breasts because that is what was available to me.
I have also made it with chicken thighs rather than legs and it was just as delicious.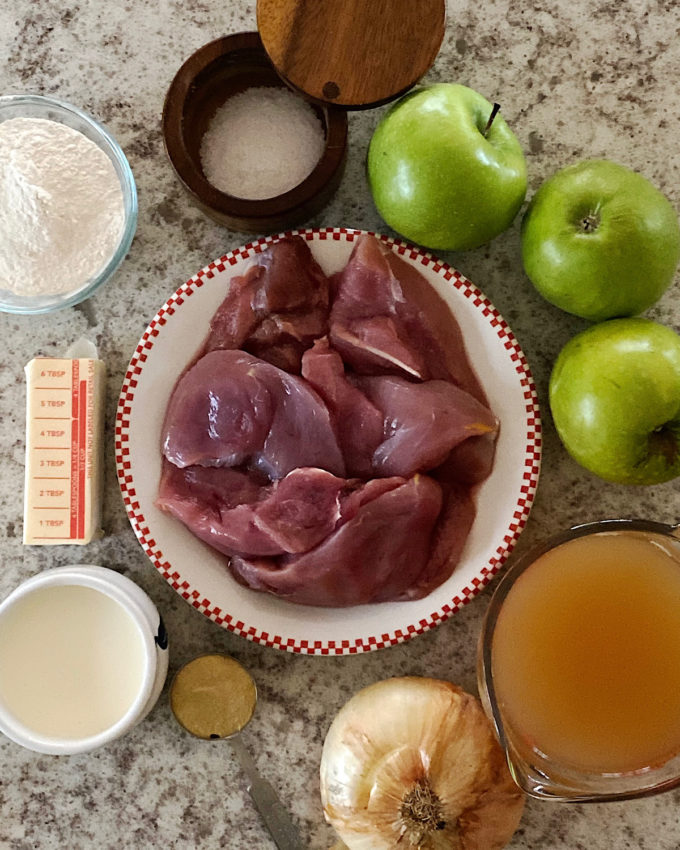 Helpful Kitchen Equipment for Chicken Normandy
What Apples are Best for Chicken Normandy?
When cooking anything with sautéed apples, opt for apples that will hold together the best under high heat. You want to end up with a golden-brown color and a firm-yet-tender texture.
I usually go with granny smith apples, but Pink Lady could work here also.
Cook the apples over medium low heat and make sure to use real butter.
Don't be afraid of the butter and cream in this dish! It is French you know, and the rich buttery sauce flavored with tart apples on carmelized onions is what makes it so famous.
What Brandy is Best for Pheasant or Chicken Normandy?
Deglazing the pot with brandy gives the sauce a great depth of flavor. I used an American apple brandy, and you can certainly just use a generic brandy if that is all you have.
If you want to get the most depth (and be the most true to the French dish) however, try to get your hands on some Calvados.
Calvados Brandy is the famous apple brandy that is produced in the Normandy region of France and must be aged in oak casks for at least two years. The wood flavors are usually quite pronounced.
American producers, on the other hand, often go with a process where the apple flavor is more dominant.
The main thing to know is that apple brandy should be made from apples and nothing else. Something like Applejack is distilled with a mix of apples and grain and will not be as rich or complex.
How to Prevent Dry Chicken or Pheasant
If you use the breast meat of either bird, just don't sear it as long as you would the legs or thighs. The white breast meat tends to get dry if seared too long.
Pheasant also tends to dry out quicker than chicken in general, so just be aware of shortening the searing time and perhaps lengthening the simmering time if you are using pheasant rather than chicken.
Most stews smell and taste great, but are lacking in visual appeal. Not so with Pheasant Normandy.
The granny smith apples and the fresh thyme add shades of green and the creamy cider sauce highlights the darker pheasant. All in all it is an elegant Autumnal sight to behold!
Illustrated Step by Step:
Here is a visual summary of the recipe steps. For details and ingredient amounts, see the recipe card below: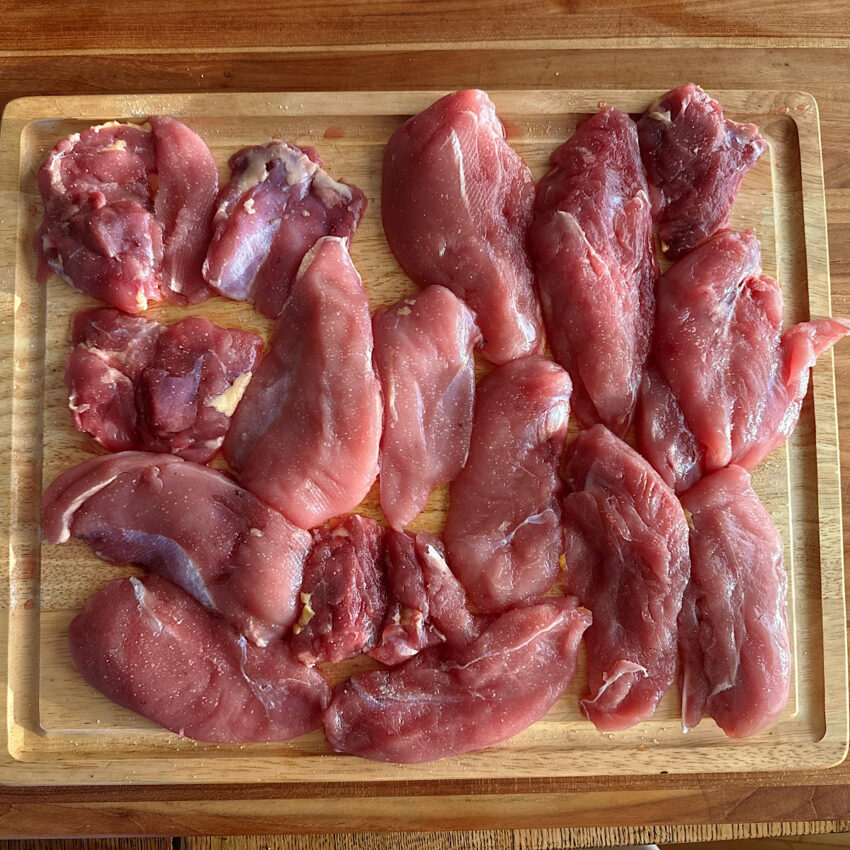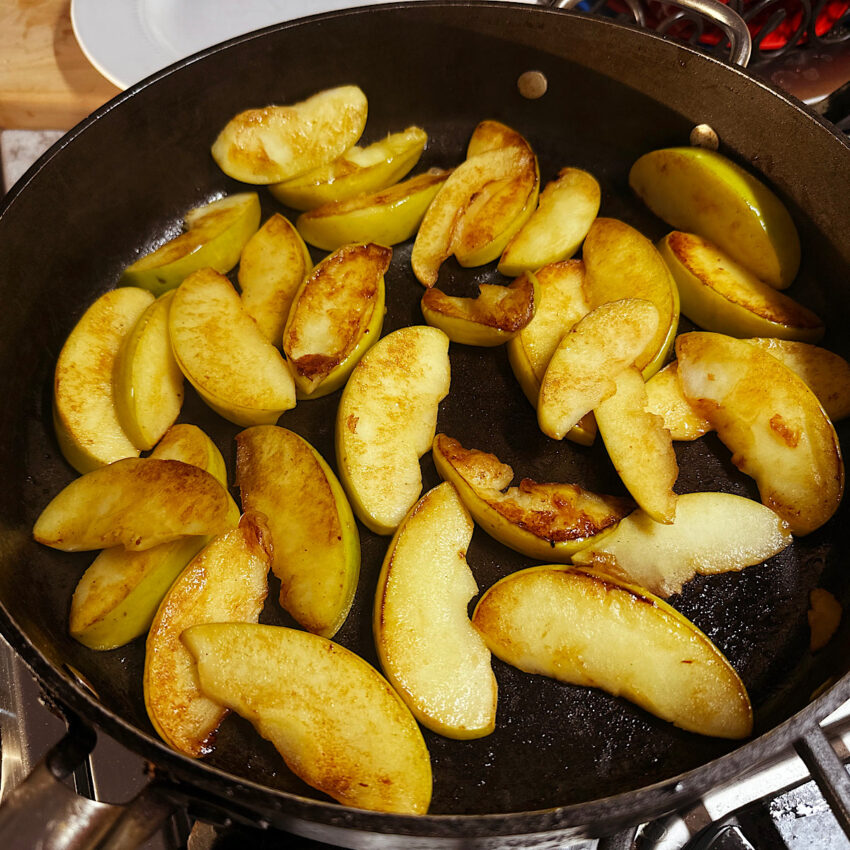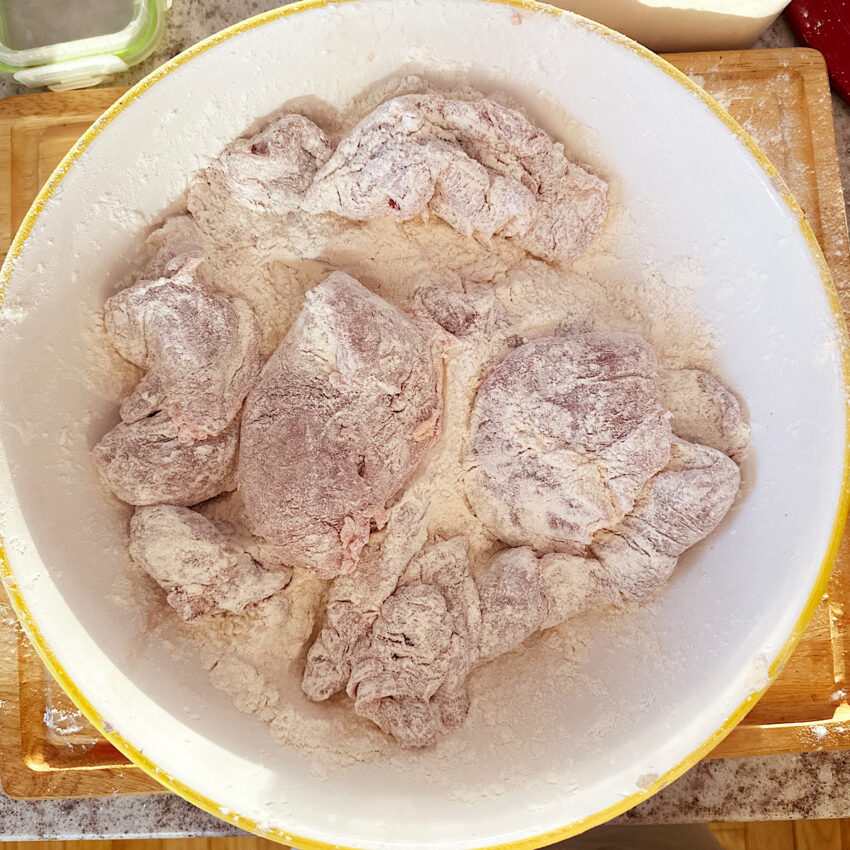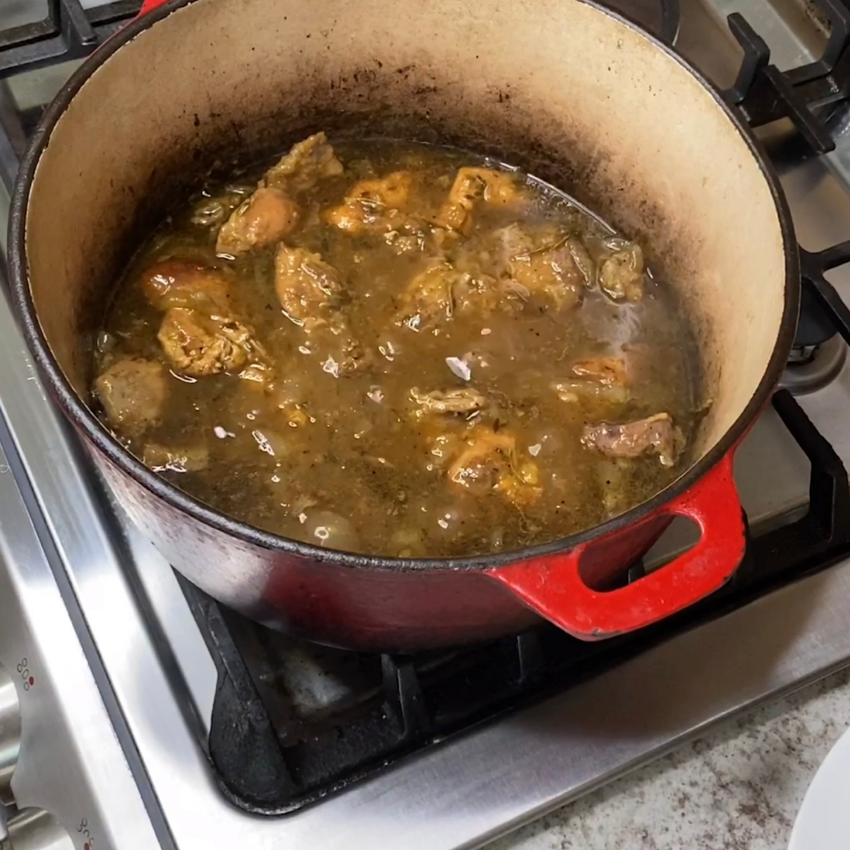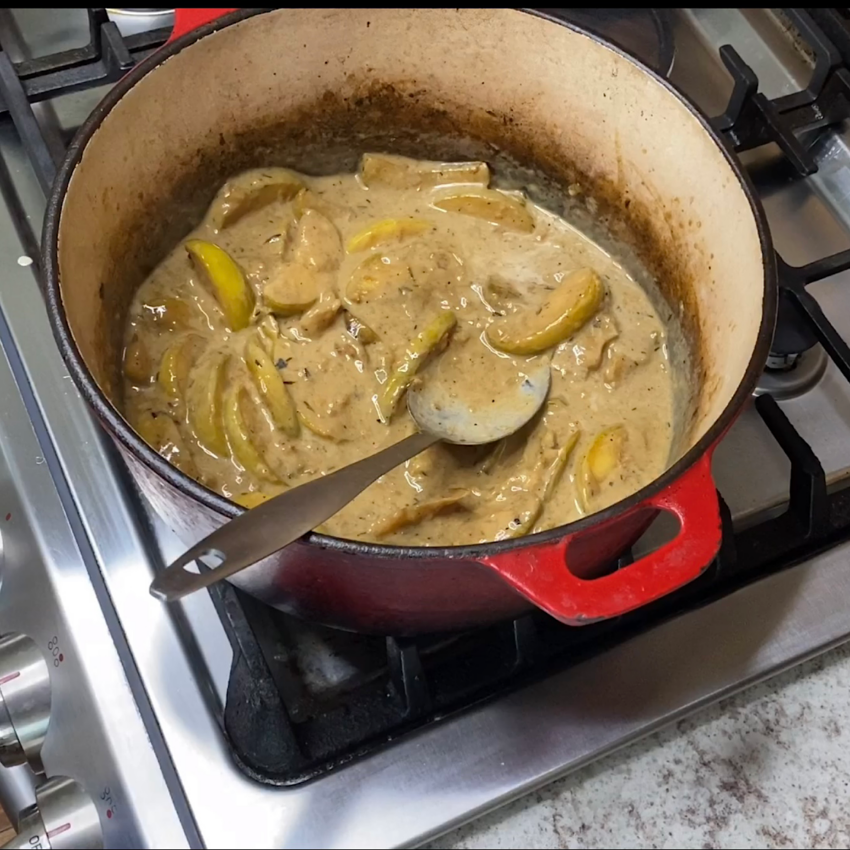 How to Serve:
Serve it with a crusty round of sourdough bread to soak up every bit of sauce.
Spoon the cider-apple sauce into the serving dish first and then top with the pheasant and some fresh thyme.
I left the pheasant breasts whole when I added them to the sauce but you could cut them into smaller pieces also.
If you prefer seeing a video on how to make this dish, check out our "how-to" tutorial: cooking tutorial for making the Pheasant Normandy
More Great Autumn Stews:
For another robust cold weather stew, try this Moroccan Beef and Sweet Potato Stew or one of the cold-weather stews listed below.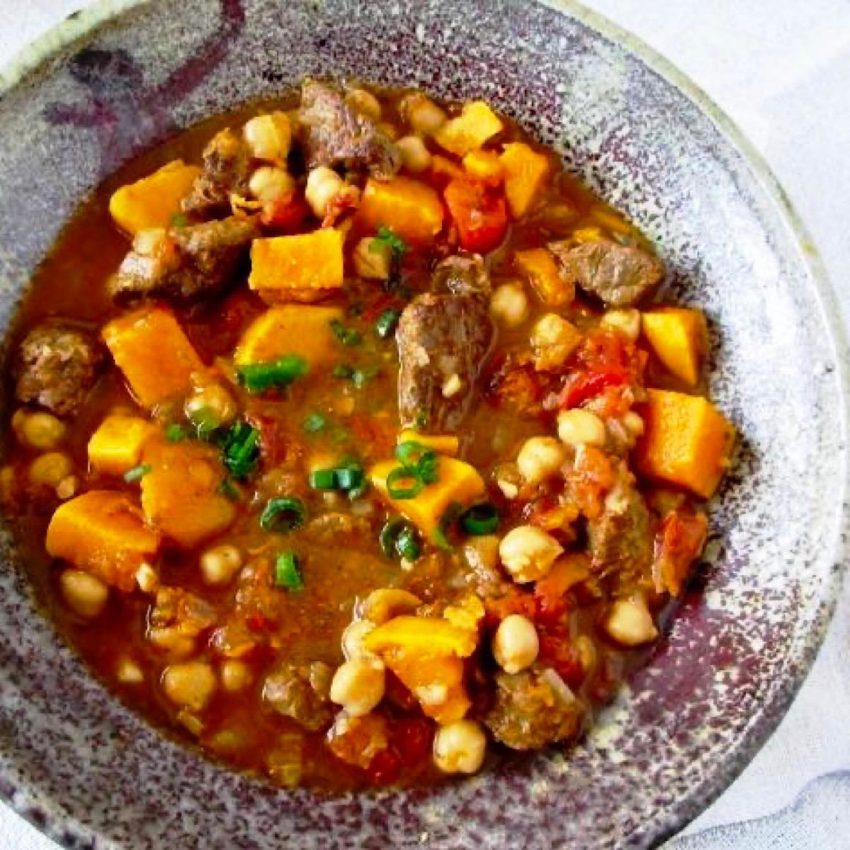 If you make and love this recipe, please leave a ★★★★★ review below and any comments others might find helpful. It means a lot to me when you try my recipes, and I'd love to know how it goes.
Pheasant Normandy
A classic and elegant comfort food dish made with apples, brandy, and either pheasant or chicken.
Ingredients
4-6

tablespoons

butter

unsalted

4

medium

apples

granny smith or pink lady

3

pounds

pheasant

breasts or legs or both

1

large

onion

sliced

½

cup

apple brandy

Calvados if available

2

cups

apple cider

unprocessed

3-5

sprigs

fresh thyme

or 1 tsp dried – reserve some fresh thyme for garnish

½

cup

heavy cream

1

tablespoons

dijon mustard

1-2

teaspoons

salt
Instructions
Sprinkle the pheasant with salt and let it sit for about 30 minutes.

Rinse the apples but do not peel them. Core and slice the apples into wedges (around 1/2" thick).

Over medium heat, melt 2 tablespoons butter in a dutch oven or thick walled pot. Place the apples in the heated butter in a single layer (may have to do 2 separate batches). Gently brown the apples for a few minutes and then turn them over and brown on the other side.

Remove fried apples to a plate and cook the second batch. Remove the second batch of apples and reserve all of them until later.

Add another 2 tablespoons butter to the pot and melt over med-high heat. Dust the pheasant pieces lightly in flour on both sides and lay in the pot in a single layer. Make sure the pheasant is not crowded.

Brown lightly on both sides for a few minutes. Use less browning time if you are using breast meat as it will dry out quicker. Remove pheasant to a plate and reserve.

Increase the heat a bit and add the sliced onions. Add more butter if necessary to carmelize the onions. Cook the onions for about 5 minutes or until carmelized, stirring occasionally.

Turn off the heat and pour in the apple brandy to deglaze the pot. It will steam up and release all the brown bits on the bottom of the pot. Let the brandy boil down until reduced by half. Then add the cider and bring to a boil.

1/2 cup apple brandy,

2 cups apple cider

Strip the thyme leaves from the stems (or use dried thyme) and add to the pot. Place the reserved pheasant pieces back in the pot, cover and simmer until pheasant is tender. This may take 1 1/2 to 2 1/2 hours depending on your pheasant and your tastes. Prick with a fork to see if it is tender enough.

Remove the pheasant from the pot and set aside. Turn the heat to high and add back in the apples and boil down to your preferred consistency. This can be soupy to syrupy, depending on your tastes.

When it is the consistency you like, turn off the heat and add the Dijon mustard and the cream and salt. Mix all together thoroughly and serve.

1/2 cup heavy cream,

1 tablespoons dijon mustard,

1-2 teaspoons salt

Serve by spooning the cider-apple sauce into the serving dish and laying the pheasant and fresh thyme on top. You can also serve on a bed of rice or wild rice if you include carbs in your diet.
Video
Cold Weather Cooking: Pheasant (or chicken) Normandy Stew
Notes
Pheasant tends to dry out quicker than chicken in general, so just be aware of shortening the searing time and perhaps lengthening the simmering time if you are using pheasant rather than chicken.
**Want more like this? Subscribe to our Sunday newsletter to get recipes, gardening guides and diet help. Let's go from Inspiration to Done!
Nutrition
Calories:
598
kcal
Carbohydrates:
29
g
Protein:
46
g
Fat:
33
g
Saturated Fat:
15
g
Polyunsaturated Fat:
3
g
Monounsaturated Fat:
12
g
Trans Fat:
0.3
g
Cholesterol:
181
mg
Sodium:
565
mg
Potassium:
745
mg
Fiber:
4
g
Sugar:
22
g
Vitamin A:
939
IU
Vitamin C:
19
mg
Calcium:
60
mg
Iron:
3
mg
Did you make this recipe?
If you tried this recipe, please give it a star rating! To do this, just click on the stars above. Comments are always helpful also and I respond to all of them (except rude ones)
Online Diet/Health Coaching:
Although I am not currently taking clients for diet & health coaching, I have been a coach for many years with the online service called coach.me. It is a great platform for all kinds of coaching – anything from specific diets, writing a blog, getting up early, or getting rid of that pesky procrastination.
There are some wonderful coaches and the testimonials will tell you what you need to know. Contact me at [email protected] to get a referral to some of the tested, experienced online coaches on Coach.me
If you'd like to start with a plan for a low carb or keto lifestyle, check out this detailed guide in ebook form. It may be all you need to lose weight on this lifestyle. Or it may be used as a supplement to one-to-one coaching.