One of my resolutions this year is to include more vegetables in my recipes, but always with the criteria that they must be full of flavor and simple to cook. No bland vegetables allowed! This Tuscan dish is a sausage been stew with Winter cabbage as the vegetable. It is a full-flavored, slow carb comfort food and comes together in 30 minutes.
Jump to: Recipe | Ingredients & Substitutions | More Hearty Stews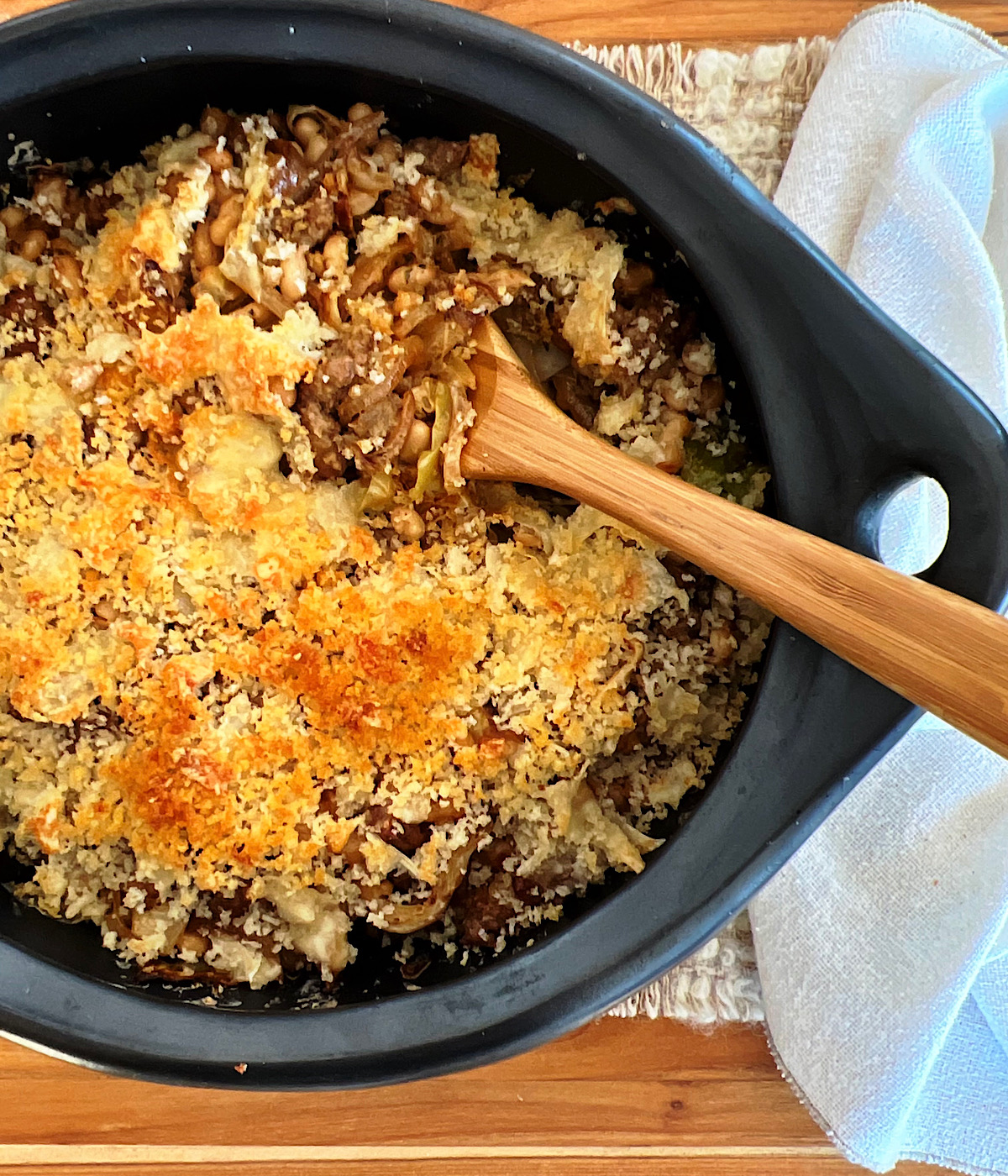 Ingredients and Substitutions
Substitutes for Italian sausage
I used mild Italian sausage (uncooked) and removed the casings before cooking in the skillet. Hot Italian sausage is another good alternative if you like a little more spice. Turkey sausage and breakfast sausage all work
Chorizo (not the cured kind) would be great and add even more spice to the stew. Some people use pancetta or cured meats, which are great but just know that they do not render the fat that is used to braise the cabbage in. You could add oil instead of the sausage fat, but the taste would be less robust.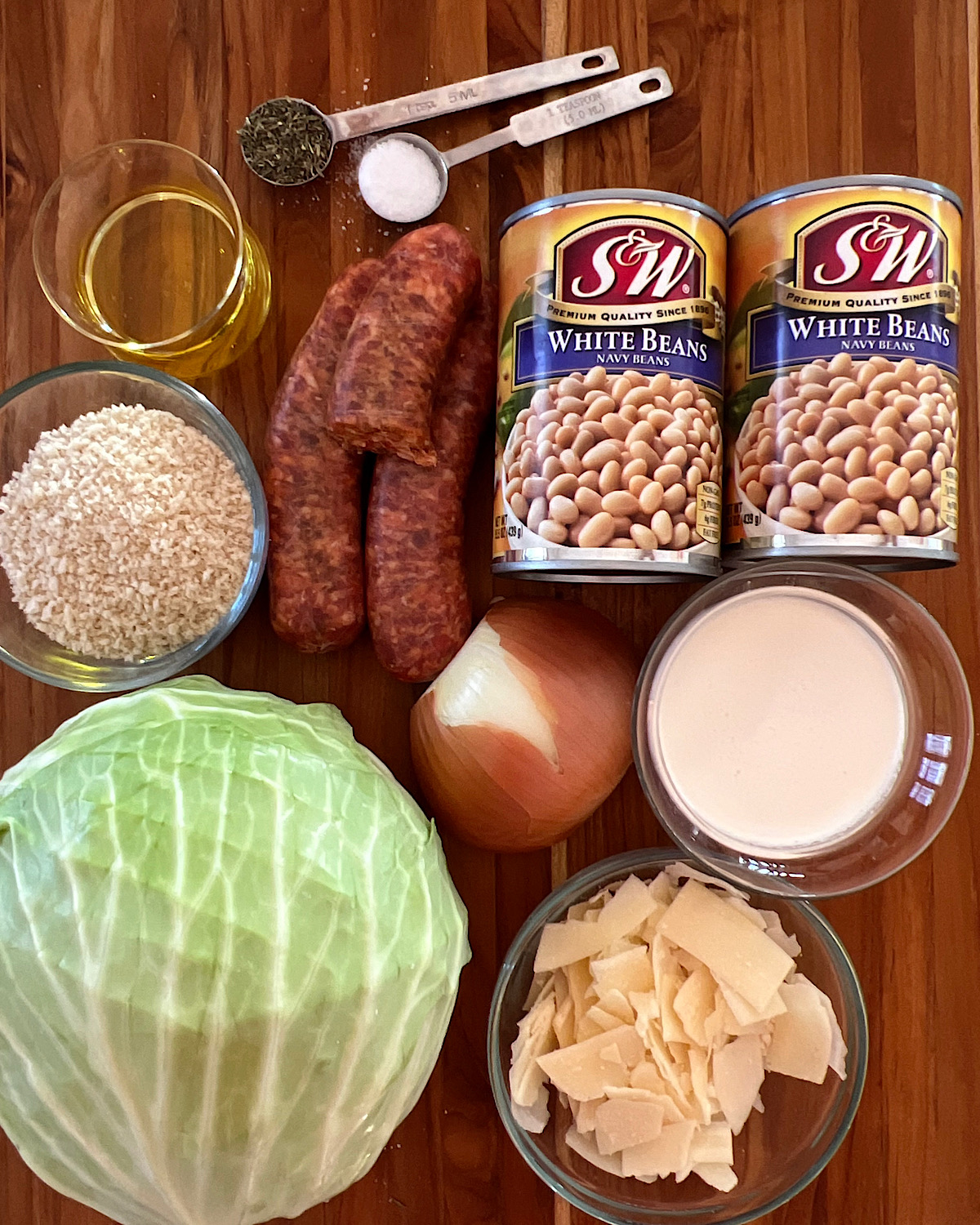 Using dried beans instead of canned
Dried beans cooked in an instant pot or on the stove ahead of time are preferred for many dishes that highlight the beans, as they can offer more flavor and texture. In hearty stews however, I find it easier and just as tasty to use canned beans. In this stew/casserole, the beans are combined with strong ingredients (sausage and cabbage) and their role is more along the lines of adding texture and protein.
Spices and Herbs
Tuscan dishes favor many of the Mediterranean herbs, and can be used interchangeably. I used thyme in this dish, but oregano and rosemary are excellent substitutes.
Choice of liquid determines if it is a stew, soup or casserole
I made this recipe to be more of a casserole than a soup. Stew is the in-between title. The first time I made it, I used 1/2 cup of heavy cream and no other liquid, which I found to be too dry.I didn't really want a soup however, so I compromised with 1/2 cup of cream and 1 cup of water.
You could easily substitute chicken broth for the liquid or vegetable broth if you are vegetarian. If you want to turn this dish into a soup, use 4 cups of broth. Soup, stew, casserole……they're all absolutely wonderful!
Is Sausage Bean Stew Slow carb, Low carb or Keto?
Everything in this dish works on a slow carb diet except for the panko breading, and the panko is truly optional. It adds the crispy crunch of a crust which is nice, but not necessary.
The beans are not considered low carb or keto, but they are compliant with slow carb diets. They do have a lot of carbs, but the high level of fiber makes it a complex carb and offsets the glycemic response.
The one dietary ingredient that the 5 Blue Zones (areas of the world with the highest number of healthy people over 100) have in common is beans.
Beans are an excellent protein source which vegetarians have known about for ages. I find them extremely helpful when trying to cut meat consumption and still maintain a healthy amount of protein in your diet. Another similar great "stew" is this Italian white bean, kale and sausage stew.
Inexpensive way to batch cook and enjoy later
The ingredients in this stew are inexpensive and keep well in the refrigerator or pantry. Since you only use 1/2 of a cabbage and 8 ounces of sausage, make 2 pots and freeze the second batch in small, portable containers. It works great as a lunch that can be reheated at home or at the office.
Other Comforting Hearty Soups & Stews
In the heart of Winter there is nothing more comforting than a hearty warm stew, a glass of wine and a good read. Here are a few of my favorite Winter stews/soups:
This post may contain affiliate links, and you can read our disclosure information here–
Recipe for Sausage Bean Stew with Cabbage
Tuscan White Bean, Sausage and Cabbage Stew
This hearty simple stew can be made as a delicious casserole also by decreasing the liquid. Braised cabbage, Italian sausage and cannellini white beans combine for flavor-filled comfort food.
Equipment
small bowl

spatula or wooden spoon
Ingredients
8

Ounces

Italian sausage

casings removed; use hot or sweet

1-2

Tablespoon

olive oil

can use more if sausage doesn't have much fat

½

medium cabbage

Quartered and thinly sliced

1

large onion

Halved and thinly sliced

2

Cups

canned cannellini beans

2 cups rinsed and drained (can be made ahead with dried beans)

1

Teaspoon

Thyme or oregano

could also use rosemary

½

Cup

Heavy cream

1

cup

water

use more if you want more of a stew rather than a casserole

½

Cup

grated parmesan

½

Cup

panko

optional; leave out if slow carb
Instructions
Preheat oven to 400° F.

Add a bit of olive oil to a large skillet and heat over medium-high heat. Remove casing from sausages and sauté sausage for about 5 minutes in the skillet, breaking it apart with a spatula or wooden spoon.

When sausage is no longer pink, remove it to a plate and set aside.

Add a tablespoon of olive oil to the skillet and heat up. Then add the sliced cabbage the sliced onion and a little salt and cook over medium to medium-high heat until lightly browned and somewhat caramelized. This will take about 10 minutes.

1-2 Tablespoon olive oil,

1/2 medium cabbage,

1 large onion

When cabbage-onion mixture is browned and caramelized, add sausage back to the skillet. Then add the crushed thyme, the beans, the cream and the water. Stir everything together thoroughly.

2 Cups canned cannellini beans,

1 Teaspoon Thyme or oregano,

1/2 Cup Heavy cream,

1 cup water

In a small bowl stir together parmesan and panko (if using). This will be the topping of the casserole.

If your skillet is ovenproof, just sprinkle the topping over the skillet ingredients and place in the oven for 15 minutes. If your stew/casserole was made in a skillet that is not ovenproof, transfer the ingredients to an ovenproof dish first, then sprinkle on the topping and place in oven.

To brown up the topping even more you can set the oven to broil for the last 2 minutes.

1/2 Cup grated parmesan,

1/2 Cup panko

Serve with a glass of pinot grigio! This is very filling and doesn't really need bread to go with it.
Nutrition
Calories:
350
kcal
Carbohydrates:
20
g
Protein:
15
g
Fat:
24
g
Saturated Fat:
11
g
Polyunsaturated Fat:
2
g
Monounsaturated Fat:
10
g
Cholesterol:
63
mg
Sodium:
431
mg
Potassium:
547
mg
Fiber:
5
g
Sugar:
3
g
Vitamin A:
438
IU
Vitamin C:
30
mg
Calcium:
191
mg
Iron:
3
mg
Did you make this recipe?
If you tried this recipe, please give it a 5-star rating! To do this, just click on the stars above.
Online Diet/Health Coaching:
Although I am not currently taking clients for diet & health coaching, I have been a coach for many years with the online service called coach.me. It is a great platform for all kinds of coaching – anything from specific diets, writing a blog, getting up early, or getting rid of that pesky procrastination.
There are some wonderful coaches and the testimonials will tell you what you need to know. Contact me at [email protected] to get a referral to some of the tested, experienced online coaches on Coach.me
If you'd like to start with a plan for a low carb or keto lifestyle, check out this detailed guide in ebook form. It may be all you need to lose weight on this lifestyle. Or it may be used as a supplement to one-to-one coaching.