Warm aromatic spices along with low-and-slow cooking take this deeply savory Moroccan beef and sweet potato stew over the top in flavor. This stew is made in a dutch oven rather than a tagine vessel, and the traditional apricots are removed for a lower sugar option.
Jump to Recipe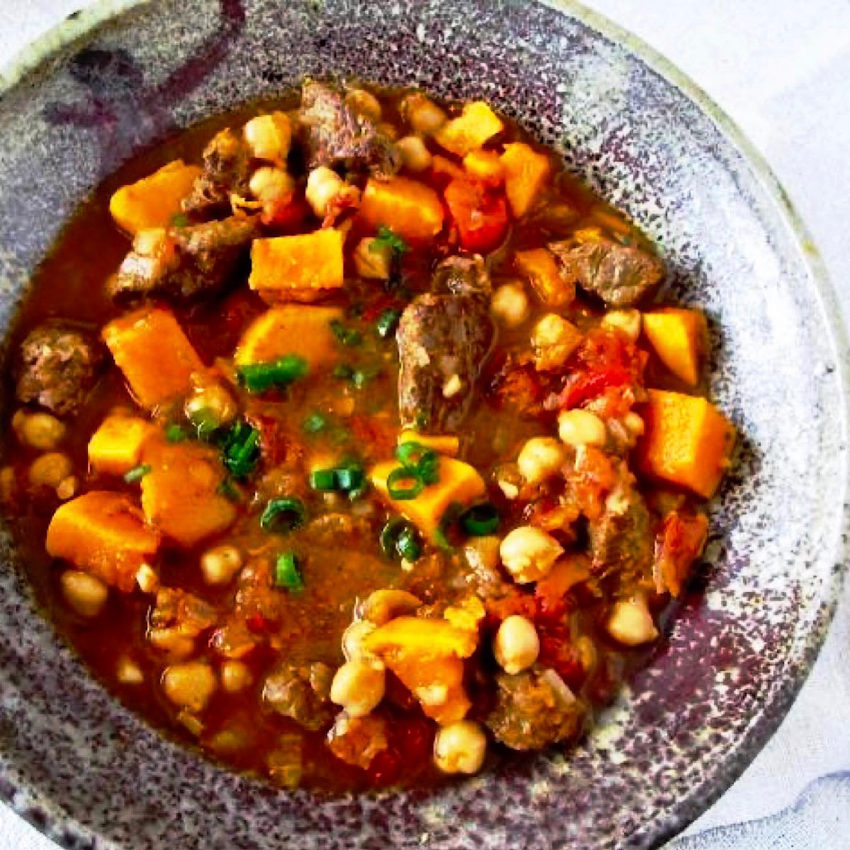 Why are Tagines Popular in Morrocan Cooking?
A tagine is a Berber (primarily Algerian or Moroccan) dish named after the type of earthenware pot in which it is cooked. Tagine vessels are primarily used to slow-cook savory stews and vegetable dishes.
Because the domed or cone-shaped lid of the tagine traps steam and returns the condensed liquid to the pot, a minimal amount of water is needed to cook meats and vegetables, and is therefore a practical method of cooking in areas where water supplies are limited.
The traditional method of cooking with a tagine is to place the tagine over coals, resulting from large bricks of charcoal, purchased specifically for their ability to stay hot for hours.
Ingredients Typical of Moroccan Stews
Spices & Herbs:
Common spices in tagines include: ginger, cumin, cinnamon, coriander, saffron, turmeric, chili and/or paprika.
Common herbs include mint and parsley. The herbs and spices are an integral part of Morrocan tagine cooking, as the slow, lengthy cooking allows the spice combinations to fully meld together.
You end up with a sweet and savory warmth that is quite complex and robust.
The spice combination varies region to region, household to household. Some recipes suggest a pre-mixed blend called "Ras el Hanout", which is usually a blend of the best spices a vendor has in their shop.
The specific Ras el Hanout mixture varies, but it generally includes the spices noted above, along with perhaps some dried galangal, nutmeg, aniseed, or orris root.
You can buy pre-mixed seasoning packets, such as this one we bought from a farmer's market in Denver on a recent visit.
Fruit & Vegetables
A sweet and sour combination is common in Moroccan dishes and will often include dates, apricots or prunes.
Vegetables often include garbanzo beans and root vegetables such as sweet potatoes, carrots or turnips.
Meats (if not Vegetarian)
These Morrocan stews are frequently made without any meat. If you do want to add meat, it is common to include lamb, chicken, pork or beef in these stews.
Since the recipe below is a Moroccan beef and sweet potato tagine, I used beef, of course.
If you want the best flavor in a beef-forward stew, use a chuck roast that you have trimmed and cubed yourself rather than the stew meat sold in grocery stores.
Meat labeled "beef stew meat" is often bits and pieces of a variety of cuts that can result in different meat textures within the stew.
Avoid chunks of steak because it tends to turn stringy and dry after prolonged cooking.
Optional Additions:
Add prunes and/or dried apricots to the pot when adding sweet potatoes
Serve with couscous (this is how it is traditionally served)
Add harissa sauce as garnish at the end, or place on the table for people to add their own.
Add some yogurt towards the end of cooking to enhance the creaminess.
Slow Cooker or Instant Pot Adaptable?
I made this recipe in a dutch oven where I browned the meat first, removed it and sautéed the onions and spices in the meat fat, and then returned the meat and added the other ingredients to the pot.
You could certainly adapt this recipe to a slow cooker. Just make sure and brown or sear the meat and saute the onions and spices first before adding everything to the crock pot.
The sear of the protein and the caramelization of the onions will add a lot to the flavor profile.
You could also make this tagine in an instant pot. To maintain the flavor of the tagine when using an instant pot, you may want to consider the following:
Make sure there is enough broth (or liquid) in the instant pot
Don't over fill the instant pot. If you're like our family, we like to make big batches of stews, but with an instant pot, the ingredients won't cook evenly or thoroughly if you over fill the instant pot.
Add your vegetables after the meat has cooked a little while. If you are using cubed meat, like in this recipe, it's not as important to add your vegetables in afterwards. However, if you are not cubing the meat or using large chunks of meat, adding the vegetables in after the meat has cooked for a little while will help ensure the meat is tender and the vegetables aren't soggy.
Similar Recipes You Will Love
Check out these other great recipes: