Chicken is a standard, inexpensive protein for many diets, but it is often bland. These slow carb Asian chicken thighs, marinated in a robust sauce pairs nicely with roasted broccoli for a perfect, easy low carb dinner.
Jump to Recipe
This post may contain affiliate links, and you can read our disclosure information here–
Slow Carb Diets do not need to be Boring
While there are many, many diets out there that "work", in terms of losing weight, there are not that many that work over the long term as a viable lifestyle change. The key is to choose the healthiest diet that you can find that will fit your individual lifestyle long term. "Know thyself" is the key.
When I decided it was time to get serious about losing weight, I did a deep dive into the diet literature. I had that "aha moment" when I started reading Tim Ferris' 4-Hour Body (aka Slow Carb Diet), as it resonated with me as a diet I could sustain over the long term.
A few of the key elements of the slow carb diet that appealed to me included:
An emphasis on protein and veggies. I love meat, fish, eggs and veggies, so that was a good start.
The one glass of red wine a day was important to me. That's my one treat at the end of a busy day.
The idea of scheduling any treats or celebration food by practicing delayed gratification made sense for a long term lifestyle change that I could live with.
The point is, this diet was a fit for me. Paleo may be yours, but I would just encourage you to be realistic about who you are and how you intend to live the next 10-20 or so years.
I did have two problems with the Slow Carb Diet:
1) The weight comes off slowly. My husband was on Atkins and he shed pounds like a banchee, but mine was a slow 1 lb. (or 1/2 lb.) a week. HOWEVER, it did come off and it stayed off for over 6 year now and I don't see it coming back.
2) If you don't cook, or if you aren't interested in cooking creatively, it can get pretty boring. There aren't a lot of slow carb snacks or grab & go foods, so you pretty much need to do some cooking. Eating the same thing over and over can work for many people at breakfast and lunch, but I found you really have to change up your dinners or you will die of boredom.
Most recipes on this website are either designed to be slow carb or can be readily adapted to slow carb (i.e., Thai food without the rice, avocado-smothered burgers without the buns, etc.).
This slow carb Asian chicken and broccoli dinner is quite simple and doesn't include hard-to-find ingredients:
Slow Carb Asian Chicken and Broccoli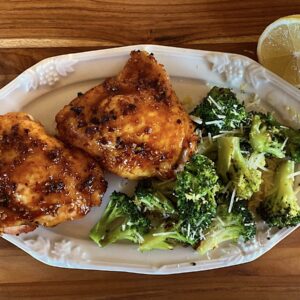 Robust Asian flavors shine in this low carb chicken and broccoli meal. It is simple and uses readily availabe ingredients
Ingredients
For the Chicken
⅓

cup

rice vinegar

¼

cup

Soy sauce

I use low sodium soy sauce

2-3

Tablespoon

honey

1 ½

Tablespoon

chile paste

I used sambal oelek

10

garlic cloves

minced

3

Teaspoon

sesame seeds

3

Teaspoon

oil

refined olive oil is good

10

bone-in chicken thighs

leave skin on

½

Teaspoon

salt
For the Roasted Broccoli
4

Cups

frozen Broccoli florets

Use about 2 heads if using fresh

⅓

cup

olive oil plus 2 tbsp

divided

1 ½

Teaspoon

kosher salt

½

Teaspoon

freshly ground pepper

1

lemon

juiced and zested

freshly shaved parmesan cheese

optional

fresh herbs of your choice

optional
Instructions
Instructions
Preheat the oven to 425° F. **Note: If you are using frozen broccoli, thaw it first and then dry it with paper towels. You want it to get crispy and brown.

In a bowl, whisk together the vinegar, soy sauce, honey, chile paste, and garlic.

Over medium-high heat, quickly saute sesame seeds in a large skillet with a little oil until seeds have browned (1-2 min). This is optional but it does add to the flavor.

Stir sesame seeds into vinegar mixture.

Pour vinegar & oil mixture into a large zip-lock bag and add the chicken to the bag. Mush the bag around until all chicken pieces are covered. Seal bag and marinate chicken in refrigerator for about 1/2 hour.

Preheat the oven to 425°. Remove chicken from the bag with tongs and pour the reserved marinade into a saucepan. Bring the marinade to a boil over medium heat, stirring, until it is a little syrupy (about 1 min boil).

Place the chicken on a rack atop a roasting pan and baste chicken pieces with 1/3 of the marinade. Sprinkle with salt.

Bake for 10 minutes and then pull out oven rack and baste chicken with more marinade. Use any marinade in bottom of roasting pan as a baste also.

At this point place the broccoli on a sheet pan, drizzle with oil and sprinkle with salt and place in the oven on a different rack from the chicken.

Bake chicken (and broccoli) an additional 10 minutes. Baste chicken with remaining marinade and bake another 10 – 15 minutes. Test chicken for doneness by poking with a fork and seeing that the juice is clear with no blood.

Let stand for 5 minutes before serving.

As the chicken is resting, take the broccoli out of the oven and zest a lemon over the florets. Cut the lemon in half and squeeze the juice over the florets. Drizzle with more oil if they are too dry for you. Sprinkle with shredded parmesan if desired.
Notes
**Note: If you are making the roasted broccoli as a side dish, put it in the lower part of the oven after the chicken has baked the first 10 minutes, the chicken should be on the upper rack and this will allow both the broccoli and chicken to be ready to serve at the same time (always nice when that happens).
Nutrition
Calories:
706
kcal
Carbohydrates:
12
g
Protein:
41
g
Fat:
55
g
Saturated Fat:
12
g
Polyunsaturated Fat:
10
g
Monounsaturated Fat:
28
g
Trans Fat:
1
g
Cholesterol:
221
mg
Sodium:
1780
mg
Potassium:
799
mg
Fiber:
3
g
Sugar:
2
g
Vitamin A:
646
IU
Vitamin C:
79
mg
Calcium:
87
mg
Iron:
3
mg
Did you make this recipe?
If you tried this recipe, please give it a star rating! To do this, just click on the stars above. Comments are always helpful also and I respond to all of them (except rude ones)
Online Diet/Health Coaching:
Although I am not currently taking clients for diet & health coaching, I have been a coach for many years with the online service called coach.me. It is a great platform for all kinds of coaching – anything from specific diets, writing a blog, getting up early, or getting rid of that pesky procrastination.
There are some wonderful coaches and the testimonials will tell you what you need to know. Contact me at [email protected] to get a referral to some of the tested, experienced online coaches on Coach.me
If you'd like to start with a plan for a low carb or keto lifestyle, check out this detailed guide in ebook form. It may be all you need to lose weight on this lifestyle. Or it may be used as a supplement to one-to-one coaching.