Lots of baking going on during the holiday season, but how much of that goodness can you ship as a gift and have it arrive fresh and in one piece? Peanut Brittle enhanced with a little Mexican chile spice is one treat that ships well and tastes great upon arriving. I shipped them to my kids as winter care packages when they were in college. The thank you calls confirmed they were a hit with the suite-mates as well!
Jump to:
RECIPE
Tips for Candy Making
More Treats for Shipping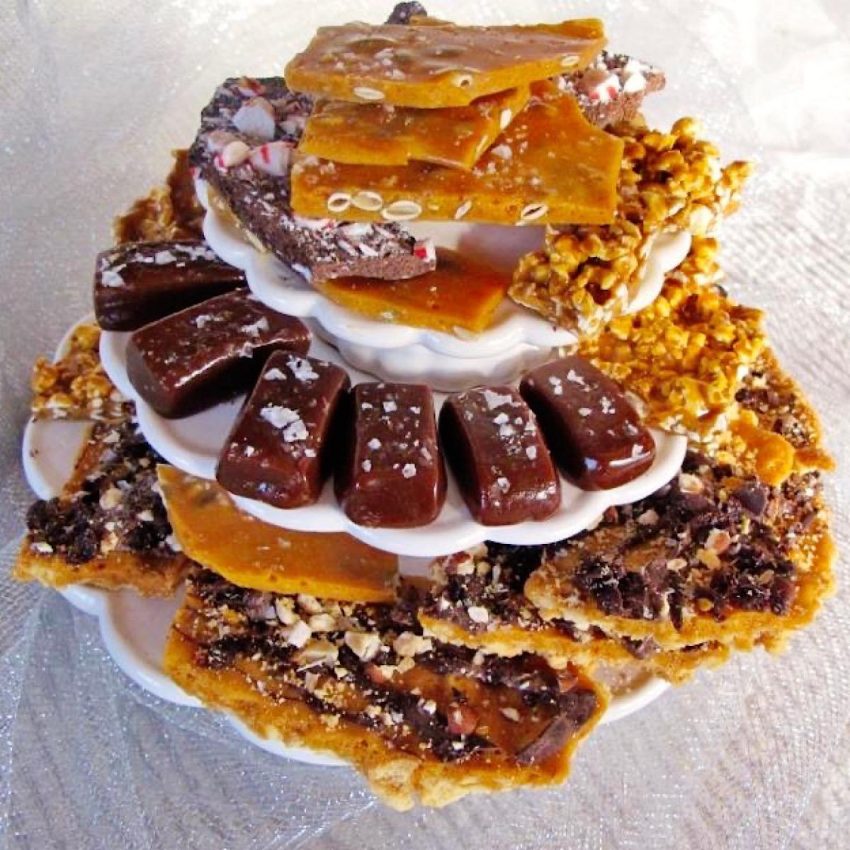 This post may contain affiliate links, and you can read our disclosure information here–
Tips for Easy Candy Making
Don't be afraid of a candy thermometer! Sometimes candy-making is avoided because a candy thermometer is a kitchen tool that isn't used very often. I rarely make candy, but the recipe below was easy and turned out great the first time around.
Important things to be aware of that will help immensely:
You have to work fast once the candy has reached the right temperature, so make sure and have all utensils, potholders & baking sheets prepped and ready.
The candy gets really, really hot so be careful not to get any on your skin (it will burn). Make sure the thermometer is secured well on the pot (an alligator clip works well for the round thermometers) so you don't have to be moving it around;
Make sure the pot is the right size so the thermometer reaches down to the candy syrup.
Try to get someone to help you when it is time to pour the mixture out onto a baking sheet.
Spicy Pumpkin Seed Brittle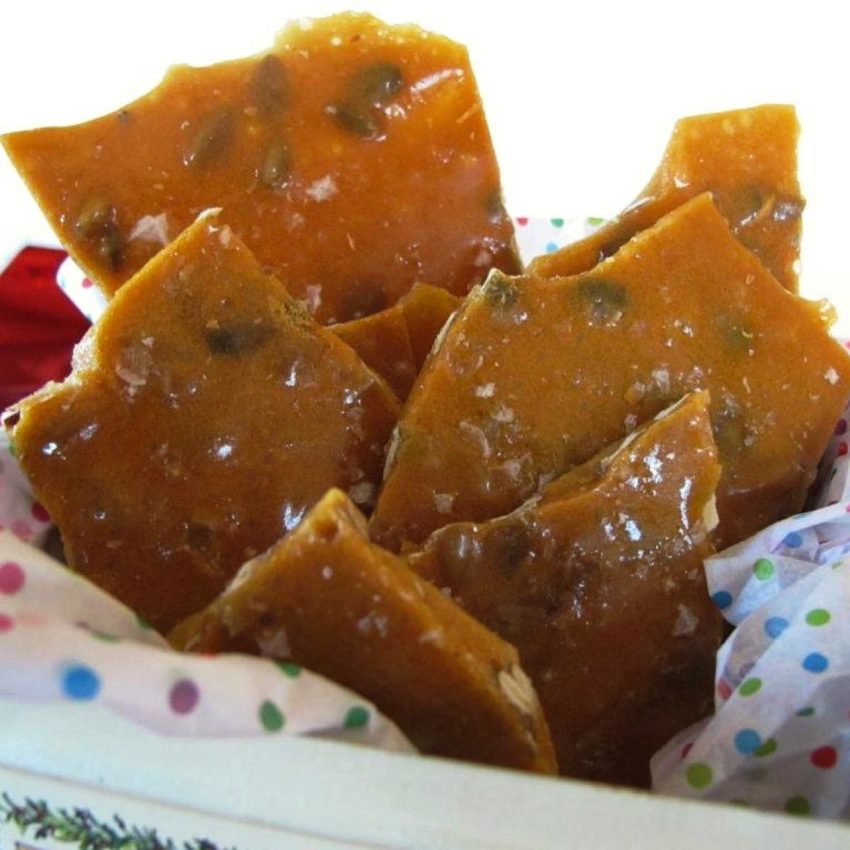 Other Sweet Treats that Ship Well in Care Packages
Here are a few other recipes of favorite treats that my kids have enjoyed in their college care packages:
If you make and love this recipe, please leave a ★★★★★ review below and any comments others might find helpful. It means a lot to me when you try my recipes, and I'd love to know how it goes.
Spicy Pumpkin Seed Brittle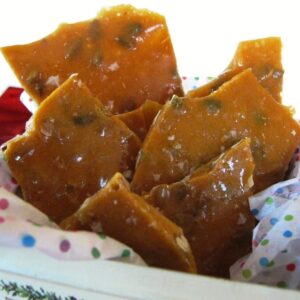 This is a delicious and unique brittle that adds the smoky heat of chipotle spice and the seasonal crunch of pumpkin seeds for a holiday treat that lasts for a month. It's great for holiday care packages or make-ahead holiday treats.
Ingredients
2 ¼

cups

sugar

⅓

cup

corn syrup

light

½

cup

unsalted butter

cut into 8 pieces

⅔

cup

water

1

teaspoon

baking soda

2

teaspoons

kosher salt

1 ½

cups

toasted pumpkin seeds

(1/2 cup saved out for the topping)

1

teaspoon

chipotle powder

can use red pepper flakes if you don't have chipotle

1

teaspoon

maldon sea salt

a flake salt for topping
Instructions
Prepare a 10 x 15 rimmed baking sheet by lightly coating it with oil or lining it with foil.

In a heavy saucepan that will be the right depth (candy thermometer to hang off the edge of the pot and still reach the bottom of the pot), mix together the sugar, corn syrup, butter and 2/3 cup water and stir until sugar is wet.

2 1/4 cups sugar,

1/3 cup corn syrup,

1/2 cup unsalted butter,

2/3 cup water

Clip the candy thermometer onto the pot and turn the heat to medium-high. Let the mixture cook without stirring until the candy thermometer reaches 310°.

It will take about 13 to 15 minutes and the mixture will be foaming and tan around the edges.

Moving quickly, turn off the heat, remove the thermometer, and use a slotted spoon to whisk in the baking soda and salt. It will foam up so be careful.

Stir in 1 cup of the pumpkin seeds and the all of the chipotle spice.

1 teaspoon baking soda,

2 teaspoons kosher salt,

1 1/2 cups toasted pumpkin seeds,

1 teaspoon chipotle powder

Pour the brittle mixture from the pot onto the prepared baking sheet, tilting the pot to spread the brittle out over the baking sheet.

It cools quickly and it is messy to spread with a knife after it is poured, so try to get the brittle in the baking sheet the thickness you like as you pour.

Pouring instead of spreading will give it a smooth surface.

Sprinkle the remaining 1/2 cup pumpkin seeds and the flake salt evenly over the brittle. Cool completely on the baking sheet at room temperature.

1 teaspoon maldon sea salt

Invert the brittle onto a cutting board and use your hands to break it up into pieces. The brittle can be stored in an airtight container at room temperature for up to 1 month.
Notes
**Want more like this? Subscribe to our Sunday newsletter to get recipes, gardening guides and diet help. Let's go from Inspiration to Done!
Nutrition
Calories:
240
kcal
Carbohydrates:
45
g
Protein:
1
g
Fat:
8
g
Fiber:
1
g
Sugar:
45
g
Did you make this recipe?
If you tried this recipe, please give it a star rating! To do this, just click on the stars above. Comments are always helpful also and I respond to all of them (except rude ones)
Online Diet/Health Coaching:
Although I am not currently taking clients for diet & health coaching, I have been a coach for many years with the online service called coach.me. It is a great platform for all kinds of coaching – anything from specific diets, writing a blog, getting up early, or getting rid of that pesky procrastination.
There are some wonderful coaches and the testimonials will tell you what you need to know. Contact me at [email protected] to get a referral to some of the tested, experienced online coaches on Coach.me
If you'd like to start with a plan for a low carb or keto lifestyle, check out this detailed guide in ebook form. It may be all you need to lose weight on this lifestyle. Or it may be used as a supplement to one-to-one coaching.